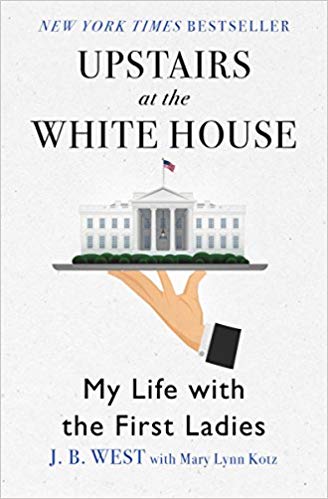 Back in November, a reader (hi, Sarah!) sent me a message via Goodreads and suggested I might enjoy Upstairs at the White House.
I am notoriously bad at reading things that other people have recommended, so I'm ridiculously proud of myself for actually reading this one.
It helped that it was a completely fascinating book.
Like most people, I'm totally interested in the U.S. Presidents and their lives, times, and families.
Upstairs at the White House
Starting with FDR, J.B. West works with the presidents through Richard Nixon, although he's only there for a few weeks with Nixon before his retirement date arrives. He is the Chief Usher and responsible for basically everything that goes on with the families, working mainly with the First Ladies. He helps arrange their schedules, host events, decorate the White House, and help manage the transitions between presidents.
There are so many interesting details, from the differing personalities of the first ladies to how the staff can be hard to manage because they are White House employees, not employees of the President, and they'll be there long after the President and his family depart. I loved that Mamie Eisenhower stayed in bed until noon every day and had all her meetings with the staff from her bed (although she did get up and do her hair and makeup before returning to her bed). It was so sweet to read about how much time and attention Jackie Kennedy spent with her children and keeping them out of the spotlight.
The big events at the White House changed, too, with the changes of presidents. Some presidents and their wives liked big formal events (the Eisenhowers!) and others liked smaller, more intimate gatherings (the Kennedys). And the behind the scenes of how food, alcohol, guest lists, and entertainment were handled was fascinating. Also, the time a ham disappeared from the kitchen and a staff member was accused of stealing it until they found the rotting bone behind the cabinets, where it'd been dragged away by rats off the kitchen counter, made me want to be a little ill.
There's a lot about how the budgeting and financing of the White House life works too, which was fascinating to me. JFK was always concerned that they didn't look as if they were spending way more money than other presidents. When Jackie Kennedy spent the redecoration budget (each term, there is about $50,000 given to spend on White House decor) in the first two weeks, she had to figure out other ways to fund her grand ambitions for the White House. Congress awarded an expense account for feeding the staff after Truman came into office and didn't have the personal fortune to fund it himself.
And, of course, life in the White House changed over the years. When West came in under FDR, Eleanor Roosevelt walked around D.C. on her own every day. Truman, living in Blair House while the White House was being restored, walked to and from his office unaccompanied until there was an assassination attempt and from then on, the president and his family were always followed by the Secret Service.
Upstairs at the White House is definitely not a tell-all kind of book, though. There's not a whisper about any infidelity even with presidents who are notorious for it (JFK, I'm looking at you), and he generally paints all the presidents and first ladies in a pretty flattering light. The most negative comment he ever makes is about Lyndon B. Johnson and how harsh he is with Lady Bird.
I read this in just a few days, and it reminded me how much I love American history and how I definitely want to read more. If you're at all interested in U.S. History, this is almost certainly a book you'll enjoy.
My mom and my sisters do a little family book club (this makes it sound way more official than it is. . . .we've done one book so far, ever. And it was a year ago), and it's my turn to pick next and we'll be doing Upstairs at the White House.
If you like Upstairs at the White House, you might also enjoy these books: