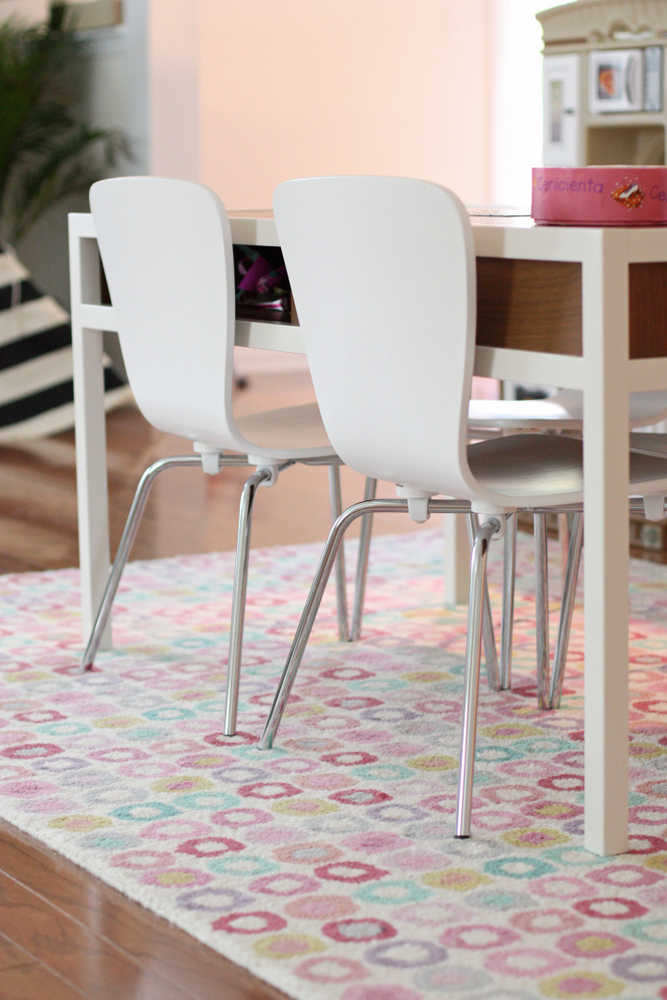 When we originally saw photos of the house, I thought we might use the dining room as a play room, but once we actually got here and saw how ENORMOUS the family room area was, I knew immediately I wanted the play room to be on the righthand side of the family room.
And it's turned out to be perfect.
I love that when I'm sitting on the couch (which I'm doing all the time these days with a new baby), the girls are right in my view, and that when I'm in the kitchen, they're close enough that they're happy to play while I cook or do dishes.
Plus, it's not visible from the front door, which is a big deal to me.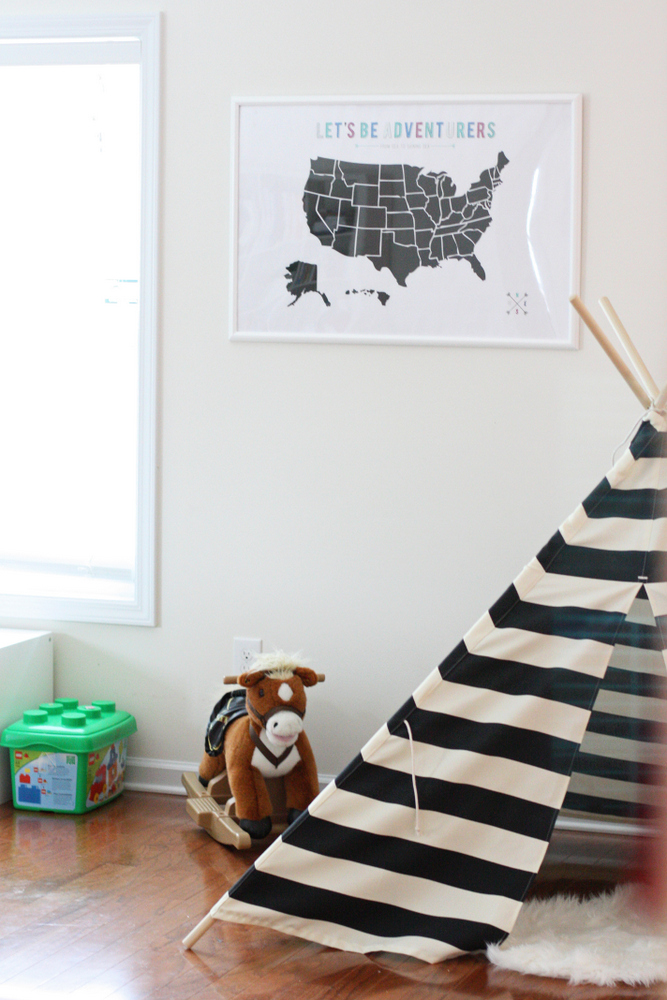 I wanted there to be several areas to play, and this teepee filled up this awkward corner perfectly. Plus, it's super easy to move around depending on where they want to play.  Also, it's basically just the cutest thing ever to see the girls snuggled in there reading books together or playing with their dolls.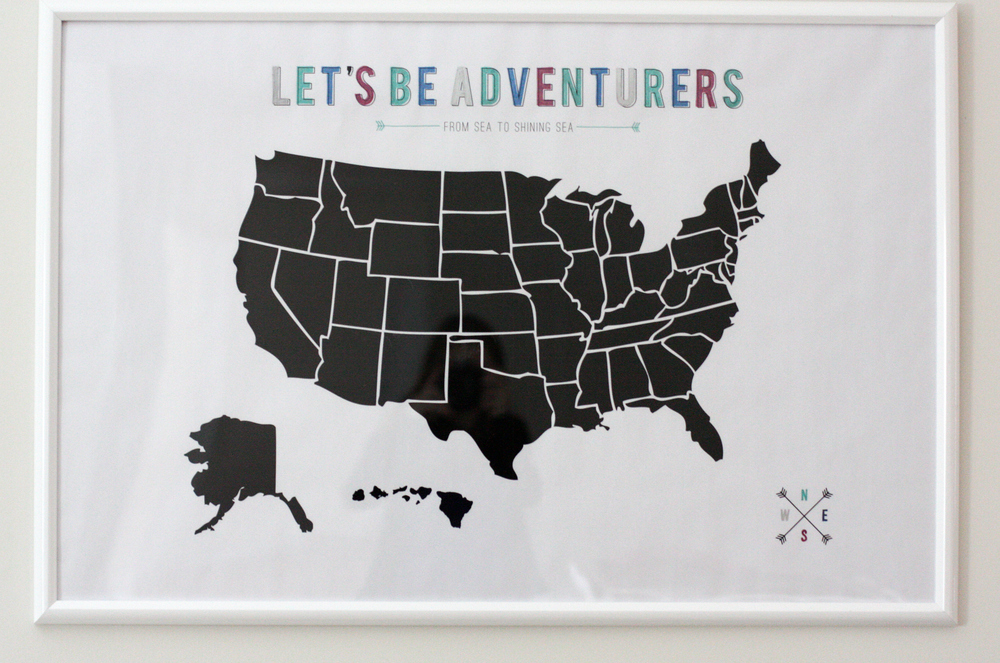 One of the great things about a blog is that it forces you to get things done. I printed this map print at Staples several weeks ago (it's a free download from Raeann Kelly here – it's in color, but I did it in black and white because it was cheaper and then just bought some metallic Sharpies at Michael's and added the color myself), but hadn't actually gotten around to adding the color or framing it. But yesterday, knowing I needed to take photos for this post, I made the world's fastest Michael's run to buy the Sharpies, drew in the color during quiet time and finally hung it up. Thank you, blog.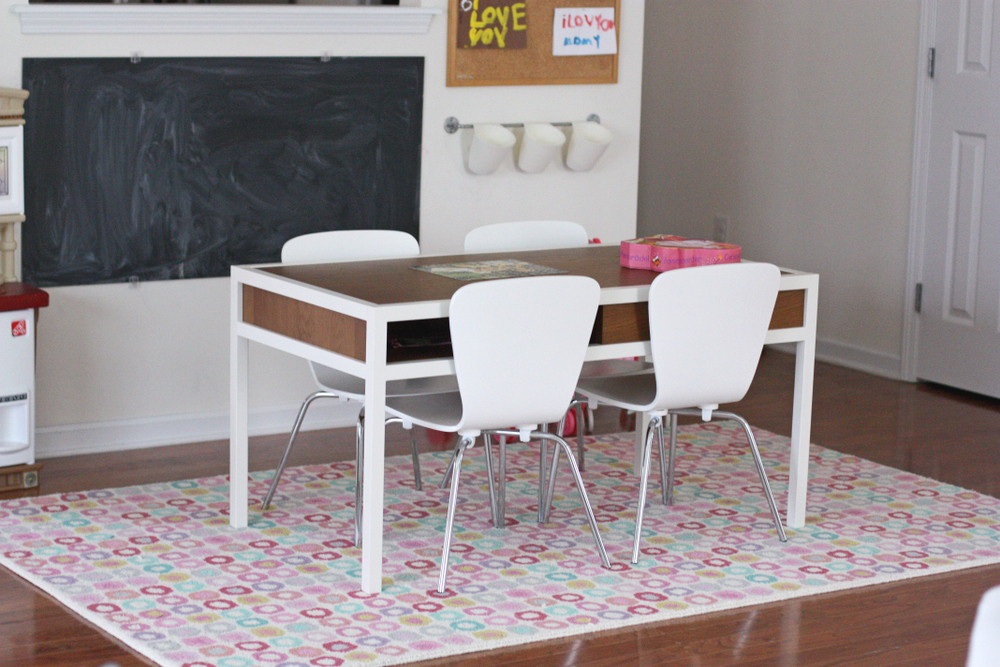 I'd originally planned to make my own chalkboard, but when I went to Home Depot to buy a board to paint with chalkboard paint, they had pre-painted ones for about $4 more (a total of $10). And if there's anything I like better than a DIY, it's a buy-for-cheaper-than-I-could-do-it-myself project. I bought some mirror clips and Bart hung it in about five minutes. The girls have really loved it and I think it's just ridiculously darling.
And yes, a lot of chalk dust collects on the baseboard below it.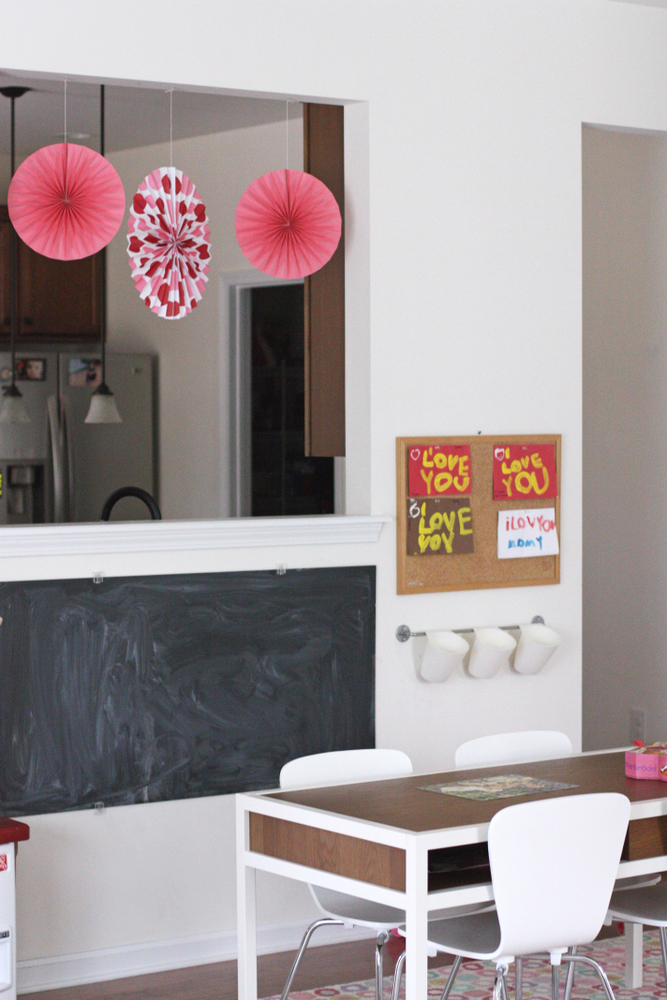 Our previous playroom had a little table and chair set, but it was teeny and I knew I wanted something bigger for this space where the girls could actually spread out a little with their art projects or puzzles and where a friend or two could sit with them.
This table from the Land of Nod is perfect (also, super nice – Bart and I kept saying while we assembled it, "this is WAY nicer than either of our desks!"). It has a drawer to keep supplies in and also two open slots. Also, you can buy leg extenders so eventually it can be used as a desk for older kids.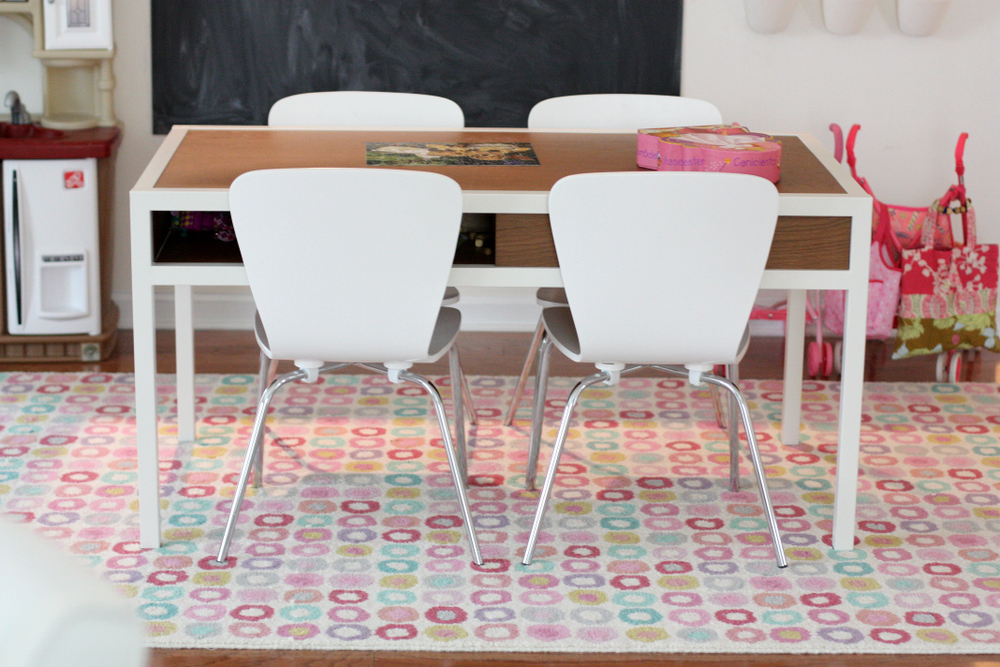 I also love the fact that the chairs are extremely similar to our kitchen chairs. It's the little things.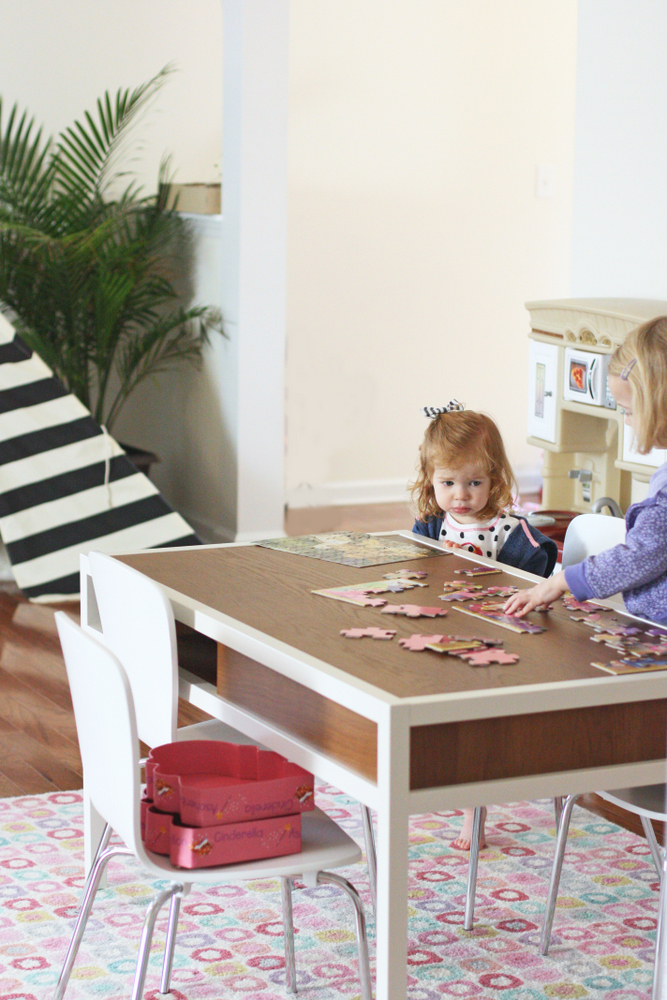 I spent ages and ages looking at rugs, trying to figure out what would be fun, but not look weird or too busy against the living room furniture just a few feet over. I held my breath until this rug actually arrived, and it turned out to be perfect. It's just the right amount of color and whimsy without being overwhelming or competing against the living room.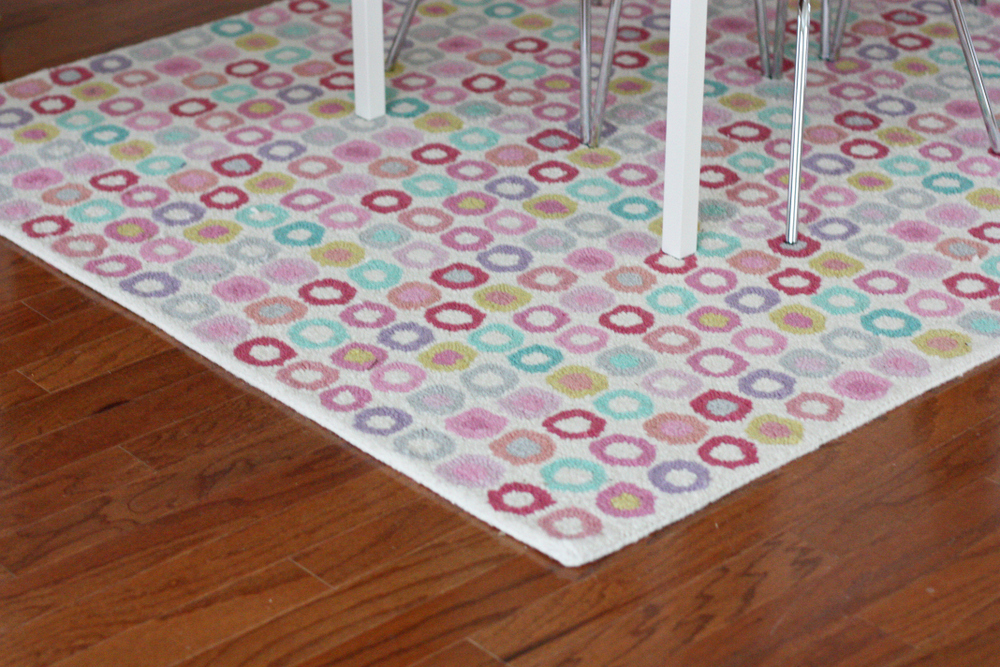 We really don't own a ton of toys (they're all stored in the basket in the living room and in two of the baskets in the low bookcase) because I hate dealing with toy organization and also I feel like the girls get bored of them in about two seconds.
These strollers, though, are one of our most used toys. We'd had Ella's for a couple of years, and then bought Ani one for Christmas this year (the best $8 I've spent in months). I was going to buy one on Amazon, but then I read too many reviews and got decision paralysis, and ended up just going to Target where I bought the only one available and didn't have to read any reviews. The girls are constantly pushing them around the downstairs, pretending they are going camping or to Disneyland. Also, they are super loud on the wood floors, especially because they insist on banging them loudly up and down every two seconds.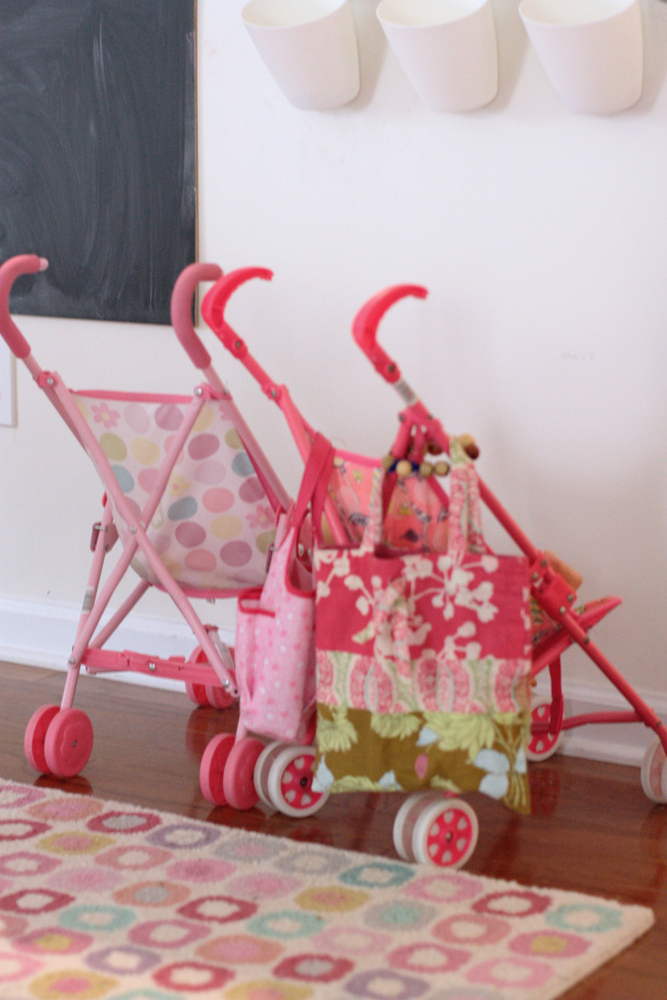 I'm just really thrilled with how it all came together and how much it all actually gets used. Also, I eat a lot of pretend pizzas and sandwiches made by Ani while I nurse Star on the couch. Happily, wooden and plastic food is extremely low in calories.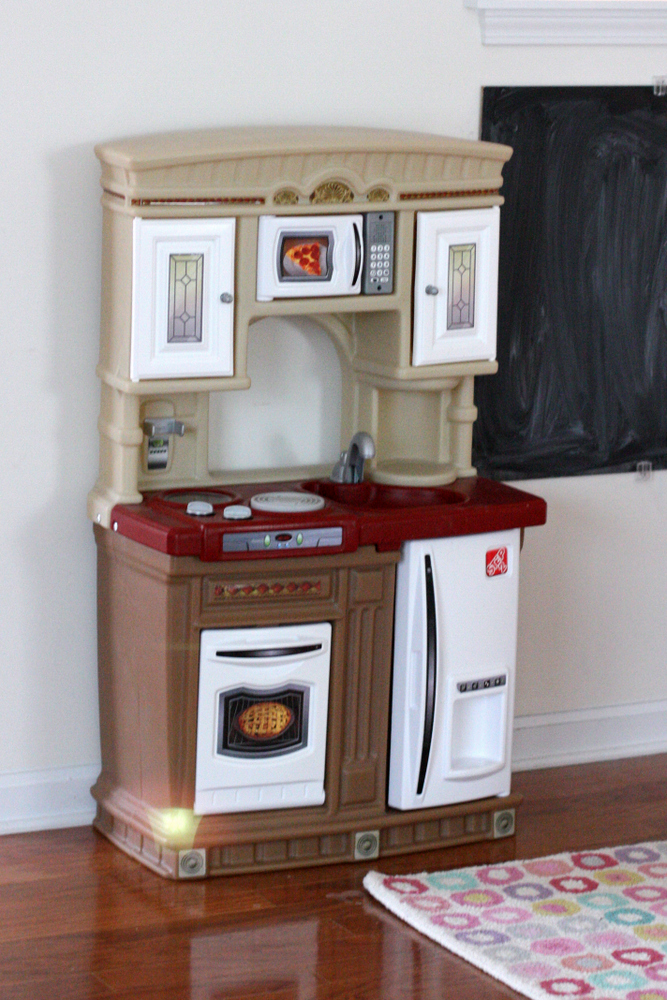 Sources:
Rug: c/o Land of Nod
Table: c/o Land of Nod
Chairs: c/o Land of Nod
Chalkboard: Home Depot
Railing and Chalk Bins: IKEA
Bulletin Board: Goodwill
Kitchen: Amazon (gift from my parents)
Pony: Hand-me-down from Texas friends
Print: Raeann Kelly (free!)
Frame: Michaels
Teepee: Etsy
Sheepskin: c/o Lulu & Georgia
Pink Hanging Fans: Smith's Grocery Store (gift from my parents)