Last week, I shared a crazy good deal on Kindle Unlimited (click here to see what offer Amazon gives you – it's usually a few free months or a couple of months for a dollar or two!) and so many of you signed up and then asked . . . "what books on Kindle Unlimited are worth reading?"
Well, here you go!
You don't need a Kindle to use Kindle Unlimited – the Kindle app is free to download and you can use it on your phone or tablet device. For the record, though, I LOVE my Kindle, and if you're on the fence, I highly recommend getting one!
(Psst….I did a more complete post a few days ago with details about how Kindle Unlimited works, but for now, basically Kindle Unlimited is like a Netflix subscription – you pay a monthly fee and you as a subscriber have access to everything in the Kindle Unlimited library, but once you cancel your subscription service, you don't keep any of the books. If you have questions, let me know in the comments so I can answer them all in my post!)
ALSO, I have a whole list of kids books on Kindle Unlimited here:

My favorite Kindle Unlimited Books for Adults
Beauty by Robin McKinley. I ADORE this magical retelling of Beauty and the Beast. I read it multiple times as a child and then re-read it to my girls a few months ago. If you haven't read it, fix that immediately!
Upstairs at the White House: My Life with the First Ladies by J. B. West and Mary Lynn Kotz. I was SO HAPPY to find this book included in Kindle Unlimited! This was such a fun read for me a few years ago and I recommend it all the time. For every U.S. History buff or someone who loves a little behind-the-scenes. (Full review here)
More Than Enough: How One Family Cultivated A More Abundant Life Through A Year Of Practical Minimalism by Miranda Anderson. I LOVED this book so much  – it was funny, practical and a delight to read. I included it on my summer reading guide here!
I'd Rather Be Reading: The Delights and Dilemmas of the Reading Life by Anne Bogel. I'm not usually a fan of essay collections but this one? I couldn't stop reading it – I loved it so so much. Any one who loves reading is going to love this one.
Stretched Too Thin: How Working Moms Can Lose the Guilt, Work Smarter, and Thrive by Jessica N. Turner. After re-reading 168 Hours for the Everyday Reading Book Club this month, this seems like the obvious next book and since I've loved her previous nonfiction books, I'm diving right in!
The Miracle Morning: The Not-So-Obvious Secret Guaranteed to Transform Your Life (Before 8AM) by Hal Elrod. This was the first book I downloaded when I joined Kindle Unlimited, after hearing about it from so many people over the years!
The Hunger Games by Suzanne Collins. I mean, is there anyone who hasn't read this trilogy yet? But if you need a revisit or if you somehow missed it, here you go!
Just One Wish by Janette Rallison. I recommend Janette Rallison all the time when people ask for clean book recommendations. She's so funny and her books are just 100% delightful, plus there are a TON of her books on Kindle Unlimited. Just One Wish is a great YA one, and I also loved A Longtime (and at one point Illegal) Crush and How I Met Your Brother last year. (Full Review Here)
Gooney Bird Greene by Lois Lowry, illustrated by Middy Thomas. I love Lois Lowry and this series of early chapter books is totally delightful (and most of them are included on Kindle Unlimited!). Ella has read them all and couldn't get enough of them.
Midnight at the Blackbird Cafe by Heather Webber. In the mountains of Alabama, Anna Kate comes back to buy her beloved grandmother and close up the family Blackbird Cafe. But when she returns to the town her mother left decades earlier, she finds that there are mysteries there that she doesn't want to leave unsolved.
The Thirteenth Tower by Diane Setterfield. This is an intriguing story about a reclusive author who is famous for her collection of twelve enchanting stories. She is ready to reveal the truth about her tragic past she has kept secret, now that she old and ailing.
Things You Save in a Fire by Katherine Center. I read this on vacation last year and devoured it in a day. I wasn't blown away by her previous book but this one was such a page turner for me. All about a female firefighter trying to find her place in a new station with a bunch of guys who clearly don't want her there.
Finlay Donovan is Killing It by Elle Cosimano. I'd seen this book everywhere and multiple people had recommended it to me but when someone sent me a message saying it reminded them of Sophie Kinsella, I picked it up at the library THAT DAY. I read (and loved!) this book about a struggling single mom who is mistaken for a hit woman and offered an enormous sum of money to take out a bad husband.
The Island of Sea Women by Lisa See. When Bart and I went to Korea, so many people recommended that I read this book. It's a historical fiction set on the Korean island of Jeju and it chronicles the story of two young girls through decades of WWII, the Korean War and beyond. The girls have to come to terms with the many political and societal strains on their friendship.
The Murder of Roger Ackroyd by Agatha Christie. No one does murder mysteries better than Agatha Christie and this is truly one of her best. 
The Lord of the Rings by J.R.R. Tolkien. Does this even need a summary? I think not.
The Book Woman of Troublesome Creek by Kim Michele Richardson. If you read The Giver of Stars this past year, this is a fun companion book about the same time period!
Night Road by Kristin Hannah. I'm a pretty big Kristin Hannah fan and this one lives up to the bar she sets for telling a vivid and emotionally complex story. It's heartbreaking, yet still hopeful and a book you won't soon forget. (Audiobook also available)
The Lincoln Lawyer by Michael Connelly. This book is the basis for the recently released popular Netflix series. Mickey Haller is a criminal defense attorney who operates out of the backseat of his Lincoln Town Car. He comes across the case of a lifetime and then ends up having to give the performance of a lifetime in order to save his own life.
Nineteen Minutes by Jodi Picoult. Josie Cormier, the daughter of the judge sitting on the case to decide the fate of a small town tragedy, has to decide what it means to have the right to judge someone else.
Sorcery of Thorns by Margaret Rogerson. This was the 2021 July book for the Everyday Reading Book Club! It's a fantasy YA novel which isn't my usual genre, but it's fun for me to use book club as a way to branch out a little more than I might normally! (Full Review here)
Better than the Movies by Lynn Painter. I haven't enjoyed a teen romance this much since To All The Boys I've Loved Before. I was utterly charmed by this story of high school senior Liz who loves romantic comedies and has a long-time rivalry with her neighbor and classmate Wes. But then Michael, the boy she loved since she was a little girl, moves back to town and it looks like Wes is her best chance to make her own movie ending come true. There was so much funny dialogue and I laughed out loud multiple times AND maybe cried a few tears. It was just everything I want in a summer beach read.
Something Borrowed by Emily Giffin. I don't recommend her books often because they are at the edge of what I'm comfortable suggesting to other people, but. . . .I totally love this one. (I haven't seen the movie. Was it terrible? It kind of looked terrible).
The Handmaid's Tale by Margaret Atwood. How have I never read this one? It's such a staple of modern literature and yet, somehow I've never gotten around to it. Hulu released an original series of this story, so now is probably the ideal time for me to finally listen to it, especially since Audible just released an exclusive edition narrated by Claire Danes (who will always be Beth from Little Women to me).
A Wizard of Earthsea by Ursula K. Le Guin If you like fantasy books, this six series set comes highly recommended.
Winter Garden by Kristin Hannah. I've really loved Kristin Hannah's books for the past couple of years, but I haven't read her well-loved Winter Garden that came out about a decade ago. I'm excited to dive into this wintery historical fiction for the 2022 Everyday Reading Book Club December book! Two estranged sisters are brought together again when their beloved father is dying. Their mother has never been warm, but their father makes her promise to tell their daughters a story she began years earlier about a love story that spanned sixty years.
Mr. Penumbra's 24-Hour Bookstore by Robin Sloan. I was truly charmed by the uniqueness of this book. Clay Jannon takes a job at Mr. Penumbra's bookstore, but quickly realizes the odd customer base that frequents the store aren't looking for the NYT bestsellers. They are looking for a different set of books entirely.
Carnegie's Maid by Marie Benedict. A 19th century historical fiction novel, this book tells the story of Andrew Carnegie from the perspective of Clara Kelley, an Irish maid hired to work in one of Pittsburgh's grandest households.
1984 by George Orwell. I still remember reading this one so clearly in my AP English class as a high school junior. It's a fascinating political novel.
Truly Madly Guilty by Liane Moriarty. I've been a Liane Moriarty fan since I first read What Alice Forgot back in 2011. I've also read The Hypnotist's Love Story, The Husband's Secret,Big Little Lies and of course Truly Madly Guilty. I read the whole thing in about two days! (Full review here)
The Room on Rue Amelie by Kristin Harmel. A World War II historical fiction novel about Ruby and her role in working with the French Resistance in Paris. She heightens her danger when she hides her Jewish neighbor girl from the gestapo.
Skyhunter by Marie Lu. This science fiction novel about a dystopian universe has a little bit of everything- action, mystery and even a little bit of romance. You'll definitely feel the adrenaline with this one.
I Will Always Write Back: How One Letter Changed Two Lives by Martin Ganda. This is a fantastic non-fiction story of two international pen pals that start as a school project and become lifelong friends. I included this one on the 2018 Summer Reading Guide. (Full review here)
Heartless by Marissa Meyer. You might recognized Marissa Meyer's name from her wildly popular series The Lunar Chronicles. This is her first standalone book and it's a backstory to the Queen of Hearts from Alice in Wonderland. I've gotten a million requests for more fractured fairy tale stories since I talked about A Curse So Dark and Lonely this spring, and this seems like just what the doctor ordered!
What the Wind Knows by Amy Harmon. Time travel romance – I'm always in and this one is fantastic!! (Full review here)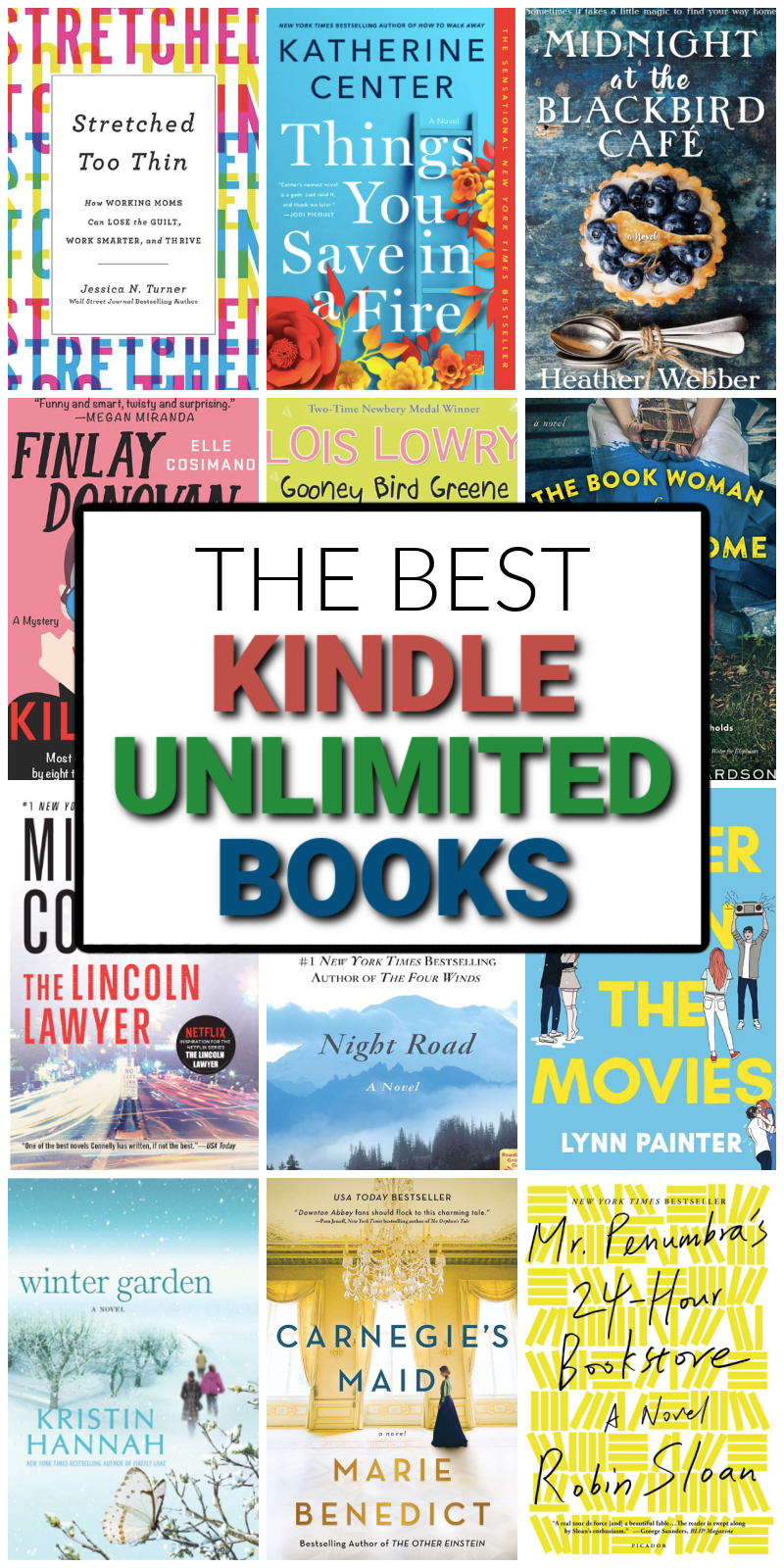 I also asked for recommendations, so these are books I haven't read but that many of you recommended and that have great reviews!
Kindle Unlimited Books You Guys Recommended:
A Quiet Life in the Country by T E Kinsey. There are six books in this series and all of them are on Kindle Unlimited with nearly 3000 five star reviews. It follows Lady Emily Hardcastle – an eccentric widow who moves to the English countryside in 1908 with her maid who is, naturally, a martial arts expert. But when a dead body appears in the woods, all hopes for a quiet life disappear.
The Dressmaker's Gift by Fiona Valpy. This book is a #1 bestseller on Amazon right now about three women in Paris during the Nazi occupation, plus a granddaughter in the present trying to make sense of her grandmother's history. (P.S. This one has the Audible version included as part of Kindle Unlimited).
Timebound by Rysa Walker. This is another one with narration included, and it won the 2013 Amazon Breakthrough Novel Award. YA time travel murder mystery? Okay. Count me in. (There are a bunch of books in this series, all on Kindle Unlimited).
The Body Reader by Anne Frasier. I won't lie, this one sounds a little too intense for me, but it has great reviews and won a bunch of awards when it came out. And the whole series is on Kindle Unlimited.
The Beantown Girls by Jane Healey. Fiona has her whole life planned out but it's all turned upside down when her fiance is reported missing during WWII. She and her two best friends volunteer to go overseas to see if they can discover what happen to him.
The Storyteller's Secret by Sejal Badani. This one is a huge bestseller about Jaya, a New York journalist, who starts uncovering her grandparents' past when her own life starts falling apart.
Where the Forest Meets the Stars by Glendy Vanderah. This has won a zillion awards and I've never heard of it. Typical. The audio is included in Kindle Unlimited.
The Saturday Evening Girls Club by Jane Healey. Four Immigrant young women in Boston's North End at the turn of the 20th century? Yes please. It's available as audio too!
The Overdue Life of Amy Byler by Kelly Harms. I definitely have meant to read this for ages and now I have no excuse not to finally dig into this book about a single mom who has the whole summer to herself when her husband who left years earlier offers to take their children for the summer.
And one last thing about Kindle Unlimited Books. Some of them have narration and you can find the whole list of those books here!
Any other suggestions for the best Kindle Unlimited books? I'd love you to make this post even more useful with your favorites!
If you liked this post about the best Kindle Unlimited books, you might also like these posts: