A few weeks ago, I shared a crazy good deal on Kindle Unlimited (free for a 2 month subscription!) and so many of you signed up and then asked . . . "what books on Kindle Unlimited are worth reading?"
Well, here you go!
You don't need a Kindle to use Kindle Unlimited – the Kindle app is free to download and you can use it on your phone or tablet device. For the record, though, I LOVE my Kindle, and if you're on the fence, I highly recommend getting one!
(Psst. . . I'll do a more complete post in a few weeks with details about how Kindle Unlimited works, but for now, basically Kindle Unlimited is like a Netflix subscription – you pay a monthly fee and you as a subscriber have access to everything in the Kindle Unlimited library, but once you cancel your subscription service, you don't keep any of the books. If you have questions, let me know in the comments so I can answer them all in my post!)

My favorite Kindle Unlimited Books for Adults
Beauty by Robin McKinley. I ADORE this magical retelling of Beauty and the Beast. I read it multiple times as a child and then re-read it to my girls a few months ago. If you haven't read it, fix that immediately!
Upstairs at the White House: My Life with the First Ladies by J. B. West and Mary Lynn Kotz. I was SO HAPPY to find this book included in Kindle Unlimited! This was such a fun read for me a few years ago and I recommend it all the time. For every U.S. History buff or someone who loves a little behind-the-scenes. (Full review here)
More Than Enough: How One Family Cultivated A More Abundant Life Through A Year Of Practical Minimalism by Miranda Anderson. I LOVED this book so much  – it was funny, practical and a delight to read. I included it on my summer reading guide here!
I'd Rather Be Reading: The Delights and Dilemmas of the Reading Life by Anne Bogel. I'm not usually a fan of essay collections but this one? I couldn't stop reading it – I loved it so so much. Any one who loves reading is going to love this one.
Stretched Too Thin: How Working Moms Can Lose the Guilt, Work Smarter, and Thrive by Jessica N. Turner. After re-reading 168 Hours for the Everyday Reading Book Club this month, this seems like the obvious next book and since I've loved her previous books, I'm diving right in!
Walk Two Moons by Sharon Creech. This Newbery fiction winner is SO delightful – I haven't read it in more than a decade and I can't wait to revisit it. (Full review here)
The Miracle Morning: The Not-So-Obvious Secret Guaranteed to Transform Your Life (Before 8AM) by Hal Elrod. This was the first book I downloaded when I joined Kindle Unlimited, after hearing about it from so many people over the years!
The Hunger Games by Suzanne Collins. I mean, is there anyone who hasn't read these books yet? But if you need a revisit or if you somehow missed it, here you go!
The 7 Habits of Highly Effective People: Powerful Lessons in Personal Change by Stephen R. Covey. My parents gave me the teen version when I was 12 or 13 and I've been a fan ever since. Seriously, it's just so good.
Anne of Green Gables by Lucy Maud Montgomery. I'm reading this aloud to my girls right now and just dying at how wonderful it is to be back at Green Gables. If you've never read it, now is the moment. Rilla of Ingleside, which is about Anne's daughter during WWI, is also included and it's TREMENDOUSLY good. I probably read it 3 or 4 times when I was young.
Inside Out and Back Again by Thanhha Lai. This one won the National Book Award a few years ago and is told in verse. It's about a girl who leaves her home in Vietnam during the war and comes to America with her family.
Little Women by Louisa May Alcott. Another classic that you can get your hands on right away. It's just so good!
Sarah, Plain and Tall by Patricia MacLachlan. This Newbery winner is a classic and you can read it super quick – it's less than 100 pages long!
Just One Wish by Janette Rallison. I recommend Janette Rallison all the time when people ask for clean book recommendations. She's so funny and her books are just 100% delightful, plus there are a TON of her books on Kindle Unlimited. Just One Wish is a great YA one, and I also loved A Longtime (and at one point Illegal) Crush and How I Met Your Brother last year. (Full Review Here)
Mary Poppins by P. L. Travers. If your children love the movie, it's fun to introduce them to the character who inspired the beloved films.
The Lemonade War by Jacqueline Davies. I read this one years ago when I was a school librarian and it was SO popular.
Harry Potter Series by J.K. Rowling. Of course, if you're like me, you could happily re-read these books every few years, so it's nice to have them all at your fingertips with Kindle Unlimited.
Island of the Blue Dolphins by Scott O'Dell. I haven't read this one in years, but I read it multiple times as a child. The idea of being left alone to fend for yourself never gets old as a child.
Love That Dog by Sharon Creech. I don't necessarily gravitate toward poetry, but this book is SO SO good and made me love poetry like I never had before.
The Terrible Two by Mac Barnett and Jory John, illustrated by Kevin Cornell. This series is HILARIOUS – Ella has read and loved them all. I included this one on my Summer Reading Guide in 2018!
Love from Paddington by Michael Bond. This is the newest Paddington book (I didn't even know they were still being released!) so whether you're new to the world of Paddington Bear or an old fan, this is a great one to pick up.
Gooney Bird Greene by Lois Lowry, illustrated by Middy Thomas. I love Lois Lowry and this series of early chapter books is totally delightful (and most of them are included on Kindle Unlimited!). Ella has read them all and couldn't get enough fo them.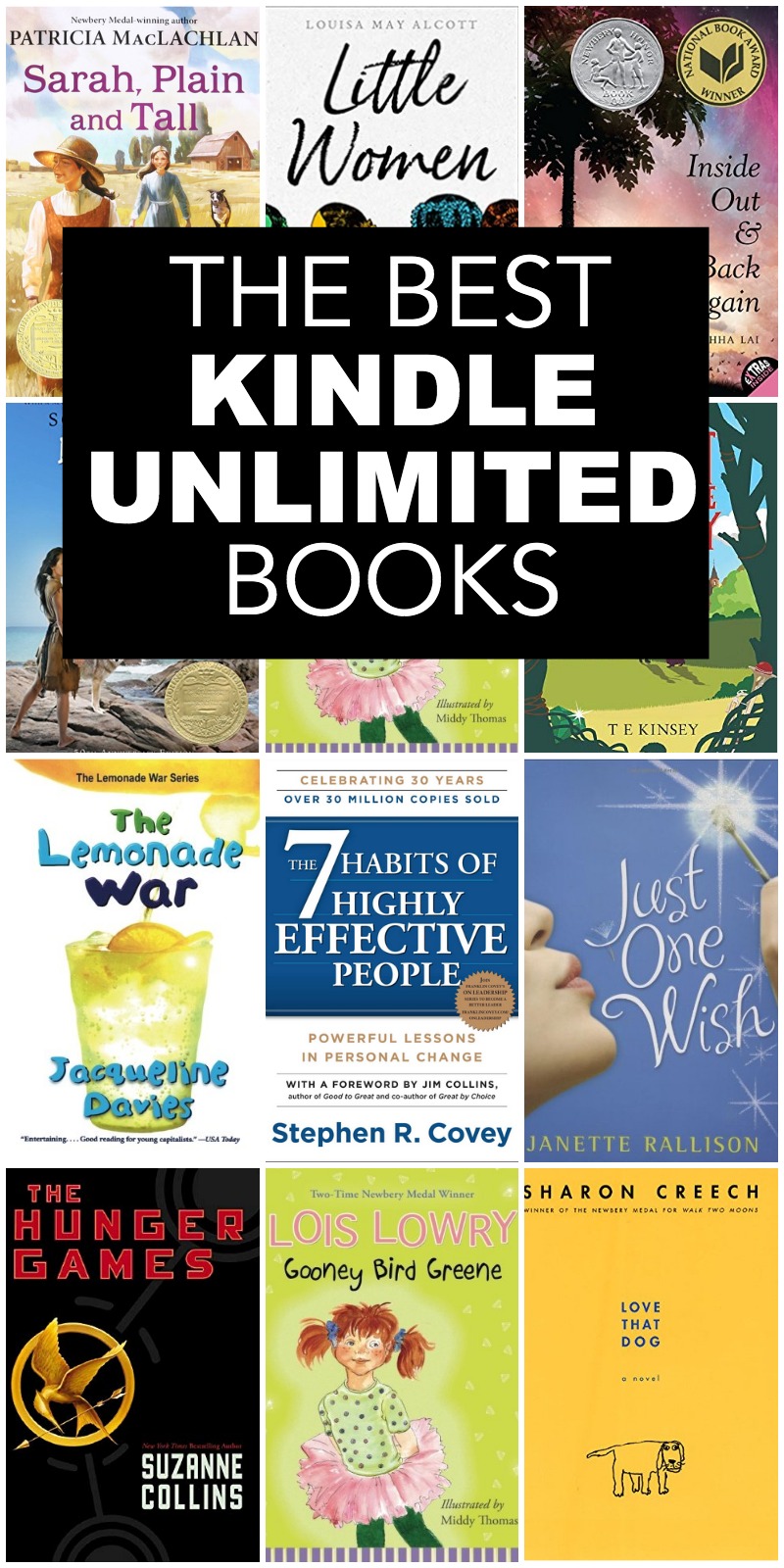 I also asked for recommendations, so these are books I haven't read but that many of you recommended and that have great reviews!
Kindle Unlimited Books You Guys Recommended:
And one last thing about Kindle Unlimited Books. Some of them have narration and you can find the whole list of those books here!
Any other suggestions for Kindle Unlimited books? I'd love you to make this post even more useful with your favorites!
If you liked this post about Kindle Unlimited books, you might also like these posts: