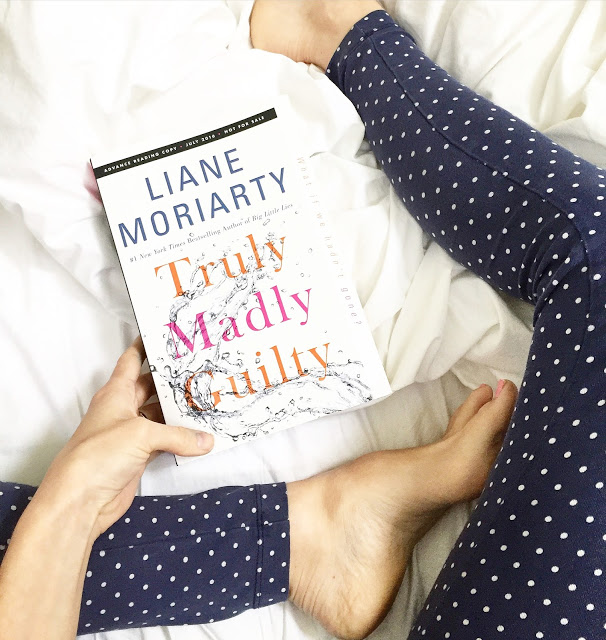 I've been a Liane Moriarty fan since I first read What Alice Forgot back in 2011 (I remember Ella taking a VERY long bath while I sat next to the tub and read the last quarter of the book).
I quickly blazed through The Hypnotist's Love Story (which I thought was lame), The Husband's Secret (which I had deeply mixed feelings about) and then Big Little Lies (which I thought was fantastic).


So of course I was ecstatic to see that she had a new book – Truly Madly Guilty – coming out this summer.
I read the whole thing in about two days and I've been meaning to write about it ever since but . . . I wasn't quite sure what to say.
I liked it well enough (enough to bore Bart with a long detailed synopsis of it when all he probably wanted to do was watch an episode of Person of Interest), but did I like it well enough to recommend it? Always the question.
truly madly guilty by lianne moriarty
Anyway, it definitely had that Liane Moriarty feeling to it. The story starts out sometime after a summer barbecue. Something terrible happened at the barbecue, but no one will talk about it (and it takes more than half the book to find out what that is).
This reminded me a bit of What Alice Forgot, where Alice is trying to figure out the story with her friend, and a LOT of Big Little Lies where you know from the outset that someone has died, but you don't know who or how or why.
Except, this one just felt like it got drawn out for ages. When it was finally revealed, I wasn't so much shocked or devastated as much as I was like, "FINALLY."
There are six major players in the story – three married couples.
You have Sam and Clementine. Clementine is a concert cellist and she's got major audition nerves ALWAYS, but especially right now as she prepares for a seriously big and important audition. She and Sam live a happy, free-spirited kind of life with their two little girls. And Clementine is friends with Erika. They've been friends since childhood, but it's a deeply complicated relationship.
Erika and her husband Oliver are a stark contrast to Sam and Clementine – their childless house is completely neat and orderly, both of them having grown up in pretty chaotic and sad homes.
They're supposed to get together with Sam and Clementine on the day of the barbecue, but at the last moment, their larger-than-life neighbors, Tiffany and Vid, invite them and Sam and Clementine over for a barbecue, and they all accept.
So it's the six of them, the two little girls, plus Tiffany and Vid's tween daughter, and something terrible.
The plot switches back and forth between the present (some six or eight weeks after the barbecue) and the day of the barbecue, and as you start to uncover what happened at the barbecue, you also learn a lot more about each of the characters and their backstories, which, in typical Moriarty fashion, are full and rich and just a little more interesting than your regular person, probably.
This book was maybe just slightly more racy than some of her other books (although, it's been long enough since I read Big Little Lies and The Husband's Secret that I couldn't say for sure). When I gave away my copy on Instagram, I'll admit that there were a few people that entered that I thought, "I . . . kind of hope they don't win, because I'm not sure they'd like it."
I generally steer away from reading reviews of a book before I write about it (kind of like how when you see a movie version of a book, you can't remember how you imagined the characters or setting yourself) but in this case, I was pretty curious about what Amazon had to say about it.
I didn't read many reviews, but for comparison, her four most recent books have right around 4.5 star averages. Truly Madly Guilty is sitting at a 3.6. So, apparently lots of people aren't sure what to make of this story.
All of which is to say, Truly Madly Guilty is a fairly engaging story, but I'm not sure that I loved it, and I'm definitely not putting it in my list of favorites any time soon.
Have you read it? I'd love to hear what you thought about it.
If you liked this review of truly madly guilty, you might also like these books:
Review copy received from publisher