If you have another book club you need a recommendation for, pop in your email address and I'll send you a list of my favorite books for a book club!
Unbelievably, this is the FOURTH year of the Everyday Reading Book Club (although it took me until 2020 to find a good rhythm for actually HOSTING the Everyday Reading Book Club).
Since 2018,I've compiled a 12 month reading guide (you can see the 2020 list here, the 2019 list here and the 2018 list here) with one book to read every month.
I've been working for MONTHS on picking just the right books for the 2021 Everyday Reading Book Club list and I'm so excited to finally release it today with 12 fantastic books meant to match the season and holidays.
Each week on Wednesdays, we'll talking about that month's book on Instagram Stories. I love sharing what I've liked (or didn't like) from a particular book and hearing what you thought about each book.
If you'd like monthly updated about the upcoming books, plus occasional fun extras related to these books, just pop your email address in below and you won't miss a thing!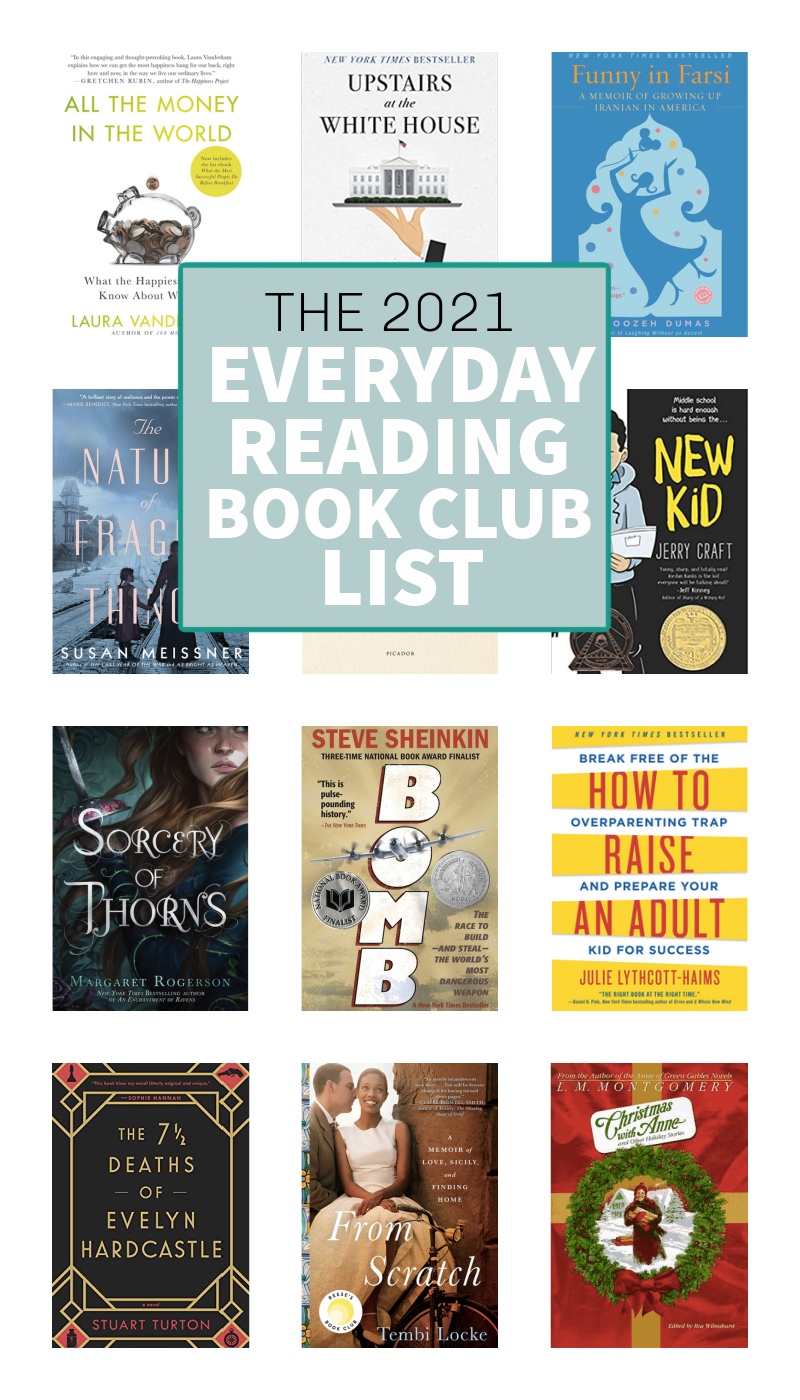 The 2021 Everyday Reading Book Club List
JANUARY
All the Money in the World: What the Happiest People Know About Wealth by Laura Vanderkam
This one MIGHT be kind of cheating because it was on the 2018 list, but that was back when I was doing exactly nothing with the Everyday Reading Book Club and also I think 3 people were following along with the annual lists. So with apologies to those three people, I'm dying to discuss this one because I think money and finances are one of the most fascinating topics on the planet and this book is unlike any other money book I've ever read. I can't wait to kick off the year with this one – our discussion on her book 168 Hours: You Have More Time Than You Think last year was SO FUN. (Full review here)
FEBRUARY
Upstairs at the White House: My Life With the First Ladies by J. B. West
Considering it's both an inauguration year AND February is when we celebrate Presidents Day in the US, it felt like the perfect time to read and discuss this delightful book about what family life at the White House is like, told by J.B. West who works as the Chief Usher from FDR's presidency through the first few weeks of Nixon's. He is responsible for basically everything that goes on with the families, working closely with the First Ladies and arranging their schedules, hosting events, decorating the White House, and helping manage the transitions between presidents. I LOVED this one. (Full review here)
MARCH
Funny in Farsi: A Memoir of Growing Up Iranian in America by Firoozeh Dumas
This is one of those books that was recommended to me about one million times before I finally picked it up and then I couldn't stop wondering what the heck took me so long.  I downloaded it to my Kindle on a whim and then read the whole thing in two days, laughing my face off all the way. Her experiences and stories are the perfect mix of the universal experiences of childhood and growing up and those that are more specific to an immigrant family. I feel like there's no way to do this book justice except to say, "go read it and love every page." And then read the sequel immediately afterward.
APRIL
The Nature of Fragile Things by Susan Meissner
I LOVED Susan Meissner's book As Bright as Heaven and after three months of non-fiction, it might be time for some historical fiction. This is her newest book (it releases in February, so I haven't read it yet) and follows three women during the San Francisco earthquake of 1906. I am really excited about this one and crossing my fingers it's good (always a risk when you haven't read it!).
MAY
Being Mortal: Medicine and What Matters in the End by Atul Gawande
I listened to this one about five years ago while driving cross-country and I seriously never wanted that trip to end because this book was SO gripping. It sounds pretty depressing, but it really is so life-affirming and also gives you so much to think about when it comes to end-of-life for yourself or your loved ones. I can't wait to re-read this one and discuss it. Also, yes. This is a very dull cover. I promise it's a totally engrossing read. (Full review here)
JUNE
New Kid and Class Act by Jerry Craft
This is a double new thing – it's the first time we've done a graphic novel for Everyday Reading Book Club AND it's the first time I've done two books in one month. I've read New Kid but not yet the newly-released sequel Class Act, so I'm really looking forward to this. If you're wary of graphic novels, give this one a go – it's completely compelling and really well-done. It won the Newbery Award (the first time a graphic novel has snagged that prize) and it absolutely deserved it. The storytelling is phenomenally done and it manages to handle heavy topics with humor and kindness.
JULY
Sorcery of Thorns by Margaret Rogerson
We've done little (maybe no?) fantasy for the Everyday Reading Book Club and my friend Cheryl raved about this one to me. And then it also has crazy good reviews online, so I was sold. This feels like just the kind of thing you'd want to take on a summer vacation, assuming that by July of 2021, vacations are a thing again.
AUGUST

Bomb: The Race to Build—and Steal—the World's Most Dangerous Weapon by Steve Sheinkin
Let me tell you how good this book is. The power in our apartment went out when I was reading this and I read it by the light of my phone flashlight. I just could NOT put it down. I love history but I didn't know 98% of what was in this book and I loved every single page of this big, compelling story. (Full review here)
SEPTEMBER
How to Raise an Adult by Julie Lythcott-Haims
If you were on the Zoom call (saved here, if you'd like to watch it) with the authors of The Self-Driven Child, you may remember that they highly recommended this book. I read it and loved it about five years ago and definitely need a refresher as my children are getting older. I love doing a parenting/child-development book during the back-to-school season and I'm excited to discuss this one together.
OCTOBER
The 7 1/2 Deaths of Evelyn Hardcastle by Stuart Turton
My mom read this one with her bookclub and RAVED about it and my mom has excellent taste, so I was all in. Plus, any storyline that messes around with a timeline is an easy sell for me. This one follows Aiden Bishop who wakes up every day in the body of a different guest at the Manor where Evelyn Hardcastle was killed. And that cycle will continue until he can identify who the murderer is.
NOVEMBER
From Scratch: A Memoir of Love, Sicily, and Finding Home by Tembi Locke
This one has been on my list for nearly a year since I asked for food memoir recommendations and multiple readers couldn't say enough good things about this one. Tembi Locke is an actress who meets Saro, a professional chef in Florence and they quickly fall in love and marry. Saro's family is not thrilled about their marriage, but the two carry on with their happy lives in Los Angeles until Saro is diagnosed with aggressive cancer.
DECEMBER
Christmas with Anne by L.M. Montgomery
This collection of short stories including some from Anne of Green Gables is the perfect festive end to the year (and because it's short stories you can read as many or as few as you have time for during this busy season).
And if you'd like a printable copy of this list that you can take to your library or screenshot on your phone for easy access, just pop in your email address below and it'll come right to your inbox!
I hope you'll join us for the 2021 Everyday Reading Book Club – I'd love to hear which books you're most excited for!
IF YOU LIKED THIS 2021 Everyday REading Book Club list, YOU MIGHT ALSO ENJOY THESE POSTS: