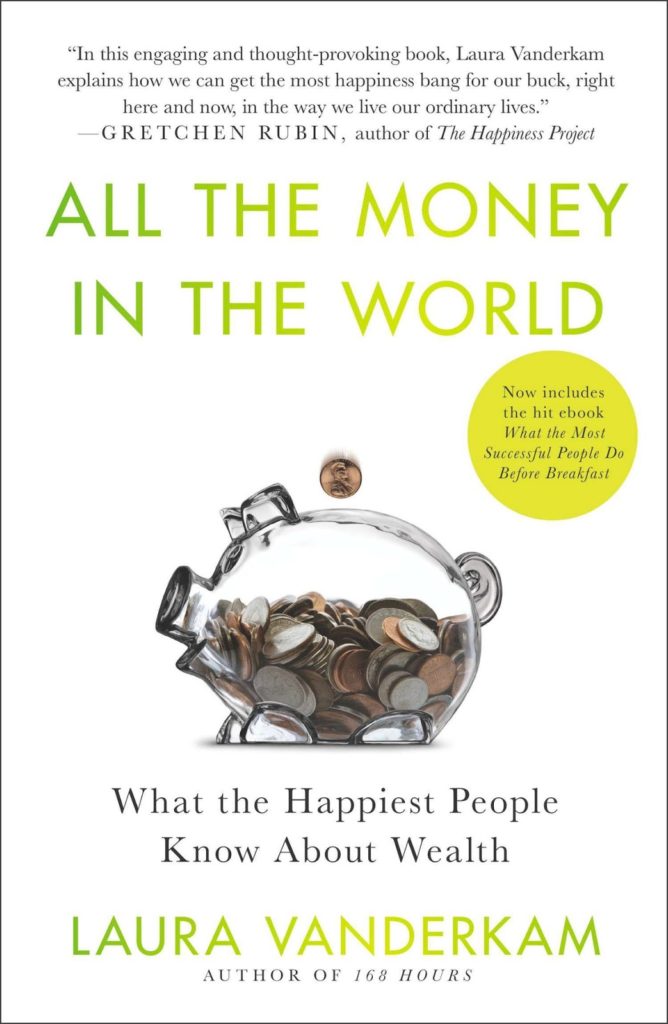 I've been on something of a non-fiction kick this year so far.
Sometimes, it's all YA, all the time, for me, but over the past few weeks, a chapter of All the Money in the World before bed was exactly what I was looking for.
I'd read Laura Vanderkam's book 168 Hours a couple of years ago and found it completely fascinating, so I figured it was time to read her book about money.
I love books about personal finance and money, but All the Money in the World isn't really a book about saving money or how to pay off your house faster.
Instead, it's a book about choosing how to make your money give you the most happiness possible by thinking about what really does make you happy.
all the money in the world by laura vanderkam
One of the early chapters, for instance, talks about diamond engagement/wedding rings and where else you could put that money instead. And not just in an investment account. Instead of splurging on a huge rock, you could go out on a date every weekend for a long long time which might bring you a lot more happiness than a ring you don't notice much after a few months.
Every chapter explores some aspect of finances in a really engaging way.
One chapter talks about how we so many of us move to the suburbs to get a bigger house and yard, but then we end up with more house cleaning, more yard work, and longer commutes, which bring almost everyone less happiness.
Another chapter talks about how many personal finances gurus suggest cutting out the extras (say, your daily latte) but that it's probably easier to increase your income a little than to deprive yourself every single day in a way that both makes you unhappy and strains your self-control. This chapter was really eye-opening to me about how little things really do bring a lot of happiness and you'd be better off doing more small happiness purchases than the occasional big-ticket purchase.
Probably my favorite chapter was called "The Best Weekend Ever." This chapter discusses how anticipation is one of the most fun parts of purchases or experiences, so we can significantly boost the happiness we get out of spending money by planning in advance. She has a few readers come up with their ideal weekend and then determine how much it would cost, plan it out, and do it. Bart and I spent a very fun thirty minutes talking through what our ideal weekends would look like and how we could make them happen.
All the Money in the World is definitely not your standard money book. but it really helped me think about money – both earning and spending it – in a totally different way. Plus, it was just FUN to read.
And of course, I immediately rechecked out 168 Hours because I find her just very insightful and fun to read. Not to mention that, with a new baby coming any day, I could use all the time help I can get.
if you liked this review of all the money in the world, you might also like these books: