Last year, I put together a 12 month reading guide with books to read each month. I loved picking new and old favorites and trying to match them to the seasons and holidays.
As December began, I started getting lots of messages and comments asking if I was going to do a similar thing for 2019.
The answer is YES!
Last year's list was ALL books I'd read before – this book list for 2019, I'm adding in a couple books to read that are new to me (and I'll list in the description if that's the case).
And this year, I'm excited to be more involved in discussing them. I'll be posting each month about them on Instagram and then doing Instagram Stories on a weekly basis to go along with them – I hope you'll join in the fun!
I'll also be sending out monthly updates about the upcoming books plus some fun extras related to the books in my Year of Reading email group.
If you'd like to get those emails (and who WOULDN'T?), just pop your email address in below and you won't miss a thing!
Sign Up to be part of the Everyday Reading Bookclub
And now, on to the exciting part – the books themselves!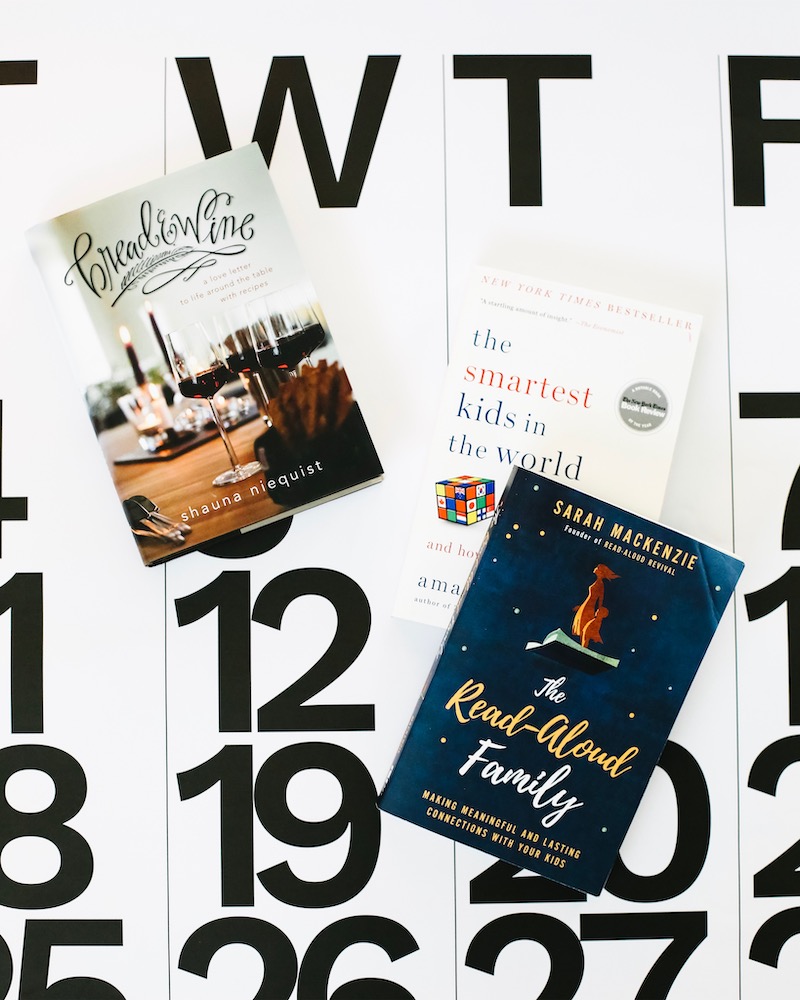 12 Books to Read in 2019
JANUARY
This Is Where You Belong: Finding Home Wherever You Are by Melody Warnick
I loved this book when I first read it a few years ago and I've been itching to re-read it since our move this summer. Even if you haven't moved recently, it's packed with ideas for how to make the most of where you live, and I cannot wait to discuss this one. It feels like the perfect way to kick off the year! (Full review here)
FEBRUARY
Becoming by Michelle Obama
This is one of the books I haven't read yet, but I'm CURRENTLY listening to it (Michelle Obama reads it herself, which makes it even more enjoyable) and it seems like the perfect pick for February which is both Black History Month and when President's Day is celebrated. (Full review here)
MARCH
I've Got Your Number by Sophie Kinsella
I was considering using her new book I Owe You One, but after I read it, I had zero interest in discussing it. March is for fun, spring break type reads and this is probably my #1 favorite Sophie Kinsella book. It took me two pages to be laughing so hard my stomach hurt. The discussion won't be deep, but dang it's going to be fun. (Full review here)
APRIL
Where the Crawdads Sing by Delia Owens
And another one I haven't read yet (I know – have I read ANY books on this list? I promise I have) but when I asked for recommendations on Instagram, this was one of the most suggested titles, plus it's being made into a movie. And the reviews are off the charts.
MAY
The Read Aloud Family by Sarah MacKenzie
This book, you guys. I feel like every parent should read it. It's so sweet and wonderful and inspiring. I cannot WAIT to talk about it. (Full review here)
JUNE
Peter and the Starcatchers by Dave Barry and Ridley Pearson
I like one of the summer books to be one that you can read aloud with your kids or listen to as an audiobook as a family and this one perfectly fits the bill. This story of how Peter Pan became Peter Pan is funny and exciting and clever, and the dang audiobook is narrated by Jim Dale of Harry Potter fame. You cannot go wrong.  (Full review here)
JULY
As You Wish: Inconceivable Tales from the Making of the Princess Bride by Cary Elwes and Joe Layden
Summer feels like blockbuster movie time to me, so naturally, I couldn't resist choosing this book all about The Princess Bride. It's written by Cary Elwes (who plays Wesley) and he also narrates the audiobook (and somehow managed to get nearly every original cast member to come record their own stories for the audiobook). I listened to it and then my dad listened to it and then Bart listened to it. It's SO fun. Be prepared to HAVE to watch the movie afterward. (Full review here)
AUGUST
The Rest of the Story by Sarah Dessen
I have read every single book Sarah Dessen has written and I love her books so much. They just FEEL like summer to me and this is her newest one that comes out in the spring. Whenever people finish To All the Boys I've Loved Before and then ask what in the world to read next, I always suggest The Truth About Forever.
SEPTEMBER
The Smartest Kids in the World: And How They Got That Way by Amanda Ripley
I love books about education and September feels like the right time to read them as kids go back in school (and Target is blessedly empty again). I read this one a few years ago about the education systems in several different countries and it's so interesting and inspiring. It's going to be so fun to talk about.  (Full review here)
OCTOBER
And Then There Were None by Agatha Christie
I like to read a spooky but not overly scary book in October (last year's pick was The Thirteenth Tale) and this book, considered the most popular mystery EVER, seems just right.
NOVEMBER
Bread and Wine: A Love Letter to Life Around the Table with Recipes by Shauna Niequist
Food memoirs are some of my favorite books to read, especially as the holidays approach, and this one might be my all-time favorite. It's just so cozy and delightful. This time I might even make a recipe or two out of it, but don't hold me to it. (Full review here)
DECEMBER
The Bright Hour: A Memoir of Living and Dying by Nina Riggs
This is another one I've been meaning to read for a couple of years. After I read (and loved) When Breath Becomes Air, many people recommended this one and then! Paul's wife and Nina Riggs' widower ended up getting married!
Let me know if you'll be following along – I'd love to hear what you think of this book list for 2019 picks!
Also, if you liked this post about books to read in 2019, you might also enjoy these posts: