A few weeks ago, I mentioned on Instagram some of my favorite books to recommend, but I capped at four.
Well, like any real book nerd, I have more than four beloved books.
So obviously, I needed to share a few more that weren't included that and that deserve more time in the spotlight.
These are ten great books I reach for over and over again whenever someone asks about a book to get back in reading or something fun for a vacation or a great audiobook.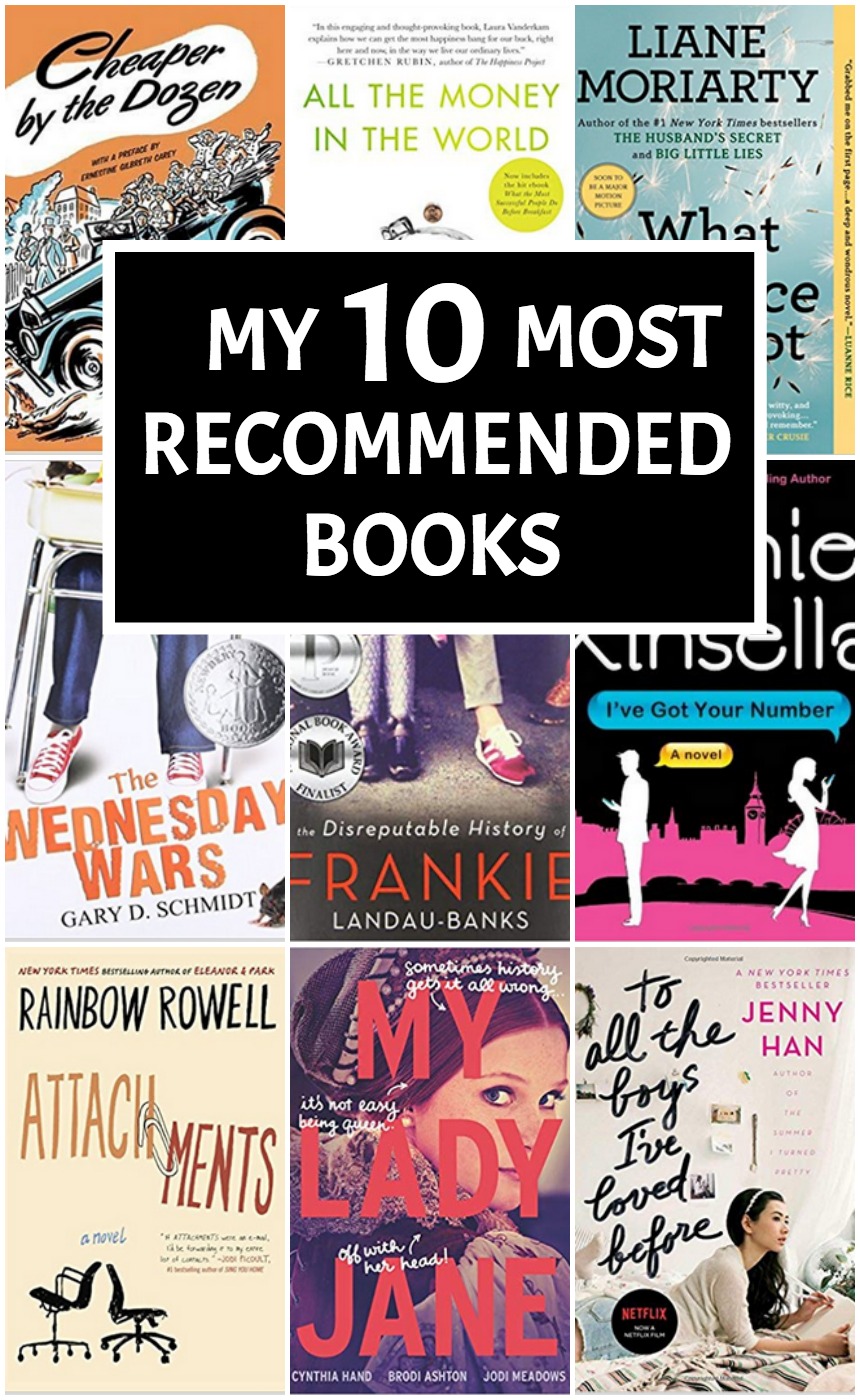 10 Great Books: My Most Recommended Titles
If I was forced to choose one favorite book, I think it'd be this one. I just LOVE this middle grade about a boy suffering through his seventh grade year. The Vietnam War is raging and his home life is a complicated by his ambitious father and his teenage sister, but the worst thing is that every Wednesday every other student goes to religious education and he has to stay in the classroom and study Shakespeare with his teacher. This book is funny, smart, and 100% fantastic. I have recommended it hundreds and hundreds of times. The companion novel, Okay for Now, is just as good. (Full review here)
This book is one of our family classics. My dad loved it so much that he requested my mom read it before they got married. 20 odd years later, I did the same before my own wedding. It's the true story of a family with twelve children, back in the early 1900s, and it's so funny and smart and interesting. I LOVE this book and can't wait to read it aloud to my children. Note that it basically has no similarities at all to the fairly-terrible Steve Martin movie. (Full review here).
This might be my #1 most recommended book. I've read it multiple times and I adore this story about a woman who falls off a bike at an exercise class and when she comes to, she has no memory of the past ten years. She thinks she's still a young 20-something, just recently married to the love of her life and expecting their first baby (and dirt poor). Turns out she's now in  her thirties, has three children, they are very financially secure, and . . . they're on the brink of divorce. Now Alice has to figure out what's happened in the past ten years to change their lives so much. And can she change it back? (Full review here)
Whenever someone asks which Sophie Kinsella book to start with (a question I get surprisingly regularly), I always recommend this one. I can't even read my review of it without laughing out loud – that book is HILARIOUS. It follows Poppy, who is in a complete panic. She's just recently gotten engaged and has now lost her vintage engagement ring which, of course, was a priceless family heirloom. And then her phone gets stolen. So she grabs a cell phone from the top of a trash can and starts using it as her own to track down the lost ring, even though the phone belongs to a business man whose assistant just quit (and ditched the phone). She insists she must keep the phone and will just pass along the messages for him. It won't be a bit complicated, as no Sophie Kinsella plots ever are. (Full review here).
I mean, if you haven't read this yet, how are we even still friends? I am full-on obsessed with this young adult trilogy that just got made into a Netflix movie (well, the first one did – I'm crossing my fingers for the next two to get the green light). In this one, Lara Jean, who is a pretty quiet girl, discovers that the five love letters she's written to the five boys she's had big crushes on over her life have all been mailed. Which is bad enough, but one of them is going to her sister's boyfriend. Please just go read this and enjoy the heck out of it. (Full review here)
This is NOT my normal kind of read but I saw such glowing recommendations that I picked it up on a plane flight and then devoured the whole thing. It's all about city planning and urban development and if those two phrases make your eyelids heavy, know that I'm RIGHT there with you. But it was funny and smart and I think about it weekly even several years later. (Full review here)
This was one of my most recommended reads last summer, after I listened to the audio and couldnt' stop laughing while I was trying to run in my neighborhood. Don't even bother with the book – just get the audio version and you can thank me later. It's a re-telling of the story of Lady Jane Gray (who was queen of England for less than two weeks) and they take every sort of liberty you can imagine with this story, history be darned. I promise you will laugh your face off. (Full review here)
I've read this young adult title multiple times (including as a book club pick) and I just LOVED it so much about Frankie, a girl at an elite boarding school who comes back from the summer vacation to discover that she's now the kind of girl boys notice. She quickly snags one of the most popular boys in the school as her boyfriend and then discovers he's part of a secret all-boys society. Well, Frankie wants in. (Full review here)
This is the most fascinating non-fiction book. I've read tons of money books in my lifetime, but not one at all like this that doesn't give advice for how to save or cut expenses or invest, but instead gives you all sorts of fascinating frameworks for figuring out how to use your money in ways that really make you happy. I pretty much read this entire book aloud to Bart. (Full review here)
This is one of my very favorite chick-lit books about a tech guy at a newspaper who is supposed to monitor company email and finds himself completely caught up in the email correspondence of two women who work at the paper. He doesn't know either of them, but soon finds himself falling for one of them. But now that he's read months of her personal email, how's he ever going to make something happen in real life without seeming completely creepy or lying to her? (Full review here)
And if you'd like a printable copy of this list that you can take to your library or screenshot on your phone for easy access, just pop in your email address below and it'll come right to your inbox!
Anything I missed? And what great books are you most likely to recommend? You know I'll never say no to a good book suggestion!
If you liked this post about great books to read, you might also like these ones: