Another Saturday, another set of killer good book deals.
From paperbacks to audiobooks to ebooks, there is something for everyone this weekend.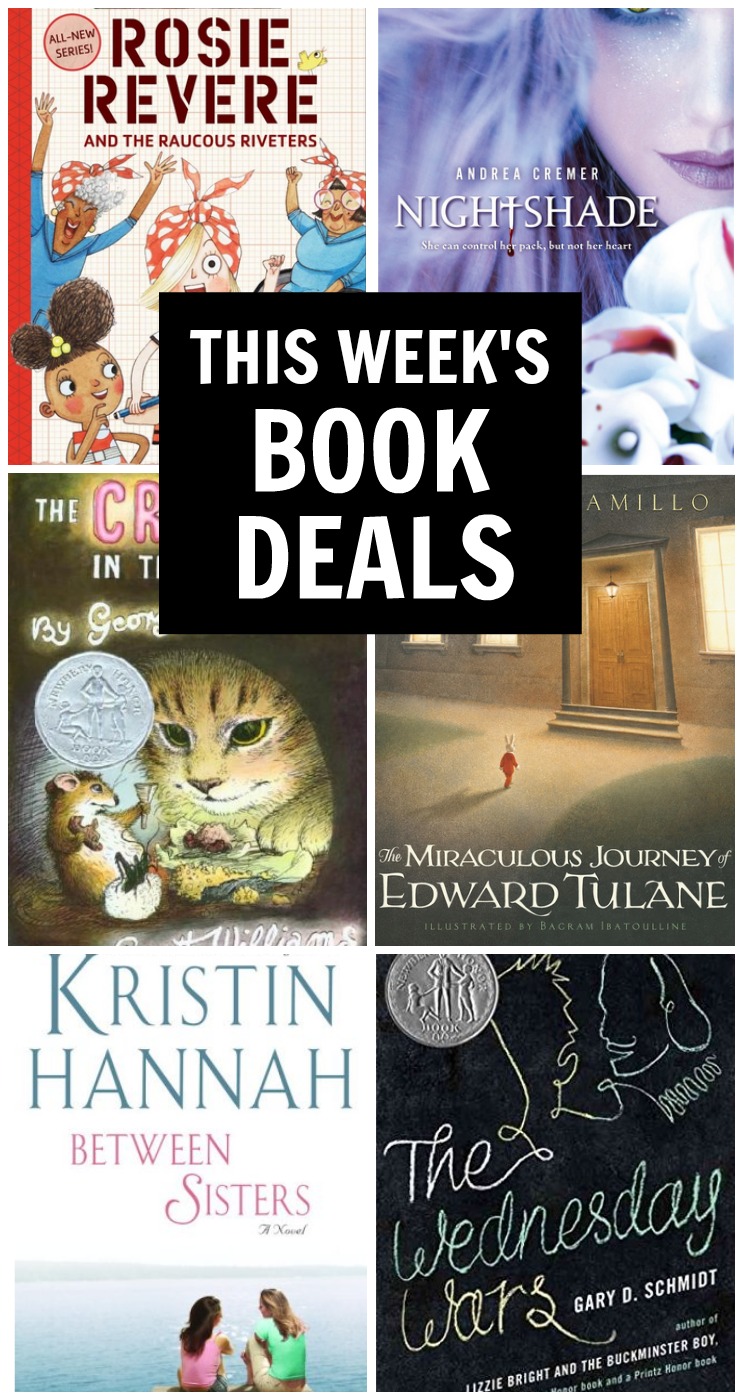 6 Book Deals THIS WEEKEND
The Wednesday Wars by Gary D. Schmidt – ebook for FREE with FreeTime Unlimited or $2.99
You guys. I just adore this book with all my heart. It's on my list of my top ten most recommended books and I feel like it's SO highly underrated. My full gushing review is here, but there's no way to sum up this book in two sentences. Just get it, read it, and love it. (P.S. The companion book which is JUST as a good is also on sale for $2.99 right now or included with FreeTime Unlimited).
Between Sisters by Kristin Hannah – ebook for $2.99
Kristin Hannah has had some SMASH hits, like The Great Alone and The Nightingale, but I'd never heard of this novel by her. It's got a TON of amazing reviews and I'm excited to dive in.
The Miraculous Journey of Edward Tulane by Kate DiCamillo – ebook for $0.99
So many of Kate DiCamillo's books make great read-alouds and this one is no exception about the adventures of a small china rabbit who is separated from the little girl who loves him.
The Cricket in Times Square by George Selden, illustrated Garth Williams – paperback for $4.69
I know so many of you want book deals that include PHYSICAL books, so I'm always thrilled when a classic read-aloud like this one pops up.
Nightshade by Andrea Cremer – eBook for $1.99
I had COMPLETELY forgotten about this book until I saw the cover pop up and suddenly I remembered this YA werewolf book and how much I enjoyed it nearly a decade ago.
Rosie Revere and the Raucous Riveters by Andrea Beaty – audiobook for $4.89
If your kids love the Rosie Revere picture books, try out the early chapter book series that starts with this title. The audiobook is just over an hour long so it's great for newer listeners. Or grab the kindle version for $2.99!