I can hardly believe 2019 is wrapping up and that 2020 begins this week.
This has been a solid year of reading for me – one of my best in years, actually!
It was so fun to look through all the books I've finished this year and pick 10 favorites.
Some years, I feel like I'm scraping the bottom of the barrel to come up with ten and other years, I agonize over which ones to leave off. This, happily, was the latter kind of year.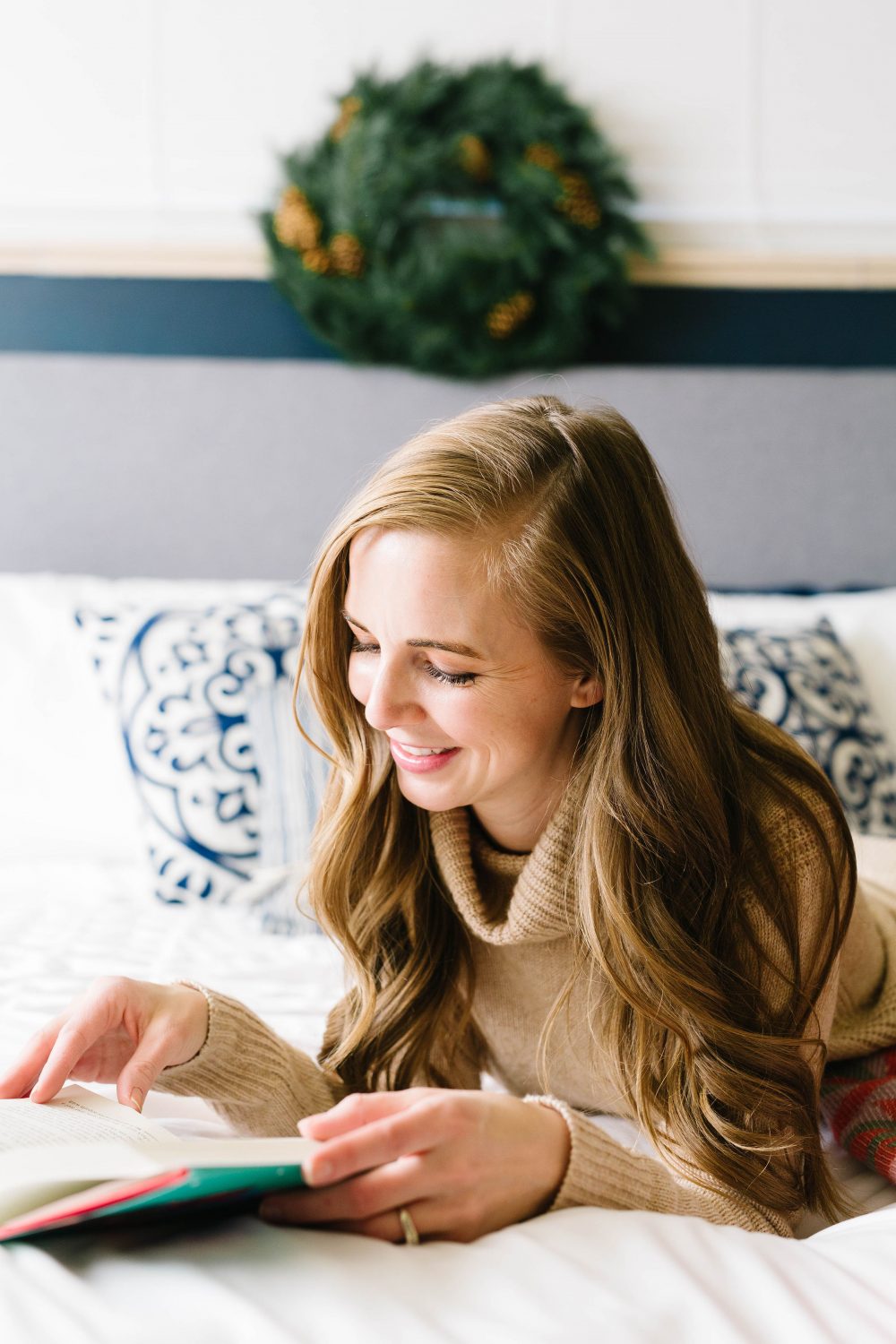 The Best Books I Read in 2019
Last Christmas in Paris: A Novel of World War I by Hazel Graynor and Heather Webb
It'll be no surprise to see this book on here because I've been talking about it all month. This was just such a delightful listen and I couldn't sneak in enough audiobook listening. It's not SUPER festive, but it's absolutely beautiful.
More Than Enough: How One Family Cultivated A More Abundant Life Through A Year Of Practical Minimalism by Miranda Anderson
I love Miranda's book about choosing to be happy with what you have instead and making your life work for YOU instead of trying to keep up with some imaginary finish line that you'll never reach. If you haven't read it yet, this is the perfect book to read as a new year begins! (Full review here)
Where the Red Fern Grows by Wilson Rawls
This was the first book I read the girls this year and it was just SO GOOD. I was super worried they wouldn't be into it (would they are about a young boy in the Ozark and his hunting dogs?), but they were SO into it and they got ready early every morning so we'd have time to read before they left for school. I absolutely cried my face off at the end of it.
Things You Save in a Fire by Katherine Center
I read this over Labor Day weekend and it was the perfect vacation read. I wasn't as impressed by her last book How to Walk Away but this one was so charming and fascinating and surprising about a female fire fighter who transfers to a new station in Massachusetts and faces an uphill battle getting the all-male team to accept her.
Maybe You Should Talk to Someone: A Therapist, Her Therapist, and Our Lives Revealed by Lori Gottlieb
I discovered this book on Modern Mrs. Darcy's summer reading list and then saw it EVERYWHERE this summer. I devoured this one – it was so fascinating about a therapist and her patients, plus her own experience in therapy. Pretty much made me certain we ALL need to go to a therapist.
New Kid by Jerry Craft
I don't think I've ever included a graphic novel on one of my end of year best books lists, but when I read this one for my children's literature bookclub, it sucked me in from the first page and I finished it in two days. Such a wonderful, warm tale of a middle schooler who is going to a rich, private school as one of the few people of color. It's smart and funny and I loved every page.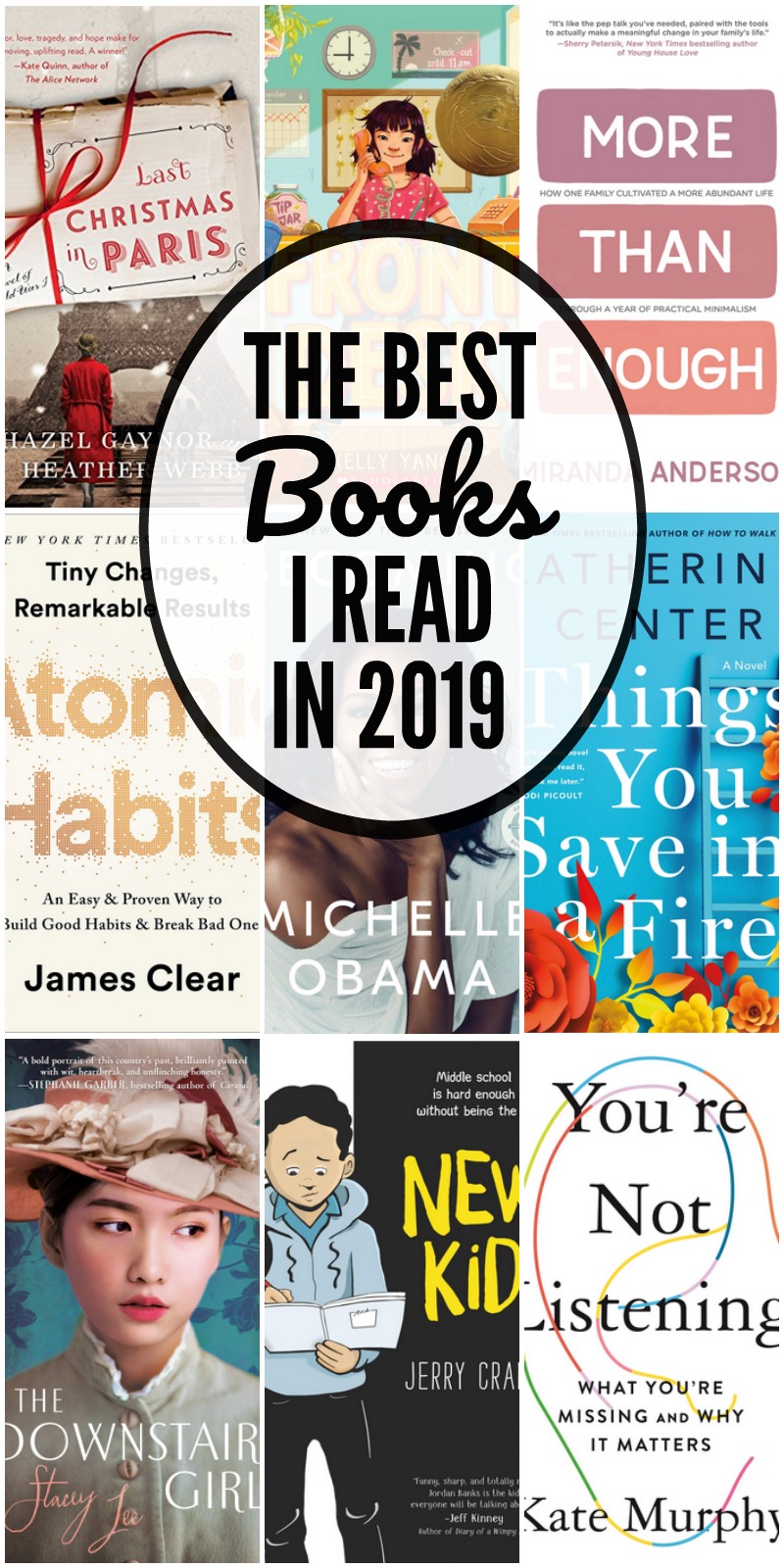 Becoming by Michelle Obama
When I think back on this year's Everyday Reading Book Club, this for sure was the stand-out book for me. It was SO popular and it was absolutely delightful to share this reading experience with thousands of you! (Full review here)
Front Desk by Kelly Yang
This middle grade novel about a family that comes to the US from China in the 90s, it's such a fascinating look at the immigrant experience. I can't wait to read this with my girls. (Full review here)
Atomic Habits: An Easy & Proven Way to Build Good Habits & Break Bad Ones by James Clear
Bart and I both listened to this book in the spring and couldn't stop talking about it for months. It can feel so overwhelming and impossible to change your habits, but this really helps you understand how to make it happen. (Full review here)
The Downstairs Girl by Stacey Lee
I love a good young adult historical fiction novel and this one did not disappoint. Set in Atlanta in the late 1800s, this was a fascinating peek at Jim Crow laws and the rising tide of suffragism all wrapped up into a fascinating family drama. (Full review here)
And a bonus book:
You're Not Listening: What You're Missing and Why It Matters by Kate Murphy
This one is a bonus because it actually hasn't come out yet (it'll be out in mid-January) but I DEVOURED this book on our Korea trip and talked Bart's ear off about every chapter. Probably every person needs to read this book, but if you're a parent you for SURE need to read this book.
And if you'd like a printable copy of this list that you can take to your library or screenshot on your phone for easy access, just pop in your email address below and it'll come right to your inbox!
I'd love to hear YOUR favorite books from 2019 – let me know in the comments.
And if you're looking for more favorite books, you can see all my past lists of my favorite books of the year here!
If you liked this list of the Best Books 2019, you might also like these posts: