In early August, as summer was wrapping up, Bart and I sat down to plan out the rest of the year and when we saw Labor Day on the calendar, we thought, "We should go somewhere."
We didn't want to go anywhere that we had to fly and we wanted to do somewhere new.
Boise seemed like just the right place for a weekend away.
My mom lived in Boise for about 6 years when she was growing up and then when her family moved away in high school, her parents kept their house and when I was maybe 8 or 9, they moved back and lived there until about four years ago.
So I've visited Boise many times, although our trips usually consisted of hanging out at my grandparents' home and visiting the park down the street. Over the years, I'd heard more and more people talking about how Boise has become quite a happening place, and suddenly I was completely sold on the idea of visiting as a family.
Plus, it's less than a six hour drive and staying in Boise was really affordable.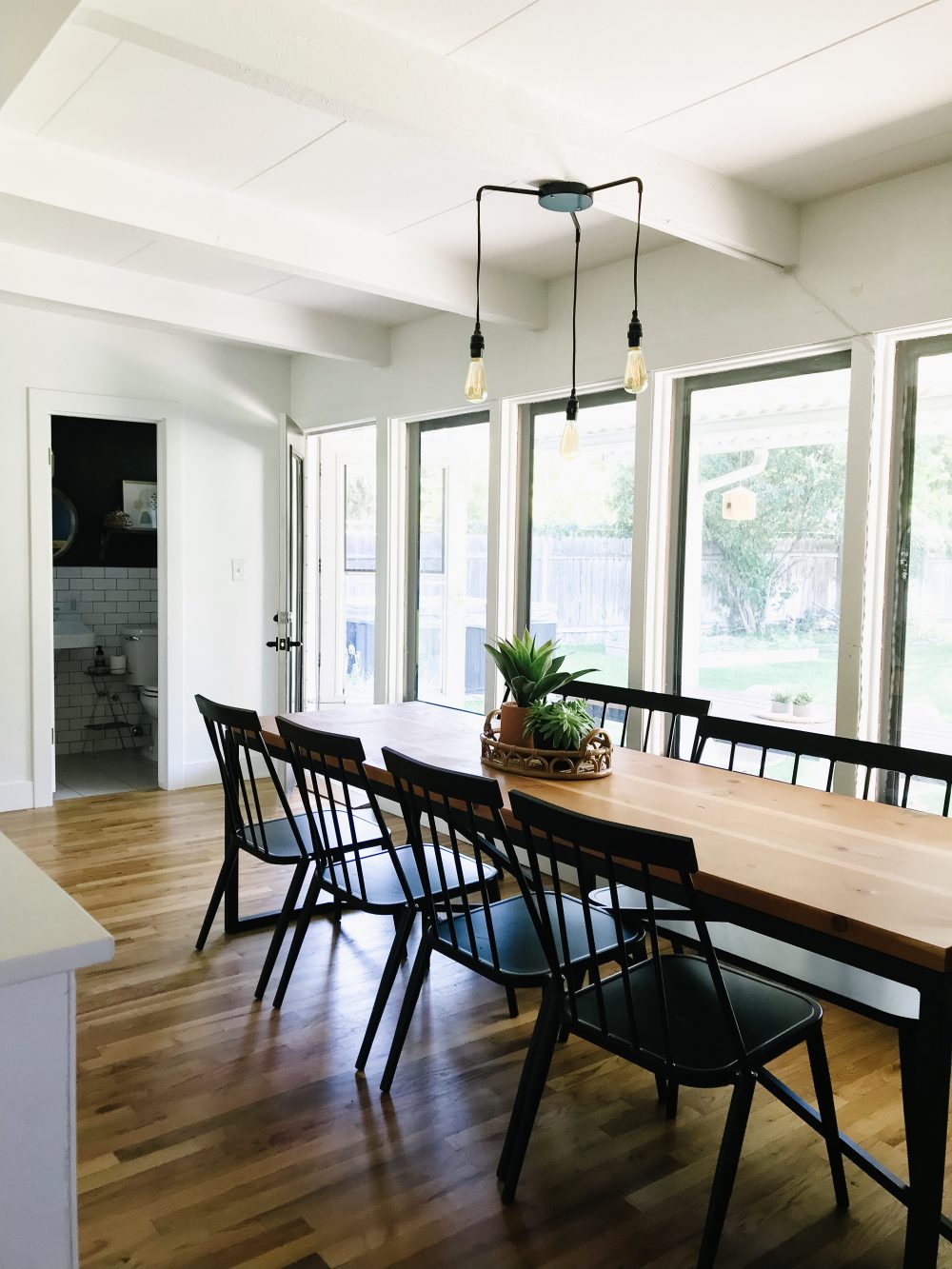 I booked an Airbnb and we were ready for our trip.
We picked the girls up from school on Thursday afternoon and drove straight out, arriving in Boise around 10 p.m. and then spent the next three and a half days soaking up a new-to-us city.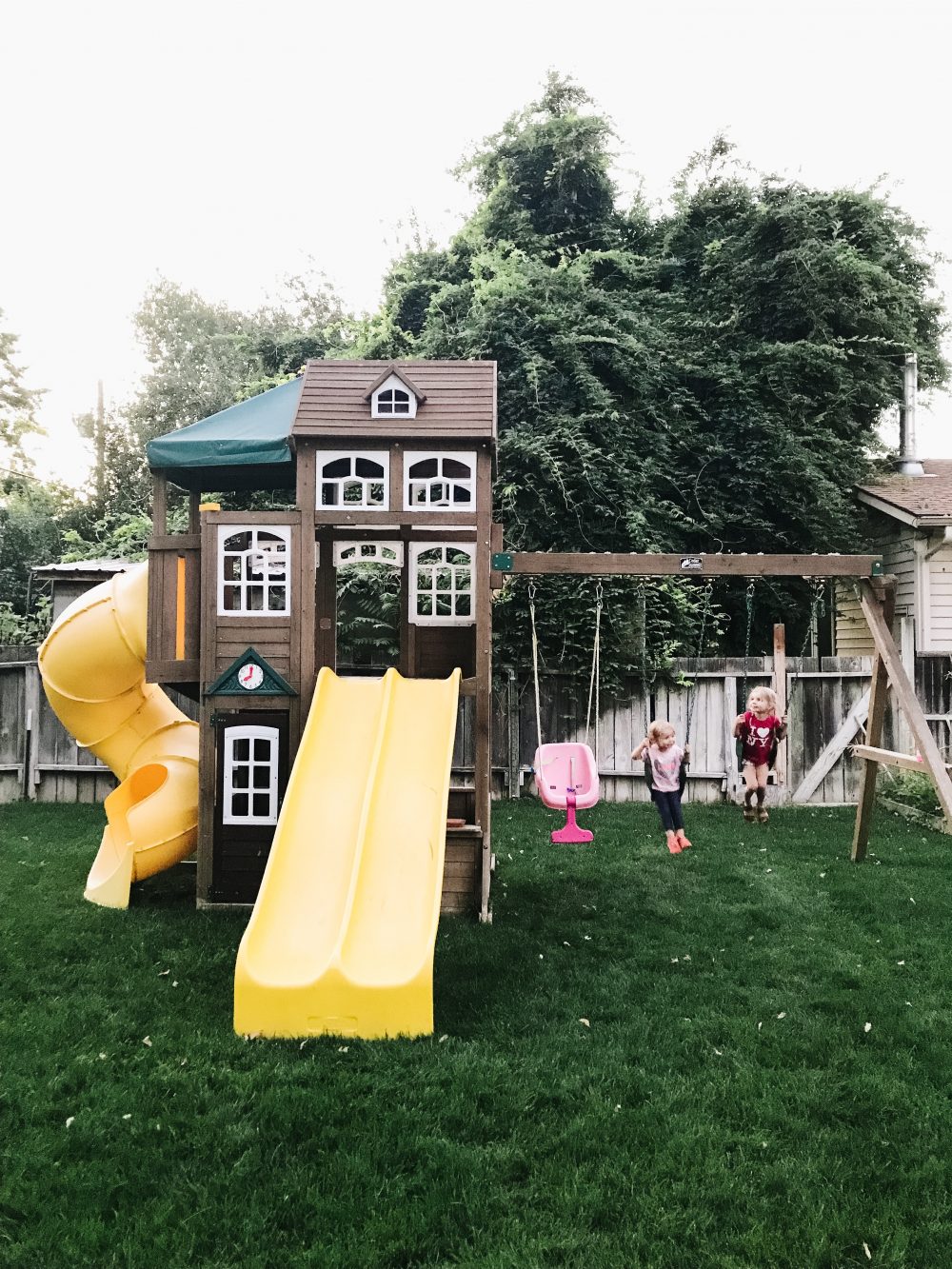 We kept commenting on what a great little city it is with lots of great restaurants, a ton of outdoor things to do, and just a really well-designed downtown and public spaces. We'll definitely be going back.
Our Airbnb was especially great (and I sent the link to at least a dozen people on Instagram who were asking for it while we were there). It was in a quiet neighborhood, but literally half a mile from the freeway entrance and it was super easy for us to go downtown 2-3 times per day. It also had a perfect backyard with a play set that our girls played on NONSTOP, a firepit for s'mores, and plenty of open grass for playing soccer.
Here's what our itinerary looked like: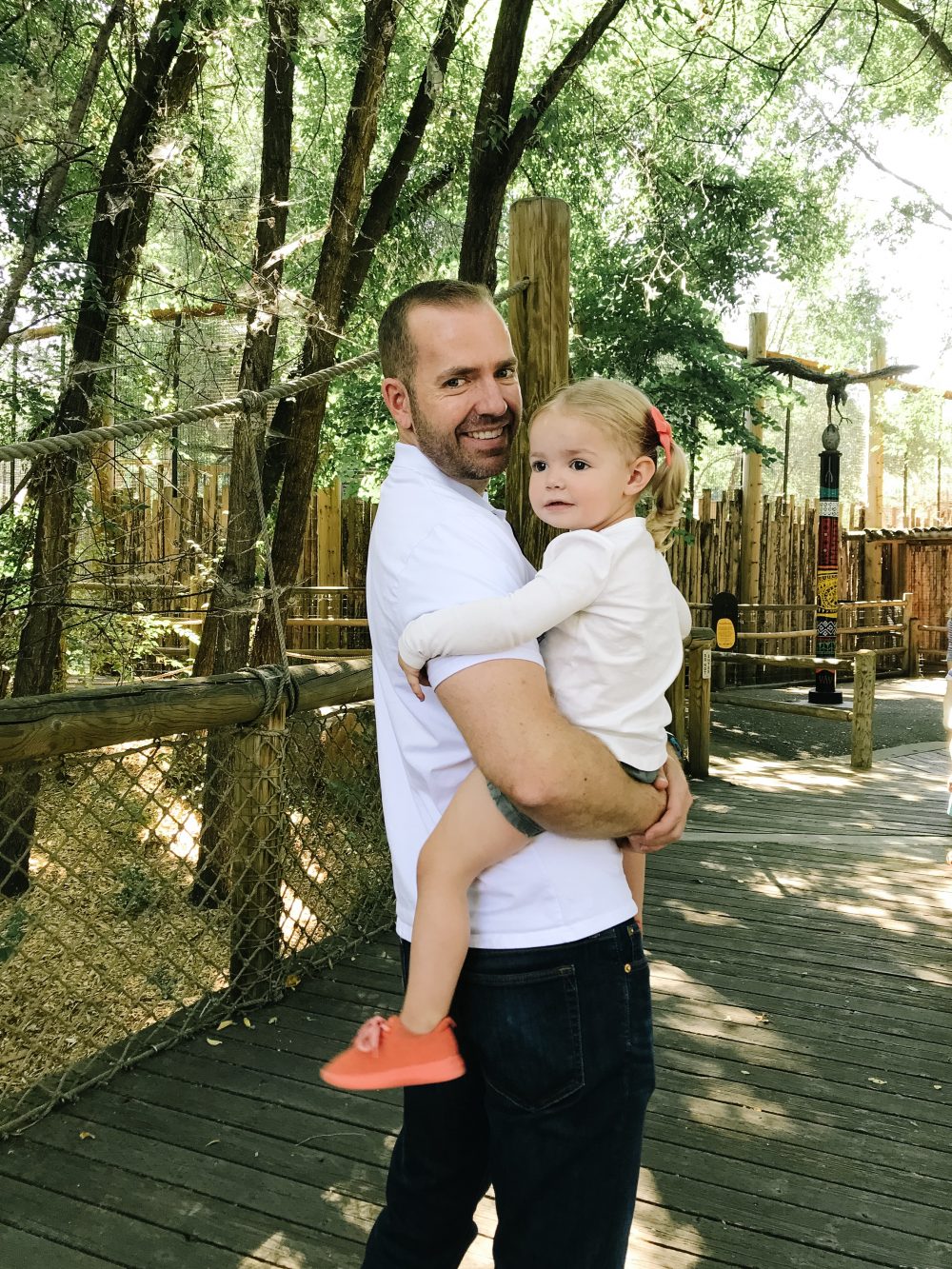 Fun things to do in Boise with kids
Friday
Our first item of business was Zoo Boise. I remember visiting this as a child at least once and it's the perfect size little zoo. We spent just over two hours there and saw all the animals, went through the Butterfly exhibit, rode the carousel, fed the goats in the petting zoo and ate some nachos (we'd planned to go shopping the night before when we arrived, but it was so late we just went to bed instead. The girls had some yogurts that were in the Airbnb fridge but Bart and I were absolutely starving).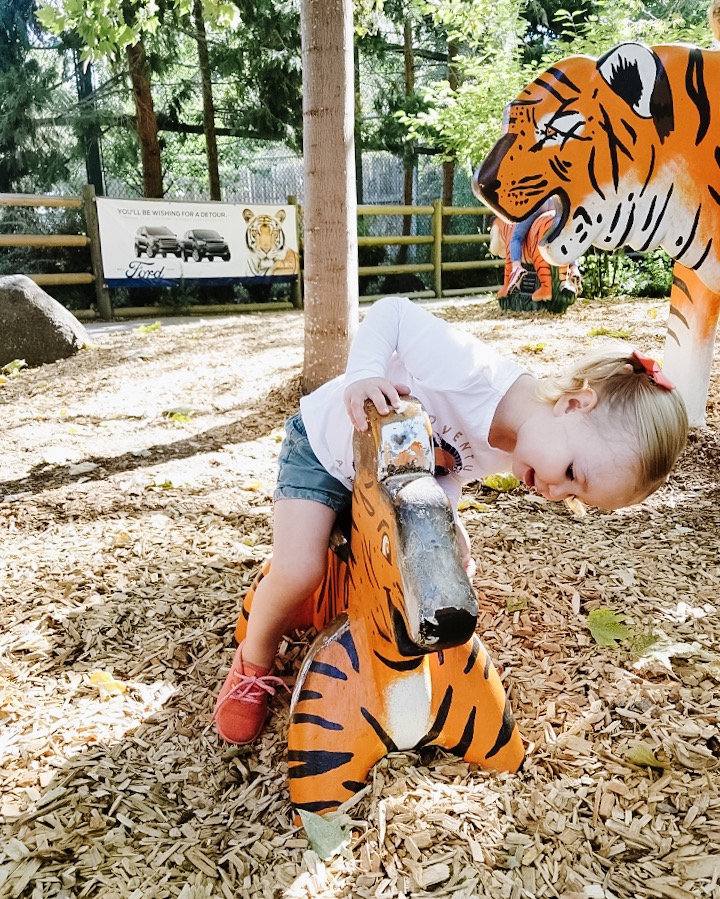 After the zoo, we went to Costo (which was very close to our Airbnb) and stocked up for the weekend and then went back to the house, had lunch, and put Tally down for a nap. The girls played in the backyard and we played some games, and once Tally woke up, we headed back downtown to the Boise Public Library (I love that all the libraries in the Boise system are officially labeled Library! with an exclamation point).
Star fell asleep in the car, so Bart put her in the stroller and went up to the non-fiction section, while the other girls and I visited the children's department and played with the ice cream stand and then I took advantage of the game collection to teach the girls how to play Set (which they'd never played before and was one of my childhood favorites).
When the library closed, we drove a few blocks to dinner at Flatbread, which was delicious (the service was pretty slow, so they generously comped one of our meals). Part way through the meal, we realized we didn't have a diaper for Tally, so Bart took one of those electric scooters the few blocks over to where our car was parked and was back in record time.
After dinner, we drove over to Ann Morrison Park for Night Glow (part of the annual Spirit of Boise Balloon Classic, a hot air balloon festival I remember attending as a child). Bart was on the fence about going since it was getting late and the traffic was nuts, but I convinced him we should go and we found a parking spot in the MOST charming neighborhood (along with a million other people) and walked about 3/4 of a mile to the park, where the balloons were lighting up in the dark and there was live music and tons of food tents. It was totally magical and the perfect way to end our first day.
Saturday
On Saturday morning, we headed back downtown for the Capitol City Public Market which many people had recommended. I was amazed by how big and bustling it was and we tried lots of samples and saw lots of cool things for sale. We ducked into Rediscovered Books and spent probably half an hour there browsing through the shelves and reading some new-to-us picture books.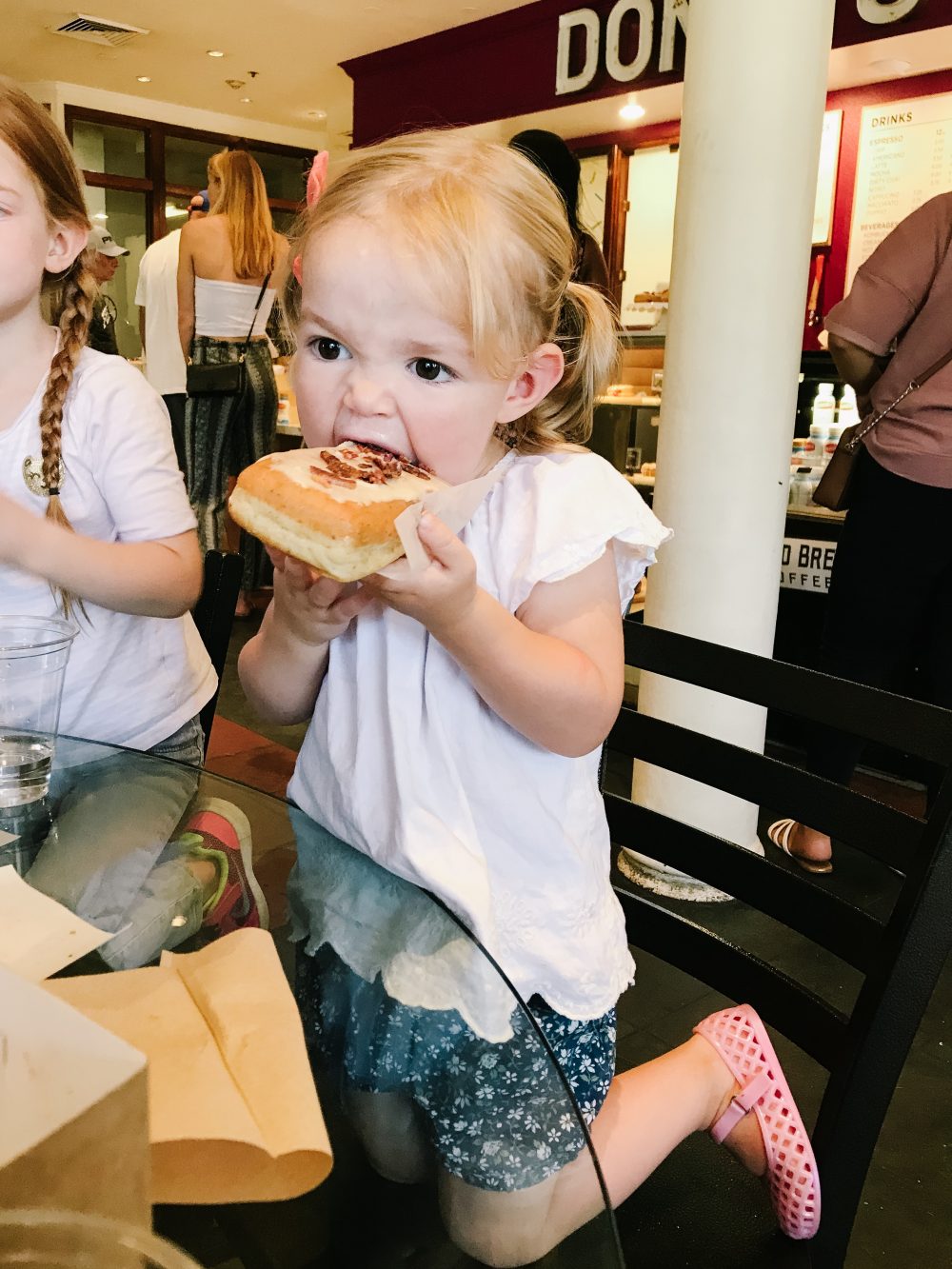 At the end, we walked down to Guru Donuts and the two big girls and I stood in line while Bart walked the two younger tantruming children around the block in the stroller, until they realized that eating donuts was much more fun than screaming. We got five different donuts and the best ones were the Cherry Pie A La Mode and the Boston Cream Pie. Delish!
On our way back to the car, we walked through Freak Alley and then headed home for a little lunch and quiet time + naps.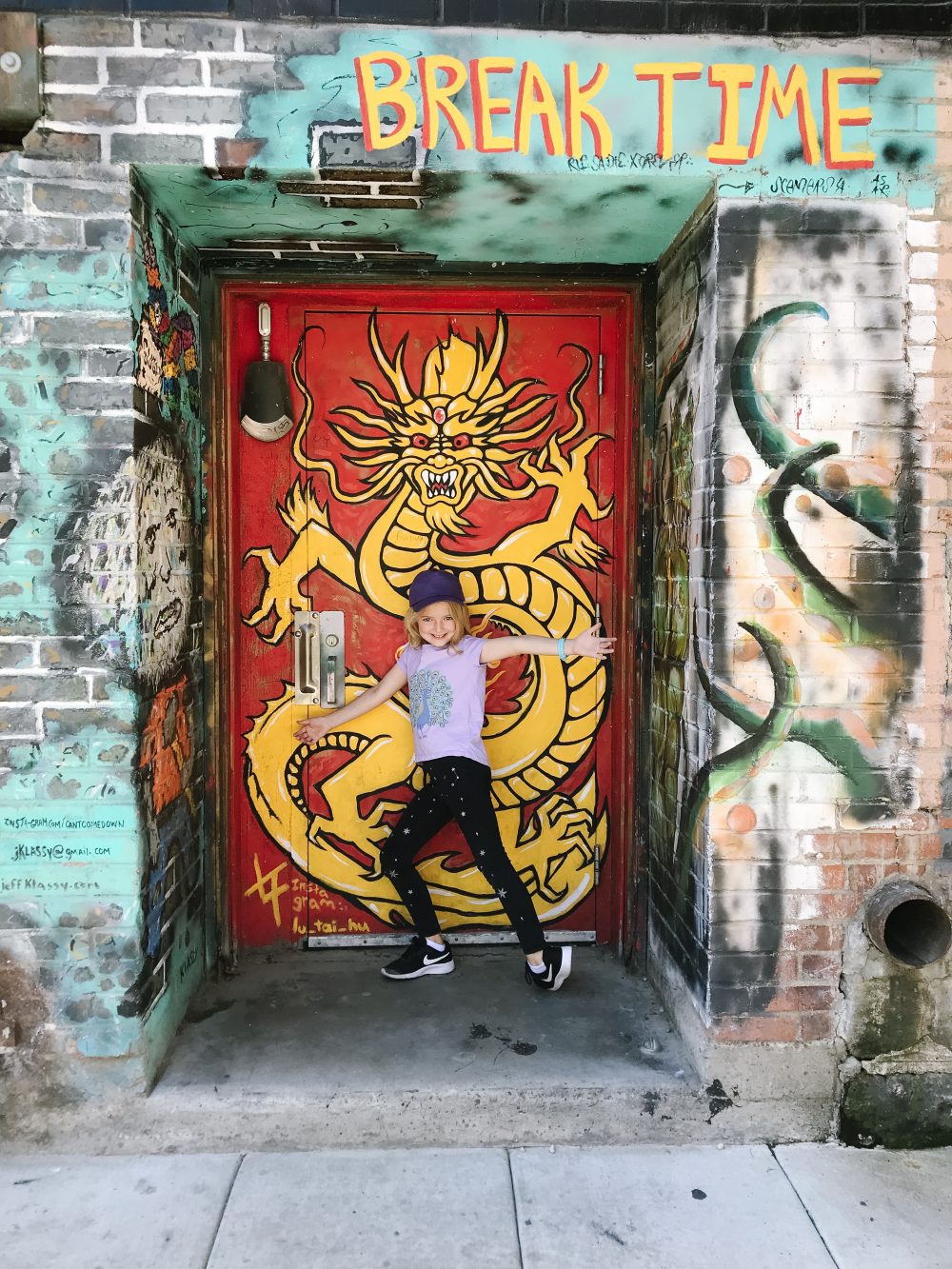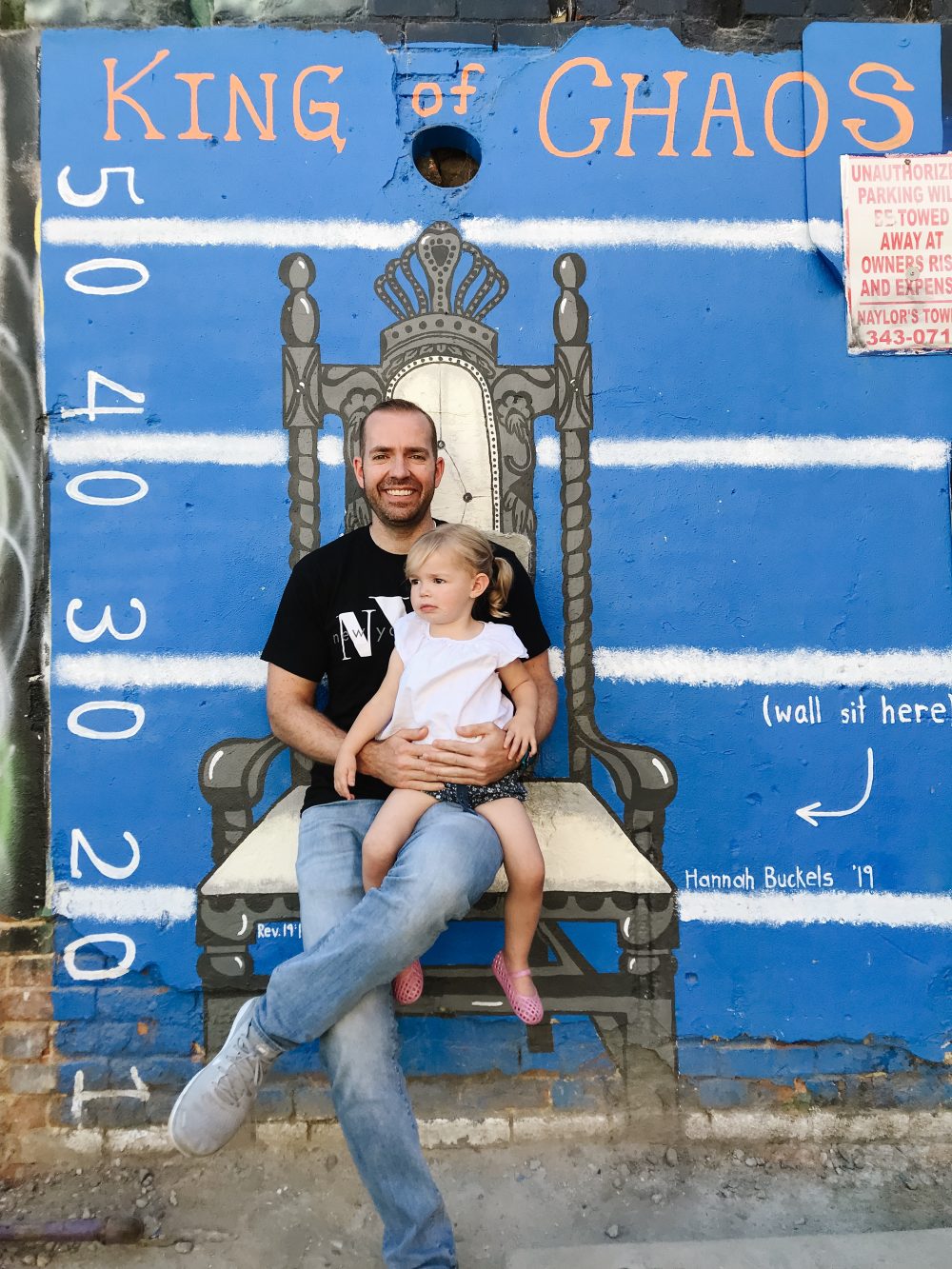 We'd been planning to tube the Boise River, but the recommendations were not to do it with children under 50 pounds which is. . . all our children. So we decided to go to Esther Simplot Park instead which has two huge ponds and beach areas.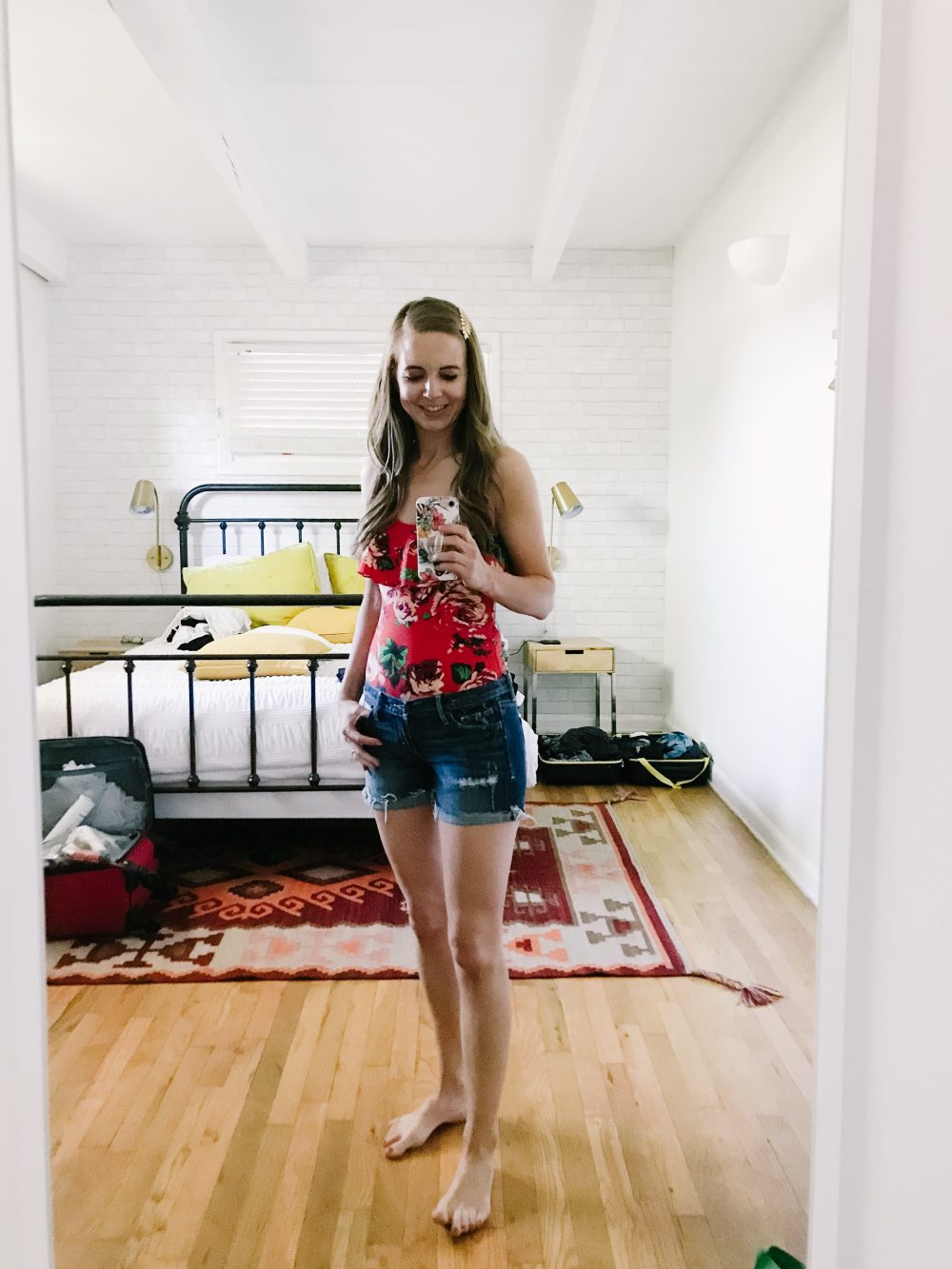 It was nearly 100 degrees, so it was a perfect time to be in the water. When we arrived, we realized that you could rent paddle boards or kayaks, so I stayed with the girls playing on the beach while he went to rent something. When he returned, he was navigating the MOST enormous paddle board I'd ever seen, which the rental place referred to as "the party board" and all six of us easily fit on it. The big girls loved paddling so the two little girls and I mostly just enjoyed the views as the other three paddled us around. We rowed across the entire pond, with lots of people asking about this massive board, and stopped at the dock on the other end where we all jumped off and played in the water for a while.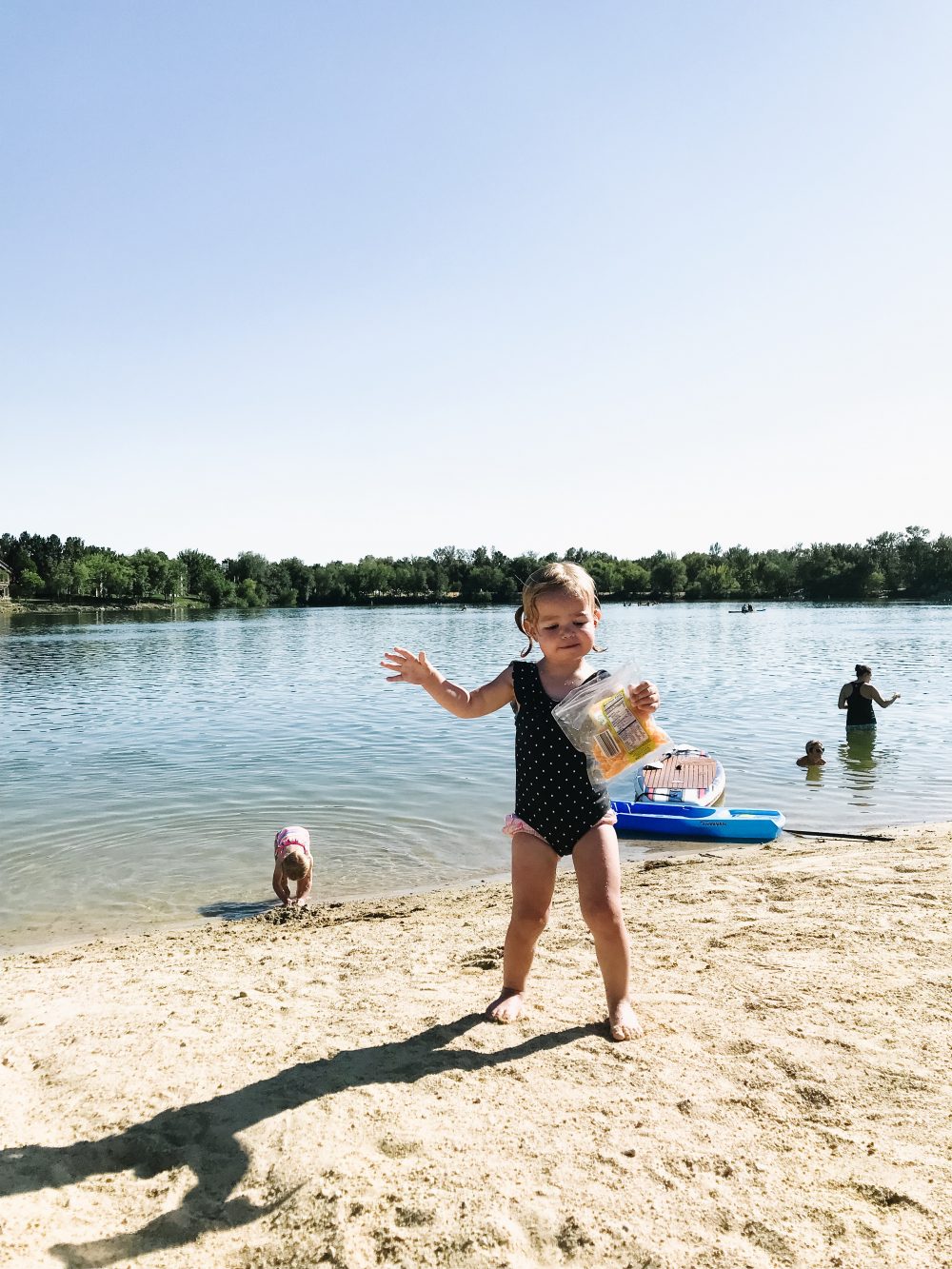 It was the perfect way to spend the afternoon and no one got sunburned (I kept telling Bart, "We made it 8 days in Maui with no sunburns – no WAY am I going to let our children get sunburned while we're in Boise").
After a quick trip home to get showered and changed, we headed back downtown to Boise Fry Co where the fries are the main event and burgers are the side. There are six different kinds of potatoes, from purple to sweet potato, they come in different styles (curly, shoestring, homestyle, etc) and they have a whole slew of different dipping sauces and salts and seasonings. It was a really fun dinner and afterward we walked down to The Stil for ice cream.
The weather was perfect and we just soaked up a gorgeous summer evening. When we got back to the house, the big girls played some soccer with Bart while I pushed the little girls on the swings and then we tucked everyone into bed.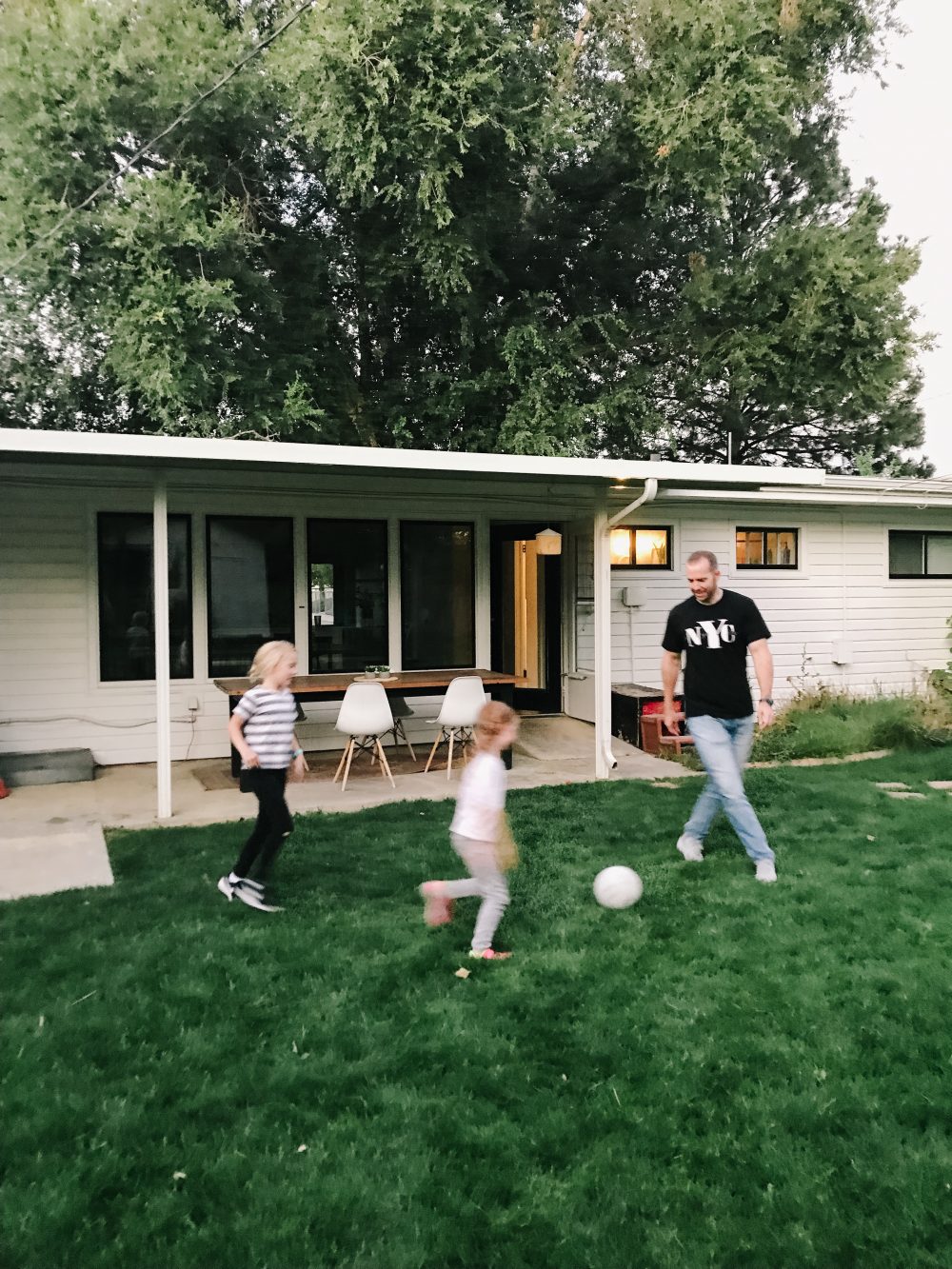 Sunday
We had a lazier morning and then we went to church, followed by a walk around the Boise Temple (my grandparents worked there for 9 years and I'd been with them once when I was a teenager, so it was fun to go back).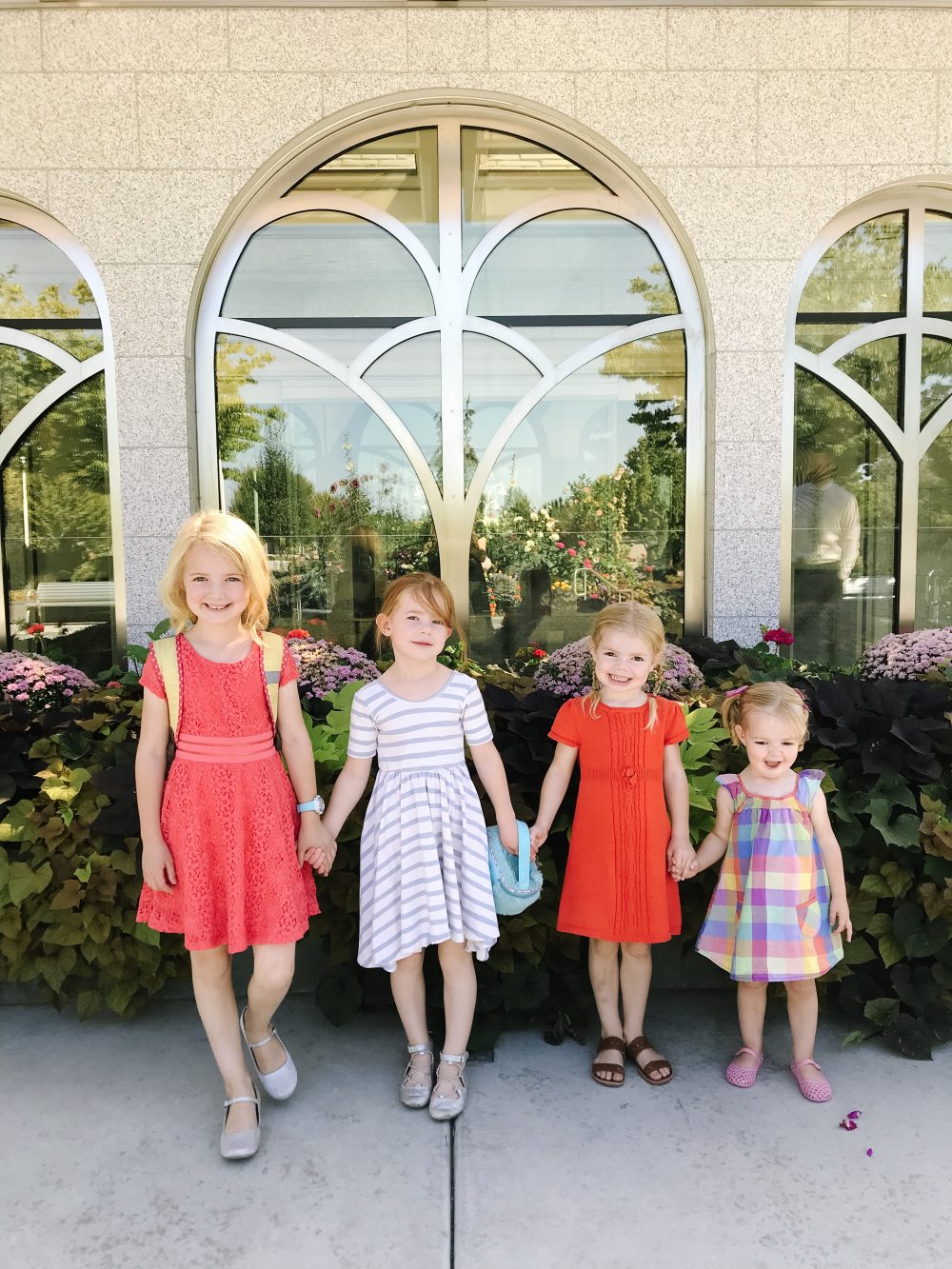 After lunch, Tally took a nap and we played a bunch of card games and Yahtzee and then I read on the couch while the girls played in the backyard.
We watched an episode of Relative Race and then had dinner (we'd bought a prepared dinner at Costco on Friday and then also did corn on the cob and some amazing golden melon). After dinner, we went for a walk through the neighborhood which was so fun, especially since most of the houses were the same era as our home and it was delightful to see what other people had done with houses like ours. Ella and Bart had made a scavenger hunt sheet for each of the four girls with things to find on our walk and we ended up at the elementary school in the neighborhood where the playground was open. The girls and I played while Bart went back to the house to start a fire for s'mores, and when we could smell the fire from the playground, we headed back too and made some delicious s'mores.
There was a little more backyard soccer playing and then we tucked the girls into bed. I did a load of laundry so we didn't have to take a ton of dirty clothing home.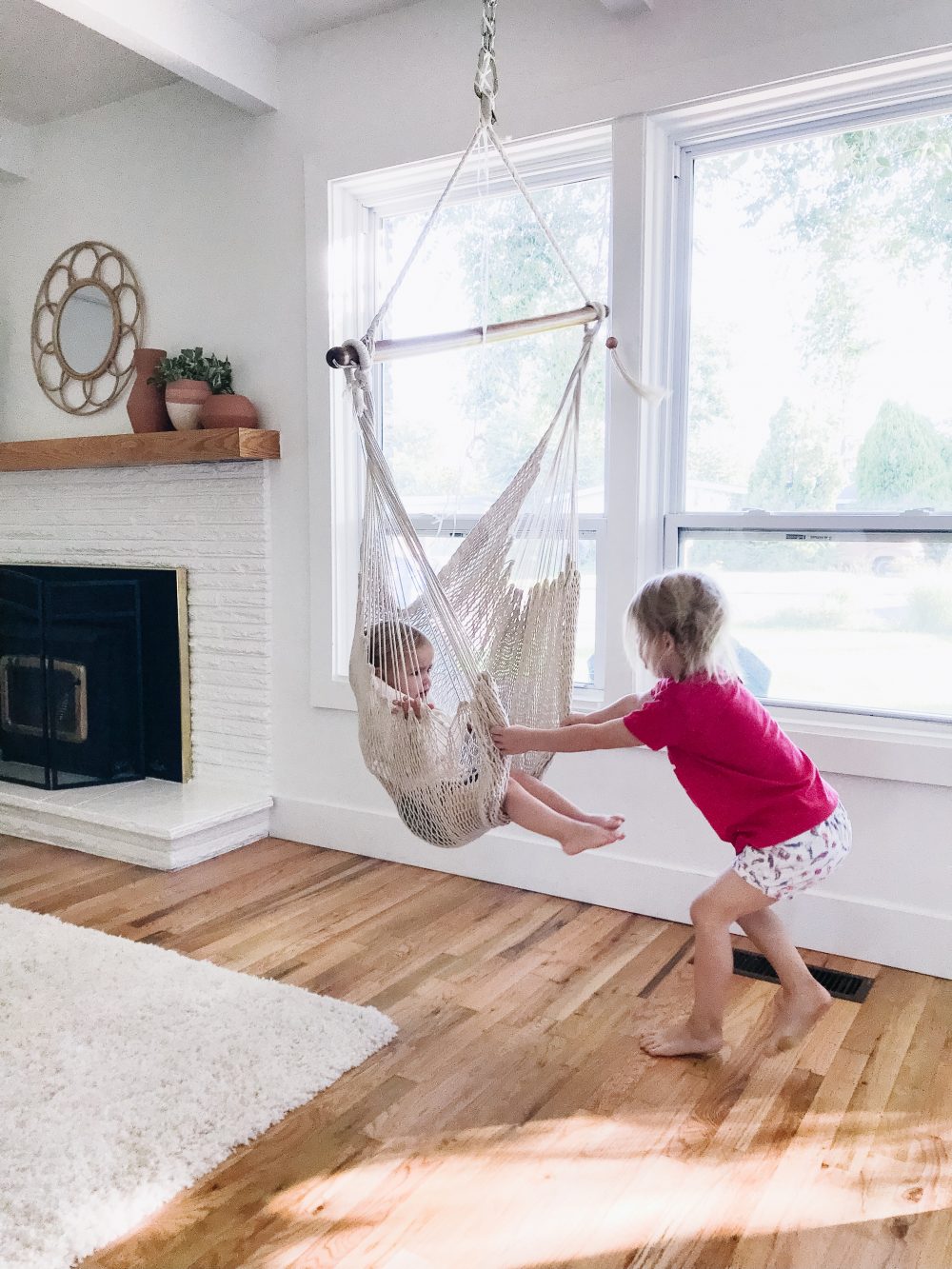 On Monday morning, the girls were up by 7:15, so we got up, had a quick breakfast, packed up, and were out the door just after 9 a.m. and were back home by 2:30.
It was the best weekend trip and we will definitely be back!
Here are some of the things to do in Boise that were recommended, but that we didn't get to this trip:
If you liked this post about things to do in Boise, you might also like these posts: