Last October, Bart and I went to Italy for a week, just the two of us.
This year, we decided we'd visit Seoul, South Korea.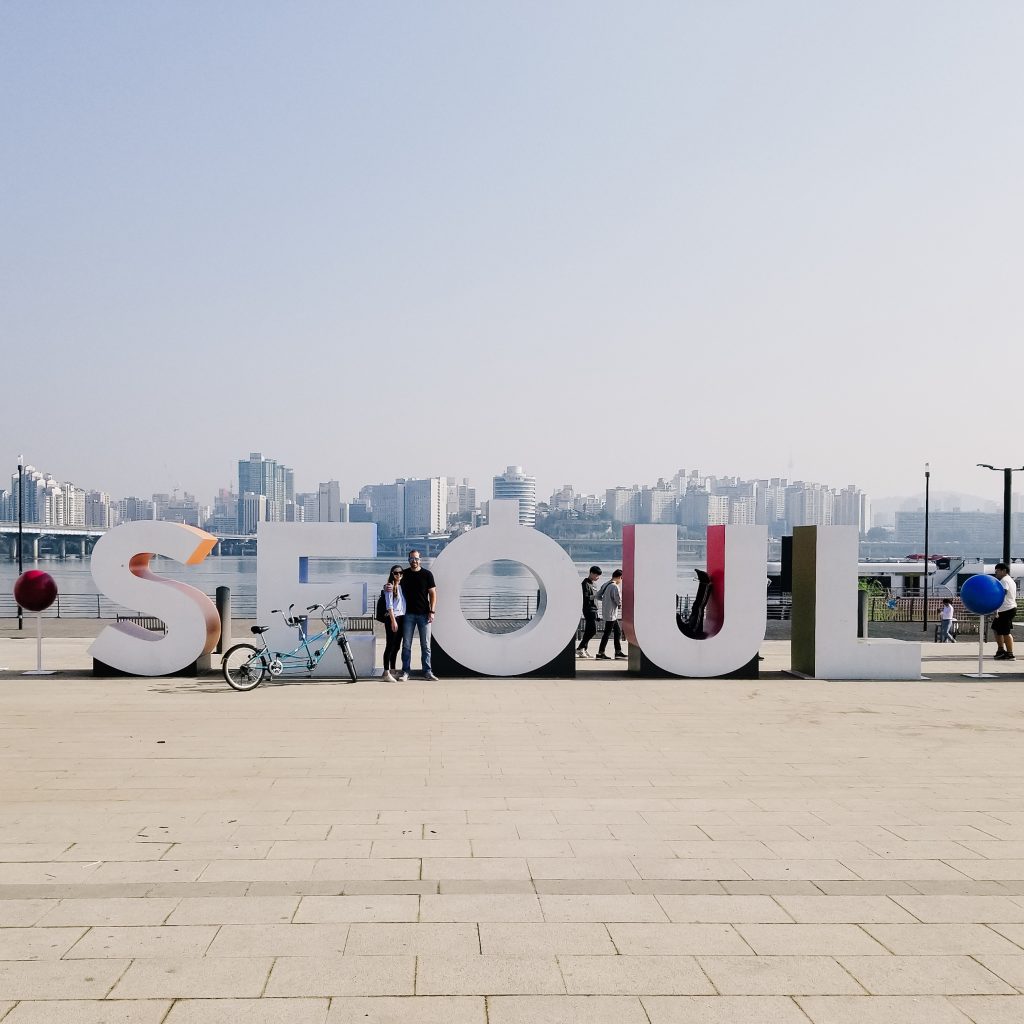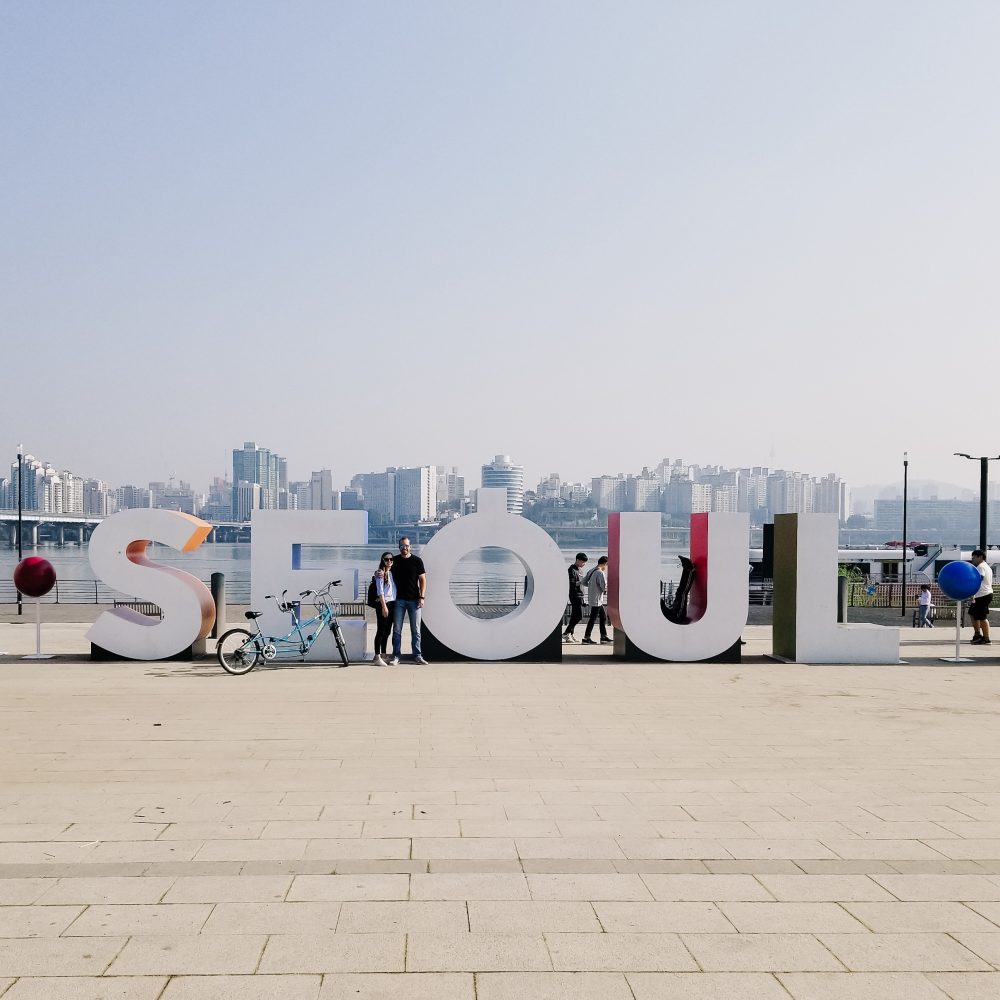 Bart lived in Seoul for two years as a missionary but hadn't been back in nearly 20 years and I'd never been to Asia at all.
It was so thrilling to finally visit a place I'd heard so much about for so many years.
It was extra fun because my cousin and his family live there, so we spent one of our days with them, plus they had lots of good suggestions of things to do in Seoul.
The thing about Seoul is that it's not a crazy tourist destination like, say, Italy or France, so while there is plenty to do in Seoul, it doesn't have that same feeling of "let's hit all the tourist spots" that you might have in other major cities.
Also, there are NOT a lot of Americans there. Even in the fairly tourist-y areas (like the Gyeongbokgung Palace), there were Japanese and Chinese tourists, but almost no one from the Western hemisphere. It definitely did not feel like being in Italy where it felt like there were Americans EVERYWHERE. (Bart, on the other hand, commented on how MANY Americans it felt like there were compared to when he lived there from 1999-2001).
I've had several people ask how visiting Seoul is if you don't speak Korean and I felt like it was totally doable. Bart speaks quite good Korean, but we could have absolutely gotten around without it. The subways are all well-labeled in English and enough people speak English that it's very manageable.
October was also a PERFECT time to go. The weather was absolutely gorgeous and we spent most of every day outside.
Where to stay in Seoul
We looked at a few Airbnbs, but with only two of us, we didn't really need more than a room, and hotels are very nice and very reasonably priced in Seoul. We stayed at the Novotel Suites Ambassador Seoul Yongsan, which is a 5 star hotel, and it was less than $200 per night.
We LOVED this hotel. It was super nice, and we had a room on the top floor so the views out our window were spectacular, looking over the city all the way to the mountains, plus Namsan Tower.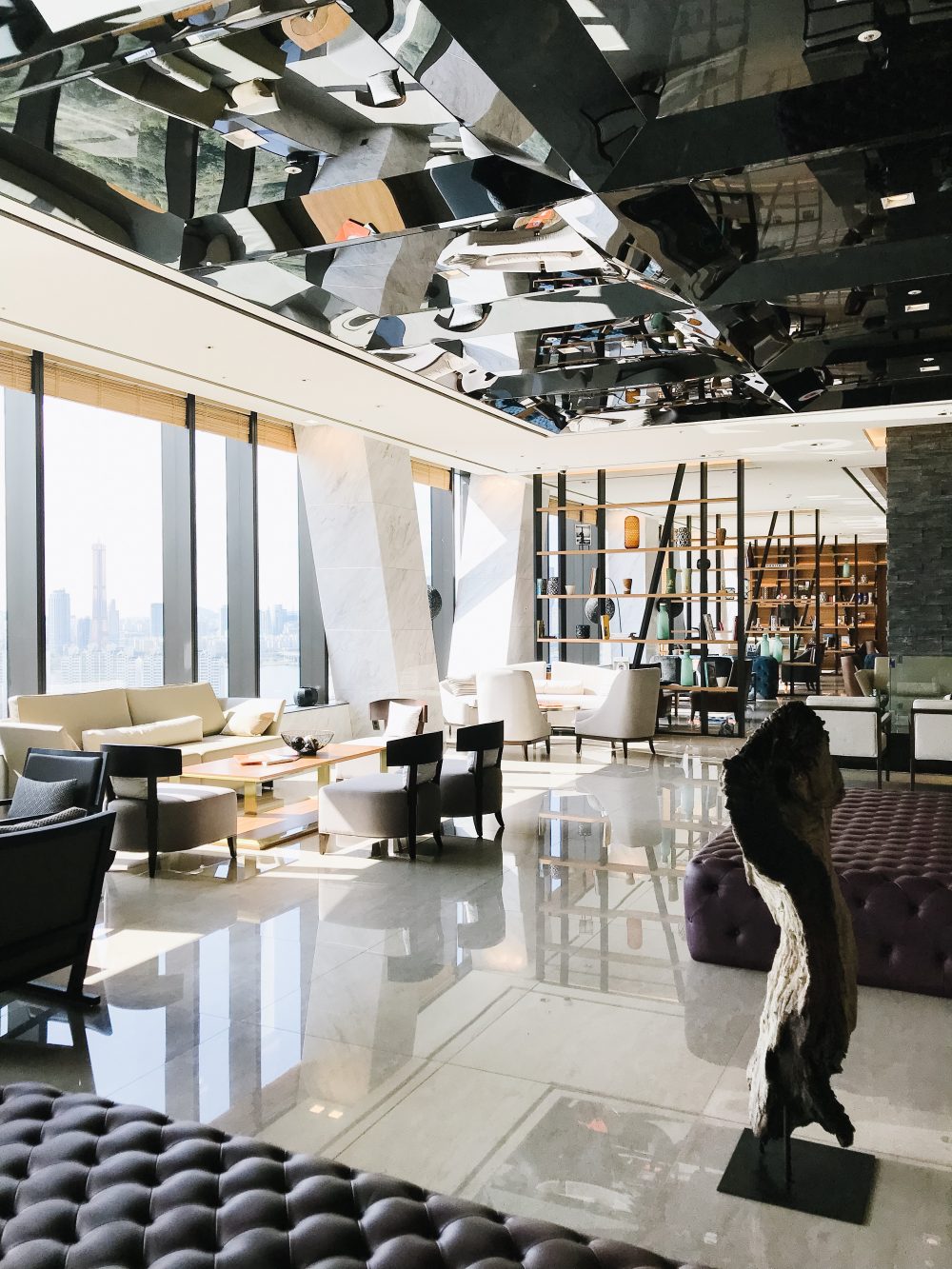 It also had a great gym and a beautiful pool with a hot tub (that we didn't take advantage of, sadly).
It was also fairly centrally located, so nothing was ever crazy far from us, plus it was connected to a major subway station, so it was just a quick walk to grab a ride to anywhere in Seoul.
Things to do in Seoul
Day 1: We woke up fairly early (around 5 a.m.) thanks to the time zone different and leisurely got ready for the day (and Bart went to the gym) before heading out to Gyeongbokgung Palace. It's free to get in if you are wearing hanbok (traditional Korean clothing) so we stopped at one of the many shops that rent them along the road that runs in front of the palace and picked out our outfits.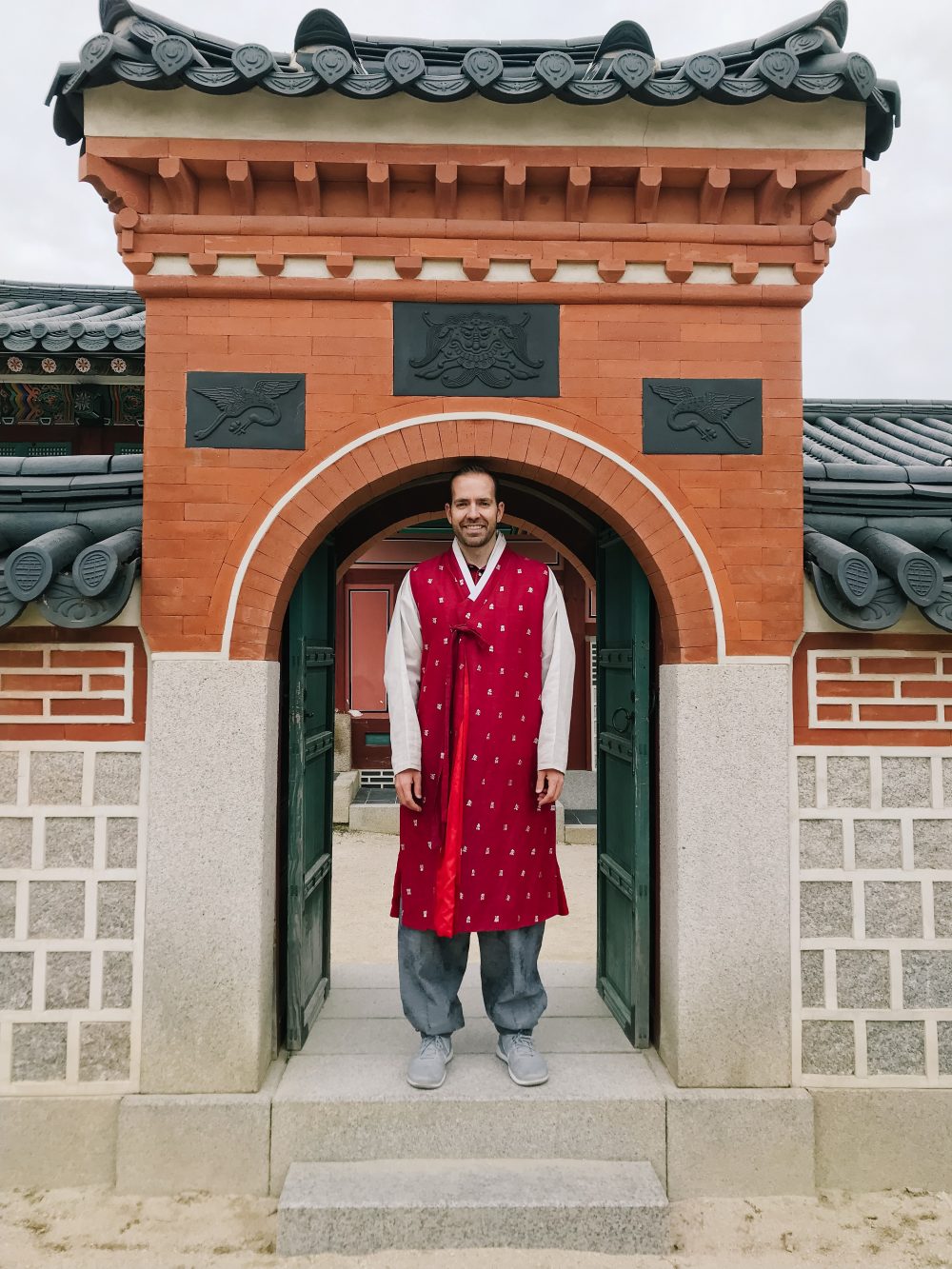 The word "palace" makes it sound like it's one building, but it's actually a BUNCH of buildings on an enormous property and we wandered through for quite a while. There's also the National Folk Museum of Korea on the grounds which is free, so we walked through there. It had a lot of well-designed exhibits and I was glad we'd stopped in. There were many school groups at  Gyeongbokgung Palace and it was so cute to see all these little Korean children pointing at us (a few even stopped us to practice their English – some of them were AMAZINGLY good).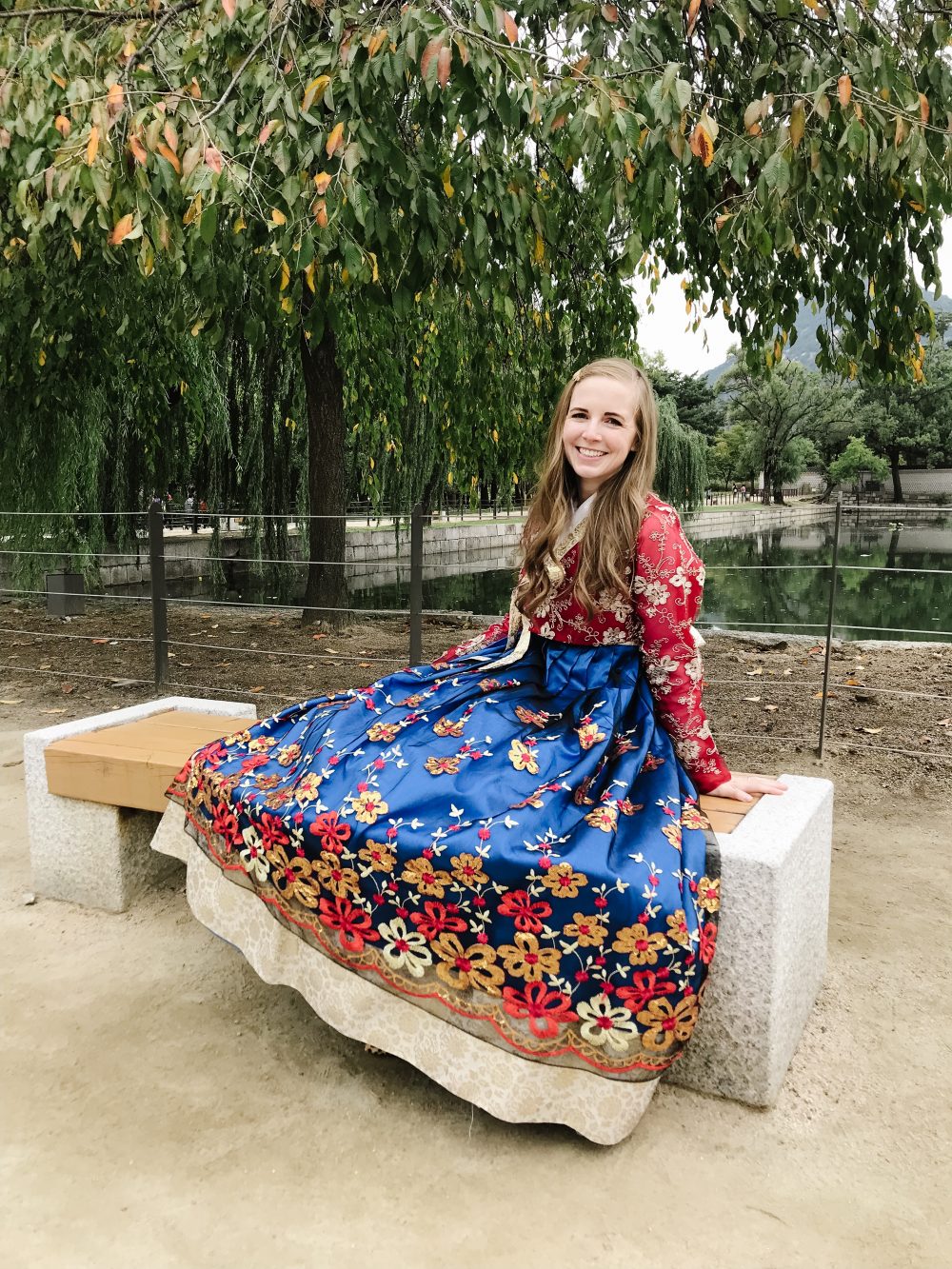 After we returned our hanbok, we walked through the streets above the palace and then into Bukchon Hanok Village which is several streets of traditional Korean houses. It was so pretty and there are lots of signs requesting that you be quiet since they are homes that are still lived in.
After lunch, we went back to the hotel for a nap (jet lag was coming in hard) and when we woke up, we headed down to  Namdaemun Market and walked through tons of street food stalls and lots of fun shopping, although we didn't buy anything. We had some dinner and then headed back to the hotel.
Day 2: We didn't wake up quite so early this morning and then went across the Han River and rented bikes (actually one bike – a tandem) and biked all along the Han River. It was perfect weather and very quiet – I'd guess we saw less than two dozen people in an hour of riding around. After we returned our bike, we headed to one of the areas where Bart had lived and wandered around trying to find his apartment (it appeared to have been leveled and replaced with newer nicer apartment buildings).
We had lunch in that neighborhood, then grabbed a taxi to Myeong-dong, which is famous for its shopping, especially cosmetics and skincare. It was store after store after store and we had a good time popping in and out of them, until we saw a shop offering very inexpensive massages and took a break for that (a good idea!).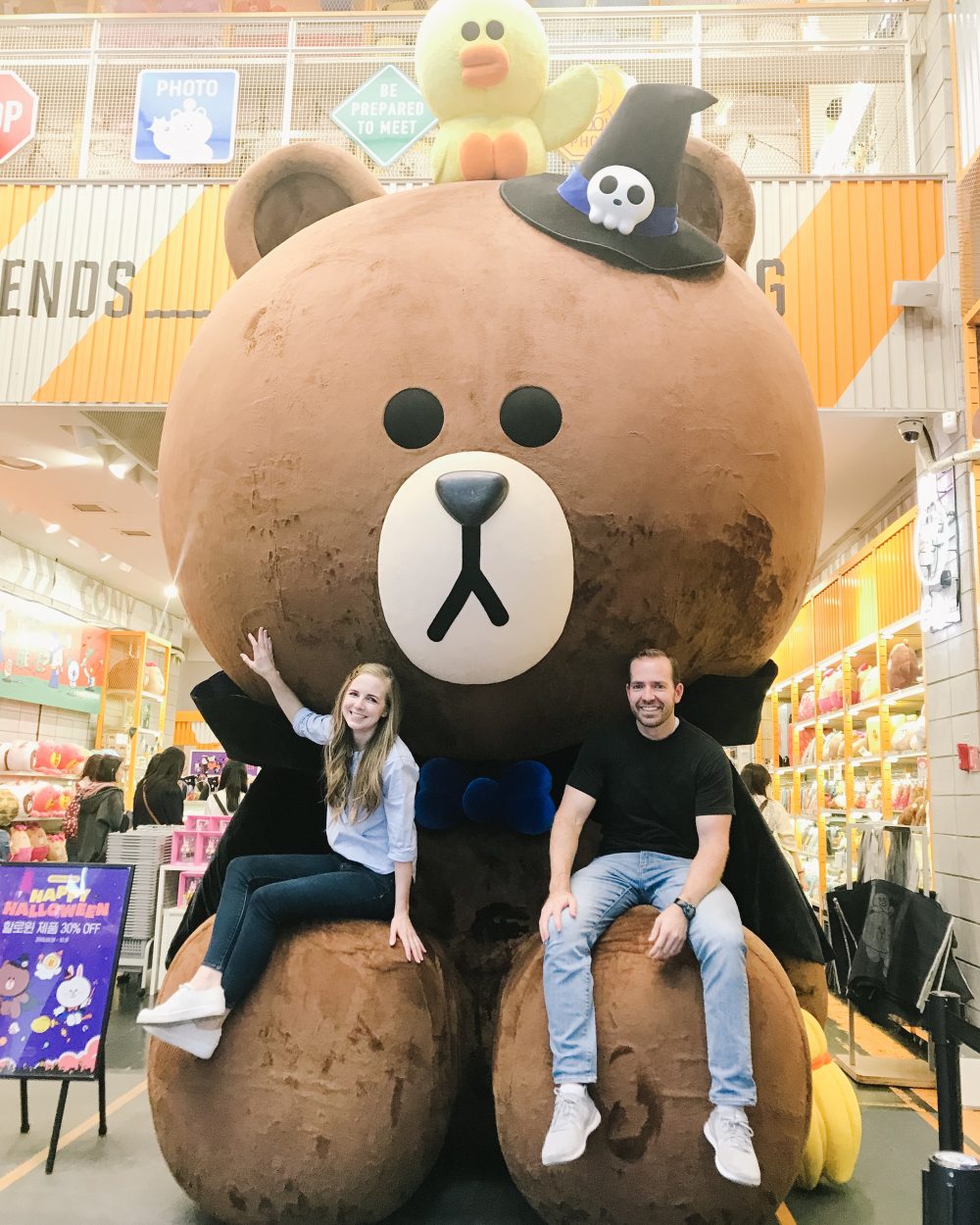 We'd planned on going back to the hotel for a nap but we were both feeling pretty alert so instead we went over to Hongdae, which houses one of the major Korean universities. It was a majorly happening area with tons of shops and cafes and street performers and street food. We watched a couple of performances, picked up some Bungeoppang (little soft fish shaped pastries filled with custard or bean paste) and visited a raccoon cafe (yes! real raccoons that you can pet and play with) and the Harry Potter cafe. On our way back, we stopped at a candy/snack store and picked up a bunch of treats to take home to the girls.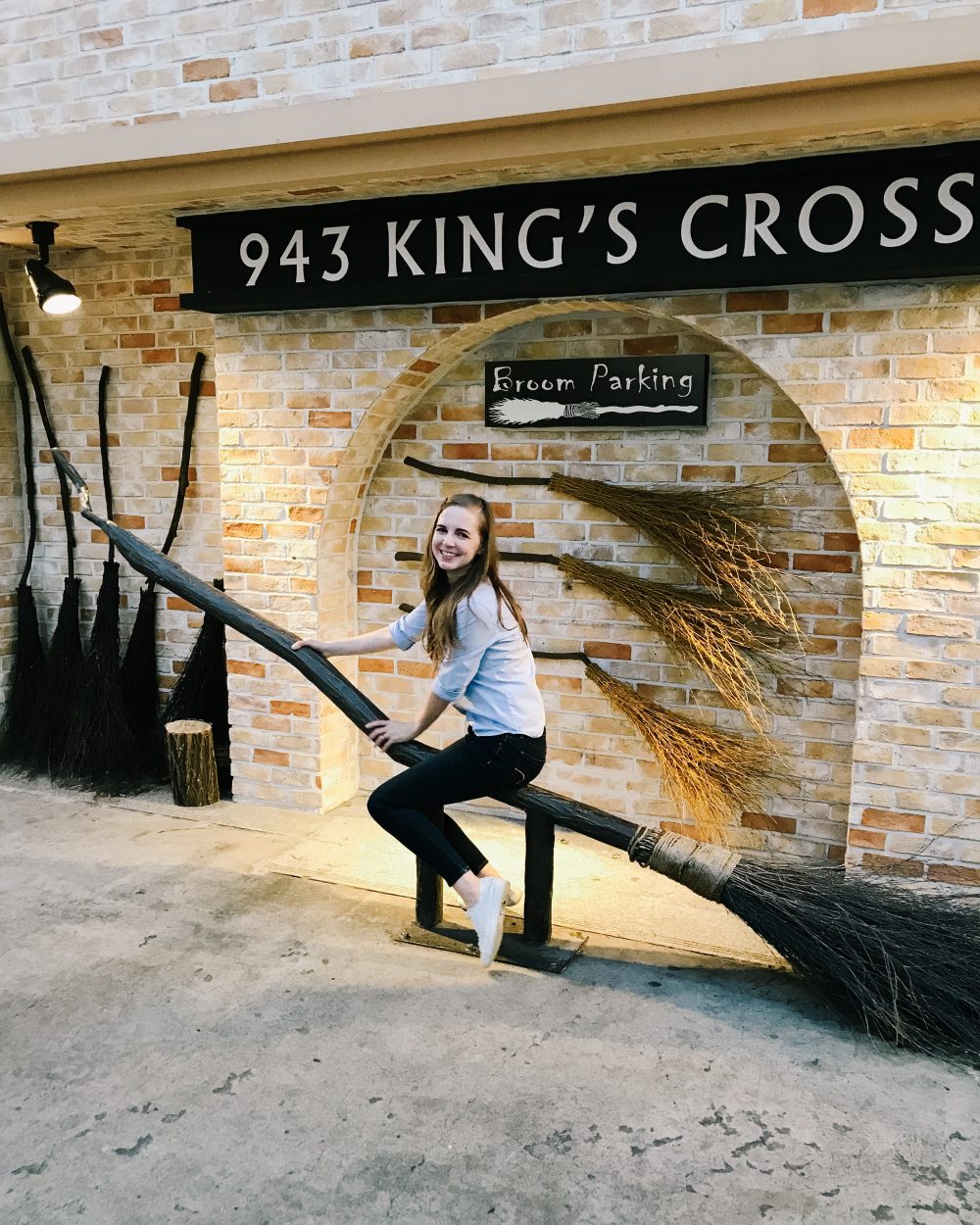 Day 3: We met up with my cousin and his family (plus a cousin of his from the other side of his family and her husband) at the Seoul Arts Center for a free outdoor concert. We ate from some food trucks and enjoyed an impressive show before returning to their apartment. When their babysitter arrived, the six adults headed out through the neighborhood, getting a tour of their local library, their regular grocery store (I picked up some cookies and cream pocky sticks) and then to dinner.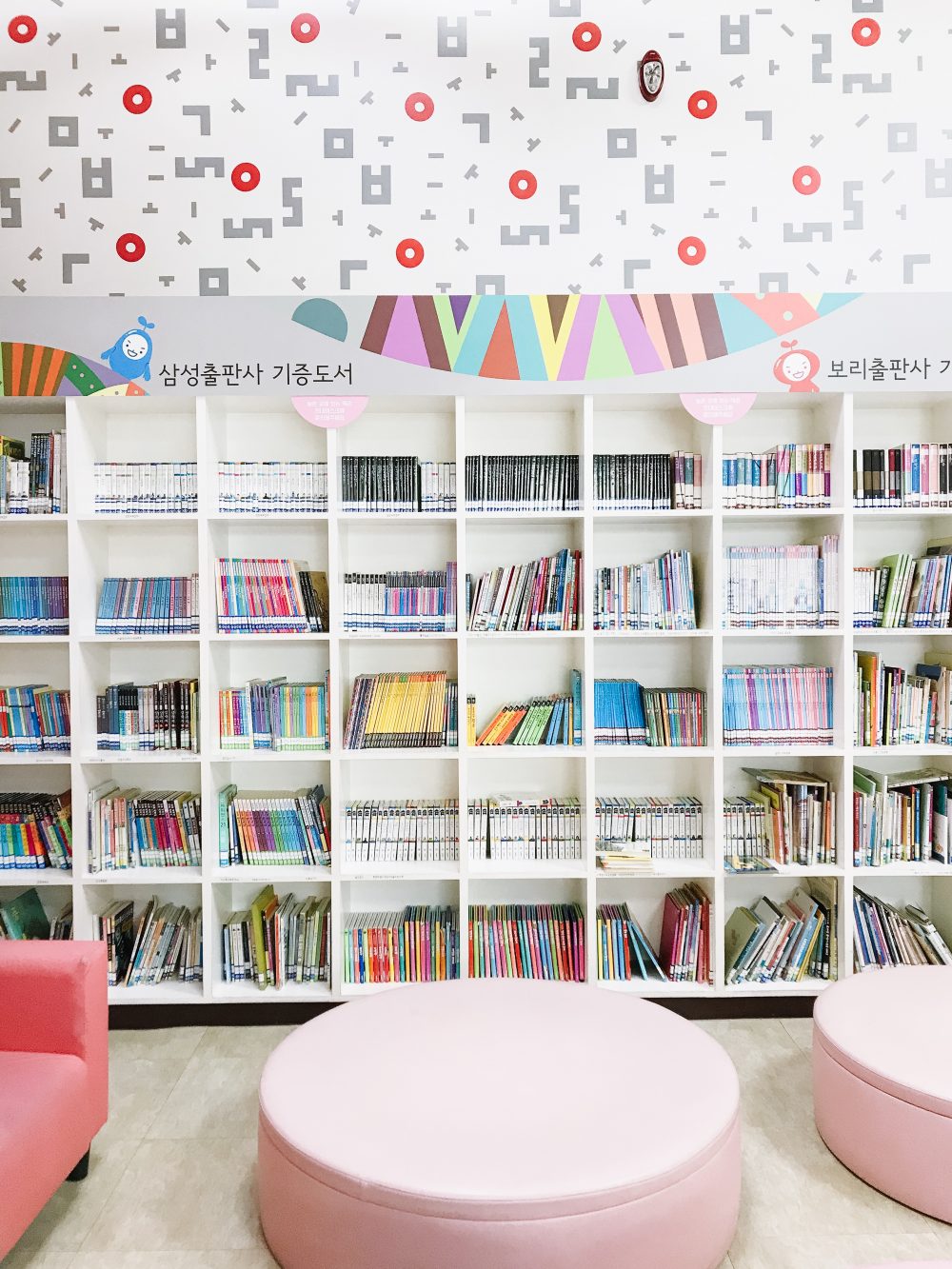 On the way home, they insisted we make a quick noraebang stop (Korean karaoke) which I was not thrilled about but once we were inside our tiny little booth, I was glad we'd done it. Instead of being in one large room or bar, there are tiny booths that fit somewhere between 1-8ish people and you just pay per song (it was a dollar or less per song, I think). It's much more fun than doing it in front of a room full of strangers and Bart and I got quite into a Train song.
Day 4: One of the top things on Bart's list was to hike Dobongsan so we took the subway to the base of the mountain and then wandered through tons of pop-up stalls and shops all the way up to where the trails actually started. I was thinking along the lines of "nature walk" and it was. . . legit hike. It had good hand-railings and steps pretty much the whole way, but it was a solid 2 hour hike to the top and very steep. The views out over the city were spectacular.
We came back to the hotel and showered (see: not nature walk) and then headed out to see the Seoul LDS Temple (the sun was just setting and one of the security people came out and offered to take our picture and then went back and turned on all the lights so the whole temple was lit up behind us). We had a nice dinner and then wandered through the streets, catching a few street performances, on our way back to the subway.
Day 5: Originally, we had planned to go to one of Korea's big theme parks (either Lotteworld or Seoul Land) but as Bart looked at more of their websites, he thought they'd all make him too motion sick, so we opted instead to go to the Korean War Memorial. Turns out it's closed on Mondays, so we did the exterior parts and then walked up through the nearby neighborhood until we found a place to eat lunch.
We were just below Seoul Tower so we hiked up the hill until we got to the base of the tower and then bought tickets and went up the elevator to the observation deck where there is a 360 degree view.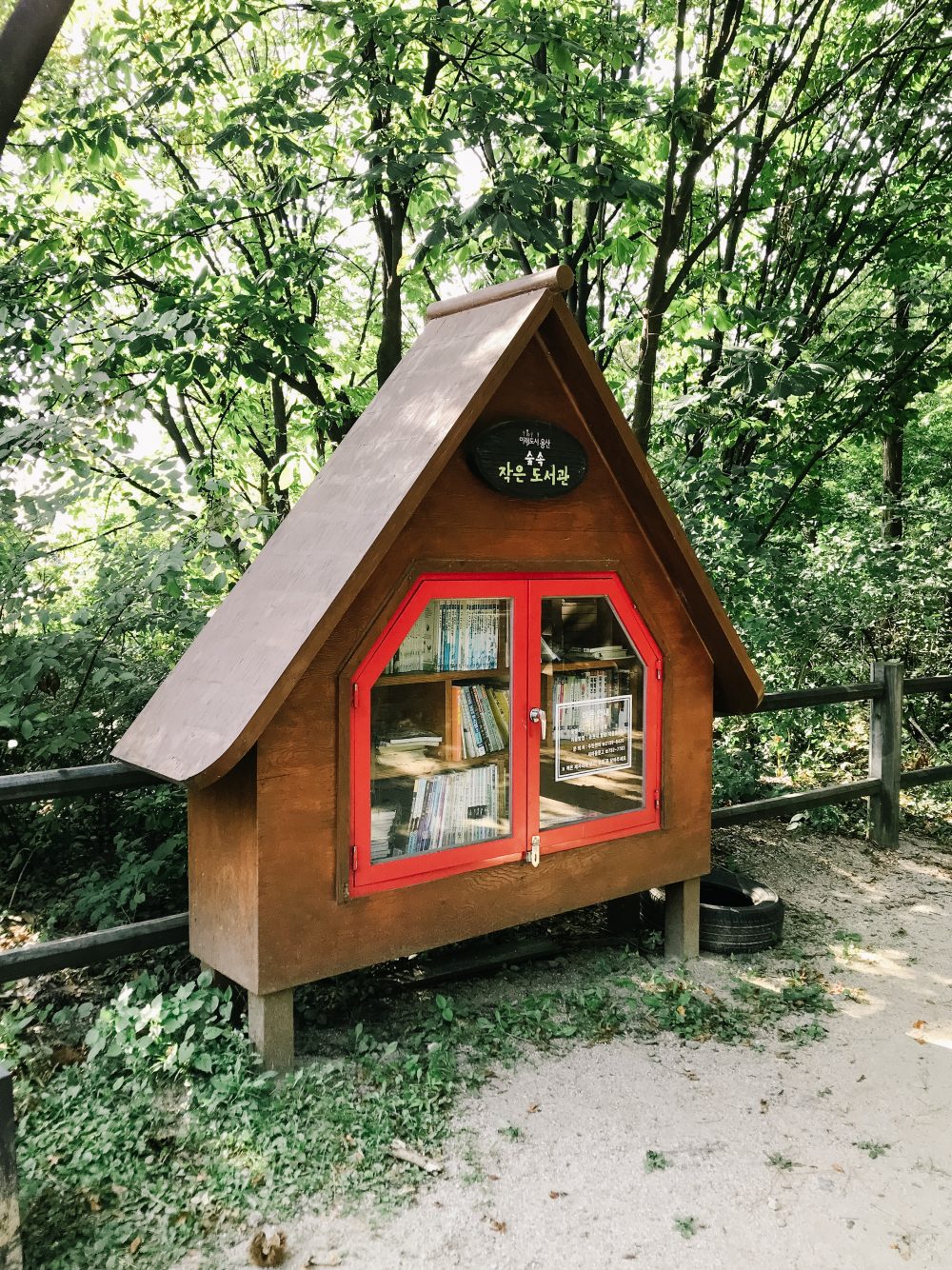 After we took the cable car back down to the street level, we went to Kyobo Book Centre, the flagship store for the biggest book chain in Seoul. We had a great time poking around in the different departments and picking up a little gift for the girls.
When we got back to the subway station that connected to our hotel, we stopped in one of the several little convenience stores (they are EVERYWHERE) and bought some snacks in lieu of dinner and watched an episode of Covert Affairs before bed.
Day 6: This was our last day in Seoul so after ordering room service and packing up, we left our bags with the front desk went back to the Korean War Memorial and spent the morning taking in the (very well done) exhibits.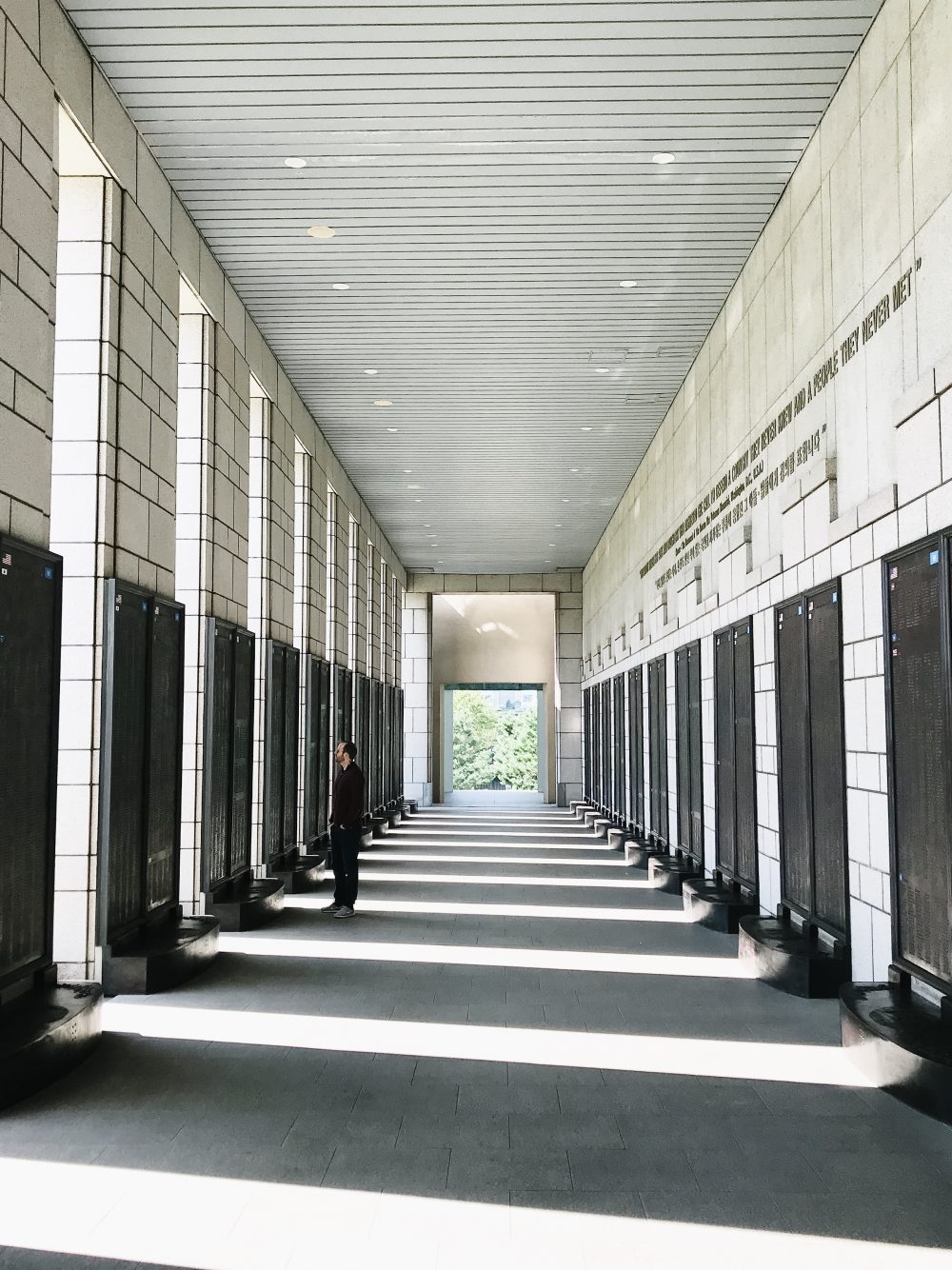 Afterward, we headed back, picked up our luggage and took the subway to the airport where we had dinner before catching our flight back to Seattle and then finally home.
It was such a delightful trip and I can hardly believe I've actually BEEN to the other side of the world now!
I hope that we can go again with the girls – I think they'd love it.
And if you missed the little 4 minute video I made of our trip, you can see it here!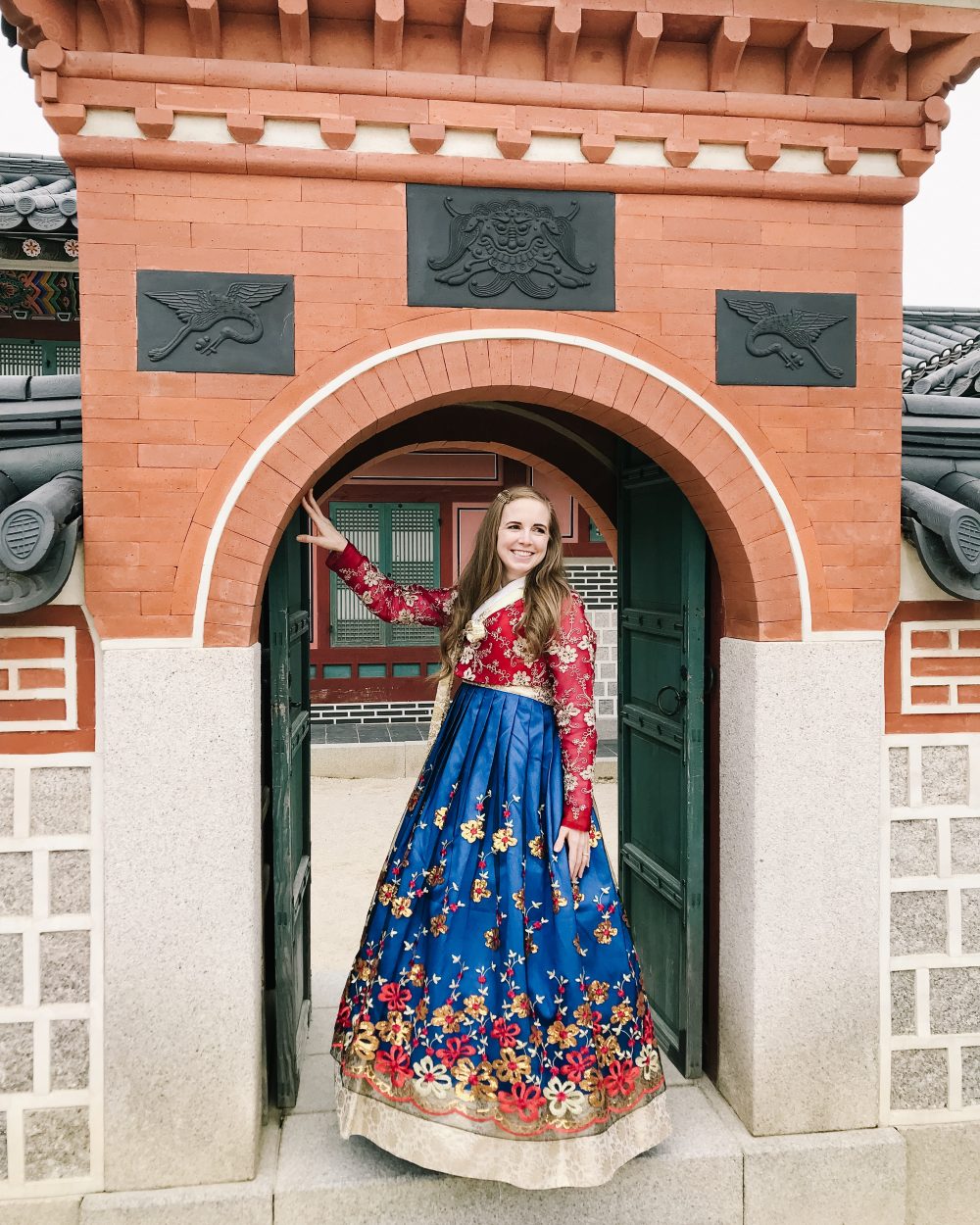 A Note ABout What to do about a phone in Korea
My cousin suggested that, since most American phones don't work in Korea, we pick up a Pocket Wifi at the airport when we arrived. It basically works like a little hotspot that you can carry in your pocket or bag (it's about 2/3 the size of a regular smart phone) and you can connect up to 10 devices to it. Pocket Wifi costs only a few dollars a day and you get unlimited data on it.
With the Pocket Wifi, we could check our email, post to Instagram, use maps and look up information as much as we wanted to. We COULDN'T make phone calls (although we could FaceTime) or receive text messages that weren't via iMessage (I have an iPhone so I could text our babysitter at home as much as I wanted, but Bart has an Android so he had no texting abilities all week).
We turned our phones on airplane mode the whole week and it worked like a charm.
IF THIS POST ABOUT Things to do in Seoul WAS USEFUL, YOU MIGHT ALSO LIKE THESE POSTS: