For my birthday in September, Bart told me that my gift was a trip together, with his parents watching our girls for a week while we were gone.
The main two choices for this trip were Italy and Hawaii.
I'd never been to either of them and had been wanting to go to both of them for several years. Bart was fairly sure I'd choose Hawaii, but I'd really like to do Hawaii with our whole family, whereas a trip to Italy sounded better with just two adults.
So Italy it was!
We planned our trip to Italy over the course of about three weeks, sitting down together 2-3 nights a week and choosing which cities in Italy we wanted to visit, booking travel between the cities, and selecting hotels and Airbnbs to stay in.
We also made a master list of the things to see and do in each of the cities we were going to visit, but didn't assign them to specific days. We kept everything in a shared Google Doc so we could both see our itinerary, the addresses of our lodgings, the confirmation numbers for our flights and train tickets and rental car, and the things we wanted to do in each city.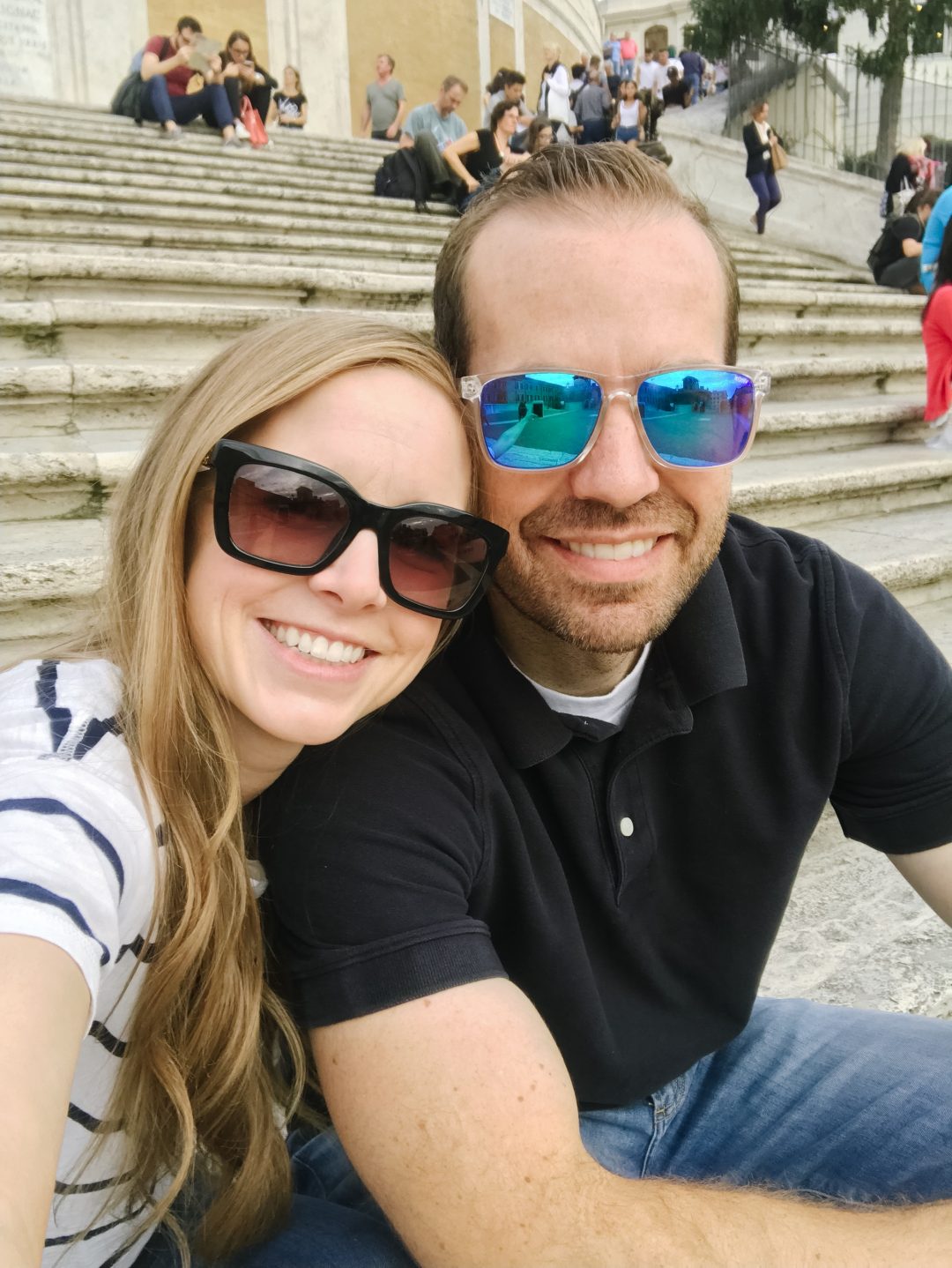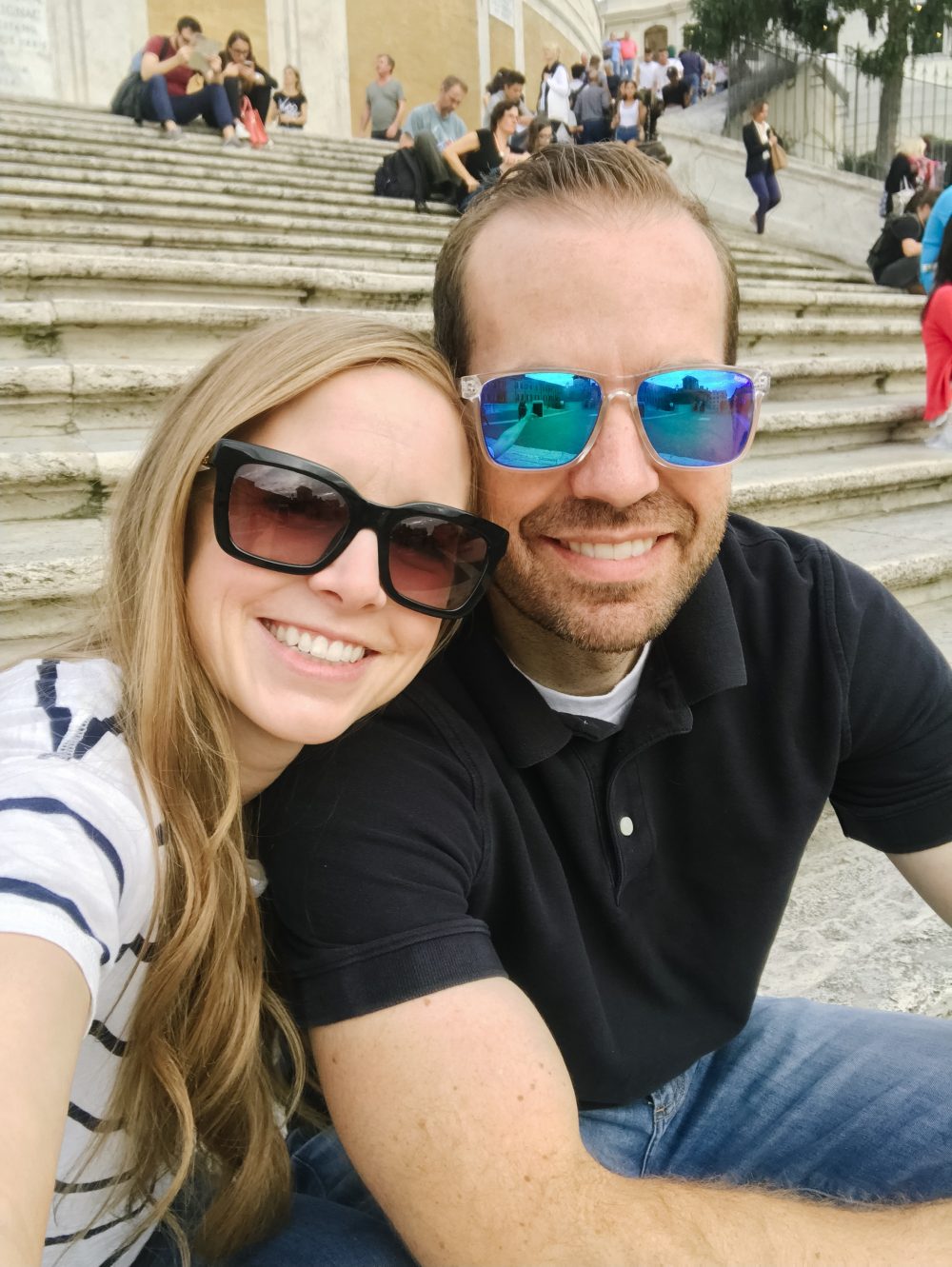 Bart and I have often commented that we're a good travel duo. For both of us, our goal is always to see the big things, but also not run ourselves ragged. We want to see the Louvre if we visit Paris, but we don't need to spend four hours there.
We like downtime to take a nap, watch an episode of a show in the evening before bed, do some reading, and not spend forty hours in museums or churches (if you're wondering why we enjoyed traveling around Europe with two small children – now you know. We LIKE stopping for treats all the time, going back for a nap in the afternoon, and calling it a day by 8 p.m.).
It's also crazy and heartbreaking to see the photos right now of Italy, especially Venice, as they weather these wild storms. It's hard to believe just a week earlier we were there and it was clear and dry.
Anyway, here's what our trip to Italy looked like:
Day 1: Rome
Lodging: Rome Airbnb
Main Sites: Spanish Steps, Trevi Fountain, Pantheon
We flew out of Salt Lake City the day before and between the long flight and the time difference, we landed in Rome at about 8:00 a.m. local time. We were both feeling super tired, but couldn't check into our Airbnb until later that afternoon. We knew we didn't want to just try to push ourselves for hours and hours (if I'm completely exhausted, it's not vacation to me) and start our trip to Italy totally dead, nor did we want to drag around our suitcases.
As our flight was nearing Rome, we decided we'd try to get a hotel room near the airport and sleep until checkout time (usually around noon) before heading to our Airbnb. When we stopped at the information desk at the airport, the agent suggested we just book a day room in the airport. We headed up one floor and discovered there was one triple room available (a queen and a single bed) for 125 euros for six hours. Done. We changed into our pajamas, brushed our teeth, closed the curtains and turned on our sound machine.
Five and a half hours later, we woke up feeling like brand-new people and ready to really kick off our trip to Italy. We both quickly showered and headed back to the main level to catch an Uber into the city.
Our host was waiting at our Airbnb (which was SO beautiful) and after a quick tour, we were on our own.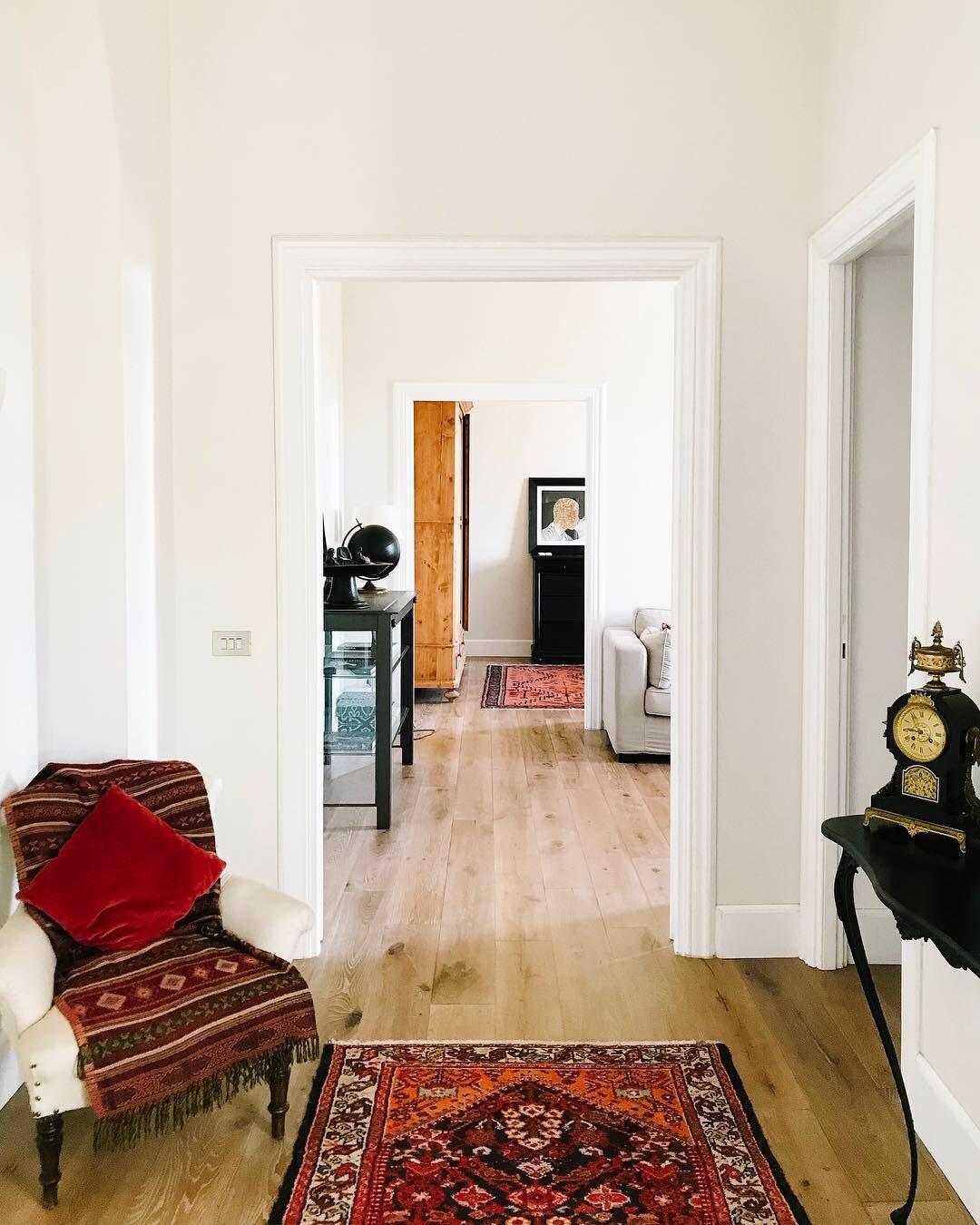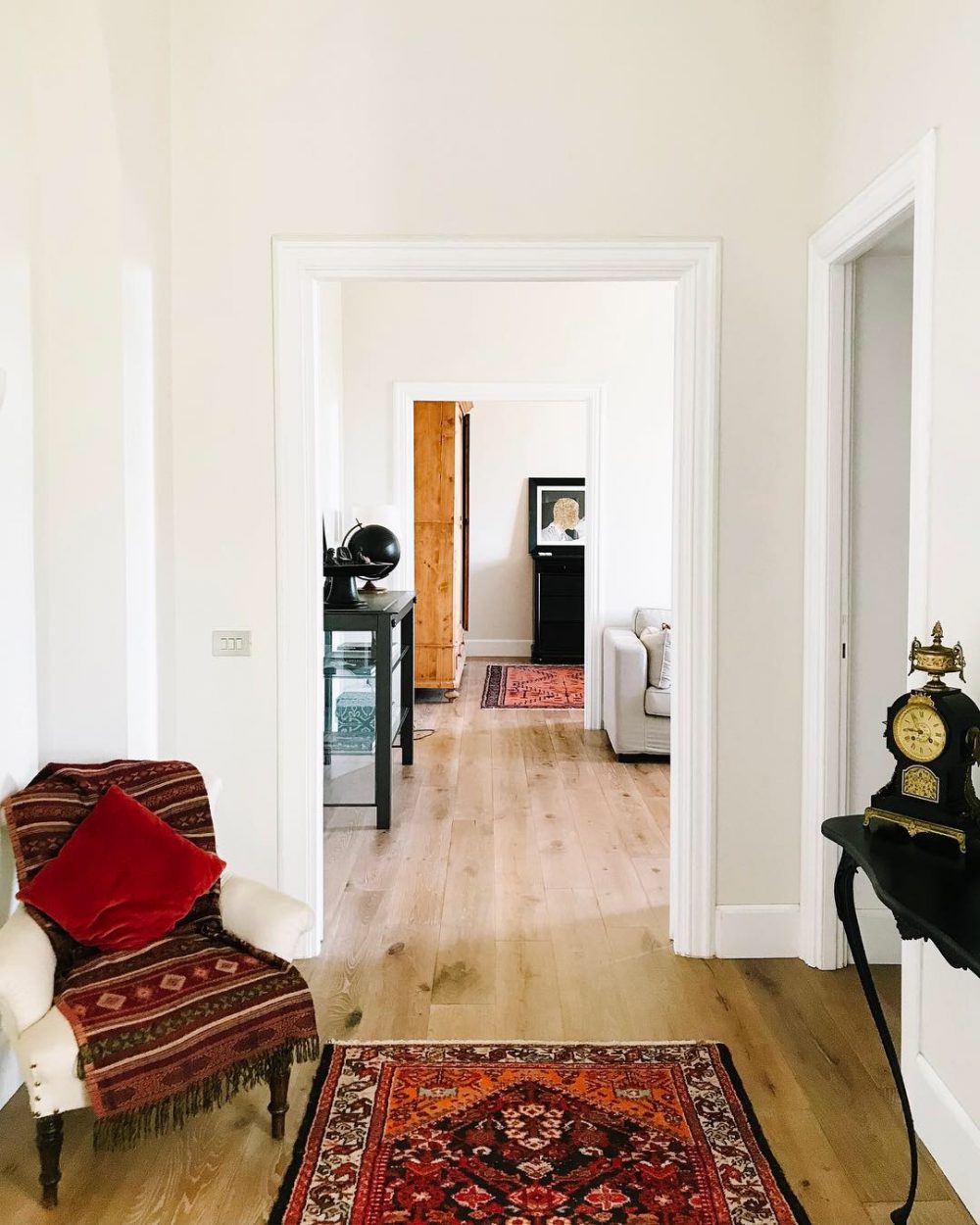 We walked down some beautiful roads to the main part of the city (our Airbnb was just above Vatican City) and saw the Spanish Steps, the Trevi Fountain and the Pantheon. I wish we'd listened to the Rick Steves' free audio tour of the Pantheon so I could appreciate it better, but I didn't know about it at this point, so we just wandered around on our own (we listened to the tour later that week while we were driving back to Rome).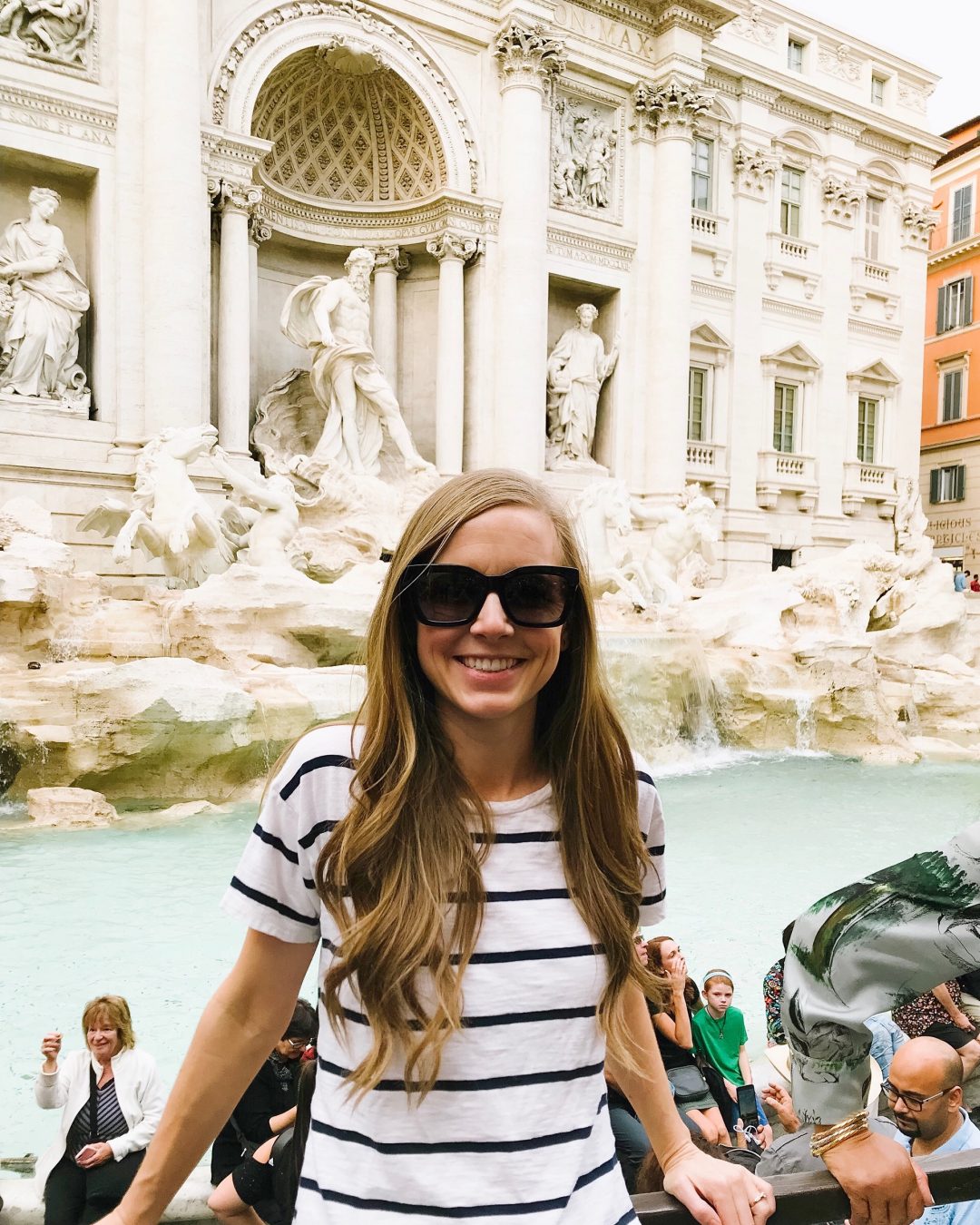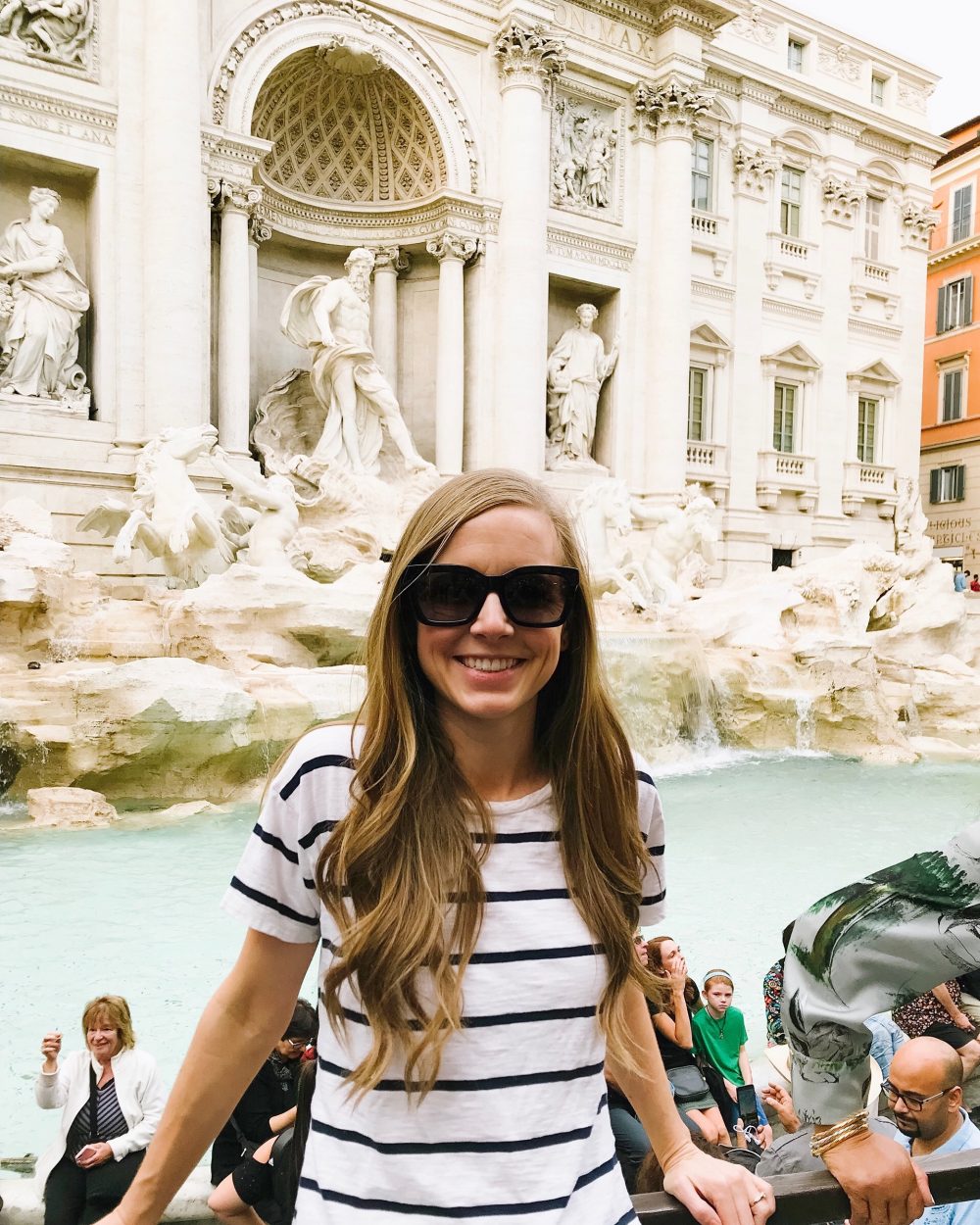 Afterward, we walked down to the Jewish Quarter and stopped at a restaurant for a dinner of fresh pasta and traditional fried artichokes (I have to say here that Bart and I aren't huge pasta eaters to begin with, so I think the magic of Italian pasta was definitely somewhat lost on us). We ate outside and the weather was perfect, there were street musicians playing, and lights twinkling everywhere and it just felt so magical.
After dinner, we stopped by Venchi for a few scoops of gelato and then walked back to the Trevi Fountain so we could see it all lit up (it was spectacular).
We walked back to our apartment, admiring the views of St. Peter's Basilica lighting up the sky, and bought tickets online for both Vatican City and the Colosseum the next day (it may have been less crowded because of the time of year, but every time slot was available).
We watched an episode of The Blacklist and went to bed around 10 p.m. local time and slept straight through the night, waking up around 6:00 a.m. When we'd gone to Europe in 2014, I woke up at around 2 a.m. every night for a week and couldn't go back to sleep, so being able to sleep through the night right away felt magical. Worth every penny to get that Day Room at the airport.
Day 2: Rome
Lodging: Rome Airbnb
Main Sites: Basilica di San Clemente, Colosseum, Vatican
We went to a little bakery a few blocks from our apartment called Dolce Maniera which had great reviews and also turned out to be ridiculously cheap. You had to spend at least 5 euros to use your credit card and that turned out to be something like SIX pastries. We got a whole assortment of things and then brought them back to the apartment to eat along with some yogurts the Airbnb host had left for us.
After breakfast, we took the metro to the Colosseum but with a little time before our tour, we stopped by the Basilica di San Clemente, which our Uber driver (and several Instagram friends) had recommended.
We took the Colosseum tour which was excellent (I was glad we hadn't tried to make it without one) and then both of us started to get crushed by jet lag. We took the metro back to our apartment's neighborhood, stopped in a little restaurant for pizza and while we waited for it, Bart called the ticket office for our Vatican City tour and successfully pushed back our reservation by an hour.
We went back to the apartment for a nap and when my alarm went off 90 minutes later, I was dead to the world and could hardly force myself out of bed. We pulled ourselves together and headed over to Vatican City which was only a few blocks away, but we had trouble finding the office for our tour. Since we'd postponed to the last one of the day, we knew we couldn't miss it, but happily a quick phone call plus a nice man on the street corner and we were able to locate it. When we checked in, they asked if we wanted to upgrade to a guided tour for an extra ten euros each and we decided to go ahead with it, even though a two hour tour seemed pretty long.
Turns out, two hours goes by really quickly when you're seeing a place as big as Vatican City and I was glad we hadn't tried to do it on our own, especially when we got to the Sistine Chapel.
After our tour, we walked through St. Peter's Basilica on our own and then made a beeline for Old Bridge Gelateria, which might have been my favorite gelato of our entire trip to Italy. We grabbed a quick bite to eat and then headed back to our apartment for the night.
Day 3: Venice
Lodging: Venice Airbnb
Main Sites: Nothing specific – just wandering around
The following morning, we got up and got ready to check out. We'd considered going to the Roman Forum or the Campo de' Fiori Market but we ran out of time and ended up having gelato for breakfast and enjoying a leisurely morning before we caught our train to Venice.
It was about a three hour train ride and the train wasn't very full, so after reading for about 20 minutes, I moved to an empty row and slept the entire way to Venice.
When we arrived, we took the water bus to our Airbnb stop where a friend of the owner was waiting to meet us and help us navigate the tiny little streets of Venice. We enjoyed watching the gondolas out our window before heading out to explore the city. I was absolutely starving since we hadn't had lunch, and when we walked by a Farini (which was clearly a chain, but also looked delicious), we walked right in and ordered a big slab of pizza that was just out of the oven and still steaming hot. It had artichokes and pancetta and green olives and mushrooms and it was quite possibly the best food I ate on the entire trip. It was also super cheap – 3.50 euros for a huge square that I could barely finish.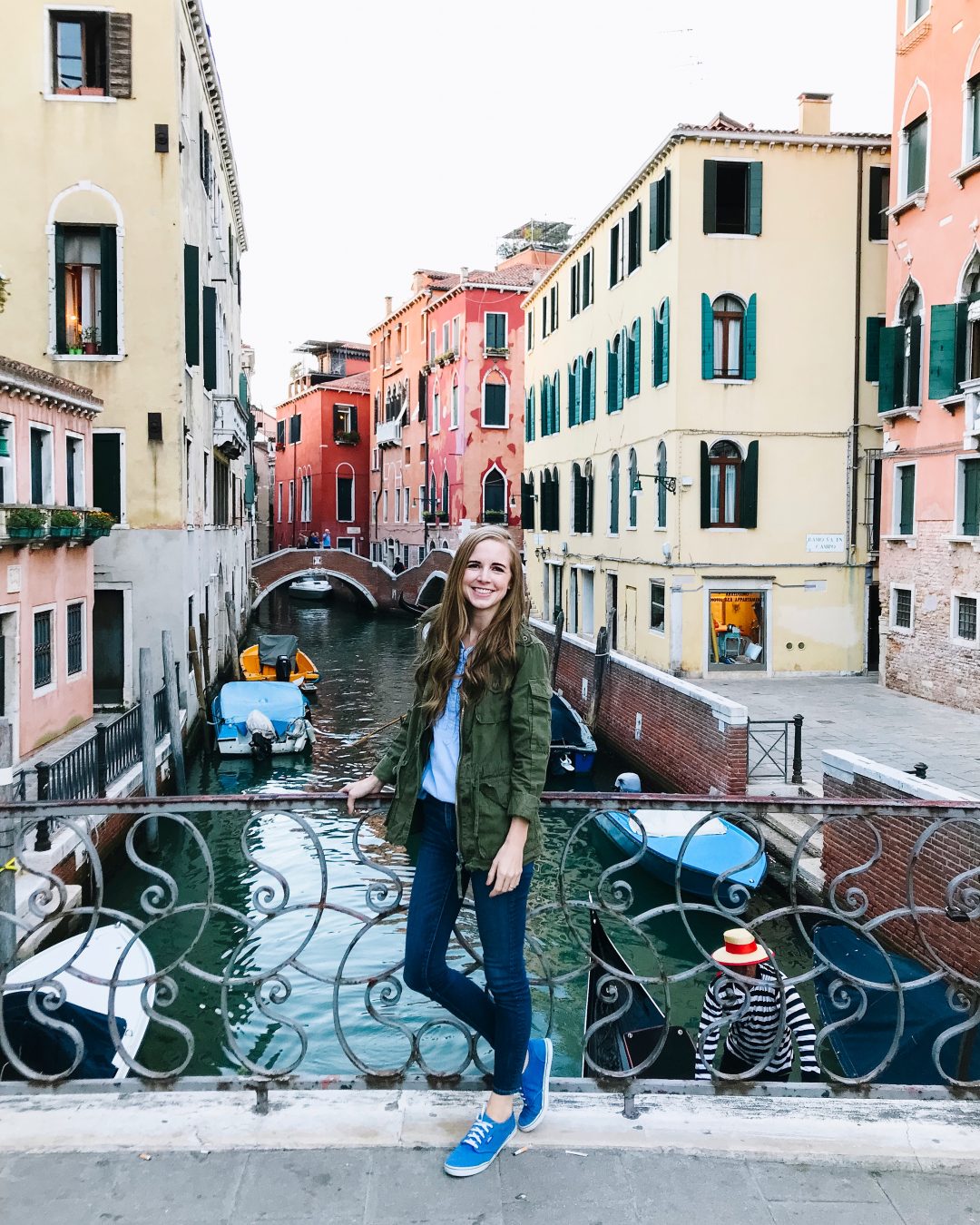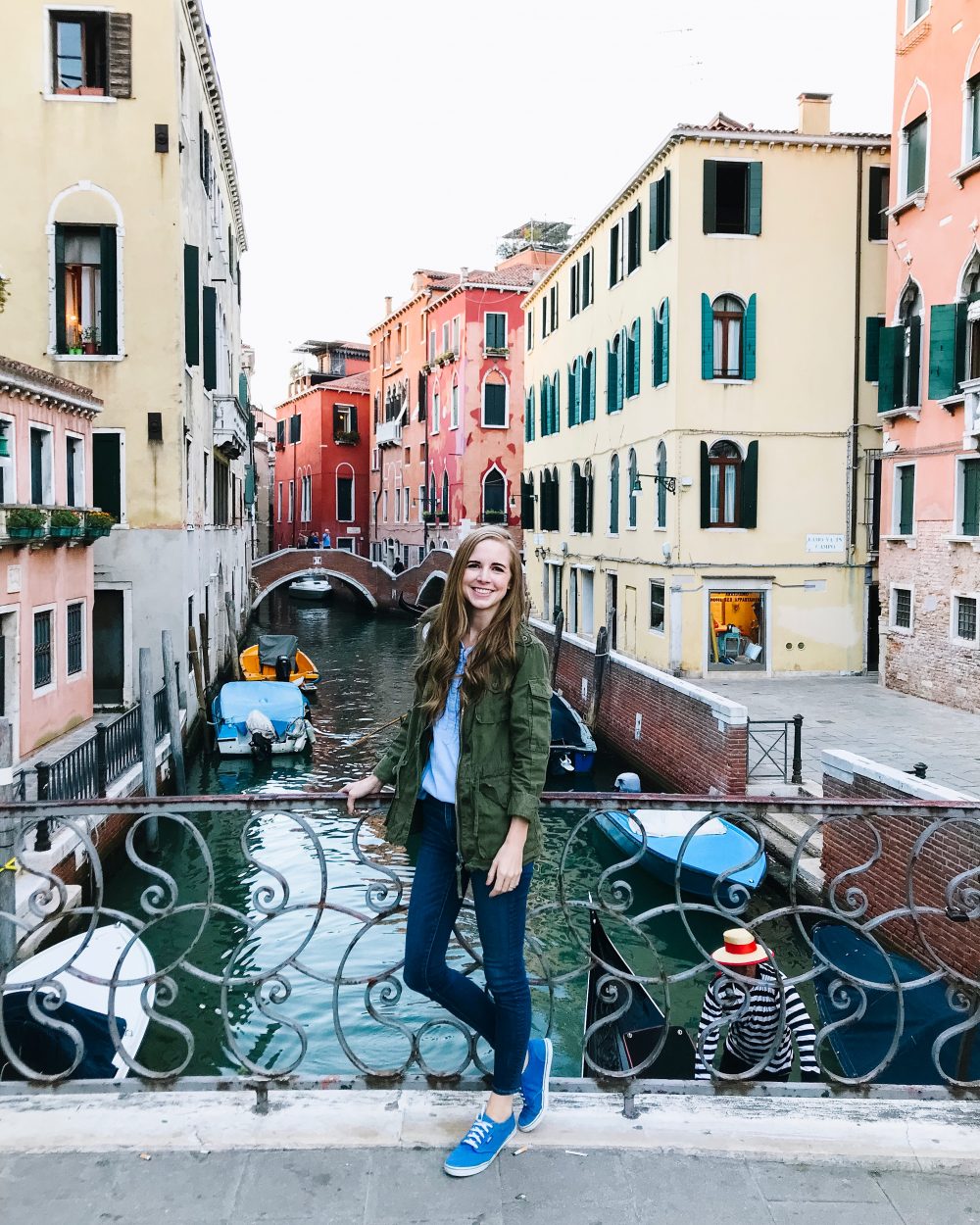 After walking through St. Mark's square, we stopped in a little gelato place owned by a grumpy woman. We had amazing grapefruit gelato but I deeply regretted the pear gelato I got (Bart thought it was good and was happy to eat it for me).
Many people had suggested we visit Murano Island where the famous Venetian glass is made, so Bart booked a tour through Airbnb Experiences for a whopping $9 each for the following morning.
Day 4: Venice
Lodging: Venice Airbnb
Main Sites: Murano Island, St. Mark's Square
After a good night's sleep, we wandered around the city for a while and got some breakfast (I had a pistachio pastry and then we got some massive savory crepes), before catching our water bus to Murano Island where we met our tour guide and two other couples. He talked about the history of Murano, walked us around to some of the notable monuments and mosaics and then we went into one of the glass blowing factories where we got to watch them at work, which was VERY cool.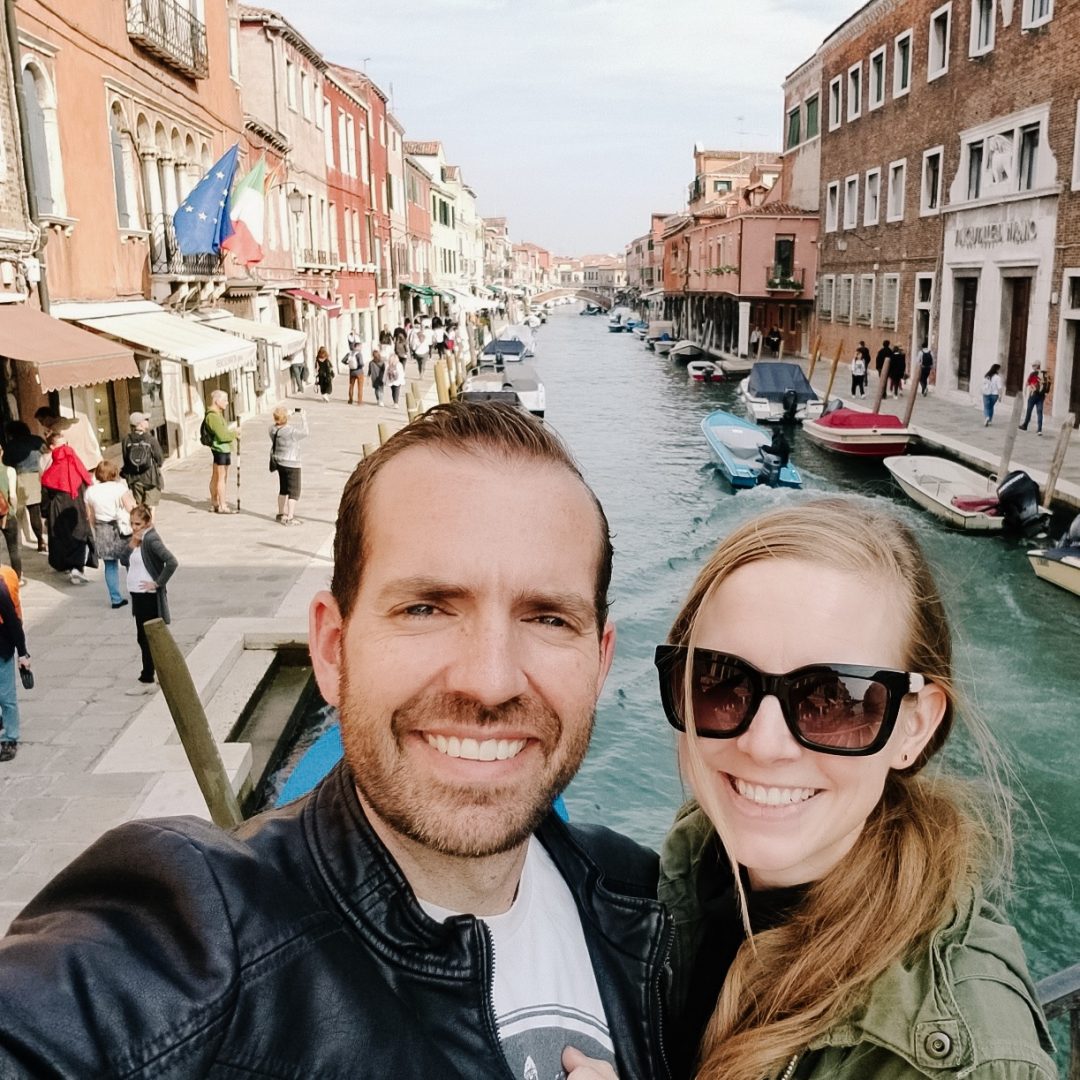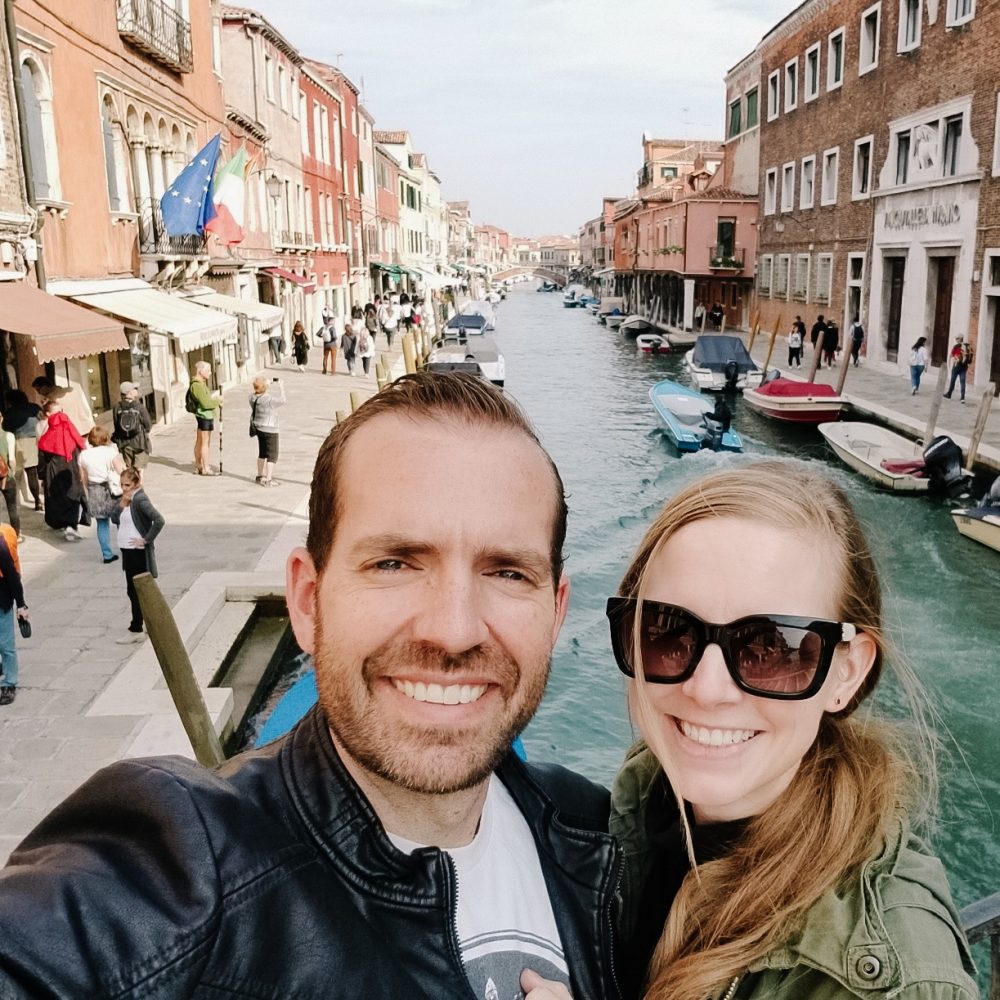 We took the water bus back to the main island where we stopped in a little grocery store (the only one we'd seen in the city) and bought some food for lunch and for the next day's breakfast. Then we returned to our apartment for another nap of the dead (I could have easily slept another 2-3 hours).
After our nap, we downloaded the Rick Steves' podcast episode for St. Mark's Square and had a great time following it through the square. It was really fun and informative and just about the right length (it took us about an hour total).
We walked around for a while and finally decided to have dinner again at Farini. Our flight the next morning was early, so we didn't want to stay out too late. After we got back, Bart spent a little time figuring out how we would get to the airport (at 5 a.m., your options are somewhat limited), and then we headed to bed.
Day 5: Amalfi Coast
Lodging: DieciSedici Hotel
Main Sites: Amalfi
We woke up super early to catch our flight and it was so surreal to walk through the dark deserted streets of Venice. Our rolling suitcases seemed SO loud banging over the cobblestones. We successfully caught the ferry to the airport although we hadn't bought tickets beforehand and didn't have cash to buy them on board, so we had to pay for them at the desk once we arrived at the airport.
After eating some breakfast, we went through security (and then found out we had to drop our luggage elsewhere instead of carrying it on, so we had to go BACK to the check-in desk and then back through security a second time. Happily there was basically no line either time) and boarded our EasyJet flight to Naples.
I had a bunch of people ask about EasyJet and if it was terrible, but it was totally fine. Aside from the luggage drop, everything went totally smoothly and it departed right on time. Except for no free soda, it felt exactly like any other flight.
We arrived in Naples and picked up our rental car (which took one thousand hours) and then headed down to the Amalfi Coast. Going through the mountains there are CRAZY switchbacks and between the early morning and a tiny breakfast, I felt really carsick. I was VERY happy to arrive at our hotel in Amalfi. We checked in and then walked up the main street and had some lunch at a restaurant (I had a lemon pasta that was delicious).
We walked down to the beach and spent quite a while watching families on the beach, until I was so tired I couldn't keep my eyes open and we headed back to the hotel where I took a nap and Bart caught up on some reading.
We planned to take the ferry to Capri the next morning, so we walked by the ticket booth to see what times they ran at and then headed back to go to bed.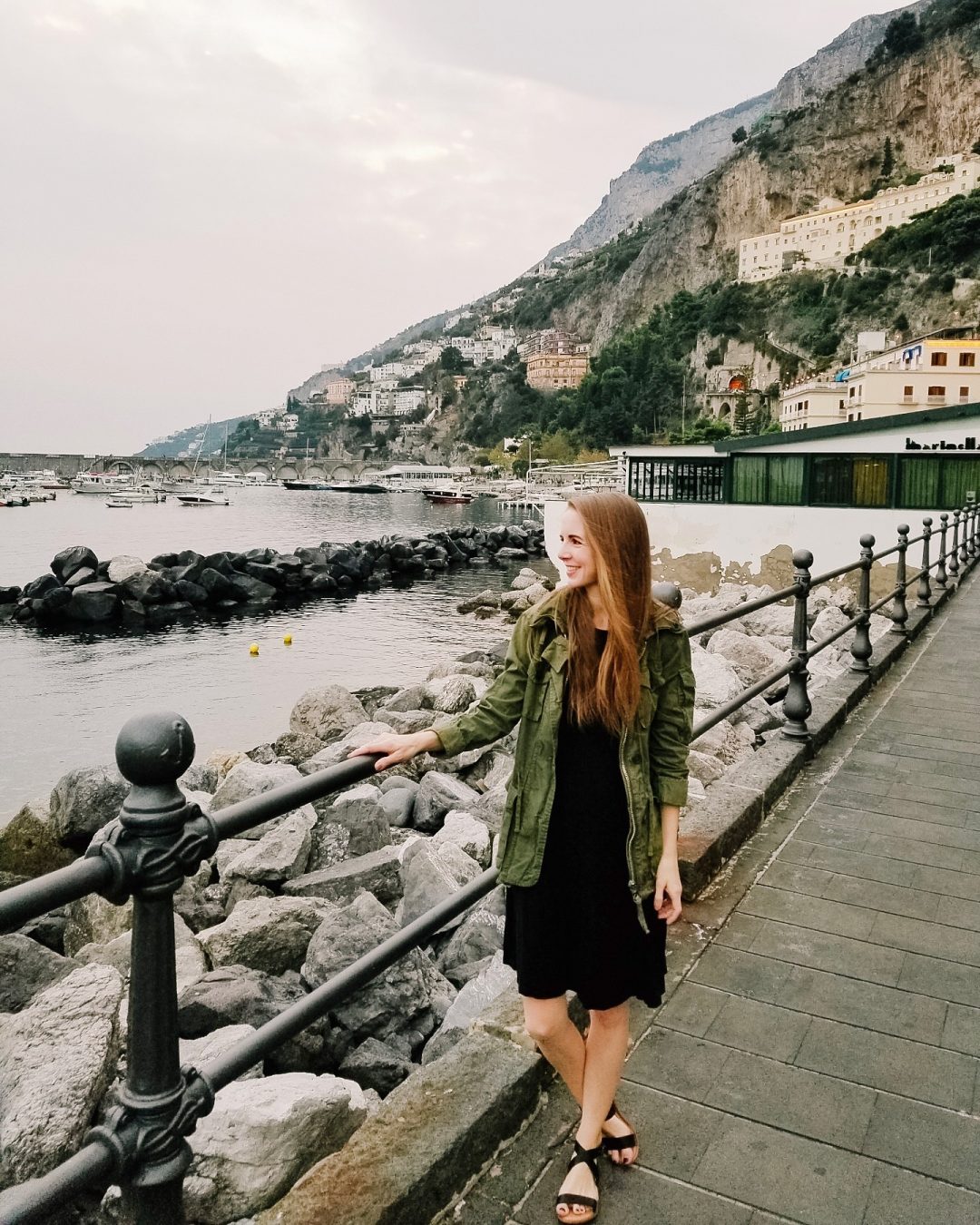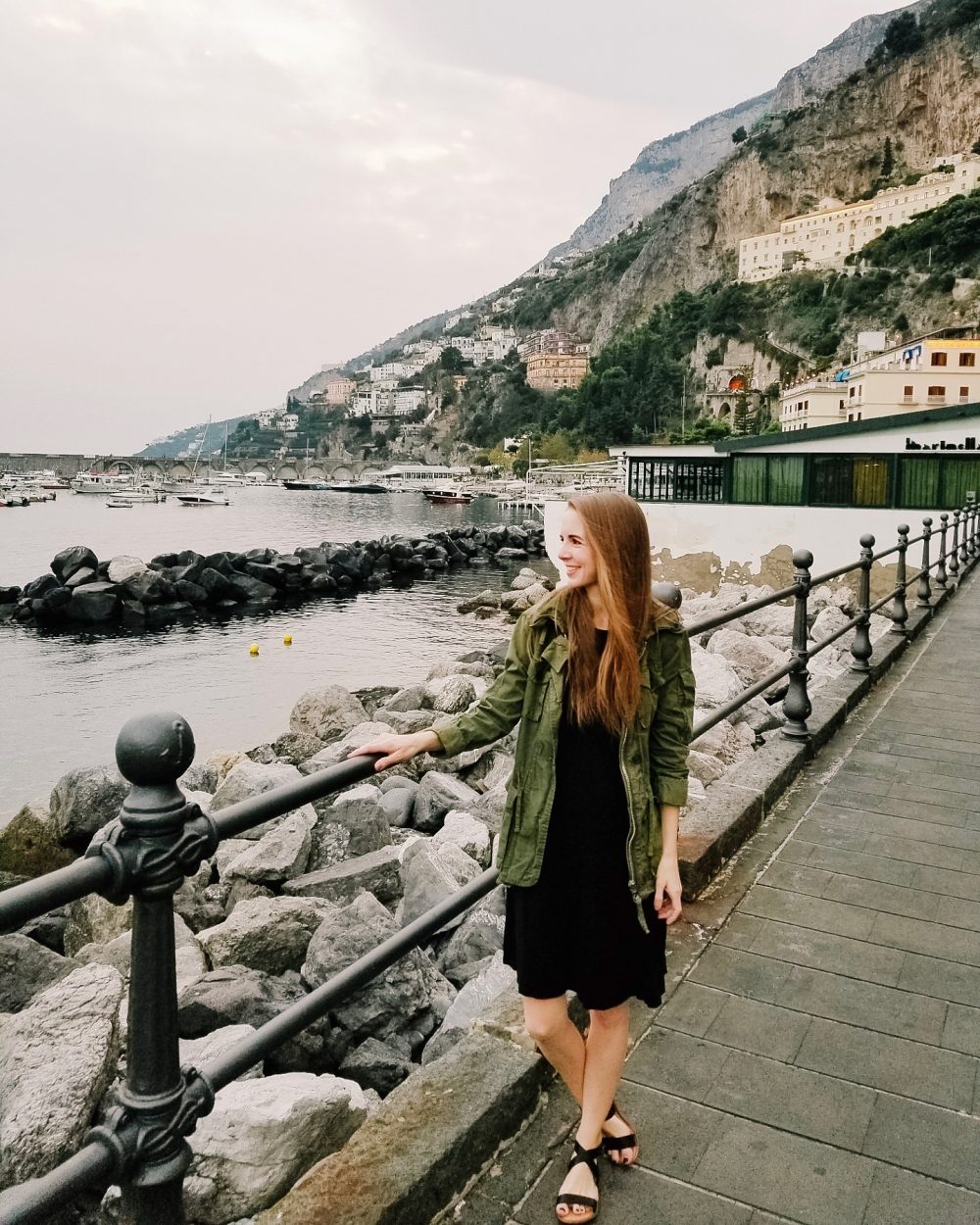 Afterward, we walked down to the pier and watched the sunset and all the lights of the hotels and houses on the cliffs start to light up. Bart laid back on the rock wall and fell asleep for about thirty minutes while I read on my Kindle and then we walked back to the sushi restaurant right by our hotel, which was excellent (Bart said it was his favorite meal of our trip to Italy).
Day 6: Ravello & Pompeii
Lodging: Villa Erasi Guest House
Main Sites: Villa Rufolo and Pompeii
In the morning, we had breakfast at a little bistro that was associated with our hotel and we sat in the square just across the cathedral steps. We both had bacon and eggs and I got an excellent lemon cake, but Bart's pear and ricotta cake was by FAR the best thing we got.
When we went to catch the ferry to Capri, the ticket booth manager told us the water was too rough and that no boats would be going that day.
So we decided we'd do Pompeii instead (with a stop at Rovella along the way). We packed up our bags, picked up our car from the valet, and headed out.
Rovella was SPECTACULAR (we both said if we came back, we'd stay there instead of Amalfi) and we took a self-guided tour of Villa Rufolo which had amazing gardens and views. Afterward, we walked through the town and ate some gelato, although I was still so full from breakfast, I couldn't eat it all, even though I'd only gotten a single scoop.
We drove back through the mountains (Bart loved driving those switchbacks in a little manual car) and arrived in Pompeii. We bought tickets and turned on our Rick Steves' audio guide and headed in to the ancient city.
Pompeii turned out to be my favorite part of our whole trip to Italy – it was SO fascinating and like nothing I'd ever seen before. I was really glad we did the audio tour so we didn't miss the highlights and it was the perfect finish to our trip, even though it rained quite a bit.
After Pompeii, we drove the nearly four hours back to Rome where we checked into our little bed and breakfast near the airport which was ridiculously cheap (I think $68 for the night, which included breakfast) and then went out for one last dinner before heading to bed.
It was SUCH a great trip – the perfect combination of interesting site-seeing combined with plenty of relaxation, reading and getting enough sleep.
There's lots we didn't see, but I'm hopeful that we'll be back someday, hopefully this time with our girls.
If you have other questions about our trip to Italy, I'm happy to try to answer them!
If this post about taking a trip to Italy was useful, you might also like these posts: