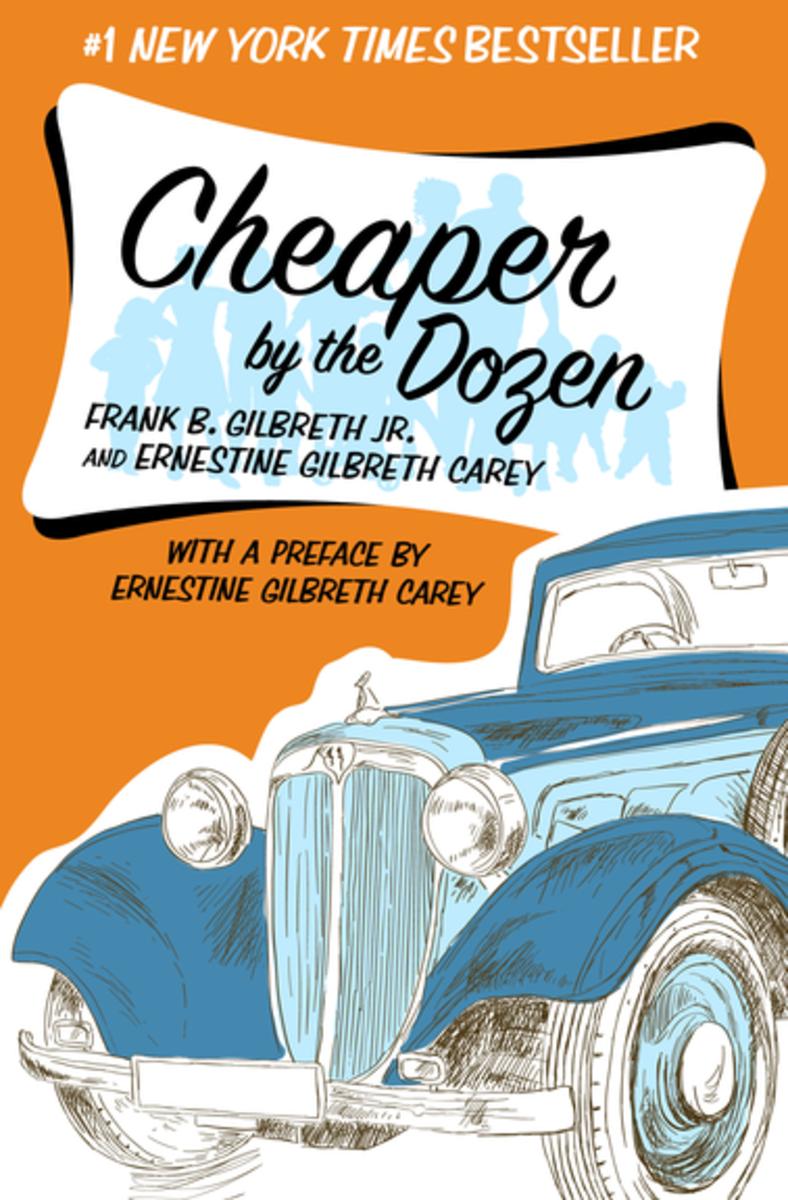 10 out of 10: Cheaper by the Dozen is one of my all-time favorite books, one I've read over and over again. It makes me laugh and cry, sometimes at the same time. It has zero resemblance to the (very lame) Steve Martin movie.
Growing up, my mom read to us nearly every night before we went to bed. My sisters and I would braid each others hair and paint our toenails while she read aloud. It was only rarely that my dad would choose a book and read it to us, but when he did have a book he wanted to read to us, we knew it would be fantastic.
The copy of Cheaper by the Dozen we owned was very old (probably from my Dad's childhood) and had huge chunks of pages were falling out. The cover was, inexplicably, hot pink.
My dad, as was his habit, had read small sections of the book to us previously, but I'd never read the whole thing and I had no idea what was coming. When the book was finished, I cried for at least an hour.
Cheaper by the Dozen is a true story about a family with twelve children (only eleven lived, but "Cheaper by the Eleven" is a fairly stupid title) in the 1910s and 20s. Both the parents were engineers (alert to all you female engineer readers out there – I know there are at least two of you!) and worked together as "efficiency experts" for a bunch of major companies.
The dad, Frank, loved trying to run his house and his eleven children as efficiently as possible and the book is full of the hilarious stories about him teaching them Morse Code (he'd leave clues written in Morse Code around the house that would lead the kids to a candy bar hidden in a drawer or a toy stashed in a cupboard, or sometimes the note would say "Hello, Live Bait. This one is on the house. When you finish reading this, dash off like mad so the next fellow will think you are on some hot clue. Then he'll read it, too, and you won't be the only one who got fooled. Daddy") or how to multiply large numbers in their heads.
It's hard to do the Cheaper by the Dozen book justice since it doesn't really have a single overarching plot line – it's a series of lovely, hilarious stories about a family that comes into sharper focus the more you read. As an adult, I read this book and see something of what so delighted my dad in its pages, a glimpse of what he wanted our family to be, at least to some degree (lots of learning and family fun, less head thumping with pencils).
Later, my mom told me that my dad asked her to read it before they got married, and five years ago, I made Bart buy a copy and read it before we got engaged.
Everything about this book charms me and it's made even better by the sequel, called Belles on Their Toes which is, if such a thing is possible, even better than Cheaper by the Dozen.
I have since read it at least three times and writing about it makes me ready to go pull my own (not hot pink) dog-eared copy of the shelf and fall in love with it all over again this weekend.
If you liked this review of Cheaper by the dozen book, you might also like these books: