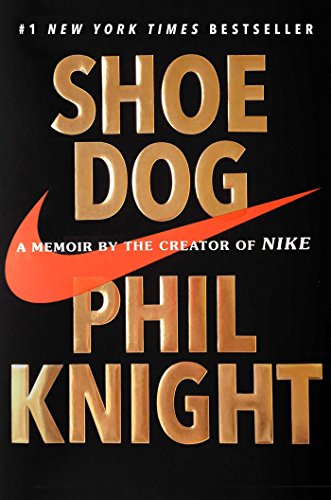 Before I read Shoe Dog by Phil Knight (Nike creator), you could have fit everything I knew about Nike on a Post-it note.
Bart's whole team at work got copies of this last year and it sat on his bedside for months before I finally wondered aloud, "Who is Phil Knight?"
Then I started to hear some buzz about this book, and Bart read it and raved about it, and over Christmas break, I picked it up.
I read it all in about three days and kept stopping to tell Bart, "This is SO fascinating" and he very kindly didn't tell me "I told you so."
Here are some things I didn't know about Nike:
That it was based in Oregon (and started by a bunch of born and bred Oregonians). I'm not sure I even knew Nike was an American brand.
That Nike was the upstart, underdog brand compared to the established brands of Adidas and Puma (which are both German brands).
That for the first many years, Nike wasn't even Nike – it was called Blue Ribbon and they sold a brand of shoes called Tigers that they imported from Japan.
That Nike got its start as a running shoe brand and that the founding team were all hard-core runners. If you'd asked me what sport I most associated Nike with? Basketball, hands down. Running would have been pretty far down the list.
That even though they sold tons of shoes with a boatload of company growth from the start, they were basically on the verge of bankruptcy and drowning in debt for years and years.
You may take a look at that list and think, "You are not very into sports, are you?"
No, no I'm not.
And yet, I loved Shoe Dog.
shoe dog by phil knight
I loved seeing this mega-iconic brand from the very first days of selling Tigers out of car trunk at track meets.
I loved watching it grow and holding my breath as numerous times it looked like the whole thing was going to collapse (despite the fact that I just bought Ella a pair of Nike shoes for Christmas, so I know it didn't go under in the 80s).
It made me want to know more about some of the early athletes that made Nike so famous.
And I went and looked at my own pair of Nike running shoes to see if they had a waffle sole. (They don't).
Phil Knight struck me as interesting because he doesn't seem at all like the personality that so many super successful companies have as founders.
He's a pretty quiet guy, without the big personality and brashness of your Steve Jobs or Jeff Bezos (you know, because I know THEM so well . . . ).
But he also was just absolutely determined to make a go of his little company, no matter what it took.
Also, although this is his story, there's no way to read this book and not see it as basically see the whole thing as a team effort. His original partner in the business (who was his college track coach and a legend), his first two employees who were instrumental in making anything out of Nike, plus two other guys who came on for both finance and legal expertise and became part of the management team, Knight is clear that without all of them, Nike would never have made it.
And he doesn't make himself out to be this business genius or ideal human – he's up front about how much he struggled to balance his family life and his business and how he fell pretty short in many ways (his older son swore in elementary school he'd never wear a pair of Nikes).
One thing that set this book apart for me is that it was set against the backdrop of world history over the past 40 or 50 years.
It wasn't just Phil Knight's story – it was also a story about how the world changed over that period of time.
He's a pretty serious student of history and war, and his first trip to Japan to try to source running shoes is part of a trip around the world where he visits all sorts of famous places that take on significance to him over the course of his life.
It really had a sweeping sort of feeling about the story, rather than just a rags to riches sort of story. I feel like I have to say that that this bigger scope would usually not appeal to me (books with a lot of travel are generally not my thing) – that if someone told me this about the book I'd think, "Well, those are big chunks I might just skim through" but I was captivated the whole time.
This book also surprised me by how clean it was. There was probably about a dozen swear words in the entire book, and other than that, nothing else objectionable in the entire thing.
While others in the 60s were enjoying hallucinogens and free love, Phil Knight was just trying not to go broke and selling shoes from his childhood bedroom (or if he was enjoying other things, he doesn't mention it). He didn't even grow a beard because he spent so much time at the bank begging for more credit so he could import another giant order of running shoes, and he worried a hippie beard would annoy his very straight-laced banker.
Unfortunately for Knight, the banker found plenty of other things to be annoyed about, like the fact that there was basically never a dime in Knight's account because the moment he got paid, he spent every penny on . . . .more shoes.
Reading Shoe Dog reminded me that when you're reading a really good book, you magically find several extra hours a day to read.
For Shoe Dog, I found those extra hours.
P.S. I read a physical copy of this book, but one of my friends told me the audio is excellent, so I listened to a sample on Audible and it's very engaging (plus with 18,000+ reviews, it has a 4.8 out of 5.0 rating for the performance).
If you liked this shoe dog review, you might also like these books: