Need a state fair or Disneyland churro fix but don't want to make your own? Try this churro popcorn with caramel sauce and plenty of cinnamon sugar. No frying required!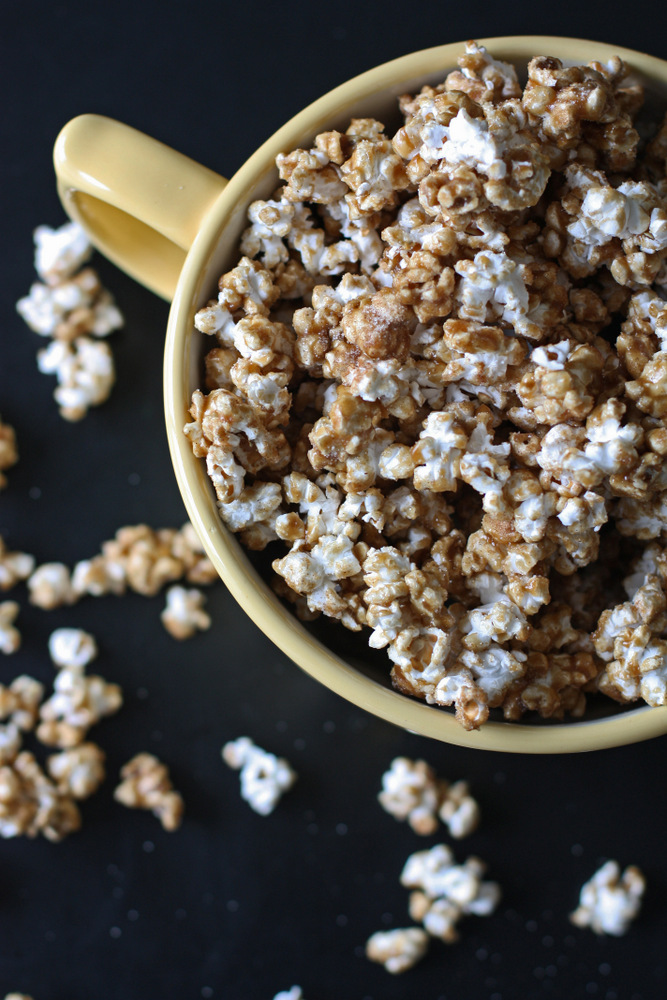 When we visited Chicago back in 2014, we went to
Xoco
for dinner (on the recommendation of several people).
The weather was cool, but not cold, and we walked about 10 blocks from the apartment we were staying in to the restaurant. It was a beautiful evening and a fun neighborhood, and it was just a perfect evening on vacation.
Ella fell asleep in the stroller and didn't wake up until we had ordered and our food had arrived. Bart and I didn't complain about not having to entertain an overly-tired toddler while we stood in line, and Ani enjoyed having us all to herself for a while.
We ordered two tortas which were fantastic (especially the Cubana) and finished off with the churros with chocolate dipping sauce and ice cream, which DOZENS of people had raved about it.
The girls couldn't get enough of the churros, but I realized that churros in general are not actually my favorite thing. They just taste SO fried to me, and it's hard for me to get past that.
I WANT to like them because I love cinnamon and sugar in basically any form, but I just need it to not be on a piece of deep fried dough (I don't know why churros don't do it for me, when deep fried dough in doughnut form is a-okay with me. I don't question, I just eat doughnuts).
When we got home, I thought churro popcorn might be worth trying out since it could have that cinnamon sugar flavor without all the frying.
Turns out? Churro popcorn is definitely worth trying.
It's the perfect after-school snack or movie night treat.
And it's definitely cheaper than a trip to Chicago or Disneyland.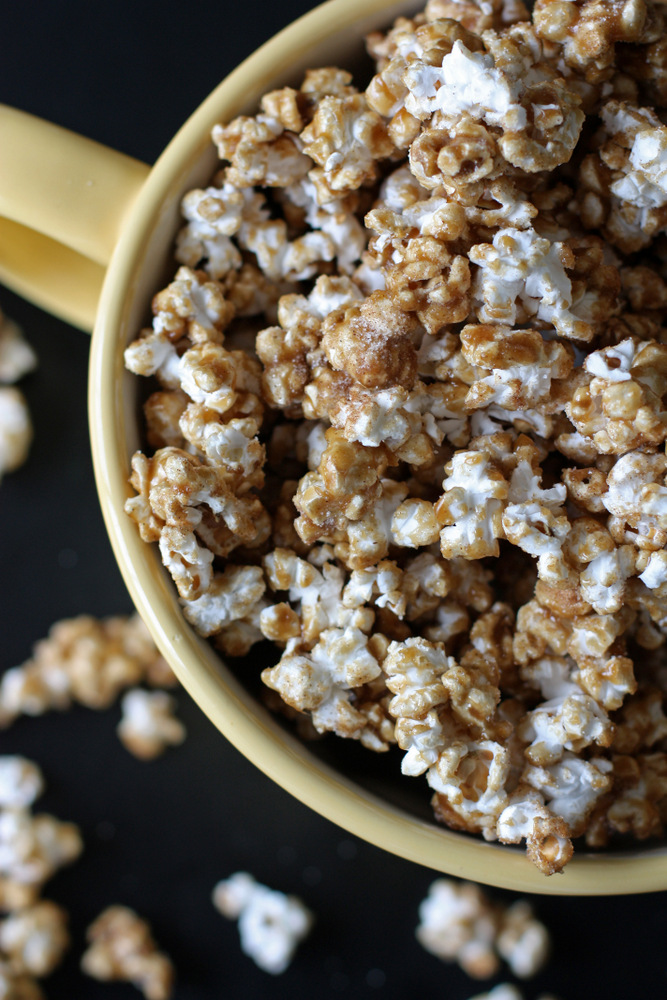 If you like this churro popcorn recipe, you might also like these:
Churro Popcorn Recipe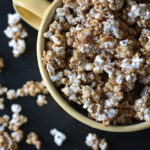 Churro Caramel Popcorn
Ingredients
1

bag plain microwave popcorn

popped (you should have about 10-12 cups at the end)

4

Tablespoons

butter

1/3

cup

packed brown sugar

2

Tablespoons

light corn syrup

1/8

teaspoon

baking soda

1/2

teaspoon

vanilla

1/4

cup

granulated sugar

1/2

teaspoon

cinnamon
Instructions
After your popcorn is popped, pour it into a large mixing bowl (I cover my bowl with a wire cooling rack and then shake out all the popcorn kernels so we don't have to fly to Vegas and have my dad repair broken teeth).

In a small saucepan, melt the butter, brown sugar, and corn syrup together, and then let cook at a low boil for about 2 minutes. Remove from heat and stir in the soda and vanilla. Stir well and then pour over your popcorn, stirring until your popcorn is well-coated.

Mix together the granulated sugar and cinnamon, then sprinkle a tablespoon at a time over the popcorn, stirring to make sure everything gets a nice sugar-y coat.

Enjoy!
Recipe Notes
Note: I never buy microwave popcorn. I just stick about 2 Tablespoons of popcorn seeds in a brown lunch sack, fold the top over a couple of times, and then microwave it for 2 minutes. Way cheaper and no chemicals and fake ingredients involved. I do two bags to get about 10-12 cups.