This Valentine Popcorn mix is super simple to whip up and looks so festive. Serve it as a special snack or bag it up to give as Valentine's!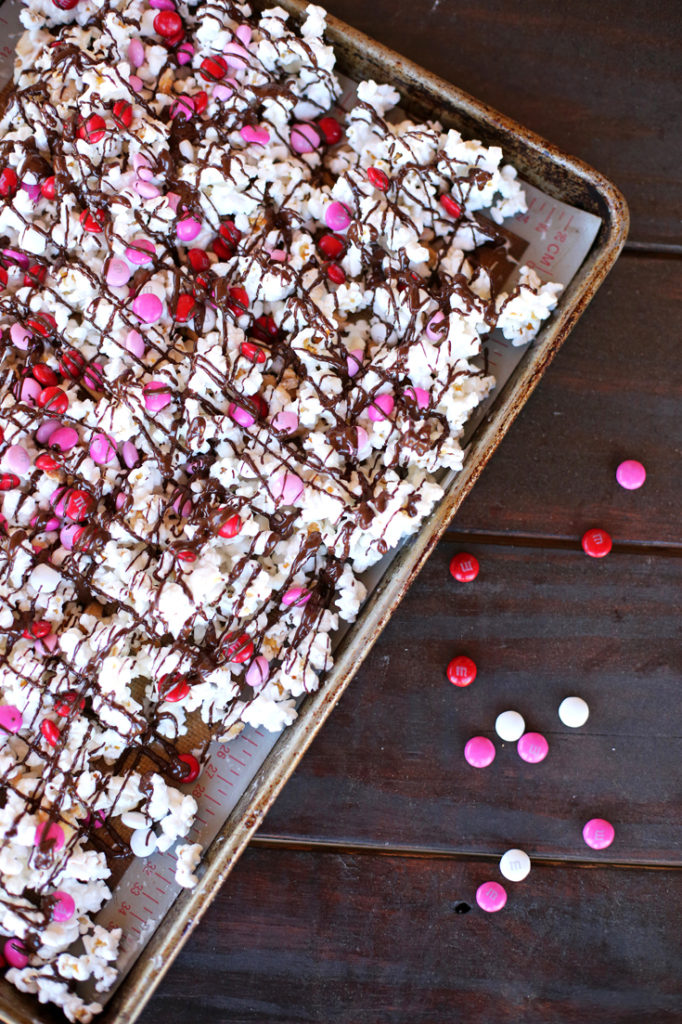 Because I've been out of town for the last three weekends in a row, I feel like Valentine's Day kind of snuck up on me.
Regardless, I'm trying to squeeze as much pink, chocolate, and
Valentine's picture books
into this week as possible. It helps that my mom sent a big box of decor, treats, and activities which went a long way to making it festive around here.
I picked up some pink, red and white M&M's at Walmart this week in the seasonal section and when Ella and I were doing cooking lessons, we made this Valentine popcorn mix which was really easy and fun to make together!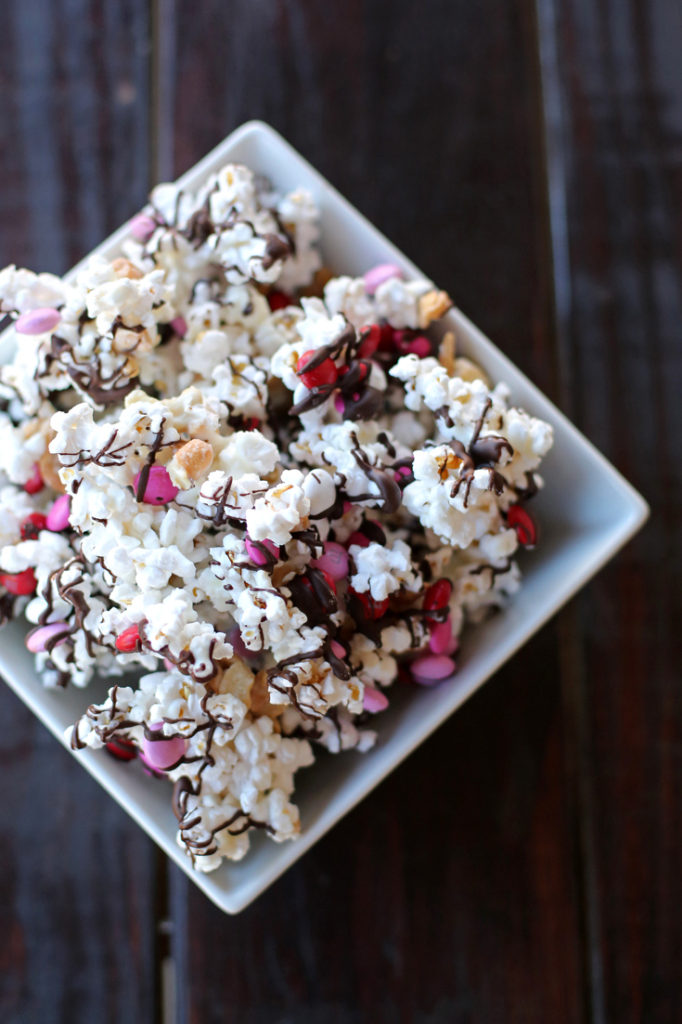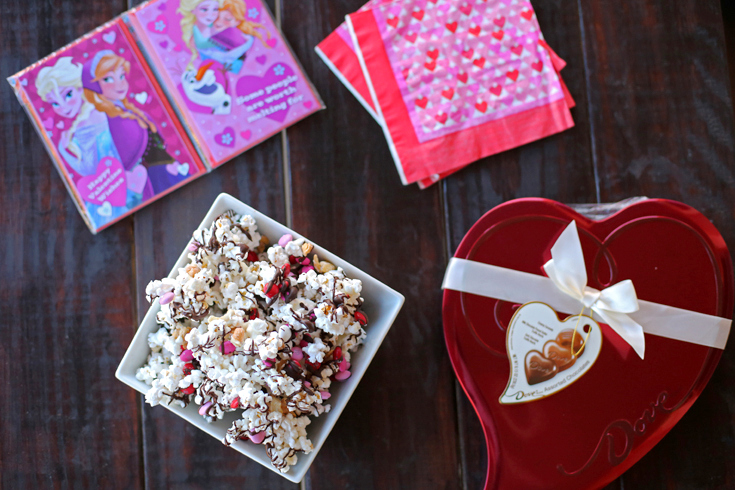 We packaged it up and took it around to some neighbors. It was a quick and easy little gift that looked delightful and I would love receiving!
Also, my store didn't have the new M&M's® Strawberry, but if you see them, you should try this recipe with them instead, because it'd be like chocolate-dipped strawberry popcorn, which is basically my favorite combo on earth.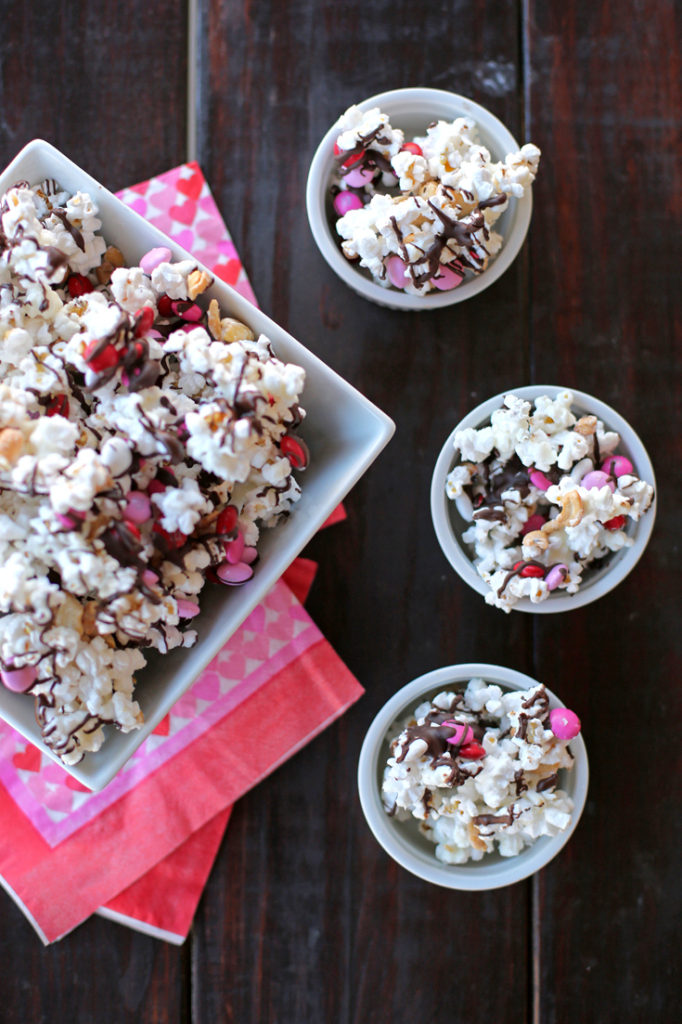 Valentine's day Popcorn Mix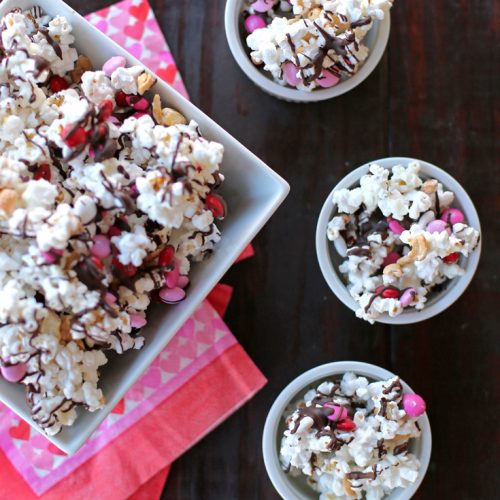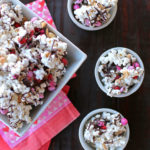 Simple Valentine's Popcorn Mix
Ingredients
10

cups

popped popcorn

about 1/3 cup kernels

1/2 - 1

cup

chopped nuts

I used cashews

6

ounces

almond bark

1

cup

M&M's®

1/2

cup

semi-sweet chocolate chips

1/2

teaspoon

coarse salt
Instructions
Pop your popcorn (I just put half the kernels in a brown lunch sack, fold the top over a few times and microwave for about 90 seconds and then repeat with the other half of the kernels). Get rid of as many of the un-popped kernels as possible - I usually put all the popcorn in a bowl and gently shake it so the kernels fall to the bottom and then scoop the popcorn out onto the cookie sheet, leaving the kernels in the bottom of the bowl.

Line a cookie sheet with foil, parchment paper or a silicone mat and spread the popcorn evenly across it. Sprinkle the cashews over the top.

Melt the almond bark and carefully pour it into a plastic baggie. Snip off one corner and squeeze the bark all over the popcorn. With a spatula, toss it gently to coat.

Scatter the

M&M's®

all over the popcorn.

Melt the chocolate chips and pour them into a plastic baggie, snip off the corner and drizzle it all over the top of the popcorn.

Sprinkle the salt over the top and place in the fridge until the chocolate is hardened. Break into pieces and eat or package for gifts!
If you liked this Valentine Day's Popcorn, you might like these posts too: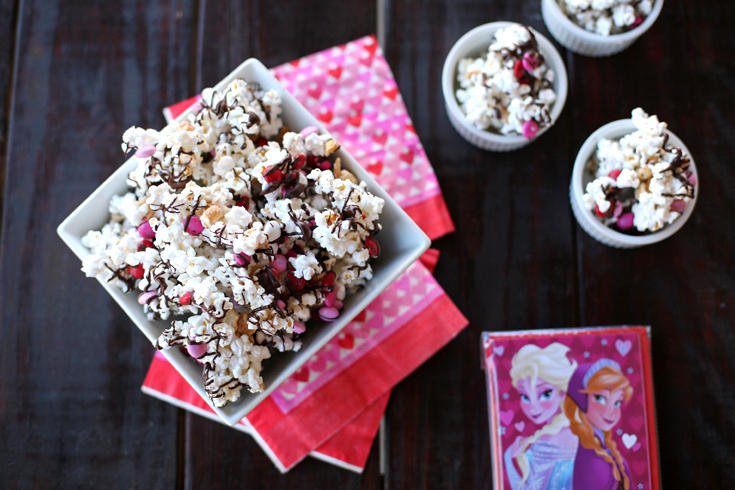 if you liked this valentine's day popcorn mix recipe, you might also like these other recipes: