This year is the fourth year in a row we'll be going to California to spend the Fourth of July with my sister Merrick and her family.
It's become one of my favorite things to escape the Phoenix heat for a couple of days, play on the beach, watch a city parade, and have a family barbecue at the house before going down to the beach to watch fireworks over the water.
Because it feels like a real event, rather than just one day in the summer, I'm always on the lookout now for a few things to make it feel extra festive.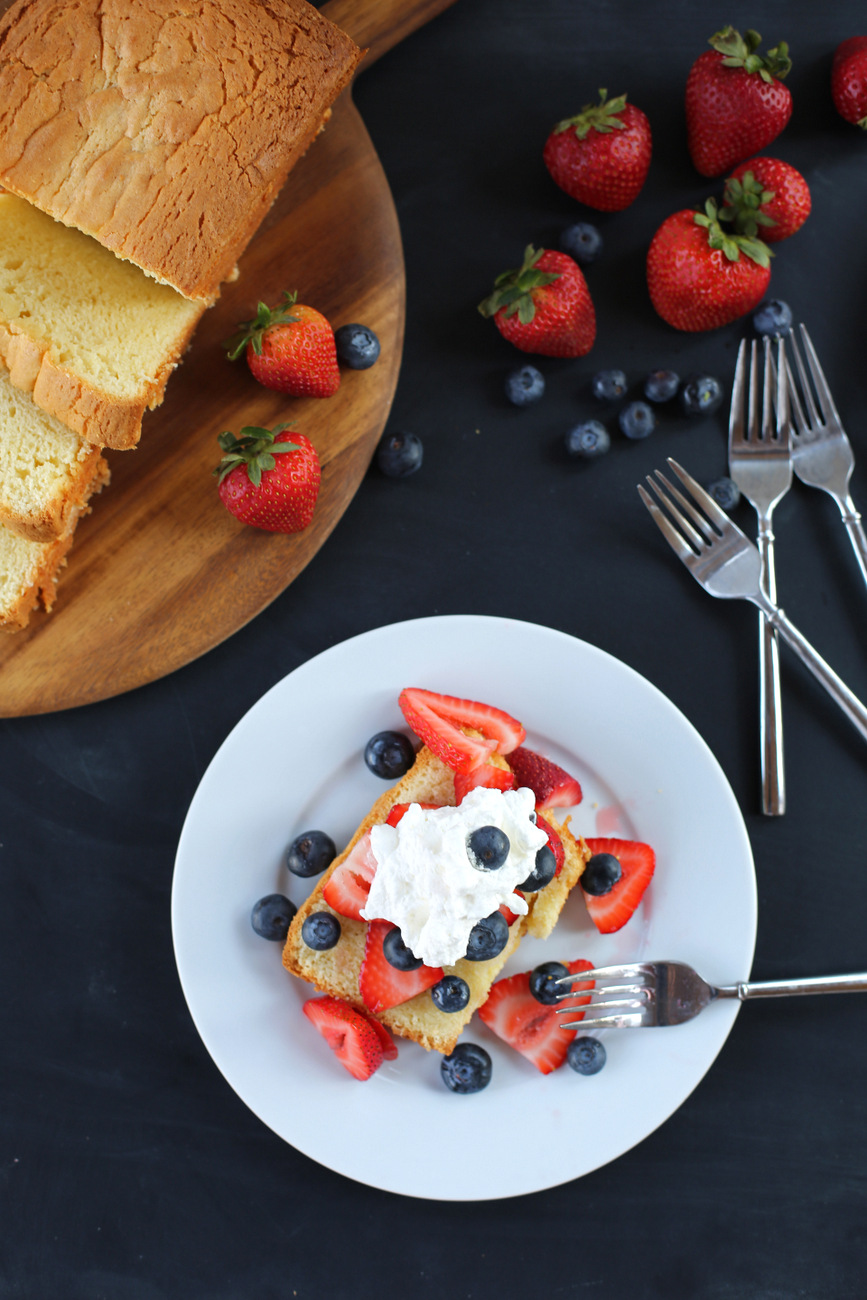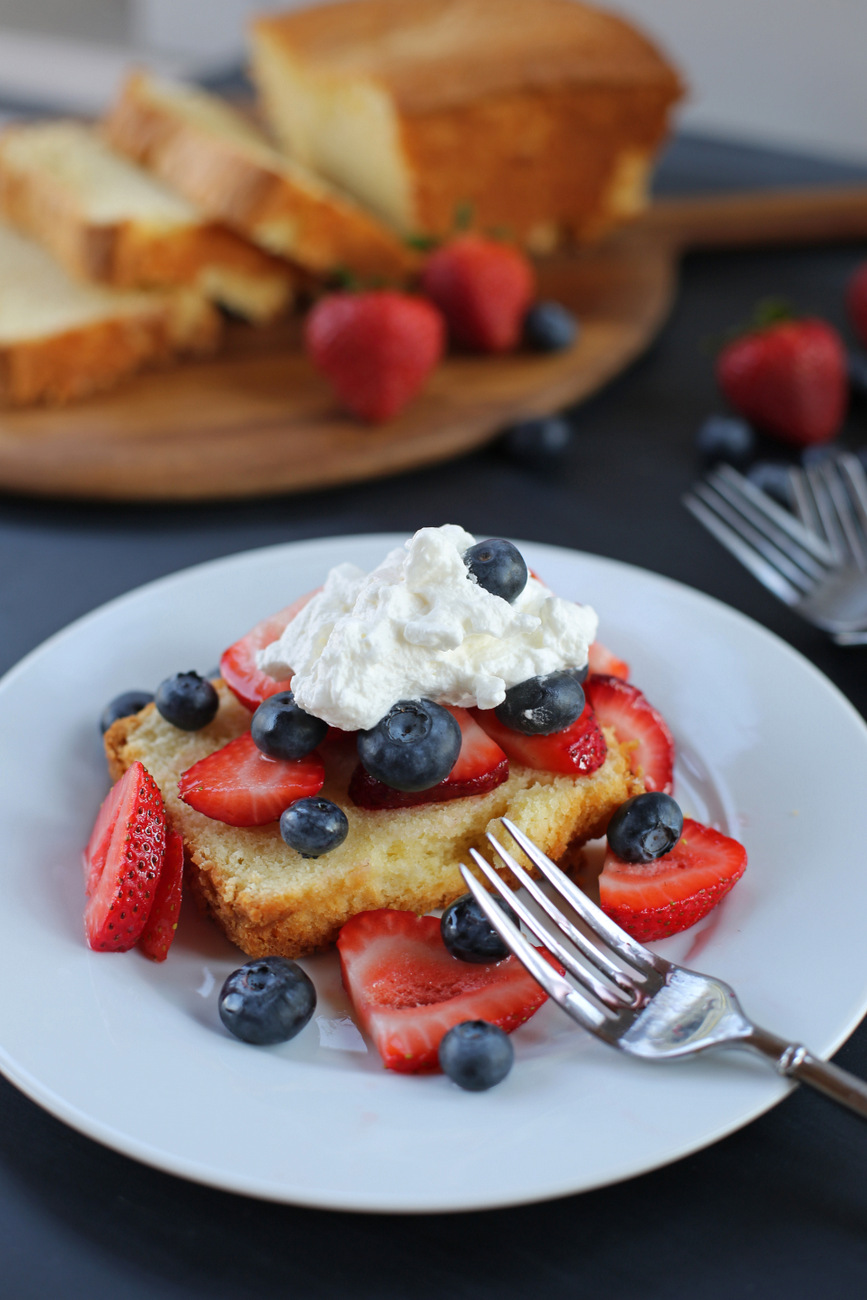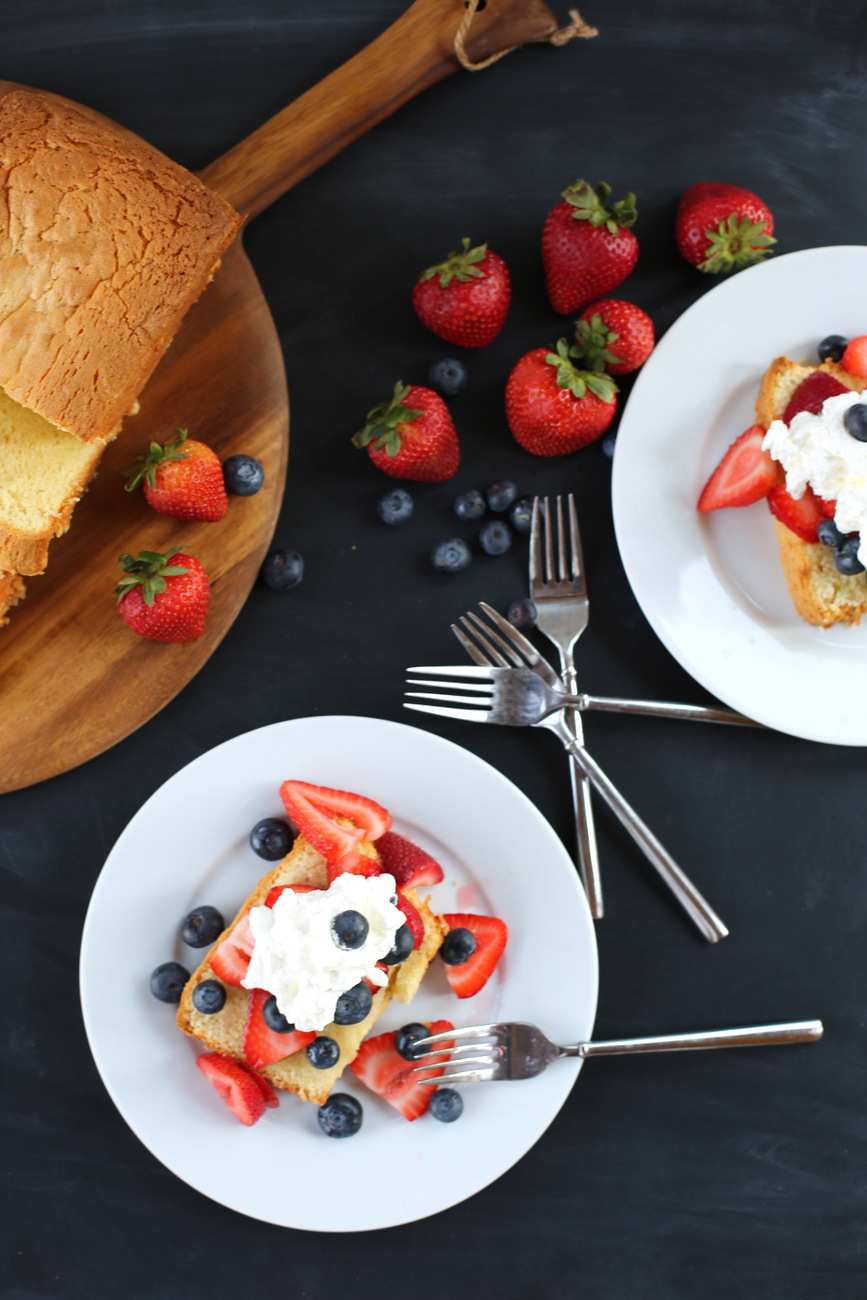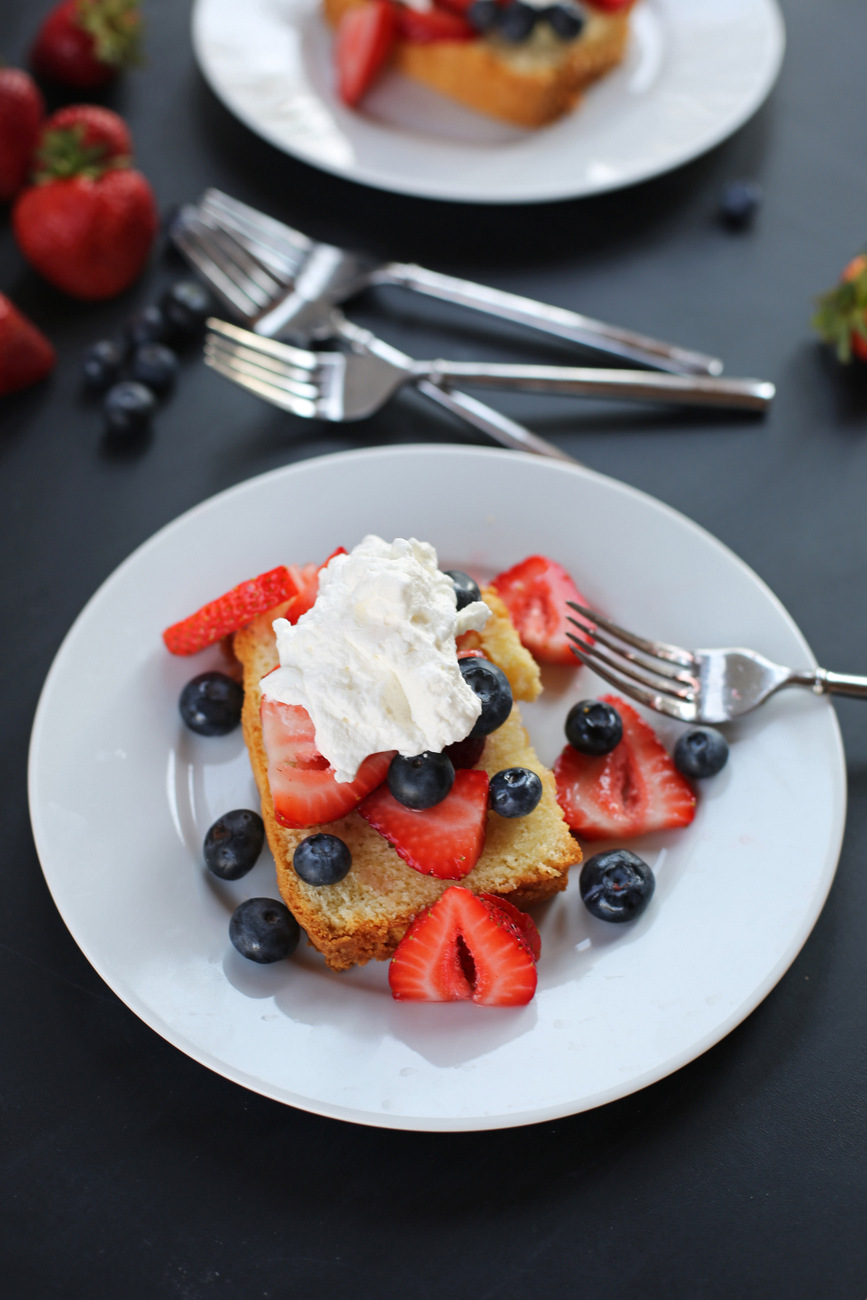 One of my favorites are these super easy three-dimensional paper stars that look really pretty hanging on the patio or over the dinner table (plus, it's a great project for kids).
Another one is a red, white and blue dessert.
Strawberries and blueberries are incredibly inexpensive and delicious right now, and they make the perfect topping for this cream cheese pound cake.
I made this cream cheese pound cake about four years ago and it was the BEST pound cake I've ever made, but the recipe was also WAY too big for a standard loaf pan and if there's any way to make me want to tear my hair out it is when my recipe overflows all over the bottom of the oven (and, you know, looks terrible because of said overflow).
This year, I gave it another go, readjusting all the quantities so that all the cake could end up on a plate looking gorgeous instead of a burned mess on the oven floor.
Also, I don't know if my pans are just old or what, but I ALWAYS have trouble getting stuff out of pans, so I play it safe and go the route of lining my pans with parchment paper so that I'm not cursing the heavens when my beautiful cake sticks to the inside of the pan.
This cream cheese pound cake is also the perfect Fourth of July dessert because you can make it a day or two ahead of time, wrap it up in plastic wrap, and it'll be ready to go for your barbecue or picnic.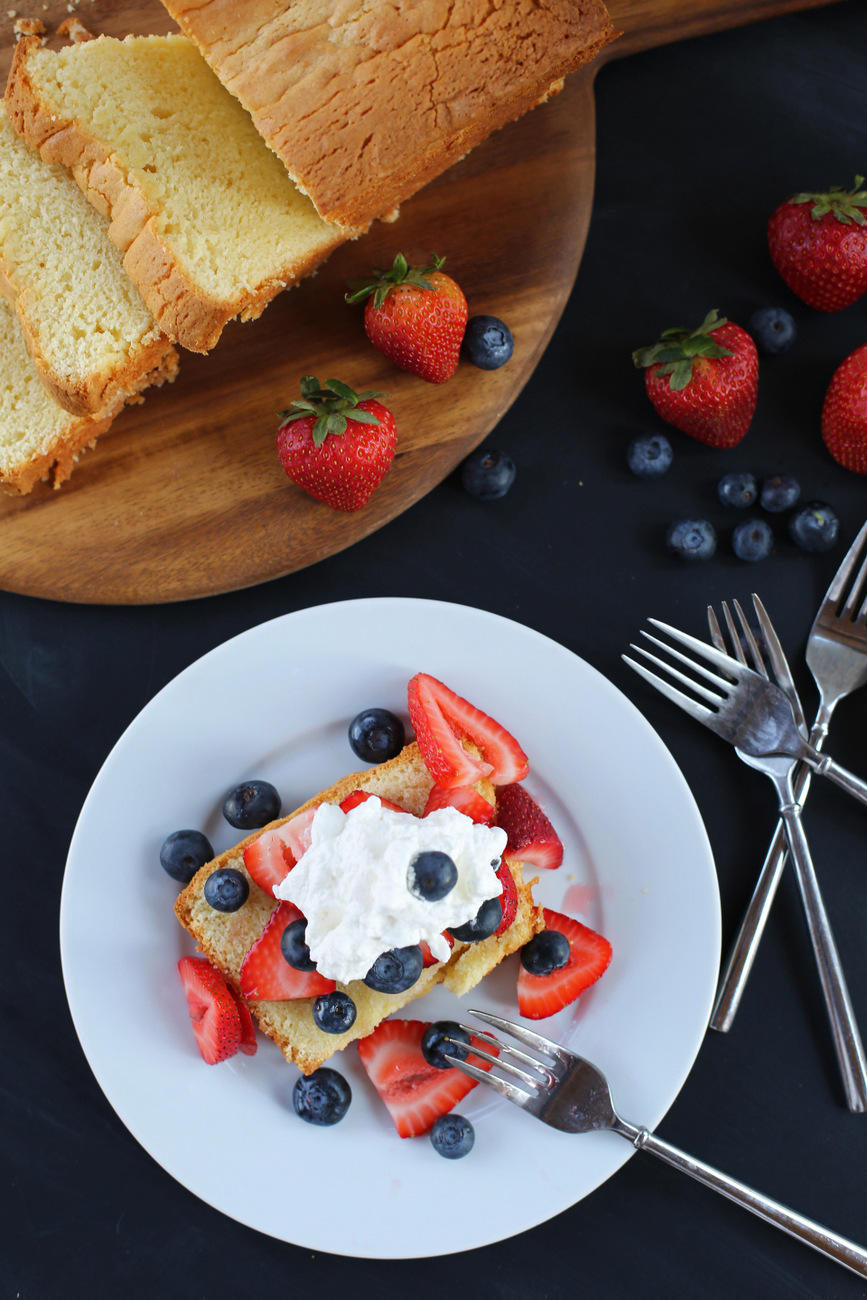 cream cheese pound cake with fresh berries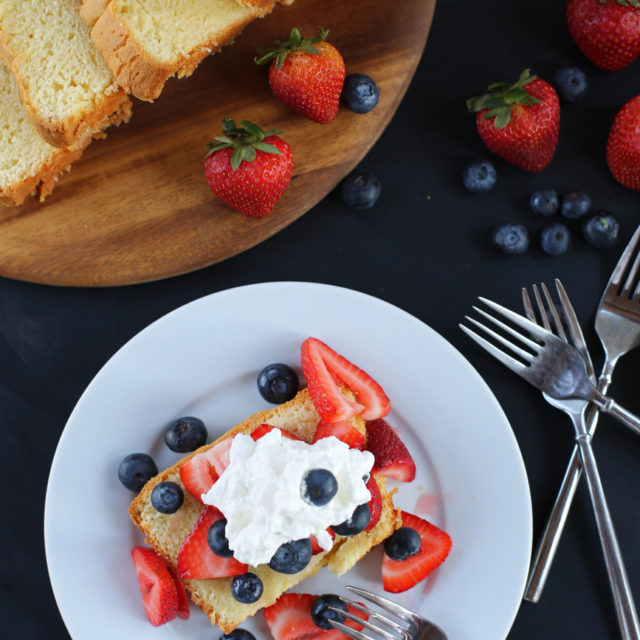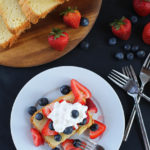 Cream Cheese Pound Cake with Fresh Berries and Whipped Cream
This cream cheese pound cake is the perfect make-ahead dessert. Top it with any kind of fruit that is in season!
Total Time
1
hour
15
minutes
Ingredients
6

ounces

cream cheese

softened

9

Tablespoons

butter

softened

1 1/8

cups

granulated sugar

2

teaspoons

vanilla

3

Eggs

1 1/2

cups

flour

1 1/4

teaspoons

baking powder

1/4

teaspoon

salt
Berries
1

quart

strawberries

sliced

2

Tablespoons

sugar

1

pint

blueberries
Whipped Cream
1

cup

whipping cream

2

Tablespoons

sugar

1

teaspoon

vanilla
Instructions
Preheat oven to 325 degrees. Line a 9x5-inch loaf pan with a piece of parchment paper that covers the bottom and goes up and over the long sides of the pan creating overhang that you can use as handles to lift the cake out after it is baked. Spray the parchment paper and the two short uncovered sides of the pan with cooking spray and set aside.

Fit an stand mixer with the whisk attachment and beat the cream cheese until smooth and soft. Add the butter and sugar and beat for 3 minutes.

Stir in the vanilla and then add the eggs one at at time, beating for one minute after each one is added.

While the eggs are beating, whisk together the flour, baking powder and salt in a small bowl. Once the eggs are all fully incorporated, pour in the flour mixture and beat just until combined. Scrape down the sides and bottom with a spatula and fold everything together to make sure everything is well combined.

Spoon the batter into the loaf pan and bake for 30 minutes.

After 30 minutes, rotate the cake and bake another 30 minutes, until a toothpick comes out cleanly and the top springs back when you press it gently with your fingertip.

Cool for 20 minutes before removing it from the pan and then let it cool completely.

While the cake cools (or before serving), slice up the strawberries and toss them with 2 Tablespoons of sugar. Let them sit for at least 30 minutes.

Whip the cream and sugar with electric beaters until stiff peaks form, then add the vanilla and mix for another 30 seconds.

Slice the cooled cake, top each slice with the strawberries and blueberries, and finish with whipped cream.