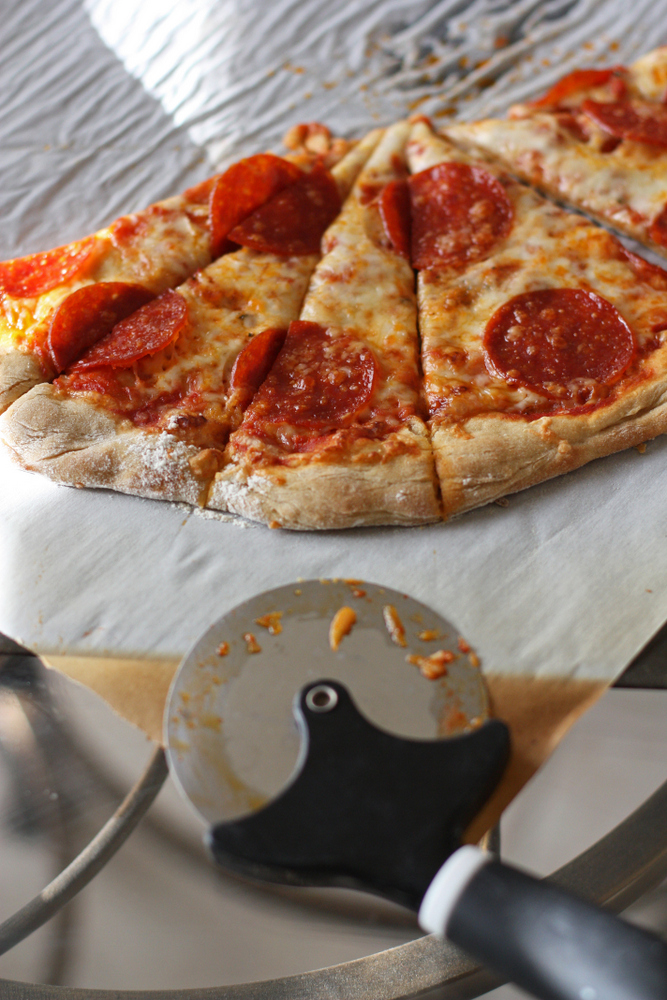 When I mentioned Friday pizza night last week (don't forget to enter the giveaway on that post!), several people asked about my pizza recipe.
I guess it's your lucky day!
A few things first.
I could not STAND homemade pizza when I was growing up. The crust was always thick and bready (and often doughy, which still as an adult makes me want to throw up), and I was always like "why didn't you just buy a pizza at Papa Murphey's?" I don't think I had a single homemade pizza before I was 20 that I thought was at all decent.
And I'm not a pizza snob. I still love Pizza Hut, and Little Caesers. I just don't like a lot of homemade pizza.
Your pizza will improve by a thousand times if you buy a pizza stone (I have this one from Williams-Sonoma). If you don't have one, stick a cookie sheet in the oven while it's preheating and cook your pizza on that. I've been doing it all summer and it still makes a pretty decent pizza.
Also, crank your oven up to 500 degrees and let it heat for about 30 minutes before you cook your pizza.
I hate to be a snob about stuff but seriously your pizza will be hugely improved if you grate your own cheese. Pre-shredded cheese has additives to keep it from sticking together and it doesn't melt as well and basically always tastes vaguely chemically and. . . just take the 2 minutes and grate your own. I just take the block of mozzarella and the totally crappy grater this house has and grate it straight on to the pizza.
Finally, I am deathly afraid of the whole pizza peel thing, so I always assemble my pizza on a silicone liner and then place the whole thing right on my pizza stone. Since I didn't pack my silicone liners, I've been using parchment paper here, which works just as well.
Okay, recipe time.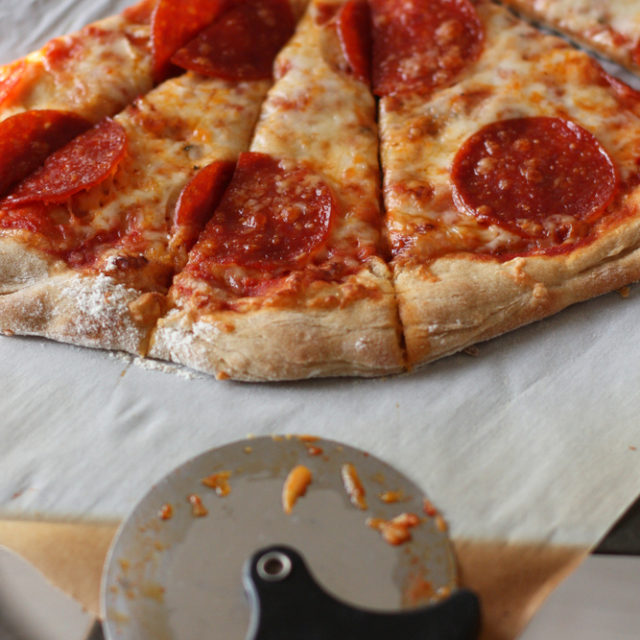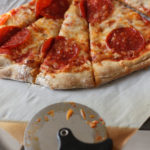 My Favorite Homemade Pizza
Prep Time
3
hours
50
minutes
Ingredients
Crust: (makes 2 pizzas)
1 1/4

cups

warm water

2

teaspoons

instant yeast

2

tablespoons

granulated sugar

1

tablespoon

honey

1

tablespoon

olive oil

2

teaspoons

salt

1

cup

all-purpose flour

2

cups

white wheat flour

if you're doing regular wheat flour, do 1 1/2 cups instead and increase the all-purpose flour to 1 1/2 cups.
Sauce:
1

Tablespoon

olive oil

1

clove

garlic

1

can fire-roasted tomatoes

or just diced

salt and pepper
Toppings:
10

oz

give or take, depending how cheesy you like things Mozzarella cheese, shredded

Pepperoni

1/3

cup

Parmesan cheese

grated
Instructions
For the crust:
In a stand mixer, add all ingredients and let mix for 5 minutes (or 10 minutes if you're doing it by hand). Resist the urge to add more flour. (If you want to use active dry yeast instead of instant yeast, mix the warm water and sugar together, then sprinkle the yeast on top and let it sit for 10 minutes before adding the remaining ingredients).

Spray a bowl with cooking spray, scrape your dough into the bowl and cover. Refrigerate for at least 3 hours and up to 3 days.

Two to three hours before you're ready to make your pizza, take it out and let it come to room temperature and rise on the counter. (If you freeze half the dough, put it on the counter about 3-5 hours before you're ready to cook).

Preheat oven to 500 degrees (make sure you start it heating about 30 minutes before you want to put your pizza in so that your stone has time to get hot).

Divide your dough in half. On a sheet of parchment paper or a silicon baking sheet, sprinkle a tablespoon or two of flour, and roll out one crust thinly. Seriously, as thin as you can (usually I do one, then go to the other one and then come back to the first one since it can shrink a little if you don't let it rest). Repeat with second crust.
For the sauce:
In a small saucepan, heat the olive oil over medium-high heat, then cook the garlic for about 30 seconds, stirring to keep from burning. Add the tomatoes and cook for about 5-10 minutes. If you want it smooth, blend it carefully in your blender or with an immersion blender. Sometimes, if I'm in a hurry, I just blend all the ingredients in the blender and call it good, with no cooking.
Prepping to cook:
Spread the sauce over the pizzas (if you have too much, don't feel like you have to use it all - I just freeze any excess. You don't want soggy pizza. A thin layer of sauce is fine).

Cover with mozzarella, then pepperonis, then finish with a good sprinkle of Parmesan cheese.

Place your pizza (with the parchment or silicon sheet) carefully on the pizza stone, and bake for 6-10 minutes (mine is always 8 minutes).

Slide the pizza onto a cookie sheet or pizza pan and let cool for a few minutes before slicing and serving.