I hate wasting food, so I'm always on the lookout for ways to keep from throwing perfectly good food in the garbage.
Leftover rice is one of the biggest offenders. It's so hard not to make too much rice and then have no sauce left to go along with it or end up with an extra container of takeout rice.
I've collected these leftover rice recipes so that instead of mocking me in the fridge as it slowly goes bad, I can use that leftover rice to jumpstart a new delicious meal.
That's a leftover win for sure.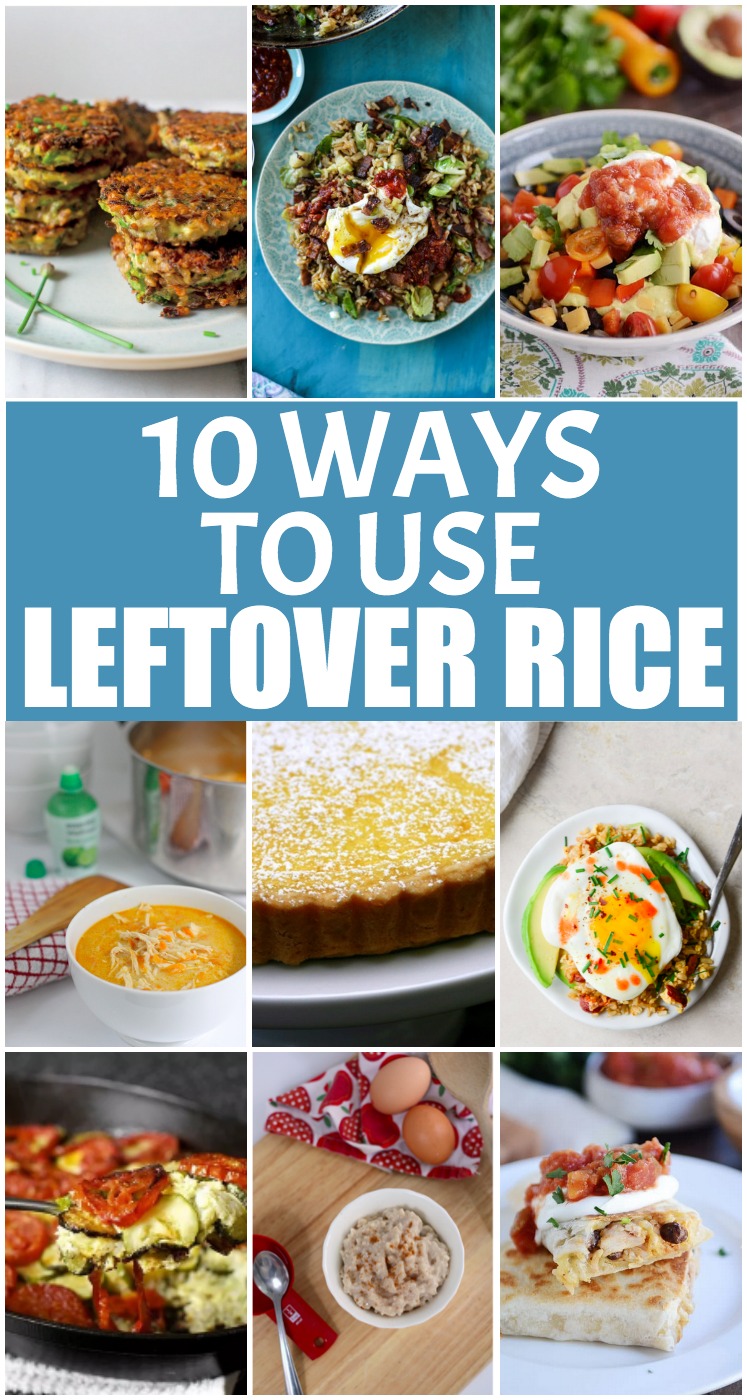 10 really great leftover rice recipes
Thai Coconut Soup with Chicken and Rice
I am obsessed with this Thai Coconut Soup and have made it dozens of times over the years. It's so easy and so delicious and basically the perfect soup. The recipe calls for 1 1/2 cups of leftover rice, but if you have more or less than that, it'll be fine too!
Crispy Southwest Chicken Wraps
These chicken wraps from Mel's Kitchen Cafe are super adaptable and the perfect way to use up leftover rice in a very simple and kid-friendly way.
Easy Rice Pudding
Most rice pudding recipes called for uncooked rice, but I like a recipe that uses up the rice I already have cooked and have sitting in the fridge. This warm, lightly spiced rice pudding recipe is a family favorite.
Bacon and Brussel Sprouts Fried Rice
I mean, leftover rice cooked with bacon and brussel sprouts and topped with a fried egg? I'm THERE.
Lemon Lentil Soup
This was one of my early blog recipes so apologies for the fairly tragic photo, but I promise, this soup is fantastic. Like, good-enough-for-me-to-bother-making-dinner-when-Bart-wasn't-home good. And there is truly no higher praise than that.
Yum Yum Bowls
Will Mel's Kitchen Cafe ever lead you wrong? No she won't and these Yum Yum bowls (which I'd never even heard of before her) are no exception.
Broccoli, Cheddar and Wild Rice Fritters
These fritters are such a fun, different way to use up leftover rice, adding some vegetables and transforming them into crispy, delicious little nuggets of happiness.
Rice Tart
To be honest, I'd never heard of a rice tart until this recipe from Smitten Kitchen, but you can always trust her to blow you away. This one actually doesn't call for leftover rice – it has you cook it as part of the recipe, but if you use 1 1/2 cups of leftover rice, you've got a jump on the recipe, so it's the perfect leftover rice recipe.
Breakfast Fried Rice
Rice for breakfast? Why not when it includes a fried egg, bacon, and avocado. Breakfast rice is served.
Zucchini, Tomato and Rice Gratin
In the summer, when tomatoes and zucchini are starting to come out your ears, this is the way to use it up, along with your leftover rice.
Any other favorite recipes using leftover rice? I'd love to hear!
If you liked these leftover rice recipes, you might also like these posts: