I made this Lemon Lentil Soup one night when Bart was working late and I thought, "Is this a lot of work when I could have just had a bowl of cereal?"
And yes, this was more work than a bowl of cereal, but it was also much more delicious than a bowl of cereal (I kid. Nothing is better than a bowl of cereal. Ella, at birth, was probably 95% Cinnamon Toast Crunch).
Bart only got a tiny bit of this Lemon Lentil soup, because I ate two huge bowls for dinner, and then another enormous bowl for lunch the next day. I loved this.
Also, my mom probably doesn't even recognize me anymore, what with the voluntary eating of lentils.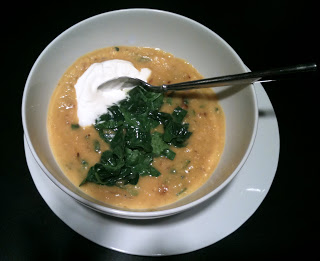 lemon lentil soup recipe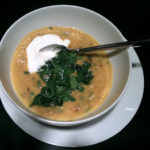 Lemon Lentil Soup
I made this Lemon Lentil Soup one night when I was home by myself and it was SO good, there was hardly any left when my husband got home! Full recipe here!
Ingredients
2

cups

split red lentils

rinsed well

1

tablespoon

turmeric

4

tablespoons

butter

2

tsp

salt

1

small/medium onion

chopped

2

teaspoons

cumin

1 1/2

teaspoons

yellow mustard seeds

1

cup

chopped cilantro

1/4 - 1/2

cup

lemon juice

1

large bunch of spinach leaves or chard or kale

chopped

2-3

cups

cooked brown rice

Plain yogurt
Instructions
In a large pot, mix 7 cups water, lentils, turmeric, 1 tablespoon of the butter, and salt. Bring to a boil, then reduce heat and simmer, covered, until the lentils are very soft (about twenty minutes). Puree with an immersion blender (if you don't have an immersion blender, frankly, I wouldn't bother blending it. Just mash it around with a fork or potato masher). Salt to taste, if needed.

While the lentils are cooking, chop the onion. In a skillet over low heat cook the onion in 2 tablespoons of the butter along with the cumin and mustard seeds, stirring occasionally. When the onions have softened, 8 - 10 minutes, add the cilantro and cook for a few seconds before removing from the heat. Add the whole thing to the soup, then add the lemon juice a bit at a time, until the flavor has a tang that you like.

Just before serving, add the last of the butter to the skillet, when melted, toss in the spinach/chard/kale and a big pinch of salt. Stir well, and cook just long enough for the greens to collapse.

To serve, put a scoop of rice in each bowl, then ladle the soup over the top, sprinkle on the spinach, and finish with a big dollop of yogurt.
if you liked this lemon lentil soup recipe, you might like these other recipes: