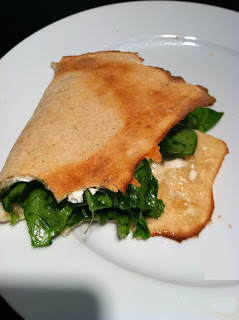 In a perfect world, I would rejoice at each and every single offering from my CSA box.
But there are some foods that I just am not that enthusiastic about. When they show up in the box, I have to restrain myself throwing myself on the floor and weeping (I don't because inevitably, by the time I've unpacked my box, my kitchen floor is covered with little bits of greenery).
Worse, vegetables have an unpleasant habit of growing many weeks in a row. So just when you've FINALLY figured out what to do with something despicable, the next box appears with it AGAIN.
Arugula is that vegetable for me. It looks like innocent lettuce, but it is so peppery and . . .just too much.
The first time I used it in a salad, Bart took one bite and said, "What is wrong with this lettuce?" It has not been popular in our home.
There were various attempts to use up the bags that would not stop coming. The most successful was this goat cheese, strawberry, balsamic salad. But still. One can only eat such a salad so many days in a row.
And then, I made these Flatbread Wraps from, where else, Perry's Plate, and all was right with the world. The first  time I made them, I had to mix up a second batch of the salad – we went through it that fast.
The next day, we made them again for lunch. And just like that, the arugula was gone. It was like a miracle.
basil and goat cheese vegetarian wraps
Basil & Goat Cheese Flatbread Wrap
This vegetarian wrap packed with basil and goat cheese is one that surprises me with delight every single time. It's so darn delicious and healthy and I'm thrilled every time I make it!
Ingredients
1/2

batch of whole wheat pizza dough

I made this and used it immediately, then put the leftovers in the fridge and used them again a day later. And I still have more.

1/4

cup

olive oil

2

cloves

garlic

minced

Fresh basil leaves

torn or cut into large pieces (I used about three leaves per flatbread for a total of about nine pieces per flatbread)

2

cups

shredded mozzarella cheese

1/2

cup

goat cheese crumbles
For the salad:
10-14

ounces

of salad greens

I used a mix of baby spinach and arugula

3

T

freshly squeezed lemon juice

3

T

extra-virgin olive oil

salt and pepper to taste
Instructions
Preheat oven to 500 degrees (if you have a pizza stone. If you don't, you should go buy one. Seriously. If you don't, Natalie at Perry's Plate recommends heating your oven to 450 and putting an upside down cookie sheet in it).

Form golf ball size lumps of dough (that there might be the most unappetizing sentence I've ever written). Roll each ball out on a lightly floured piece of parchment paper or a silicone pan liner as thin as you can (like. . .tortilla thin). I could do two flat breads on my silicone liner. Brush the dough lightly with olive oil (I used my fingers) and then sprinkle with a little garlic. Top with some basil leaf pieces, mozzarella, and goat cheese. Go easy on the toppings. . . you don't need a lot.

Bake for about 4 minutes, or until the edges of the crust begin to crisp and the cheese is bubbly.

To make the salad, place the salad greens in a large bowl. Drizzle with lemon juice, olive oil and then salt and pepper to taste. Place a large handful of salad on to each flatbread and fold it over. Eat and die that you are actually liking arugula.
if you liked this basil and goat cheese wrap recipe, you might also like these other recipes: