I know, I know. I love goat cheese. It's just. . . do you know how tasty that stuff is? And how cheap it is at Costco? (One of my friends has a membership and buys me a 20 ounce package for $6 whenever she goes).
Also, you know why there is a picture of one slice of this pizza rather than the whole pizza? Because this was the only piece left. And as soon as I took the picture, I ate half of that slice too.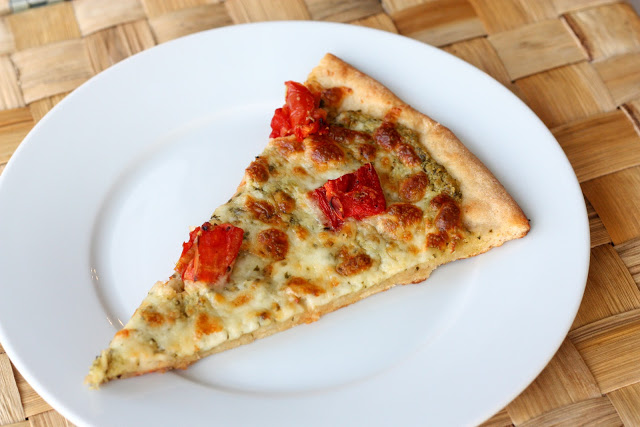 Pesto and Goat Cheese Pizza
(adapted from The Way the Cookie Crumbles)
Makes 1 14-inch pizza
One pizza crust dough (this is my favorite recipe. I use half and then freeze the other half)
3 roma tomatoes
Olive oil
Salt & pepper
2 ounces goat cheese,softened
2 tablespoons pesto
Large pinch red pepper flakes
1 1/2 cups shredded mozzarella cheese
¼ cup (½ ounce) freshly grated parmesan
Preheat oven to 350 degrees and line a small baking sheet or pan with foil. Slice the tomatoes in half lengthwise and scoop out as many of the seeds as you can. Cut the tomatoes into large chunks (about six per half), place in pan, drizzle with olive oil and sprinkle with salt and pepper. Roast in oven for about 40 minutes, or until they're getting shriveled and the edges are turning a little dark.
Increase oven heat to 500 degrees.
Roll out the pizza dough and mix goat cheese, pesto, and red pepper flakes together. Spread over the pizza crust. Sprinkle the mozzarella cheese over the top. Scatter the roasted tomatoes over the cheese then sprinkle the Parmesan on top.
Carefully place pizza on pizza stone and cook for 8 minutes.
Remove and let sit for about ten minutes before slicing and serving.
***********************
By the way, some of my friends from grad school have a fantastic
YA book blog
and they're running this really great series called "
So You Want to Read YA
" where they have a bunch of different bloggers, librarians, publishing folks, authors, etc talk about what they recommend for someone just getting into reading YA. I was deeply flattered that they asked me to contribute and if you'd like to go check out what the books that I think are awesome,
my post is up today
.