Bart and I have started inviting several families over most Sunday nights for a little potluck.
This is a great set-up.
In the morning, before church, I throw soup in the crockpot.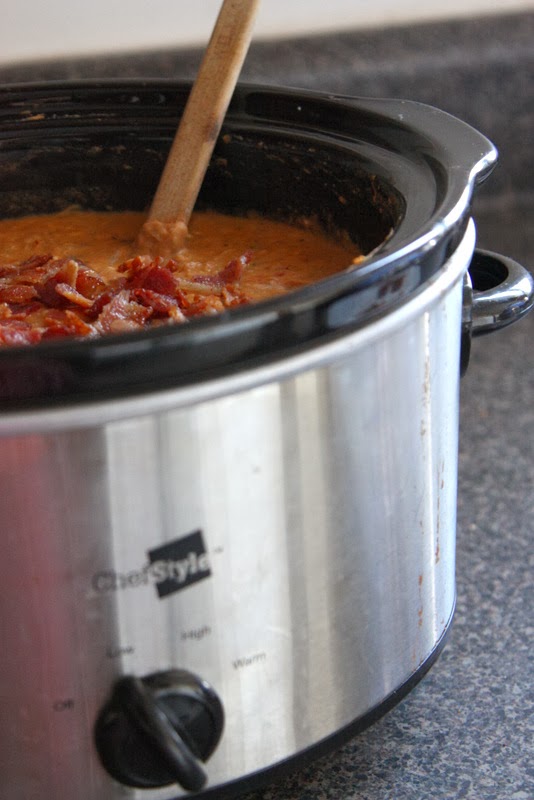 After church, we have lunch, both girls go down for naps/quiet time, and I read in bed until about four-thirty (last week, it was Relish, a YA graphic novel about growing up with foodie parents. Made me want to eat out many times a week, grow a huge garden, and become a cheesemonger).
Then, when the girls get up, we set out some bowls and spoons, add the last things to the crockpot, and put the children's table in the kitchen.
Everyone shows up with their offerings (we usually have someone bring rolls, someone bring a salad, and someone bring dessert), we eat, the children play, and the adults talk. Everyone leaves, we put the dishes in the dishwasher, the girls in bed, and voila. Easiest party-type thing ever.
The last two weeks, I've made this Jalapeño Popper Chili. And it was delicious.
I didn't even know I liked Jalapeño Popper ANYTHING until I was converted by this ridiculously great Jalapeño Popper dip. Now I know.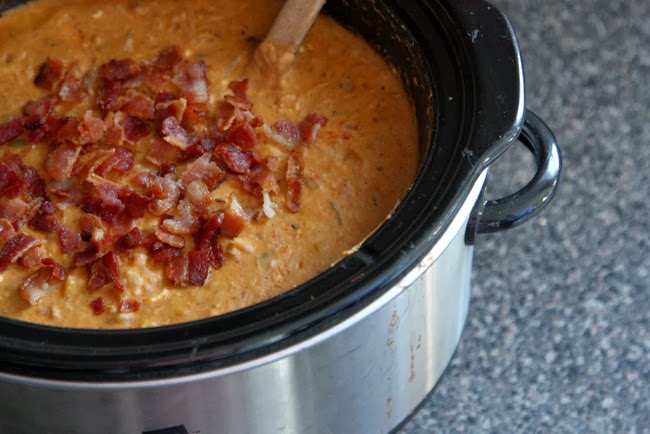 The original recipe called for FIVE jalapeno peppers, but I did two. The second time, I did only one. It was good, but spicy, the first time. The second time, it was much more subdued and child-friendly.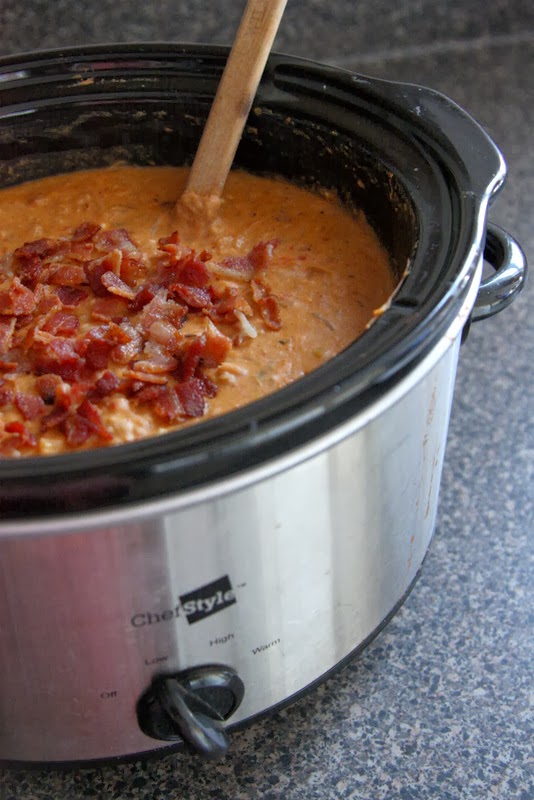 Crockpot Jalapeño Popper Chili
(adapted from Sweet Treats and More)
Serves 6 – 8 
Note: The first week, I only used half a pound of dried beans, so it was a bit thinner and more soup-like. The second week, I used the whole pound which made it much thicker and chili-like. Personally, I preferred the first variation. Bart said he had no preference. So. . . . whichever one you'd like.
1 yellow onion, diced
1 – 2 jalapeno peppers, seeds removed, and diced
3 cloves garlic, minced
1/2 red or yellow bell pepper, diced
2 boneless, skinless chicken thighs (breasts work too – I just find thighs less dry and more flavorful)
1 teaspoon chile powder
1 teaspoon ground cumin
1 teaspoon oregano
pinch of crushed red pepper
1 (14 oz) can diced tomatoes
3-4 cups chicken broth (use 4 if you're doing a full pound of beans)
1/2 or 1 lb dry white beans, rinsed and sorted (I used navy beans)
1 cup frozen corn
salt and pepper to taste
8 ounces cream cheese
1/2 pound bacon, cooked and crumbled
Add all ingredients except the cream cheese and bacon to the crockpot. Cook on low for 7-9 hours. Shred chicken with two forks.
(optional) Using an immersion blender, briefly pulse a few times to break up some of the beans and thicken the soup – you don't want it smooth, just a few of the beans pureed. Or take about 2 cups of the chili out and blend it in a countertop blender (leave the lid cracked so the steam doesn't make your blender explode)
Add the cream cheese and let melt for about 10 minutes, stir to combine, and mix in crumbled bacon. Salt to taste and serve.