Looking for a spinach pasta recipe the whole family will love? This pasta with balsamic vinegar and olive oil dressing with goat cheese and fresh mozzarella is home run at our house (and it's so easy to make!)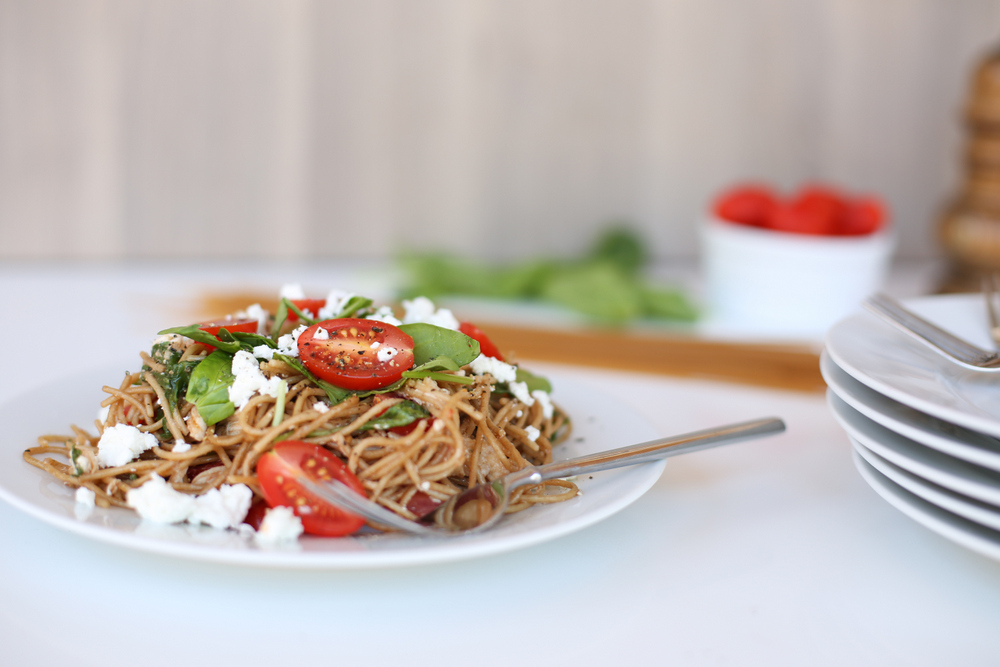 Bart doesn't cook.
He knows how and there was one glorious period in our marriage where he decided he'd make dinner once a week and I'd come home from class at UT-Austin to find dinner ready to be served, but he doesn't get any sort of satisfaction out of it, so I do 99% of the cooking.
His 1% contribution is flipping the pancakes.
But he's definitely influenced my food life, and, aside from an introduction to sushi, one of the greatest things I've learned from him is angel hair pasta.
I've never particularly cared for spaghetti, but shortly after we got married, I made it (for the important reason that I couldn't think of anything else to make for dinner) and as I was getting ready to go to the grocery store, Bart said "Make sure you get angel hair pasta instead of spaghetti."
Basically it blew my mind how much better angel hair pasta was than regular spaghetti noodles.
And in the last ten years, I haven't bought regular spaghetti noodles a single time.
Balsamic vinegar pasta with spinach and cherry tomatoes
This balsamic vinegar and spinach pasta is my number one favorite way to use angel hair pasta and in the summer, when the cherry tomatoes are perfect and I want something quick, these balsamic noodles never fail me.
I mean, goat cheese pasta? Count me in.
Actually anything goat cheese, count me in.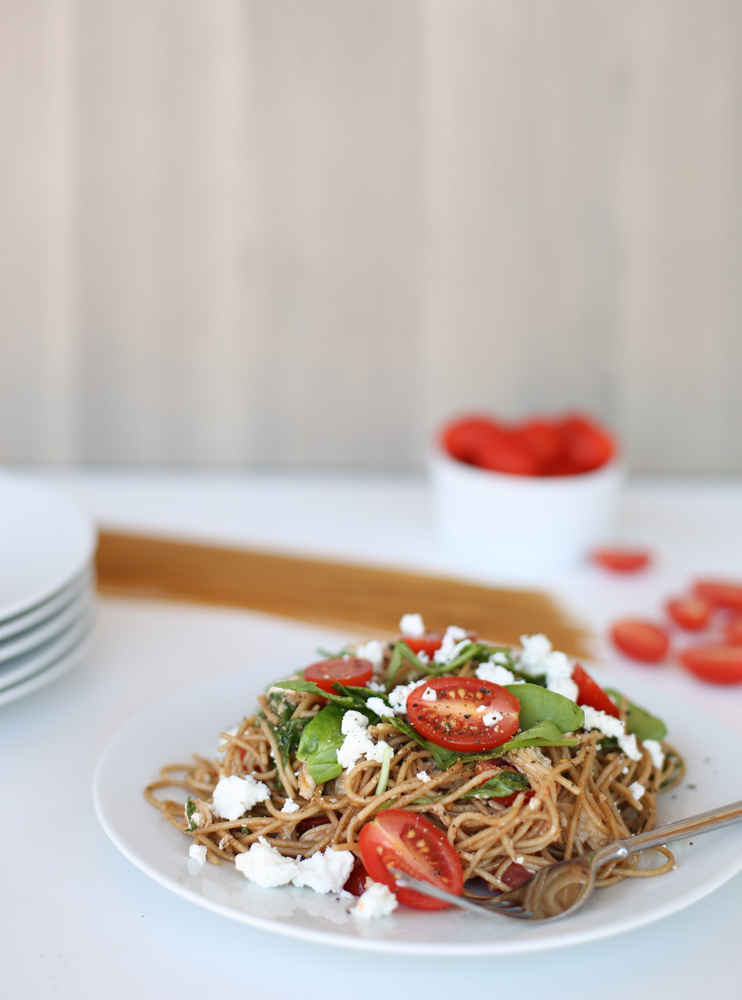 If you like this spinach pasta with balsamic vinegar and olive oil, you might also like these pasta recipes: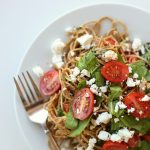 Balsamic Pasta with Spinach and Fresh Cheese
Ingredients
8

oz

angel hair pasta

I use whole-wheat

2

T

balsamic vinegar

4

T

olive oil

3

garlic cloves

minced

1/2

tsp

salt

1/4

tsp

pepper

1

shredded cooked chicken breast

1

cup

baby spinach

roughly chopped

1

cup

grape or cherry tomatoes

halved

1/2

cup

small fresh mozzarella balls

I like the smallest size

1/3

cup

crumbled goat cheese
Instructions
Boil pasta according to package directions and drain, then return to pot and sir in the vinegar, olive oil, garlic, and salt and pepper.

Put the chicken, spinach, and tomatoes in a large bowl. Add the pasta and stir to combine then add the cheese and toss well. Salt and pepper to taste and serve immediately.