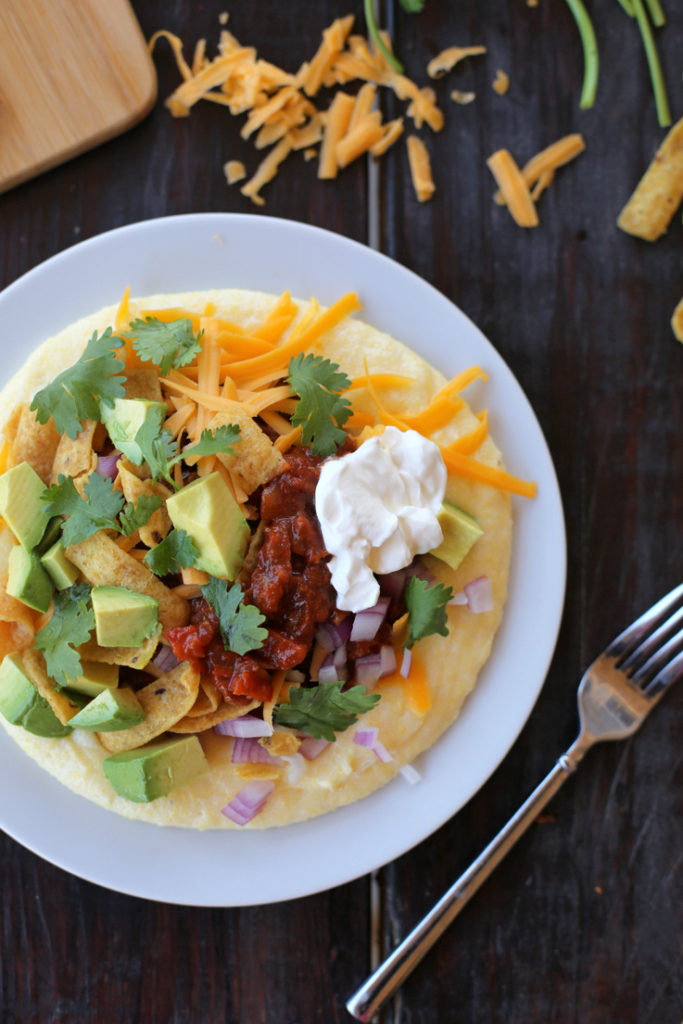 The first time I made this dish was a day or so before Star was born, and I remember feeling just a tiny bit disappointed that we were going out to dinner the night before her induction instead of staying home to eat the leftovers.
Of course, then my water broke as we got out of the car at dinner, and so I ended up in the hospital having a baby two hours later with not only no chili polenta, but no dinner at all.
Plus, the cafeteria was closed by the time she was born, so all I got was a tiny bag of Teddy Grahams and we had to resort to ordering Jimmy John's (I told Bart I didn't need my own sandwich because I wasn't very hungry, but he wisely insisted I get my own, assuring me I could just save it for later, and then I ate the whole thing in two minutes flat. I always forget that having a baby makes me hungry enough to eat a horse).
When I got home from the hospital, my mom said, "I had some of that leftover chili and it's some of the best chili I've ever had."
She's not wrong; it's incredible – a little bit sweet, and a little bit spicy.
Anyway, every time I make this now, I think, "I'm really glad I'm going to be around to eat the leftovers tomorrow."
I may or may not hide them in the back of the fridge so that no one else eats them without me.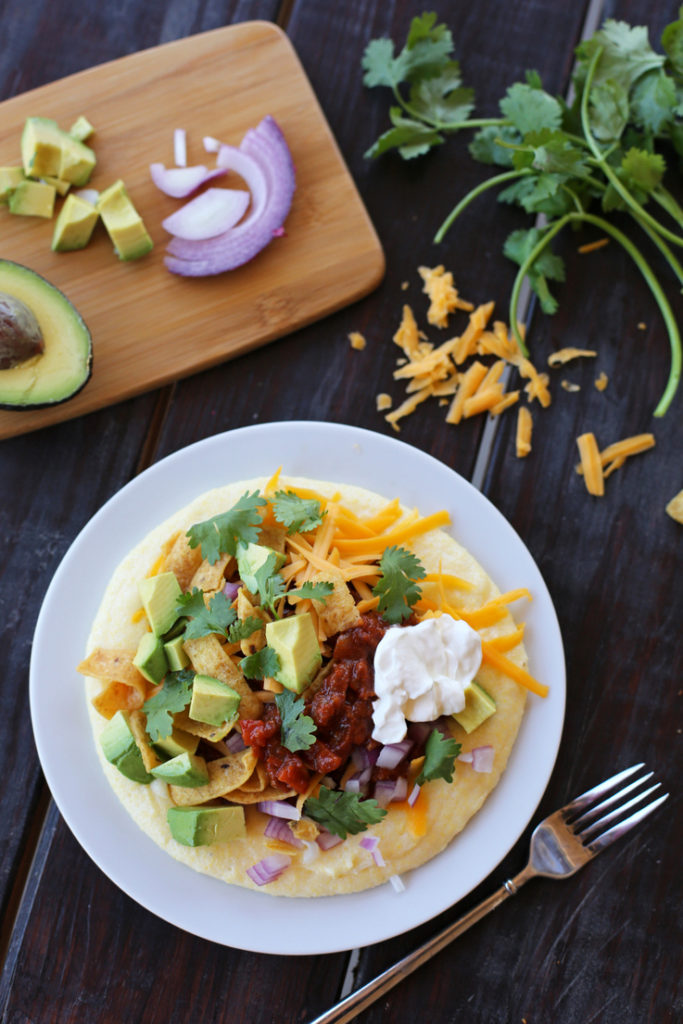 Sweet & Spicy Chili Polenta
(adapted from How Sweet It Is)


Serves 4-5
Chili:
2 tablespoons oil
1 yellow onion, chopped
2 garlic cloves, minced
1/2 red, orange or yellow bell pepper, chopped
1/2 – 1 tablespoon chili powder (depending on how spicy you like things)
2 teaspoons cumin
2 teaspoons smoked paprika
1/4 – 1/2 teaspoon chipotle chili powder
1/8 teaspoon crushed red pepper flakes
1/4 teaspoon salt
1/4 teaspoon black pepper
2 tablespoons tomato paste
1/2 pound ground beef
1 tablespoons brown sugar
1 (14.5 oz) can tomato sauce
Polenta:
2 cups water
2 cups milk
3/4 cup cornmeal
2 tablespoons butter
1/2 cup grated Parmesan cheese
salt and pepper to taste
Toppings:
Grated cheddar cheese
Sour cream
Diced red onion
Diced avocado
Corn chips


Chili instructions:
In a medium-large saucepan, warm the oil over medium heat and then stir in the onions and pepper. Cook, stirring occasionally, until softened, about five minutes. Add the garlic and let cook for 30 seconds.
Stir in the spices and then add the tomato paste. Cook about 2 minutes, then add the ground beef. Let the beef cook mostly through, then add the sugar and tomato sauce. Stir to combine, then bring to a simmer, cover, and let cook on medium-low for about 15 minutes. Salt to taste.


Polenta instructions:
While the chili simmers, make the polenta.
Warm the water and milk over medium heat in a saucepan, then stir in the cornmeal (every recipe I've ever read says to bring the liquid to a boil before adding the cornmeal, but when I do that, I can't keep the cornmeal from forming lumps, so I always add it while it's warm but not simmering or boiling).
Stir until smooth, then let it cook about 5 minutes, stirring frequently to keep the bottom from burning. Be careful, because it pops out of the pan a lot!
Reduce the heat, and stir in the butter and cheese until melted, then salt to taste.


To serve:
In a bowl or on a plate, layer the polenta, then the chili, followed by your desired toppings.