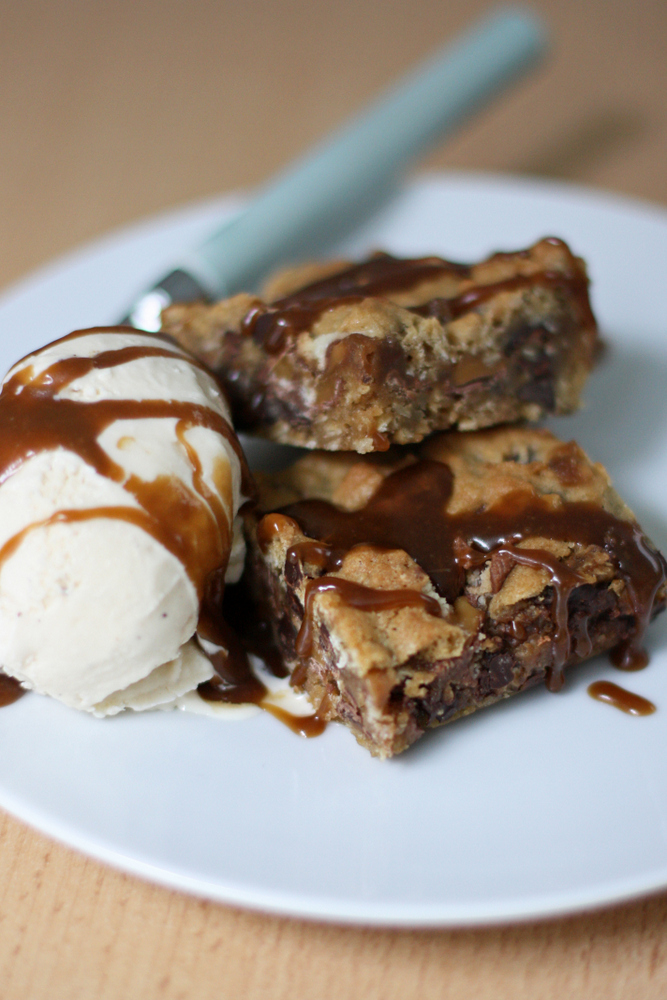 Just in case you still have leftover candy bars. . . .
Bart and I have noticed that American candy bars aren't always as good in the UK as they are in the US. Twix bars, for instance, seem extra dry here. Bart thinks most of them are way sweeter than the US versions, particularly Milky Ways. (Kit Kats, however, are extra awesome here).
The good news is, even with subpar Twix bars, these bars were ridiculously delicious. I could have eaten ten of them. And since they don't routinely test for gestational diabetes in the UK (only if you're high-risk or showing signs of possible problems), why not?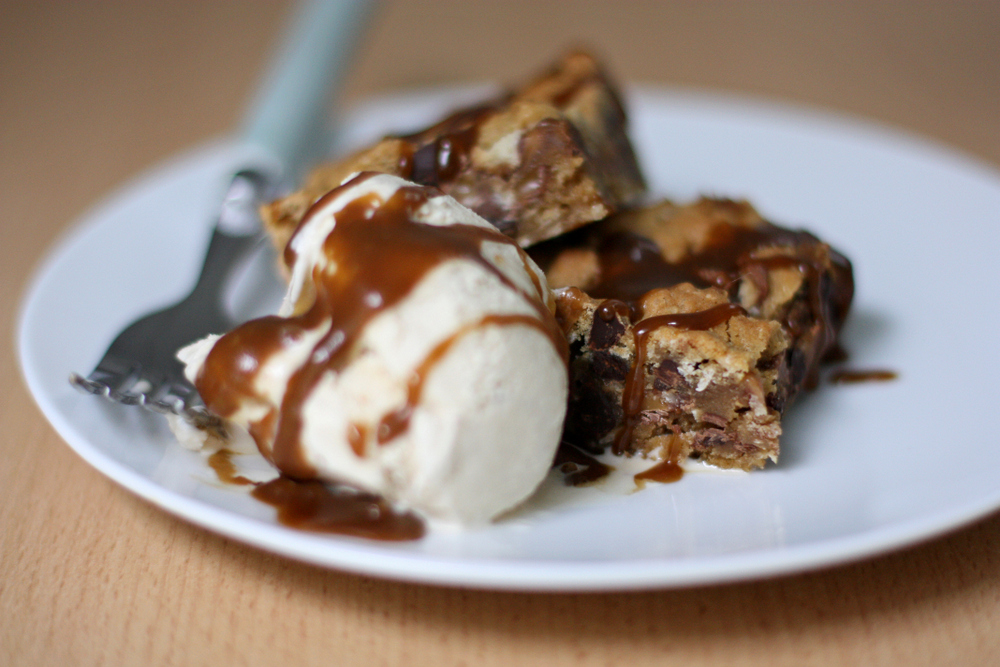 twix and salted caramel cookie bars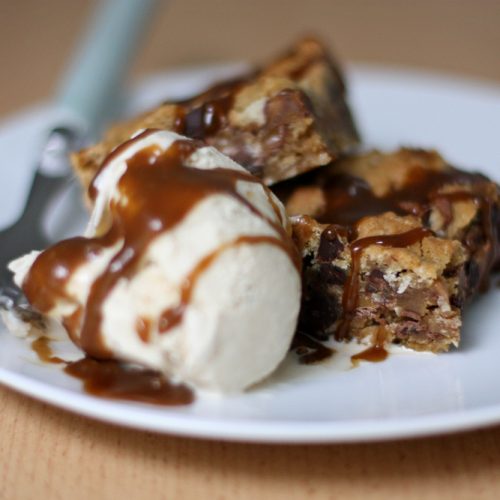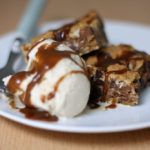 Twix and Salted Caramel Cookie Bars
A yummy dessert, stuffed with Twix bars.
Ingredients
Caramel Sauce (from Mel's Kitchen Cafe, or you could certainly use a storebought sauce)
8

tablespoons

butter

1 1/2

cups

dark brown sugar

1/4

teaspoon

salt

1

cup

whipping cream

2

tablespoons

vanilla
Twix Bars:
1 3/4

cup

flour

3/4

teaspoon

baking soda

1/4

teaspoon

salt

1

cup

oats

3/4

cup

butter

softened

1/2

cup

granulated sugar

1/2

cup

brown sugar

1

large egg

1

teaspoon

vanilla

1 1/2

cups

chocolate chips

4

Twix Bars

8 individual sticks, roughly chopped
Instructions
Carmel Sauce
In a medium heavy saucepan, combine everything but the vanilla. Melt together over low heat, stirring gently. Once everything is combined, increase the heat to medium and bring to a boil. Reduce the heat slightly and boil for 10 minutes without stirring. Watch it closely and reduce heat as needed to keep the bottom from burning. Remove from heat and gently stir in the vanilla. Set aside.
Twix Bars
Preheat oven to 375. Line a 9x13 pan with tin foil (leave enough to hang over the sides so you can pull the bars out after baking) and set aside.

Whisk together dry ingredients and set aside.

With a mixer (or by hand, which is what I did this time since I have no mixer, stand or otherwise) beat the butter, both sugars, egg and vanilla, about 2-3 minutes.

Add the dry ingredients and chocolate chips and stir to combine. Press just over half of the dough into the prepared pan. Pour half of the caramel sauce over the dough, then sprinkle with the Twix pieces. Evenly drop the rest of the dough in bits over the top of the Twix.

Bake for 18-20 minutes until the top is golden brown (don't overbake it!). Let cool on a wire rack, then carefully remove from pan and slice into squares.

Serve with vanilla ice cream and top with the remaining caramel sauce. Sprinkle with coarse sea salt, if desired.
if you liked this twix cookie bar recipe, you might also like these other posts: