When we lived in Texas, we had several couples we were really good friends with and often go together with for holidays or casual meals.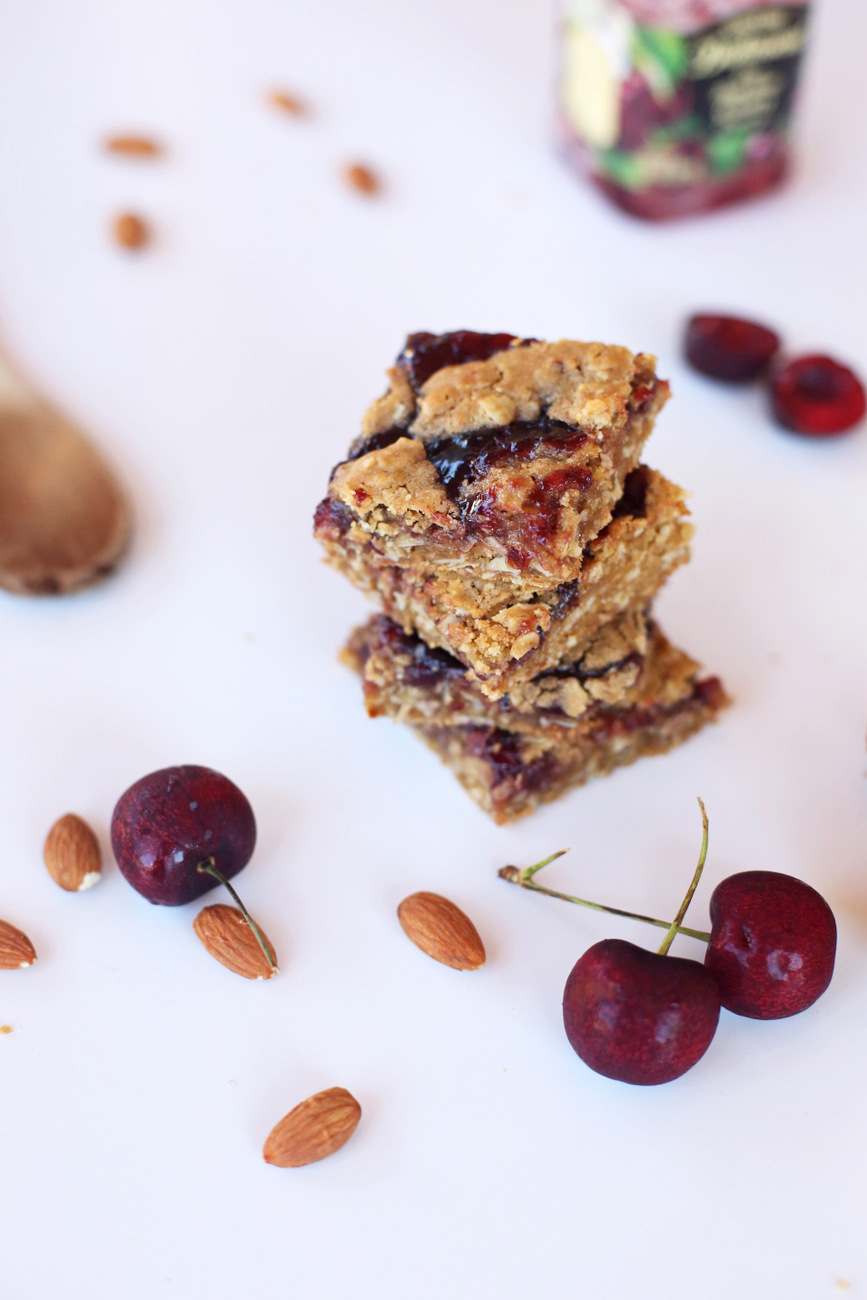 One Halloween, we had dinner together before heading out to trick-or-treat, and I made this black bean and bacon soup.
I'd happened to buy hickory-smoked bacon (probably because it was on sale), and I added it to the soup and didn't think about it again.
After dinner, as we were all clearing the table, one of the husbands said, "Janssen, that soup was delicious! Was that hickory-smoked bacon in it?"
I'm pretty sure my jaw literally dropped open in surprise, and Bart and I laughed about it afterward for ages. Who knew that there were people who were that tuned into food?
Over the years, we learned that this friend was really into food and made his own baguettes (he converted us all to baguette pans, although mine got misplaced in one of our many moves, sadly) and homemade noodles for chicken noodle soup, among many other delicious dishes.
A few years later, they moved away from Texas and I made these cherry almond cookie bars for their going-away party.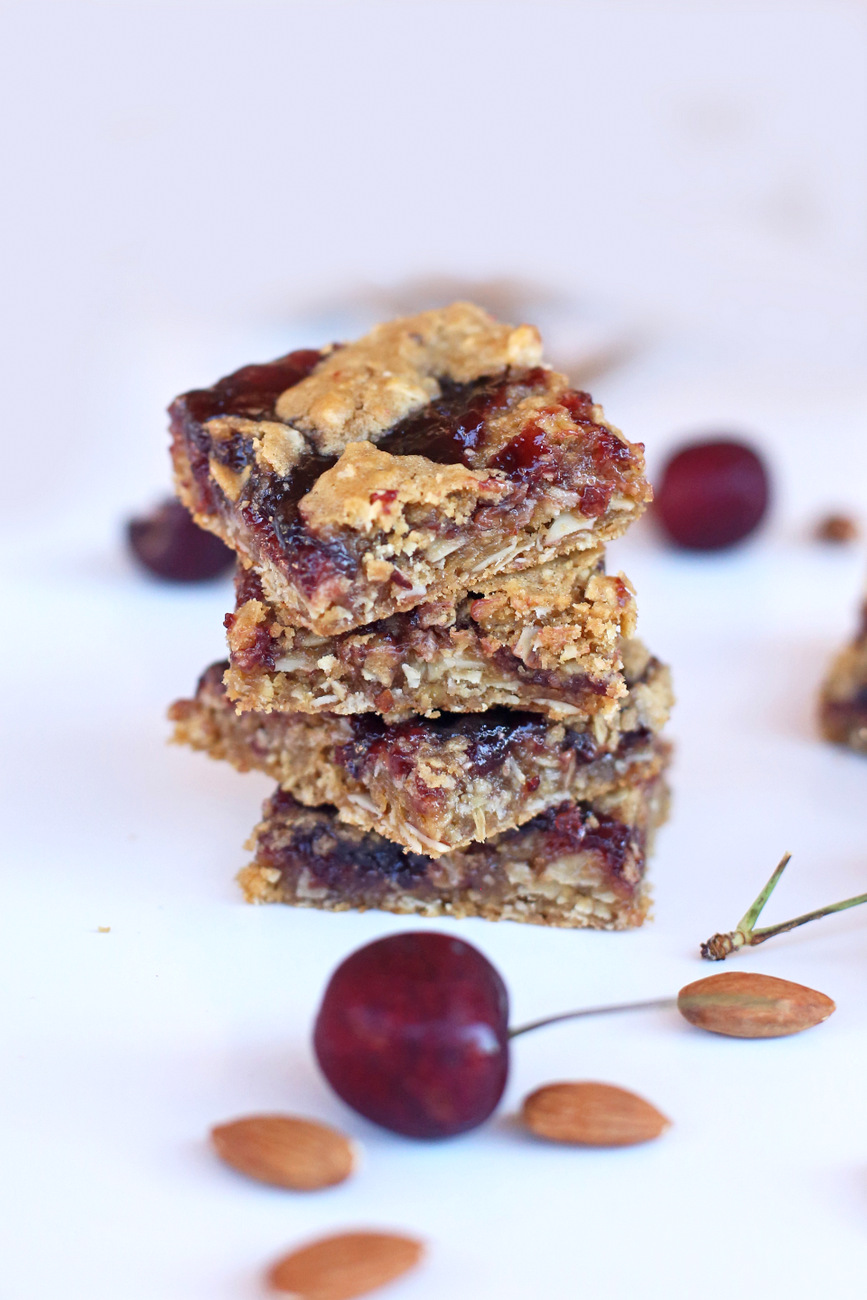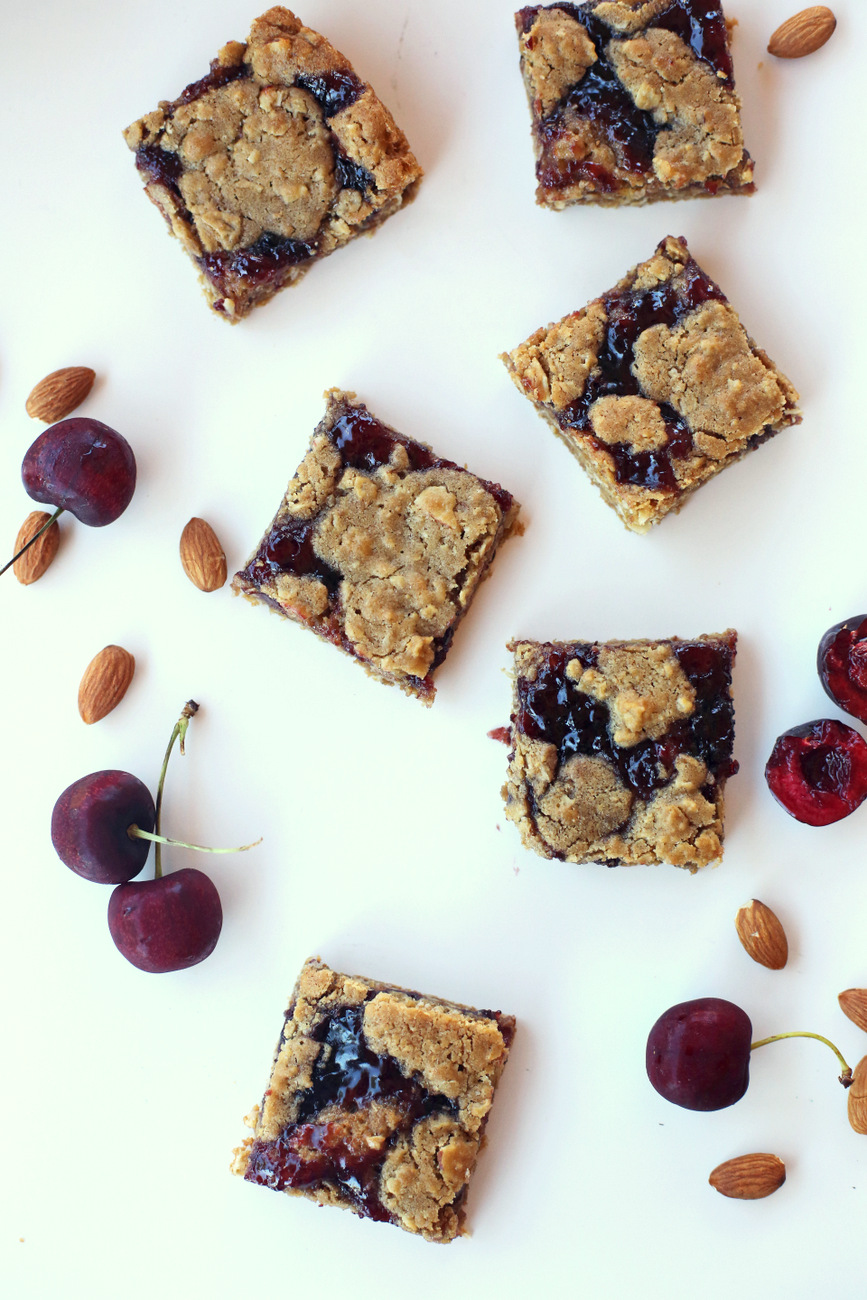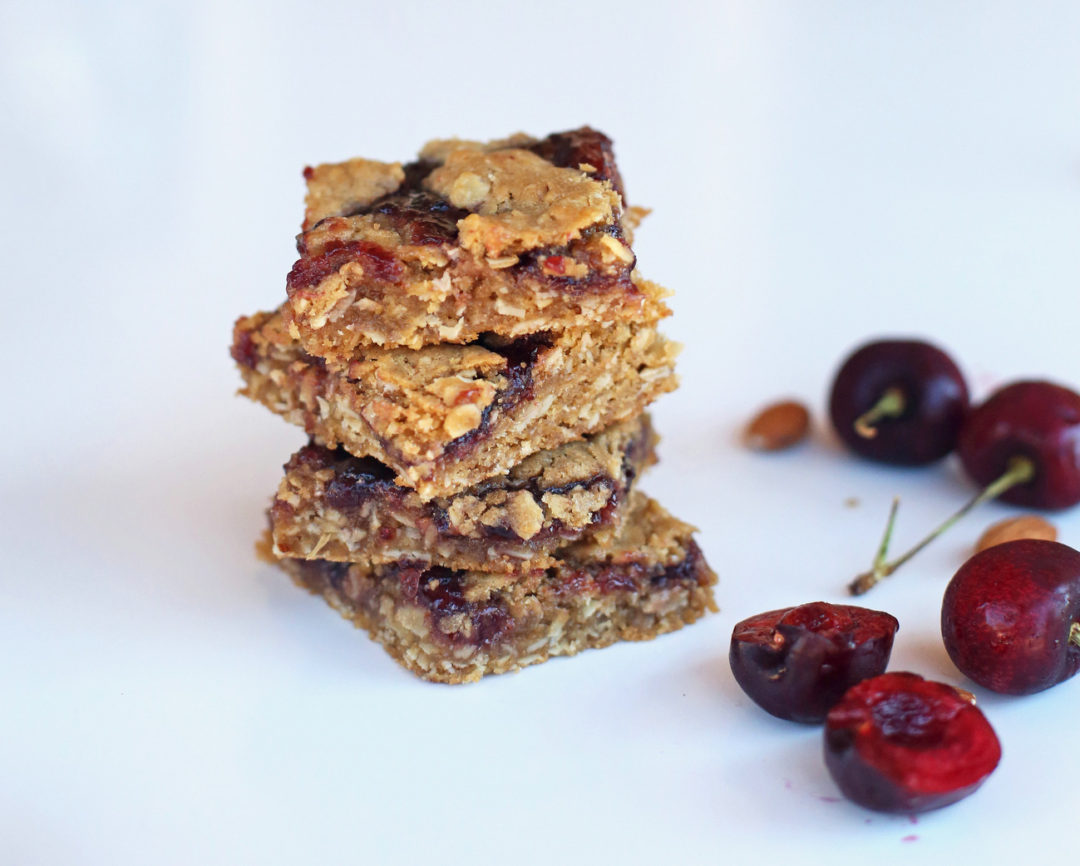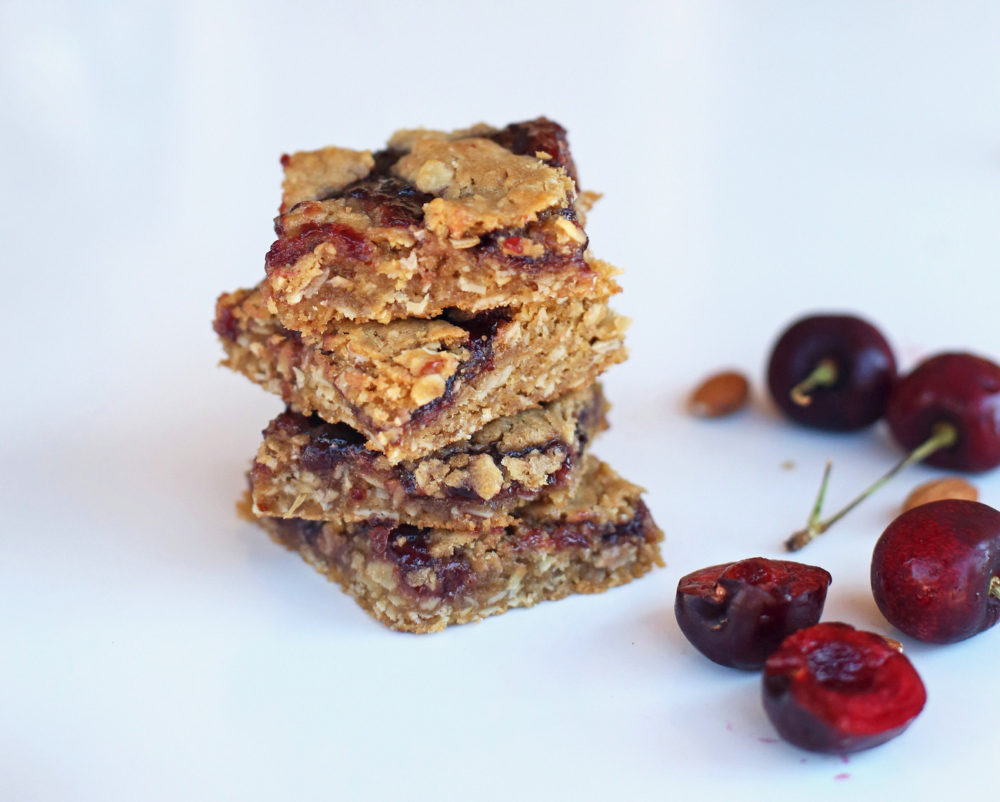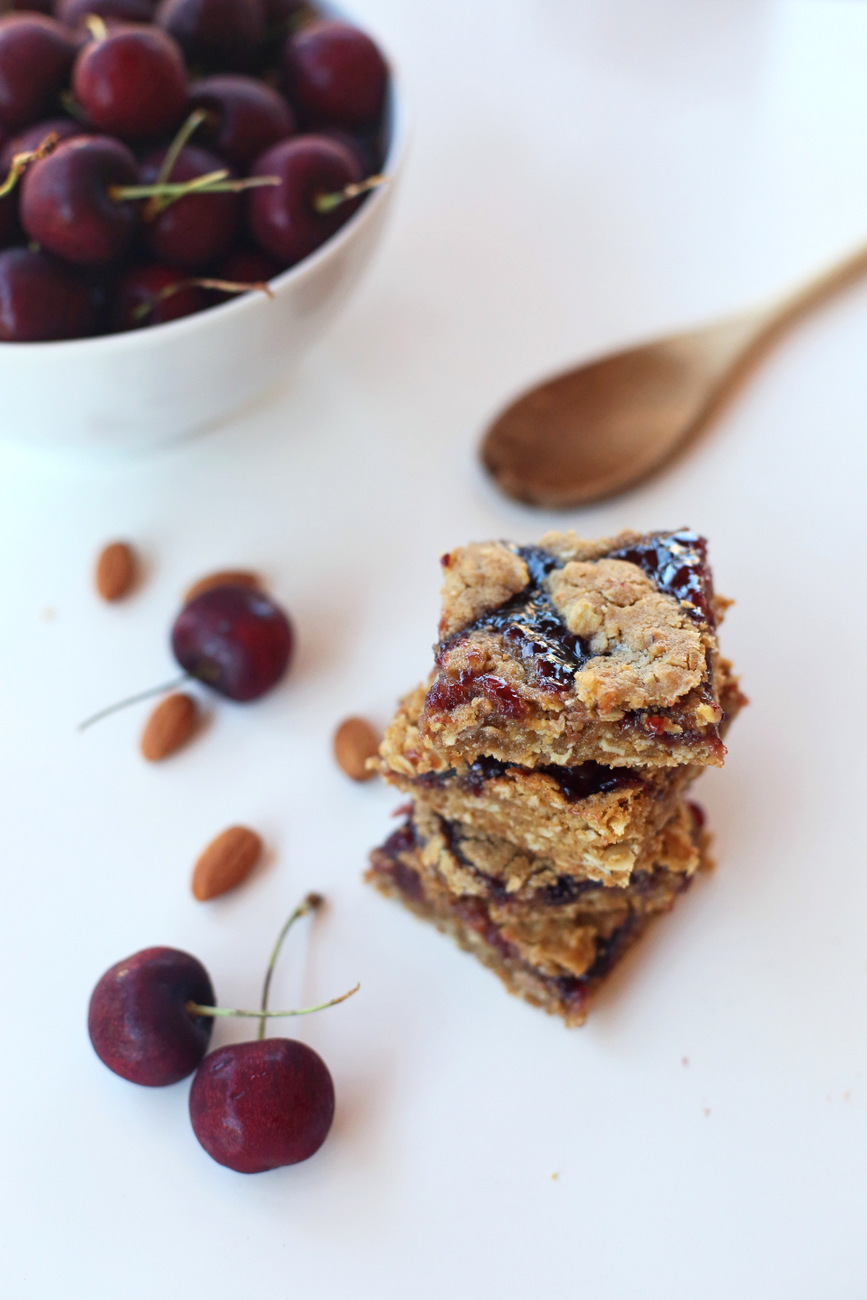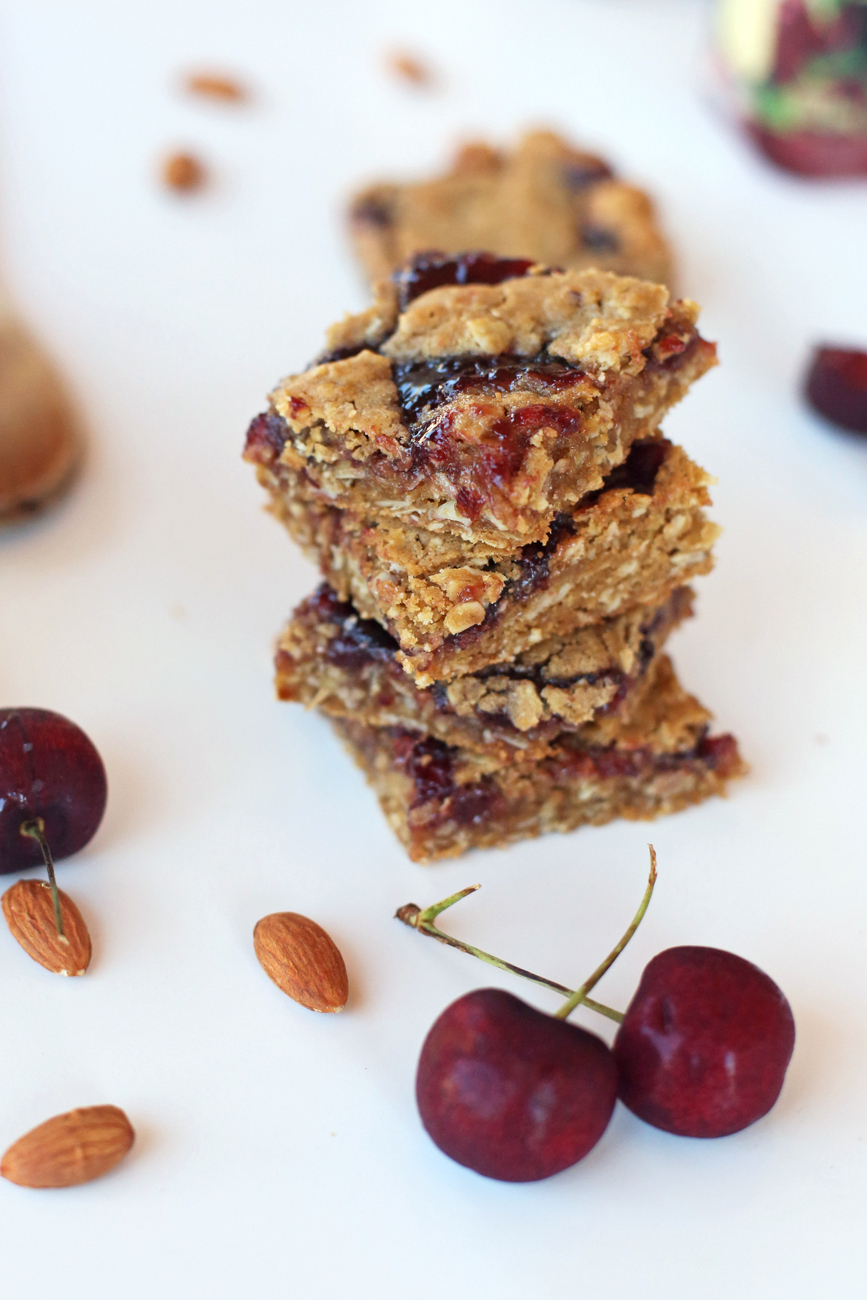 The husband again commented on them, and said, "I really loved the flavor of the almond extract in them."
When I mentioned it to Bart, he just laughed and said, 'Of COURSE he noticed the almond extract."
Now, whenever I make these cherry almond cookies, I'm just waiting for someone to comment on the almond extract.

cherry almond cookies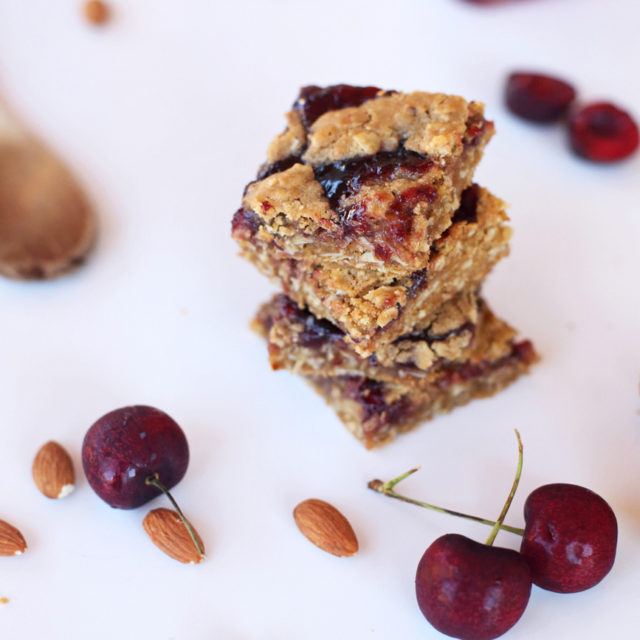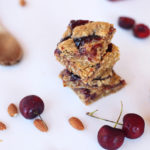 Cherry and Almond Cookie Bars
These chewy cookie bars are quick to assemble and are bursting with summer flavor.
Ingredients
1/2

cup

butter

softened

1

cup

brown sugar

packed

1

teaspoon

baking powder

1

egg

1/2

teaspoon

almond extract

1

cup

flour

1

cup

rolled oats

1/3

cup

sliced almonds

3/4

cup

cherry preserves
Instructions
Preheat the oven to 350 degrees. Line an 8x8 baking pan with tin foil, letting the foil hang over the edges of the side so they can act as handles to help remove the bars. Spray the foil lightly with cooking spray and set aside.

In a stand mixer fitted with the wire whip, beat the butter and sugar together on high speed until creamy and light, about 2 minutes. Add the baking powder and beat for another few seconds.

Add the egg and almond extract and whip until combined, scraping down the sides as needed.

Beat in the flour, oat and almonds, until combined.

Scoop out 1/2 cup of the dough and set aside. Press the rest of the dough evenly into the prepared pan and then spread the cherry preserves evenly across the dough. Sprinkle the remaining dough in small chunks over the preserves.

Bake until the top is golden-brown, about 30-35 minutes. Cool fully in the pan, then use the foil handles to remove the bars from the pan.

Cut into 12-16 squares and serve.
if you liked this recipe of cherry almond cookies, you might also like these other recipes: