This tomato quiche is one of the best quiche recipes I've ever made! It's bursting with summer flavors like roasted tomatoes, fresh corn, and basil, plus it has goat cheese and prosciutto. What more could you want from a quiche recipe? 
I was NOT a quiche lover growing up.
My mom made it occasionally and I didn't hate it, but eggs and I weren't very good friends and so a quiche recipe made basically of a bunch of eggs was never going to be my favorite.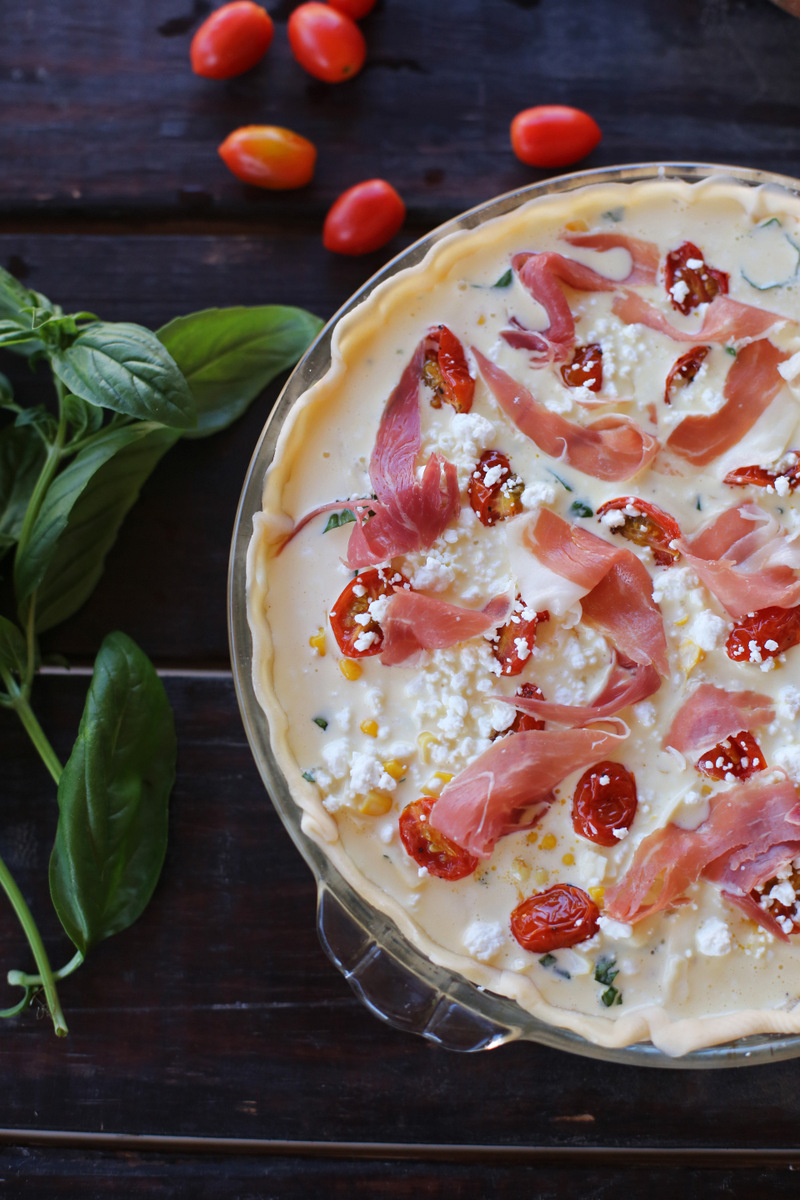 When we were in Kiev a few years ago, my in-laws took us to one of their favorite little French bakeries in the city and I had a chicken quiche that basically blew my mind.
I told Bart, "this is the best quiche I've ever had" and after he had a bite, he said, "This quiche has almost no eggs in it."
Well, that's probably why I liked it so much.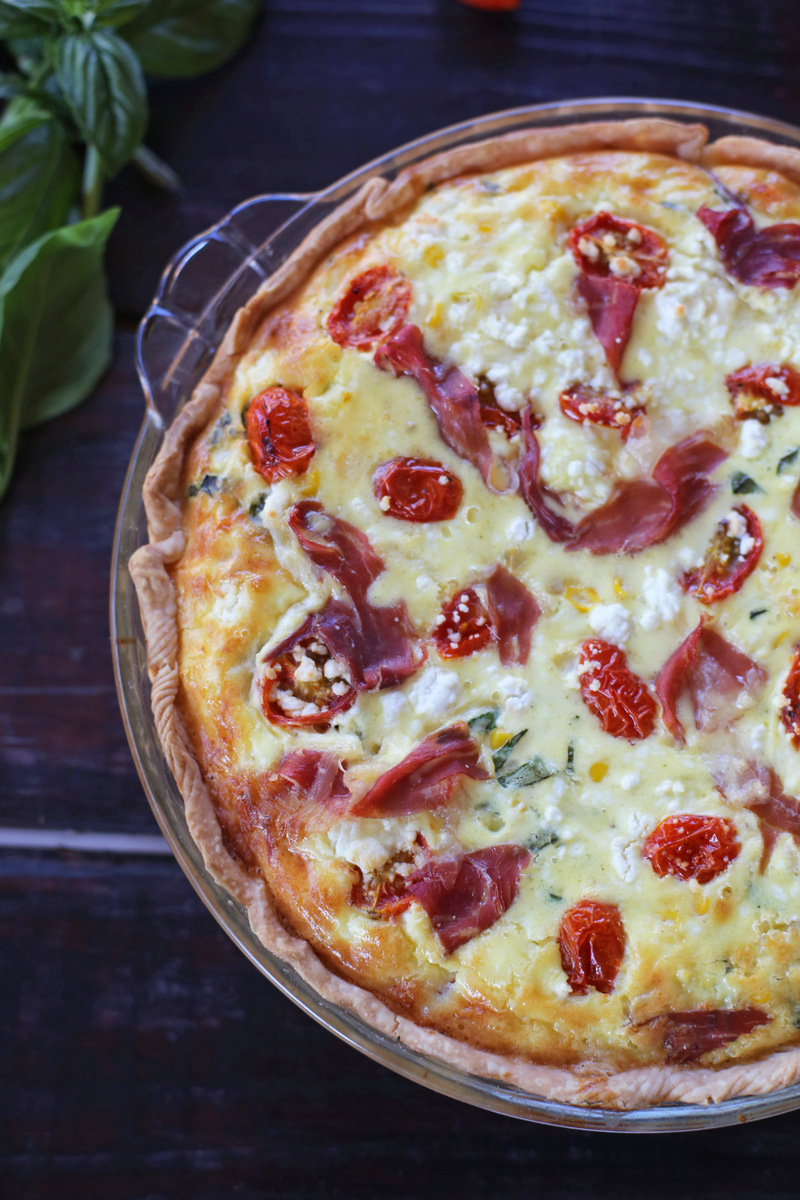 Why I love this Tomato Quiche Recipe
This tomato quiche recipe has more eggs than that one had in it, but I've still gotten in the habit of always reducing the number of eggs in a quiche recipe so that it's not so overwhelmingly egg-y.
I loved this tomato quiche recipe because it is bursting with other flavors aside from eggs – there is fresh corn and goat cheese and basil and prosciutto along with the roasted tomato, and I couldn't love it more.
It just tastes like summer baked into a crust.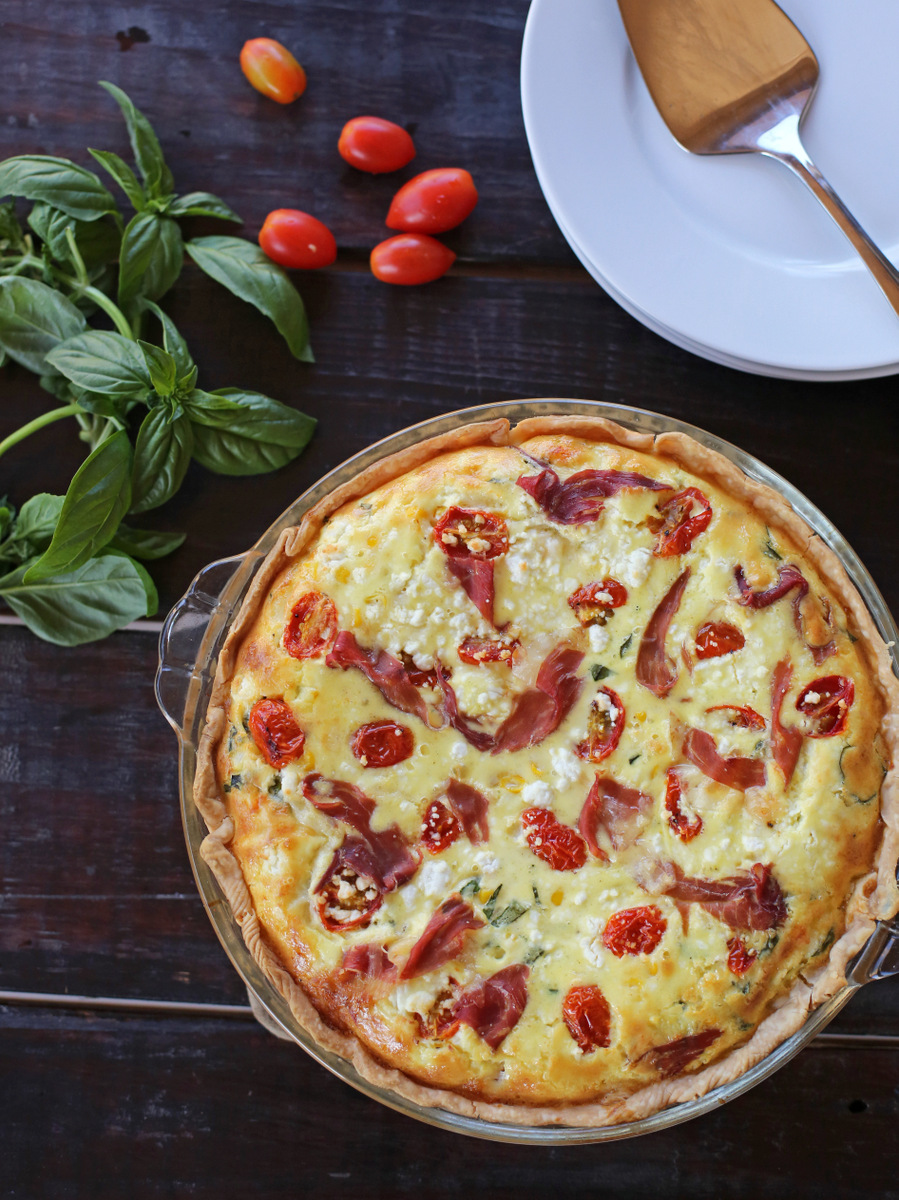 The original recipe is from How Sweet Eats and was a suggestion in my weekly meal plan for a Mother's Day brunch dish. I'm never one to say no to ANYTHING with goat cheese, but with six eggs in the quiche recipe, I knew I'd like it better with a few less eggs.
Plus, I had some corn on the cob leftover in the fridge, and when you're making a tomato basil quiche, the one part of the summer trifecta that seemed to be missing from this quiche recipe was some corn.
In it went.
Roasting the tomatoes requires a little bit of time, but once that's done, you can just toss everything else in the crust and the quiche is ready to pop in the oven.
I usually try to roast my tomatoes ahead of time (while I'm making breakfast or the night before) to speed things up. I always love roasted tomatoes, but I really love roasted tomatoes in the late spring when tomatoes aren't QUITE as flavorful and amazing as they will be as the summer wears on.
The best part about this tomato quiche recipe is that my girls all ate it too.
I guess they love summer and happiness as much as I do.
If you liked this tomato quiche recipe, you might also like these other recipes: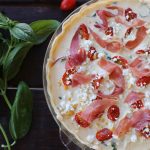 Roasted Tomato Quiche with Prosciutto and Goat Cheese
Total Time
1
hour
20
minutes
Ingredients
Roasted Tomatoes
1

pint

grape or cherry tomatoes

halved

1

Tablespoon

olive oil

1

teaspoon

coarse salt
Quiche Filling
4

eggs

1

cup

cream

1

cup

frozen or fresh corn kernels

(I used leftover corn on the cob that was already cooked)

3/4

cup

gruyere cheese

grated

6-8

large basil leaves

julienned

1/4

teaspoon

salt

1/4

teaspoon

black pepper

3

ounces

thin-sliced prosciutto

torn into pieces

3

ounces

crumbled goat cheese
Instructions
Roasted Tomatoes
Line a baking sheet with foil then toss the halved tomatoes with the olive oil and sprinkle with salt. Roast in oven for 20-25 minutes until they are starting to brown slightly around the edges. Set aside to cool slightly while you prep the rest of the filling.

Reduce the oven heat to 350.
Quiche filling
Whisk together the eggs, cream, corn, gruyere cheese, basil, salt and pepper in a mixing bowl.

Put half the roasted tomatoes, half the prosciutto and half the goat cheese in the bottom of the pie crust then pour the egg filling over the top.

Top with the the other half of the tomatoes, the prosciutto, and the goat cheese and bake for 50-60 minutes, until the crust is golden brown and the filling is set in the center.

Let cool slightly (10-15 minutes) before slicing and serving!