Have you tried a potato frittata recipe before? Most baked frittata recipes don't appeal to me much because there is so much egg, but this bacon and potato frittata recipe has just the right ratios. Add in the feta and I'm all in!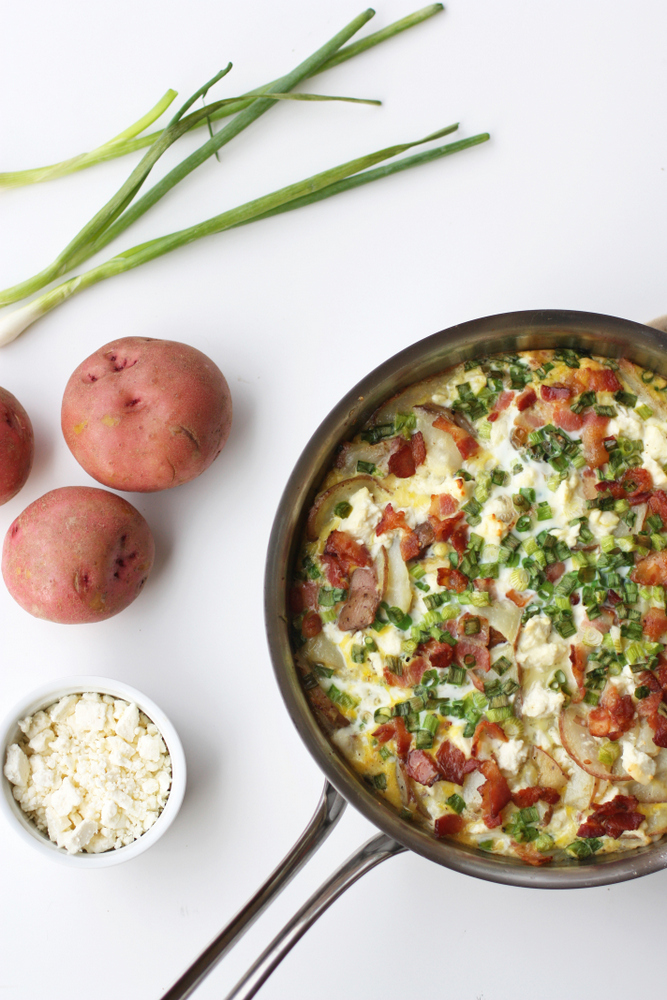 Potato Frittata with Bacon and Feta
This potato frittata recipe has two really great qualities.
One of them is that taught me I don't actually know how to spell "frittata."
The other good quality is that this baked frittata recipe is delicious.
Not that either of my older children would know, since they refused to even taste it.
Ani carefully slid her slice right back into the pan and Ella explained that she already knew she wouldn't like it because she doesn't like eggs or potatoes and usually not bacon either. Also, were those specks of black pepper in there? Because she doesn't like that either.
Bart and I didn't push it because it just meant there were enough leftovers for us to have for lunch the next day.
I also can't blame them too much because it took me about 25 years to warm up to eggs and even in this case, I probably wouldn't have tried it if my mom hadn't made this baked frittata recipe when we were visiting.
But one bite and I was a convert.
Because it's a potato frittata, it doesn't feel so much like you're eating a giant bite of baked eggs. It has a perfect ratio of thin-sliced potatoes to eggs and the bacon and feta and green onions give it tons of flavor.
I'd eat this for breakfast, lunch or dinner. (And I have).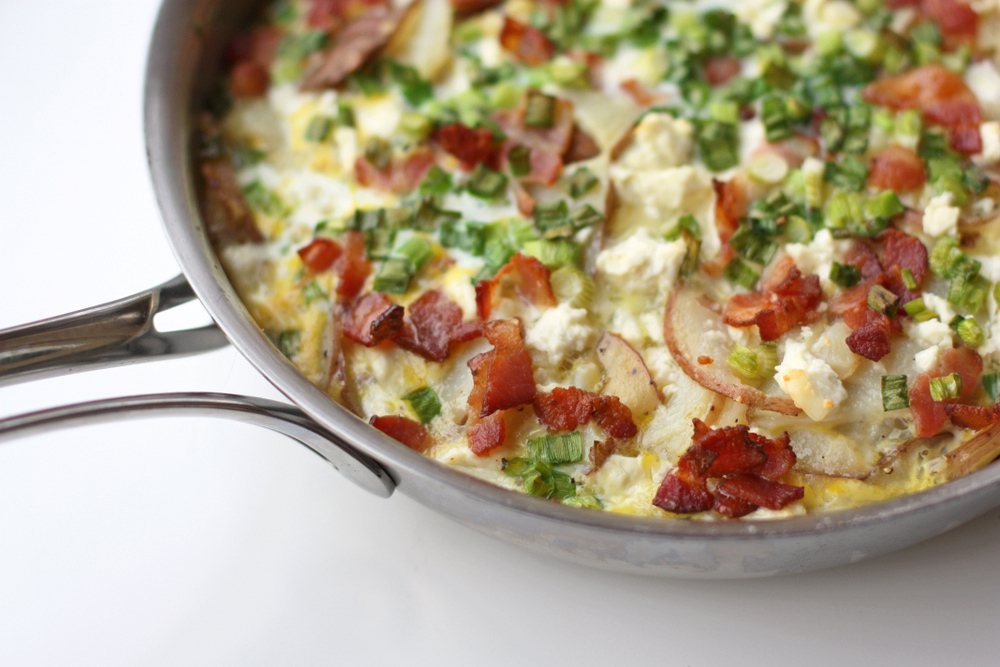 If you liked this potato frittata recipe, you might also like these easy meals: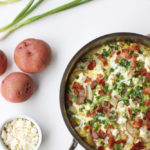 Bacon and Potato Frittata
Total Time
1
hour
15
minutes
Ingredients
1 ¾

pounds

red potatoes

2

tablespoons

olive oil

Salt and pepper to taste

3-4

slices

bacon

cut into 1/2 inch slices

4-6

green onions

sliced into 1/4 inch bits

3.5

ounces

of crumbled feta

5

eggs

2

tablespoons

milk

½

teaspoon

salt
Instructions
Preheat the oven to 400 degrees. Line a cookie sheet with tinfoil.

Scrub the potatoes and then slice as thinly as you can (think potato chips). Lay them on the cookie sheet and drizzle the olive oil over the top. Toss to coat the potatoes with the oil, and salt and pepper generously to coat. Spread the potatoes evenly on the pan and then cook for 30-35 minutes, flipping them over halfway through. When they're tender, set them aside to cool for a few minutes and leave the oven on.

While the potatoes are cooling, put the diced bacon in a cast iron or other oven-proof skillet. Cook until slightly crispy, then drain the bacon bits on a paper towel, leaving the grease in the pan. Depending on how greasy your bacon was, you may want to drain a little out - I left about 3 Tablespoons of bacon grease in the pan.

Let it cool for a minute or two, then add the potatoes to the skillet and stir to coat. Sprinkle the bacon bits, the green onions and feta over the potatoes.

Whisk together the eggs, milk and salt, and pour over the potatoes. Cover the skillet with foil and bake for 15 minutes. Remove the foil and bake another 15 minutes more, until the eggs are set.

Serve warm.