I consider myself fairly well read, but these are children's novels I've never read (or never even heard of!). I'll be adding these new and classic children's novels to my to-read list!
Months ago, I asked for recommendations on Instagram for favorite read-aloud books and it was so fun to see lots of books on there that I'd never read and many that I'd never even HEARD of!
Here are 22 children's novels that I clearly need to get to immediately!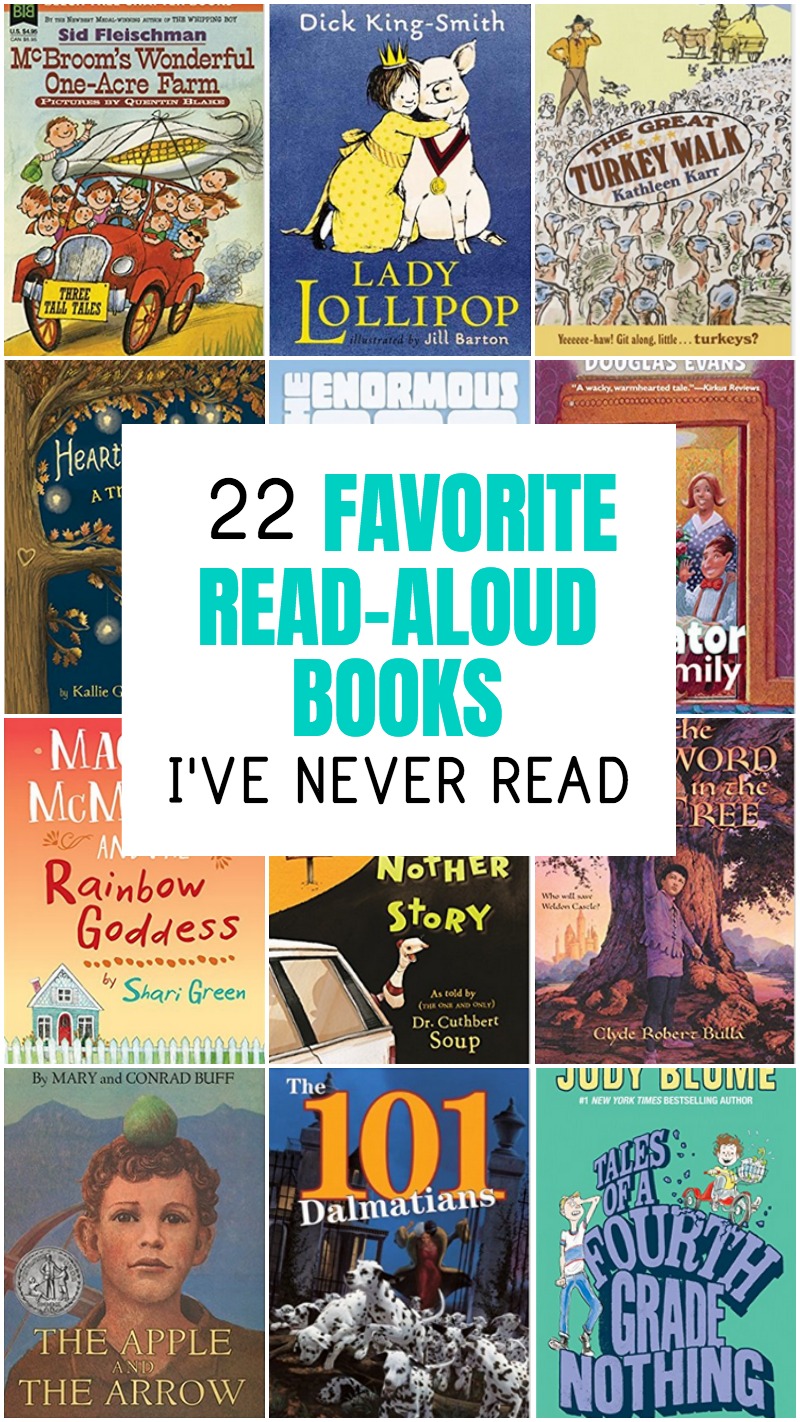 22 Children's Novels I've Never Read
Fudge series by Judy Blume
Can you believe I've never read this series? In fact, the only book I've ever read by Judy Blume is Forever since it was an assignment in one of my young adult lit classes in grad school.
101 Dalmatians by Dodie Smith
My parents gave a cassette tape version of this to my girls for Valentine's Day and they've loved listening to, but I've still never read this one.
The Sword in the Tree by Clyde Robert Bulla
This book is set in the times of King Arthur and when trouble comes to the kingdom, Shan, the son of one of the Lords, hides a sword in a tree and then has a bunch of adventures.
The Apple and the Arrow by Conrad Buff
This is Newbery Honor tale of William Tell's son, the one who famously had the apple shot off his head. I've never even heard of this one, but now I'm dying to read it.
The Sugar Creek Gang series by Paul Hutchens
This series of mysteries are more than fifty years old and reading the reviews of them make me think my Boxcar Children-obsessed girls would really like these.
The Heartwood Hotel series by Kallie George
I'm always on the lookout for chapter books with lots of illustrations and this one just came out a year ago and has great reviews about a little mouse who stumbles into a hotel in a storm and takes a job on as a maid.
A Whole Nother Story series by Cuthbert Soup
This three book series features three children, their father, and a psychic dog. And they're all on the run from the CIA who really wants their time machine. I'm pretty sure my girls will lose their mind over this one.
Mr. McBroom's Wonderful One Acre Farm by Sid Fleischman
We recently listened to (and LOVED) By the Great Horn Spoon by Sid Fleischman, so it's clearly time to pick up this by him. about a guy who learns that the 80 acres of farmland he bought are all stacked on top of each other. But it's not so bad when that acre turns out to be fairly magical.
Key to the Treasure by Peggy Perish
This is another mystery series I've never heard of.
Nuts to You by Lynne Rae Perkins
This book came out about four years ago, about two squirrels who set out to rescue their friend who was snatched by a hawk. Lynne Rae Perkins won the Newbery quite a while ago and this one has illustrations on every other page, so basically sign me right up.
The Show and Tell Wars by Janice L. Smith
This book includes three short stories, which is perfect for children just learning to listen to longer stories.
Macy McMillan and the Rainbow Goddess by Shari Green
Macy's life is turning upside down. She and her mom are moving from their beloved home and her mom is remarrying, bringing twin stepsisters into the family. And then Macy is assigned to help the elderly neighbor get ready to move into a nursing home. Which is tricky because that neighbor doesn't know sign language and Macy is deaf.
Little Britches by Ralph Moody
My mom read at least the first book to my sisters, but I never read it and I have to admit I've never had a strong desire to do so. Am I totally missing out?
The Bark of the Bog Owl series by Jonathan Rogers
This is a fantasy re-telling of the story of King David from the Bible and it gets great reviews.
The Great Turkey Walk by Kathleen Karr
Brains may not be Simon Green's strong point (he just finished third grade for the fourth time), but he comes up with a plan to make himself a fortune. He'll herd a flock of turkeys from Missouri to Denver and sell them for a massive profit. How hard can it be?
The Elevator Family by Douglas Evans
When a family arrives for their vacation at a hotel, they discover there are no available rooms, so they opt to spend their vacation in the elevator. As one does.
The Secrets of Droon series by Tony Abbott
This magical series has 35 books in it, so if your children are fans, they'll be stocked for a nice long time.
The Wishing Chair by Enid Blyton
Three different adventures are packed into this illustrated book about siblings that buy their mother a chair as a birthday gift and then discover that the chair not only flies, but ALSO grants wishes. This is going to be fun.
Book Scavenger by Jennifer Chambliss Bertman
This is another three book series, and I'm pretty sure I've even checked it out from the library but never actually cracked it open (story of my life). Emily has moved to San Francisco and can't wait to meet Garrison Griswold who created Book Scavenger (a game where books are hidden around the country and there are clues to locate them. But when she discovers that Griswold is in a coma after an attack, she takes it on herself to figure out what Griswold's newest game was going to be.
Rain Reign by Ann M. Martin
Ann M. Martin made a bazillion dollars on the Babysitter Club series but she's written other things too, including this book about Rose Howard who has high-functioning autism (according to the reviews I read) but when her dog goes missing, she is determined to find him, even if it requires leaving behind her routines.
Lady Lollipop by Dick King-Smith
I am a huge fan of Dick King-Smith (who wrote Babe), but this one is new to me! It's also about a pig who is the smartest pig in the entire kingdom.
The Enormous Egg by Oliver Butterworth
Imagine one of your hens laid an egg and when it hatched, a triceratops came out.
What popular children's novels have you never read? I love hearing!
If you liked this post about children's novels, you might also enjoy: