This post is sponsored by thredUP, which is basically my favorite brand in the entire universe.
Last year was kind of a break-through summer for me.
I had spent the previous summer hating basically every second of it (I'm sure being first trimester with a high-risk pregnancy wasn't exactly helpful) and I was dreading another summer in Arizona with daily temperatures in the high 110s.
Then as mid-June rolled around and I realized there were still about four months of scorching heat to go, I decided to take matters into my own hands.
I decided I'd start taking all four girls to the pool on my own at least twice a week  and it was a complete game changer to feel like we could get out of the house, wear out all the children, and spend some quality time together.
To my surprise, when it finally cooled down in October and it was too cold to go swimming anymore, I was SAD to see summer fade away.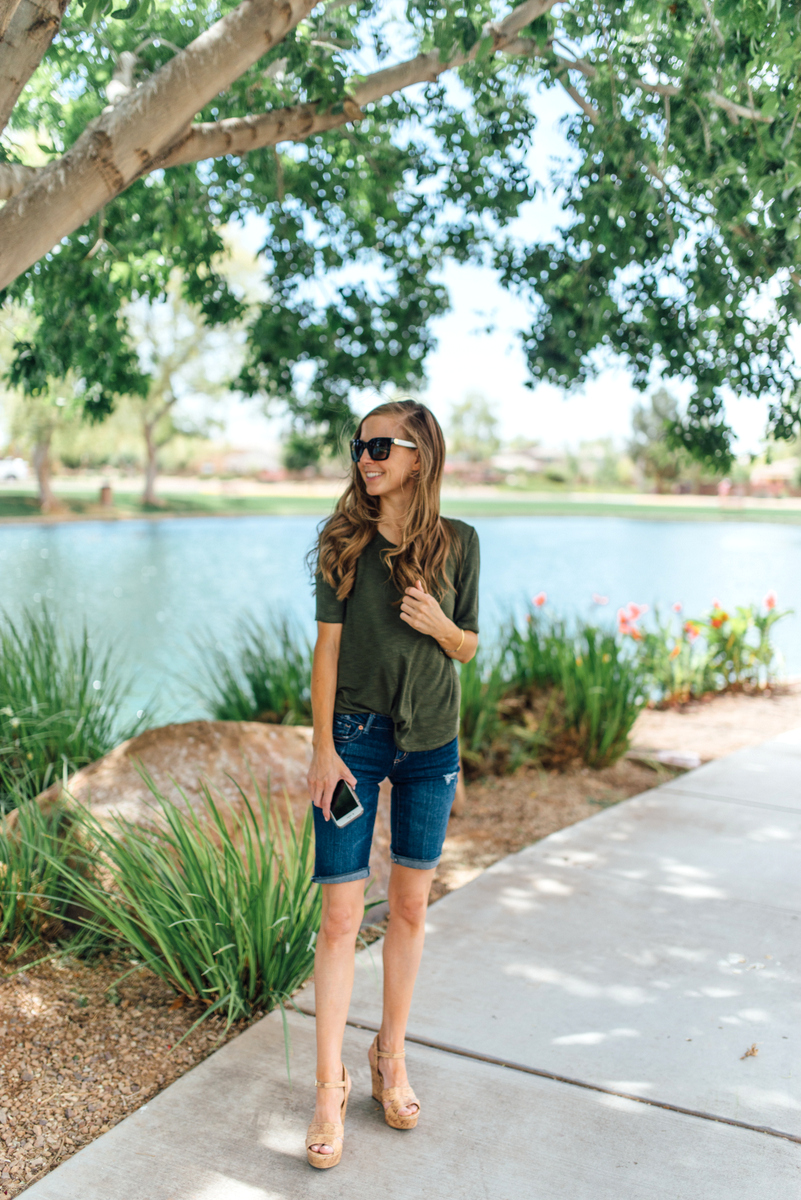 And when we had our first (admittedly chilly) pool trip a few weeks ago when we had company in town, I was suddenly really excited about the arrival of summer.
This year, with my pool routine down, I've been thinking about my summer wardrobe.
Last year, I bought an ASOS skirt from thredUP and proceeded to wear it multiple times a week. It was breezy and cool, comfortable enough to wear while I was staying home with the girls, and just a total workhorse in my closest. Same went for an Old Navy swing dress I scored on thredUP for a whopping $7.99.
It made such a huge difference to have a few things I could just throw on that were cool and easy to wear.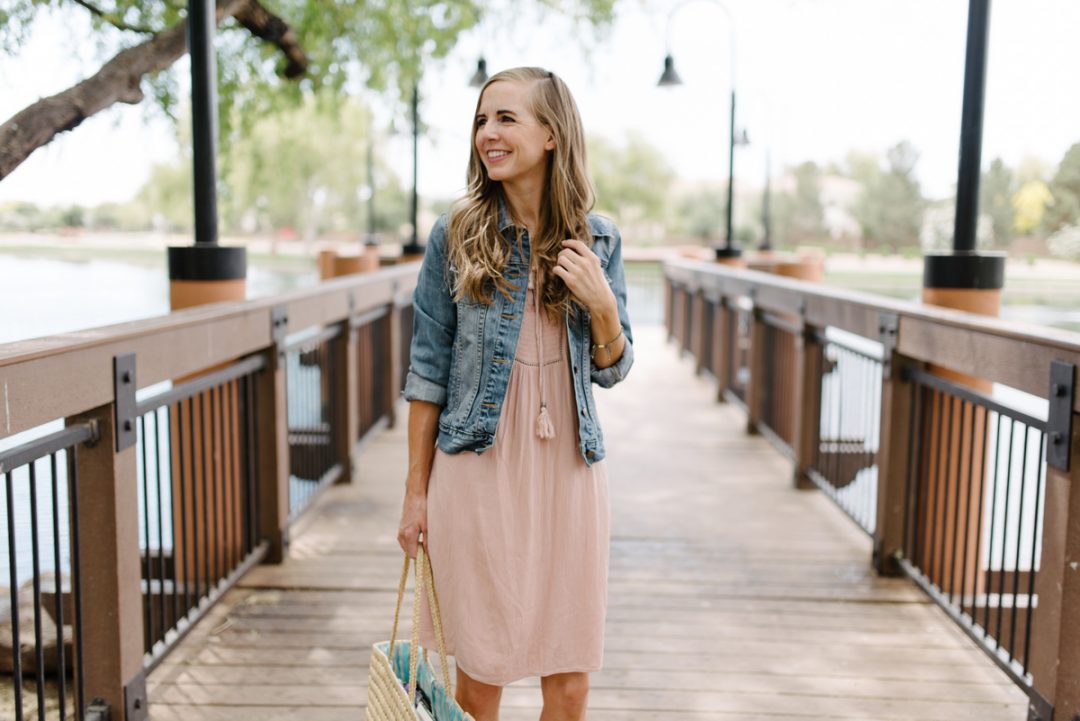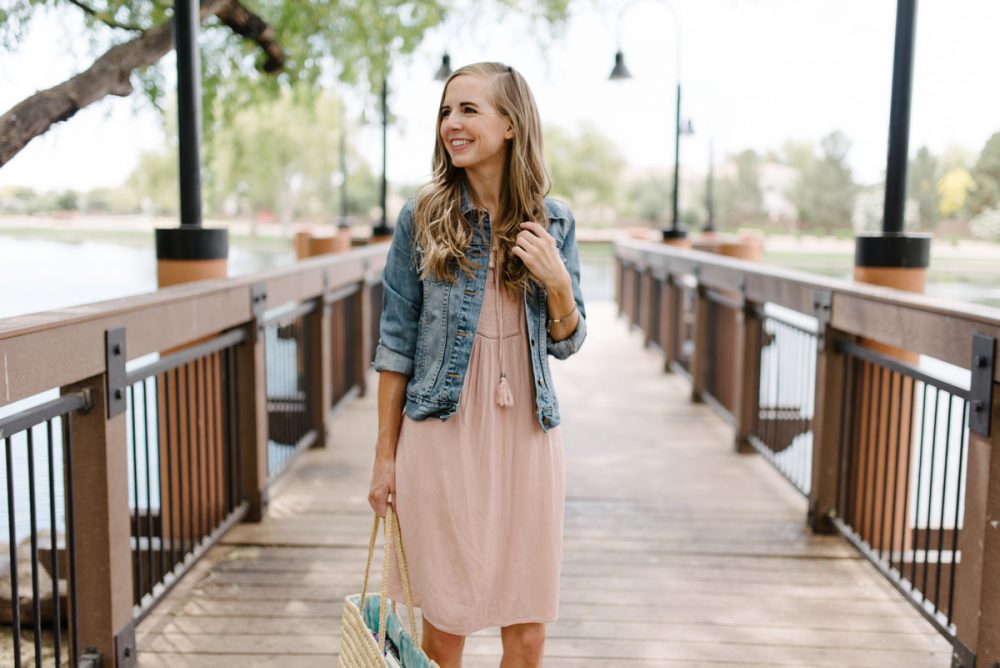 So when the first 90 degree day rolled around, I started thinking about my summer wardrobe and figuring out what I wanted to wear this summer so I'm not constantly cursing the temperature gauge.
I decided to think through exactly what I needed to get dressed seven days a week and then make sure I had those items and then not worry about it for the rest of the summer. Basically it's about a six month capsule wardrobe.
I've never really done a capsule wardrobe before, and I'm not really trying for a capsule wardrobe necessarily, but once I had all the items ready to go, I packed everything else away so that I don't have to spend a bunch of mental energy getting dressed in the morning and can just find exactly what I need.
Of course, it will come as no surprise to you if you've been here five seconds that thredUP was were I turned to finish off my summer staples shopping.
Since I'll be wearing these items non-stop for the next six months, I wanted to go with pretty high-quality items because when it's so hot outside, I've found that cheap items are uncomfortable or just lose their shape or look terrible after five seconds outside. They also don't need a bunch of layers to look good because they're fantastic items on their own.
I also don't really like having all my wardrobe come from one brand so I love that thredUP makes it super easy to shop from a wide variety of brands all in one spot.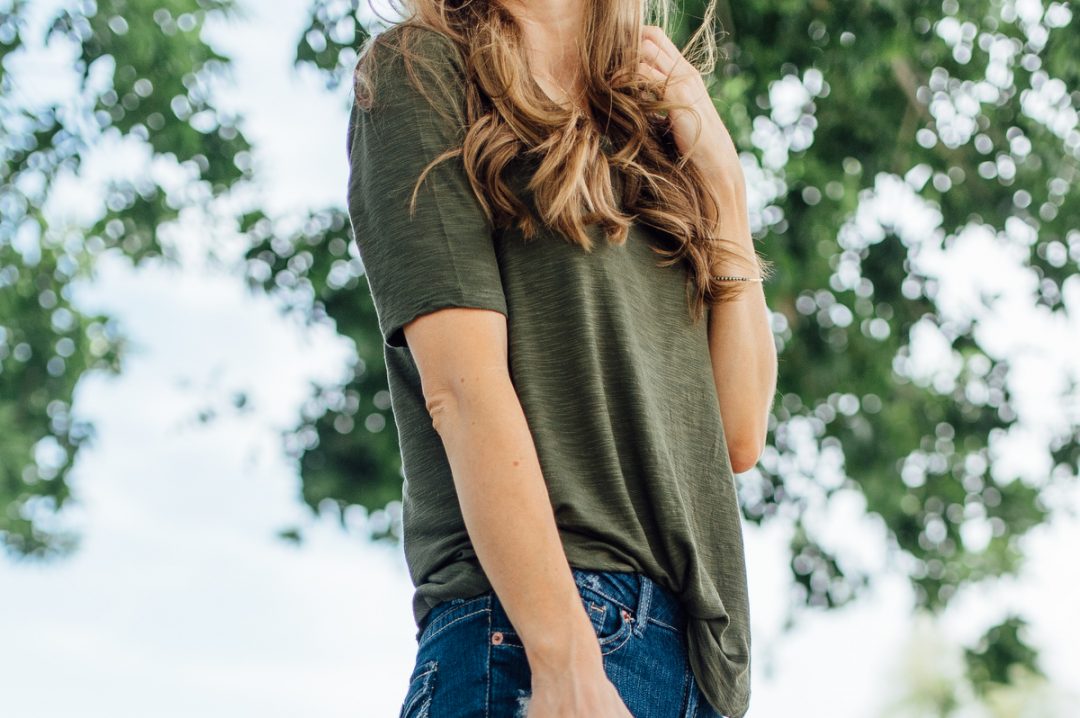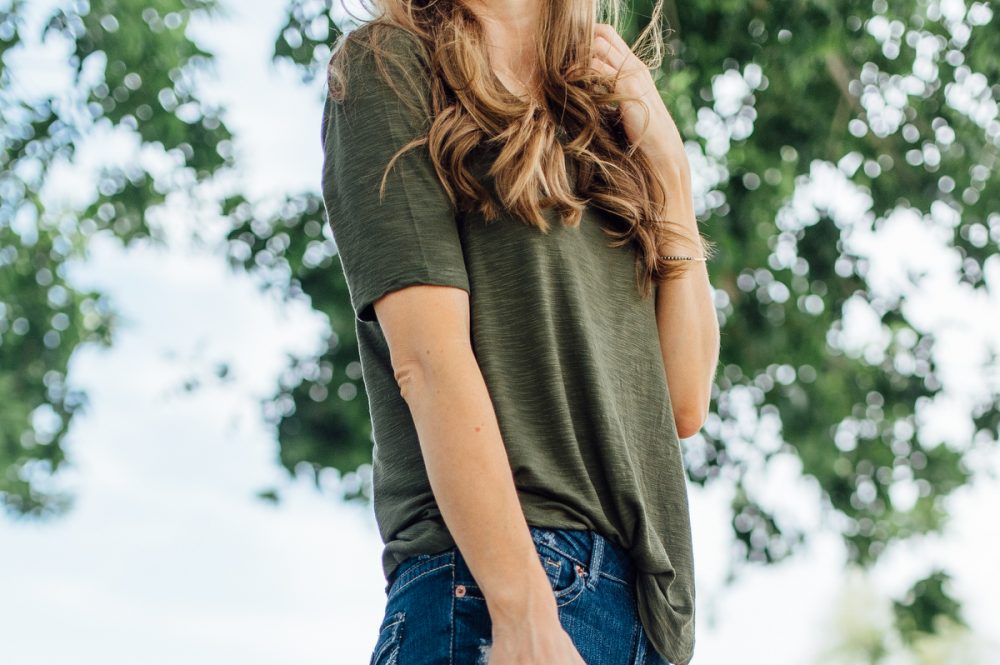 I knew I had a couple of gaping holes in my wardrobe. Jeans? I did not need more of. But other things? Yes.
First, I needed some new shorts. I had one whole pair last year and I wore them non-stop. I love that you can easily search for shorts by in-seam length on thredUP, so it took me about 90 seconds to find a pair that looked good and when they arrived? I was a happy camper. I was also happy because they were $9.99.
Second, I needed a couple of t-shirts that were easy to mix and match a bunch of different ways. I wanted something I could tuck into a skirt, pair with shorts and sandals or add to a pair of jeans and sneakers.
I found this Madewell tee for $17.99 (instead of $60) and the first time I wore it, I got SO many direct messages on Instagram asking where it was from. I love Madewell and every time I get on thredUP, I ALWAYS check the Madewell section very first thing.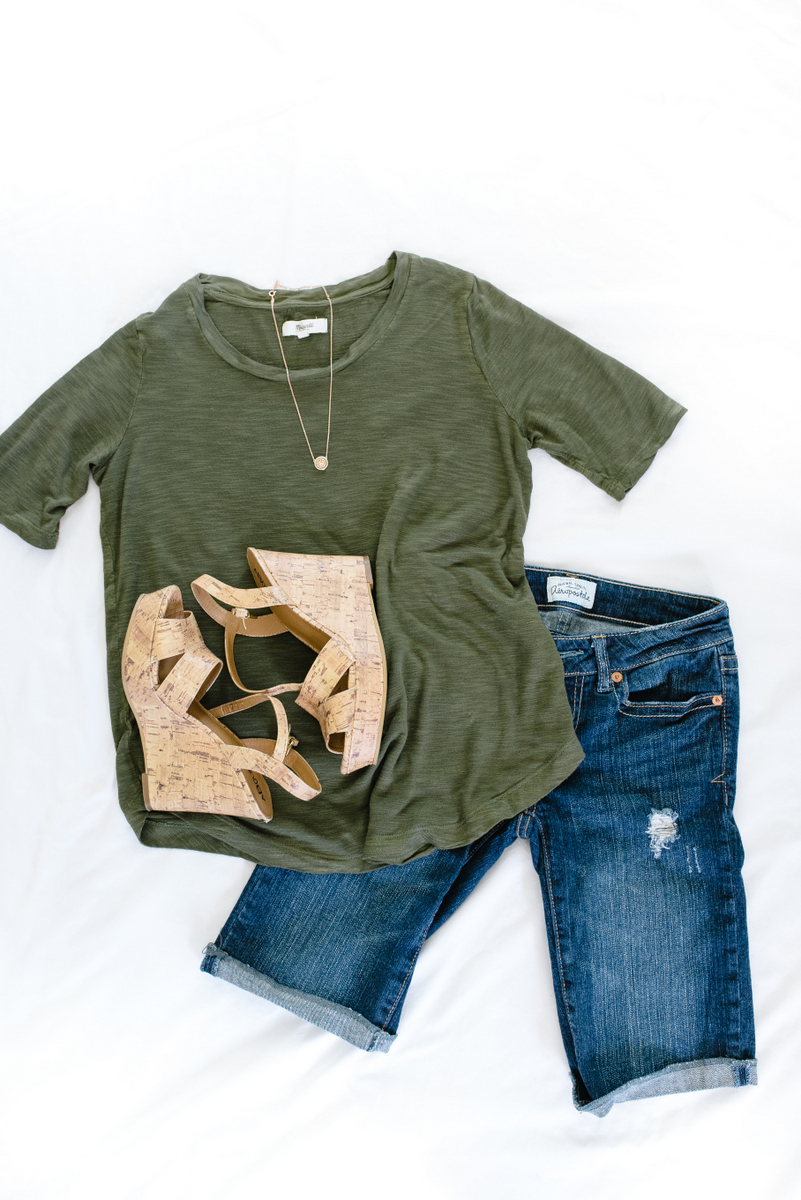 I also wanted a few more dresses and when I saw this one – fully lined with sleeves – for $23.99 instead of $95, it hopped right into my cart. It's a brand I'd never heard of (DR2 by Daniel Rainn) but I was immediately all in.
I love it with a summery jacket (because when you go inside in Arizona, it's air-conditioned to death) and this fantastic pair of wedges to replace two similar pairs I've had in the past that both came to a tragic end last summer after years of constant wear.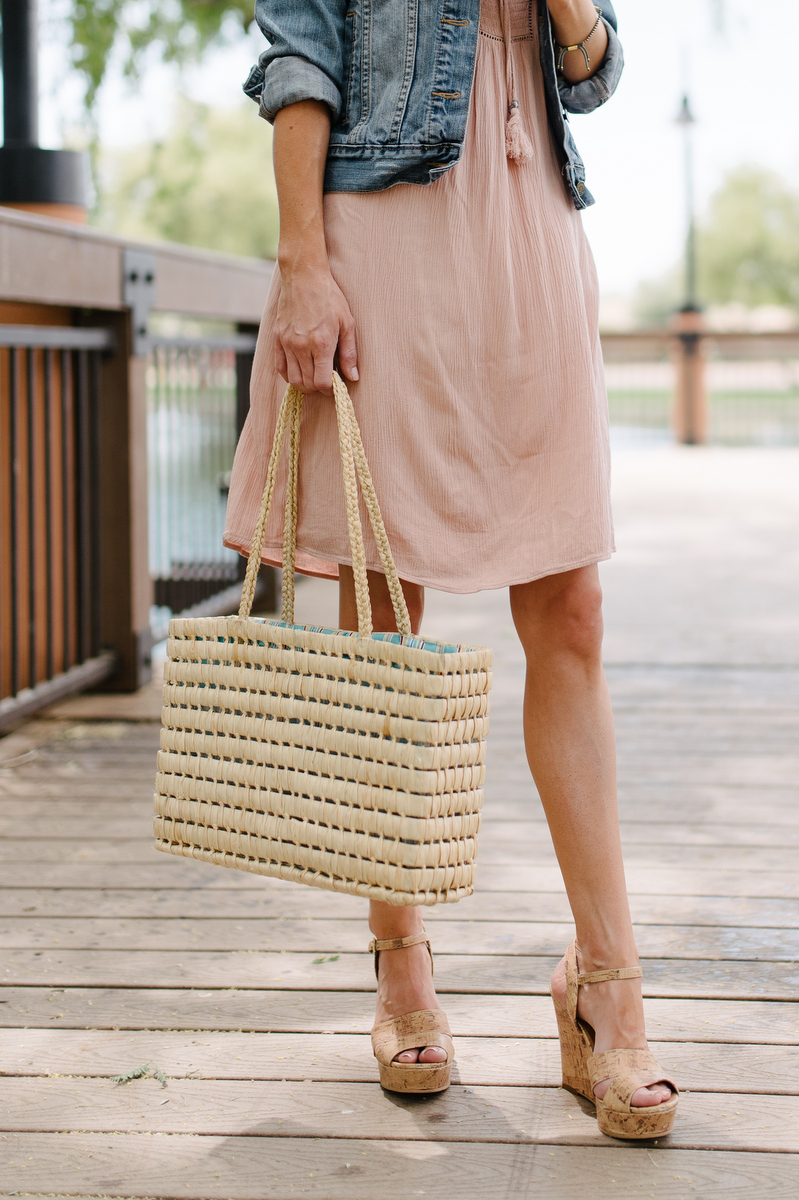 But it's also great with a pair of casual flat sandals and a cute bag.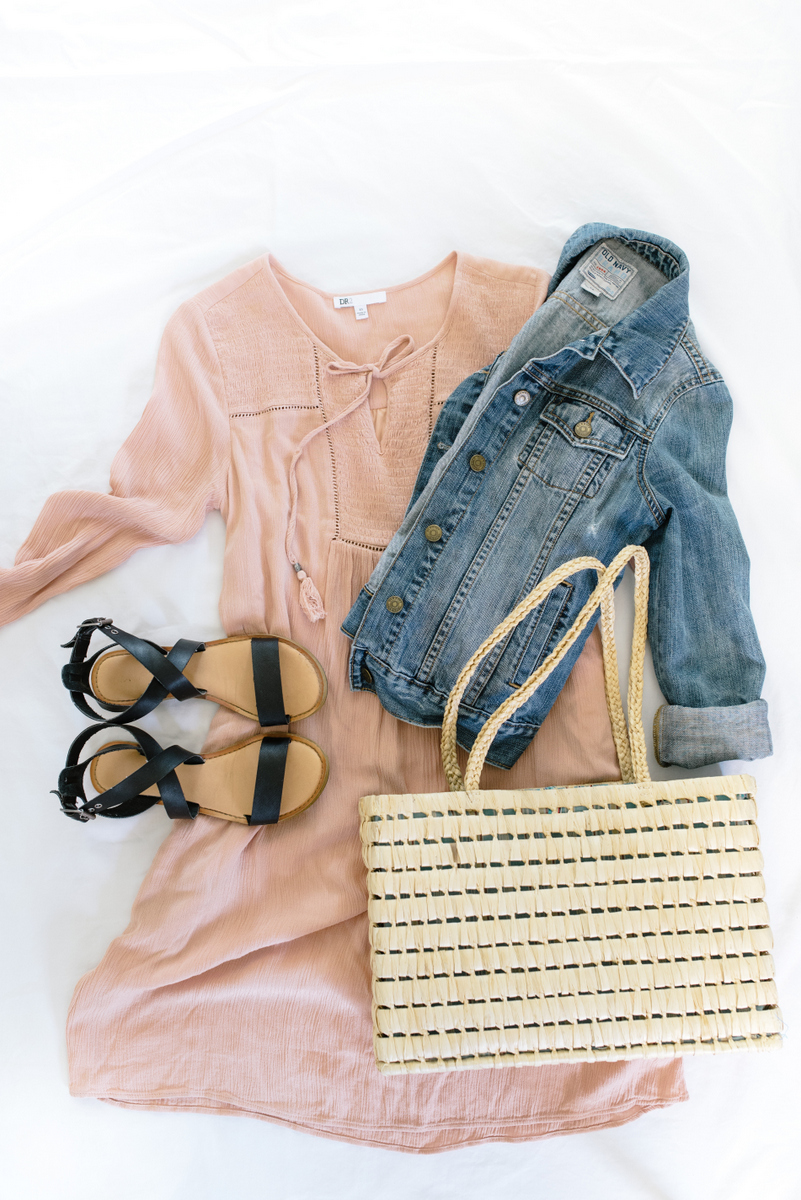 Getting set for my summer wardrobe before the real heat arrives has made a huge difference in my excitement for summer and I'm looking forward to wearing these items for the next six months.
Of course, I can't PROMISE that I won't buy a couple of new items during that time from thredUP (actually, I can promise you that I absolutely will), but I'm feeling pretty set!
If you're interested, I can share in a later post all the items in my summer wardrobe, but in the meantime, if you're looking to add some new pieces to your summer wardrobe, you know I think that thredUP is the very best place to find them.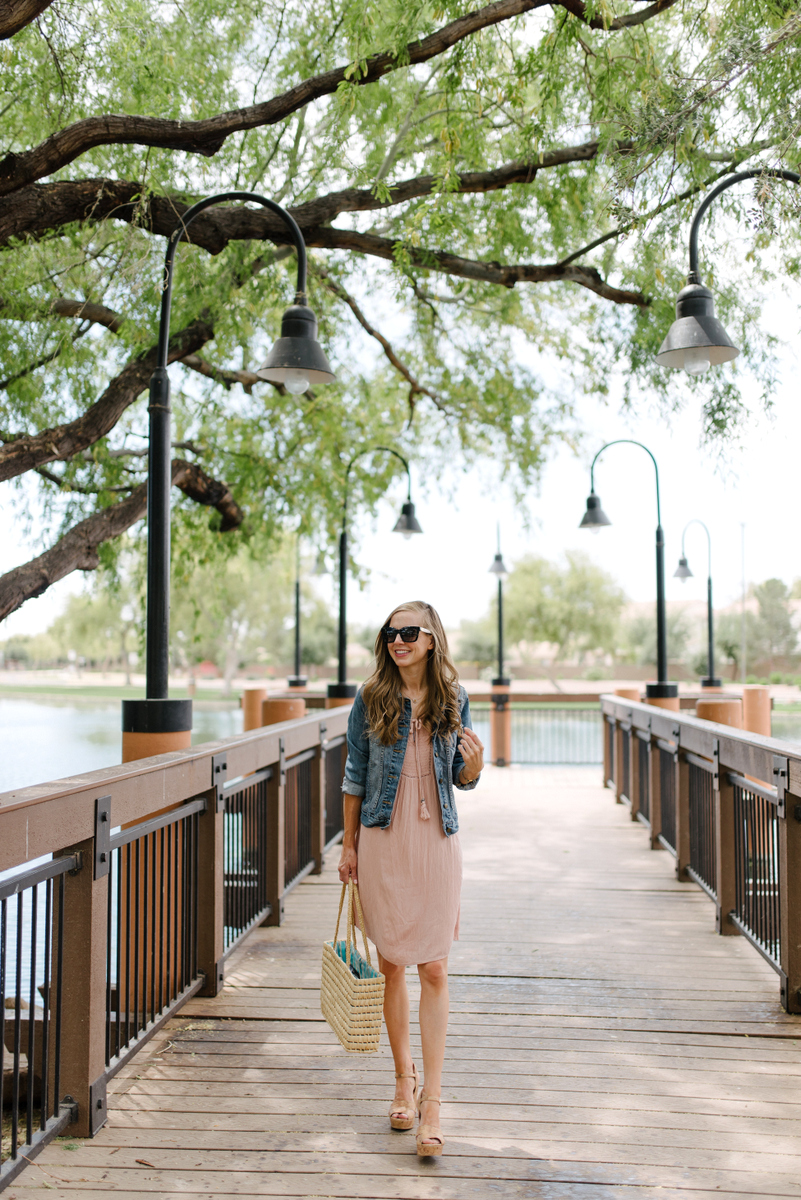 Photos by Christie Knight Photography