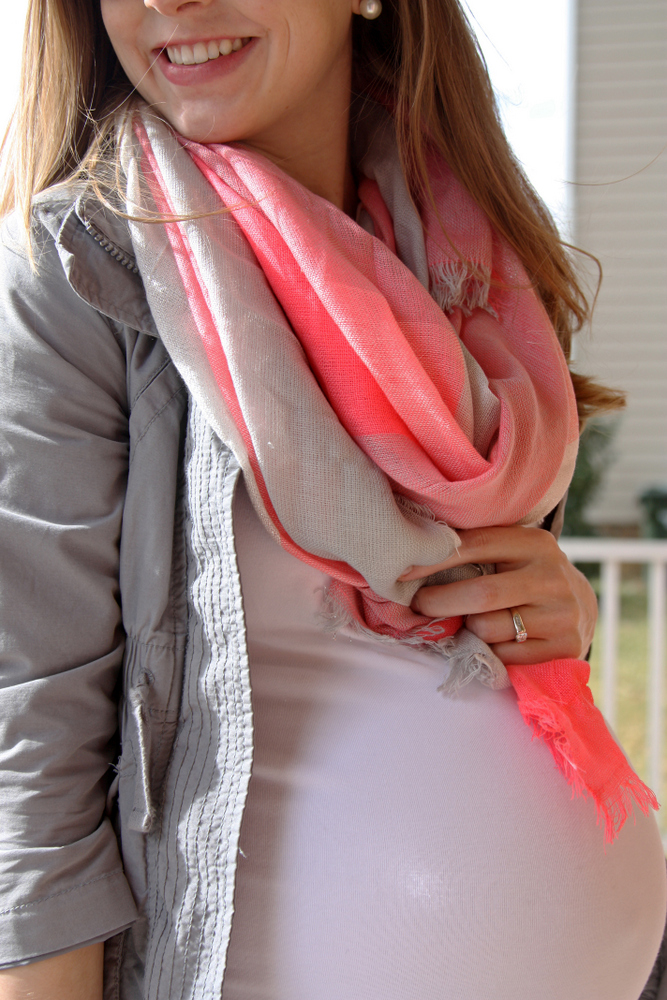 Here's the thing about being 38.5 weeks pregnant: You basically have nothing left in your closet to wear.
I carry my babies super low (which means everyone assures me I'm having boys, even though I've had three ultrasounds for this baby and all three of them have said girl), and by those last couple of weeks, I'm down to, no exaggeration, four shirts that actually cover my stomach (and I kind of am refusing to wear dresses at this point because they make me look ridiculously enormous).
Which means that when we talked about this post a month or so ago and decided to do pink and red outfits for Valentine's Day, I didn't take into account the fact that I would not actually have a single item of both pink and red that would fit me by the time early February rolled around.
Fortunately, the thing about doing posts with your sisters is that neither of them is likely to give you a very hard time about it. (Right?)
I picked a pink scarf and called it good.
Also, it matches my jacket and my bag so bonus points to me. I have to give myself bonus points because I'm pretty sure my sisters won't be quite as impressed.
Now it's just the countdown to see when this baby girl actually arrives. After two late babies, I'm not holding my breath to go into labor on my own. In fact, Bart and I are making plans for Valentine's Day (my due date), because it just seems so hugely unlikely that we'll actually have a baby by then.
Shirt: c/o Rosie Pope
Jacket: Old Navy (similar)
Jeans: c/o Old Navy
Scarf: American Eagle
Earrings: Claire's (similar)
Bag: c/o Lily Jade