Looking for an easy but unique pancake topping? This coconut syrup is super easy (only five ingredients) but it's a show-stopper!
Sometimes I wonder if anyone actually uses maple syrup on pancakes anymore. I feel like the Internet is flooded with buttermilk syrup recipes and caramel syrup recipes and whatnot. Thank goodness I'm here to give you another one.
I actually can't remember the last time we used maple syrup – we pretty much always do either a fruit sauce (fruit, sugar, water, cornstarch, cook, done) or this coconut syrup.
Bart could barely eat this coconut syrup this the first time I made it in 2009 because the original recipe was ridiculously over-the-top buttery, but the flavor was so good that I was determined to make it work.
Coconut Syrup Recipe
I played around with this coconut syrup recipe a little and ended up with something that is far less likely to give you a heart attack (although, let's be honest – it's still not health food or anything).
Now, Bart and the girls asks for it almost every single time we have waffles or pancakes. It is delicious either alone or with some fruit. This coconut syrup recipe has also become a crowd favorite whenever we have company in town and our repeat guests ask for it by name, even a year later!
Add this coconut pancake syrup to your list of ways to use up buttermilk.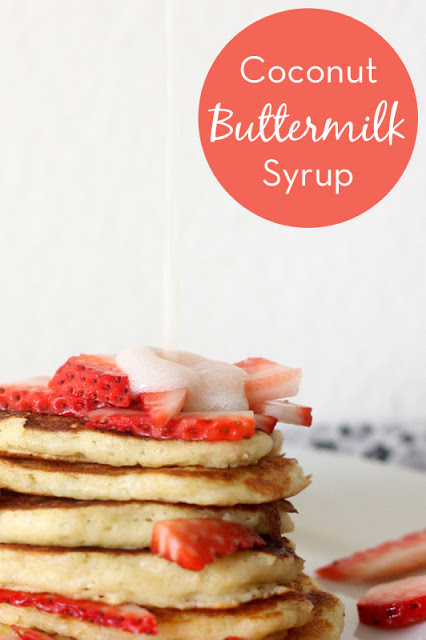 If you liked this coconut syrup recipe, you might like these posts too: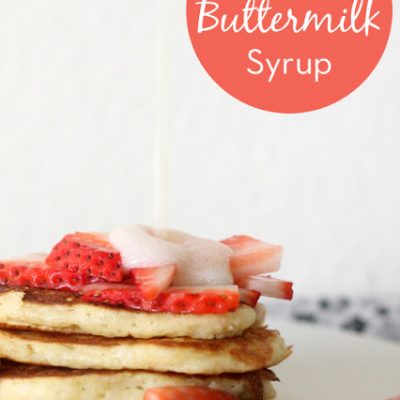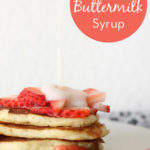 Coconut Buttermilk Syrup
This coconut syrup is super easy (it only has five ingredients) but it's a show-stopper! It's a delicious alternative to regular buttermilk syrup and you won't regret trying out this coconut pancake syrup!
Ingredients
2

T

butter

scant 1/2 c buttermilk

1/3

c

sugar

1/4

tsp

baking soda

1/2

tsp

coconut extract
Instructions
In a saucepan, melt the butter, then add buttermilk and sugar, stirring over medium heat until dissolved. Bring to a boil and let cook for one minute.

Remove from heat and stir in baking soda and coconut extract. It will bubble up a lot - give it a minute to settle down, stir to combine well, and serve immediately.

It will keep in the fridge for about two weeks. Just warm it up and re-stir before using.