This is one of my favorite posts of the whole year.
One thing I love about gifts under 5 dollars is that there is so much less pressure associated with them. It doesn't have to be the big blowout gift that ends Christmas and that is easy to feel disappointed in.
Instead, these are all just fun little gifts that are easy to add as stocking stuffers, give as a nice little surprise to a friend or neighbor or teacher, or pair with another gift or a homemade treat.
I've tried to get a good mix of gifts for children, women, and men (although, let's be honest – less for men), and useful and just plain fun gifts.
Let me know which ones are your favorites!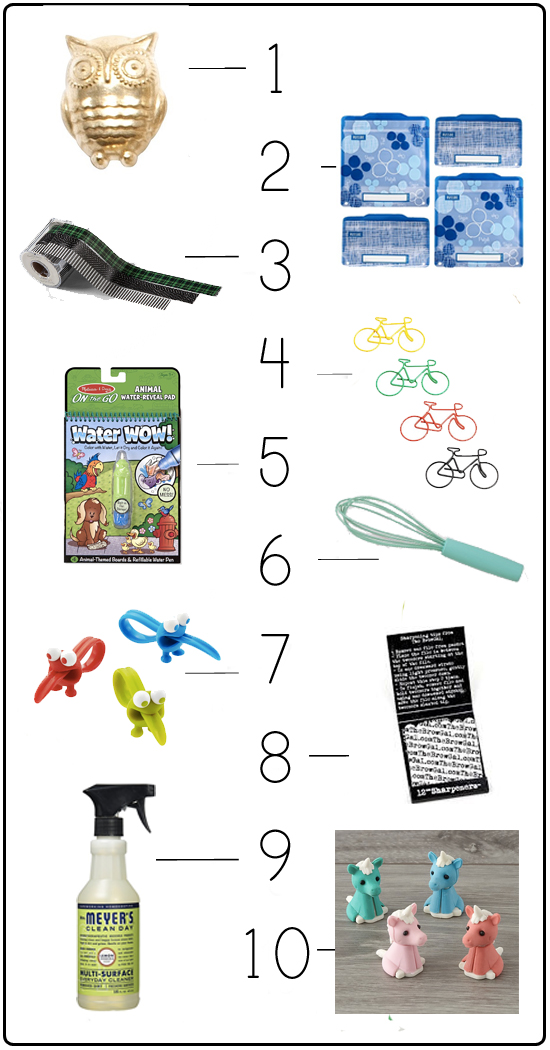 1. Gold Owl Push Pins  ($3.99) Whether you're hanging up a stack of receipts or a self-portrait by a four-year-old, these will really jazz up your bulletin board. Aren't they SO cute?
2. Reusuable Snack Bags ($3.90) These are on my list for Ella this year, who takes a snack to school every day and also is very environmentally conscious. They come in a bunch of different colors and patterns, although not all of them are under five dollars.
3. Washi Tape ($4.99 for 3 rolls) I love washi tape because it gives a little something extra to a gift. Or I stick  a few rolls in my girls' stockings so they can craft up a storm.
4. Bicycle Clips ($3.99) I know I'm a real grown-up now because I use paper clips on the regular. These are much more fun than the boring ones I have (I also love these Gold Heart Clips for $2.99).
5. Melissa & Doug Water Wow Coloring and Painting Book – ($4.79). All of my girls are getting one of these for Christmas. They've played with them at church when another family shared theirs and they are OBSESSED. 
6. Aqua Silicone Whisk ($3.99) My silicone whisk met a sad end this year, and this is a super cute replacement that won't scratch your pans.
7. Watchers Bag Ties ($4.99) These just make me laugh every time I look at them. And there's nothing I hate more than stale cereal or chips.
8. Tweezer Sharpeners ($4.00) Isn't it annoying when your tweezers get dull? These clever sharpeners to the rescue.
9. Mrs. Meyers Multi-Surface Cleaner ($3.49) This is my mom's go-to neighbor gift because it's not ANOTHER sweet and it's useful for weeks after you gift it. Plus, there are so many amazing scents.
10. Unicorn Erasers ($4) Anyone else have children obsessed with unicorns? My girls can't get enough, and Ella goes through erasers like crazy at school.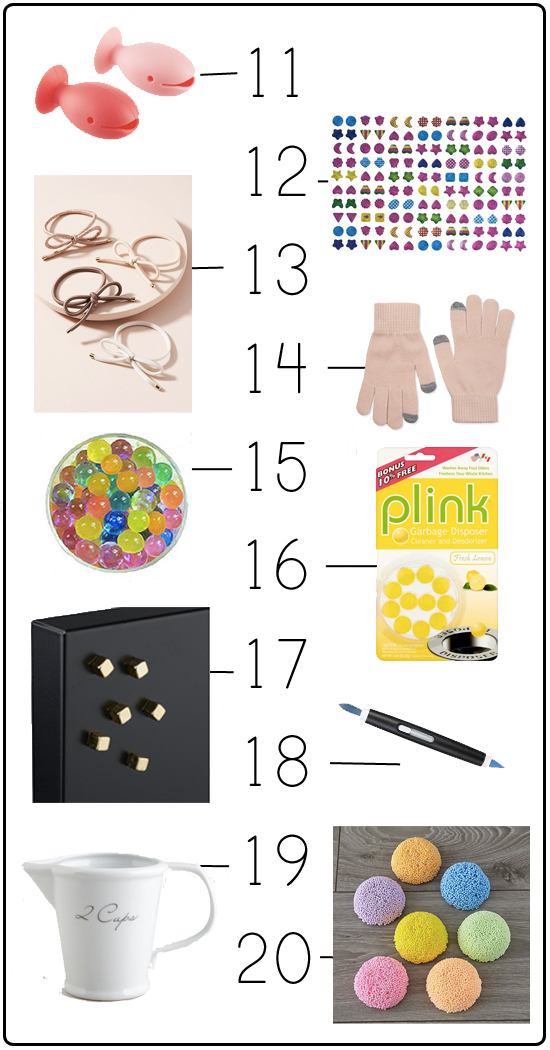 11. Fish Toothbrush Holders ($6.99 for 2) These come in a couple of colors, and they're perfect for keeping your toothbrushes (or your child's toothbrush) from getting the counter all filthy.
12. Stick-On Earrings ($5.99) This is my childhood right here. Ella just got into stick-on earrings and it's so fun to see.
13. Bow Hair Tie Set ($12 for 4) Oh, Anthropologie, is there anything you don't do well? The sand set is my favorite, but the other colors are fun too. A perfect way to make your ponytail look just a little nicer.
14. Touchscreen Knit Gloves ($3.90) Happily, I don't live somewhere where you almost ever need gloves, but these are awesome if you do!
15. Water Beads ($4.99) This is another thing I'm getting my girls for Christmas because I know they'll be obsessed with them.
16. Garbage Disposer Cleaner and Deodorizer ($4.91) Sexy? Not really. Super useful. You bet.
17. 6 Mighty Gold Magnets ($7.95 for 6) I'm to the stage in my life where I don't my fridge covered in free pest control magnets. These are a much sleeker way to keep the various notices from school where they  belong. They also come in Chrome.
18. OXO Electronics Cleaning Brush ($4.99) You better believe Bart is getting one of these in his stocking. I'll probably buy myself one too for my stocking, because I'm generous like that (and my keyboard is filthy).
19. 2-Cup Measuring Jug ($4.99) I love this pretty jug – I use my Pyrex 2-cup all the time for serving coconut syrup with pancakes or waffles and this one is a LOT prettier.
20. Play Foam ($1.50) My children would go NUTS over this stuff. For six quarters, you'll be a VERY popular parent.
P.S. if you want more ideas, you can see 100 more options for gifts under five dollars here!