For the past few years, I've shared what we were buying the girls for Christmas (here's last year's list!) and this year, several people have messaged me asking if I was going to do it again.
You better believe it and hopefully it will help you if you are looking for Christmas gifts for girls!
Because writing this post forces me to actually sit down and figure out exactly what each girl is getting and then ordering it.
Basically, this post is accountability for me to not leave it all until the very last moment.
Now I can sit back and wait for everything to show up and then get to my favorite part, which is wrapping it all up.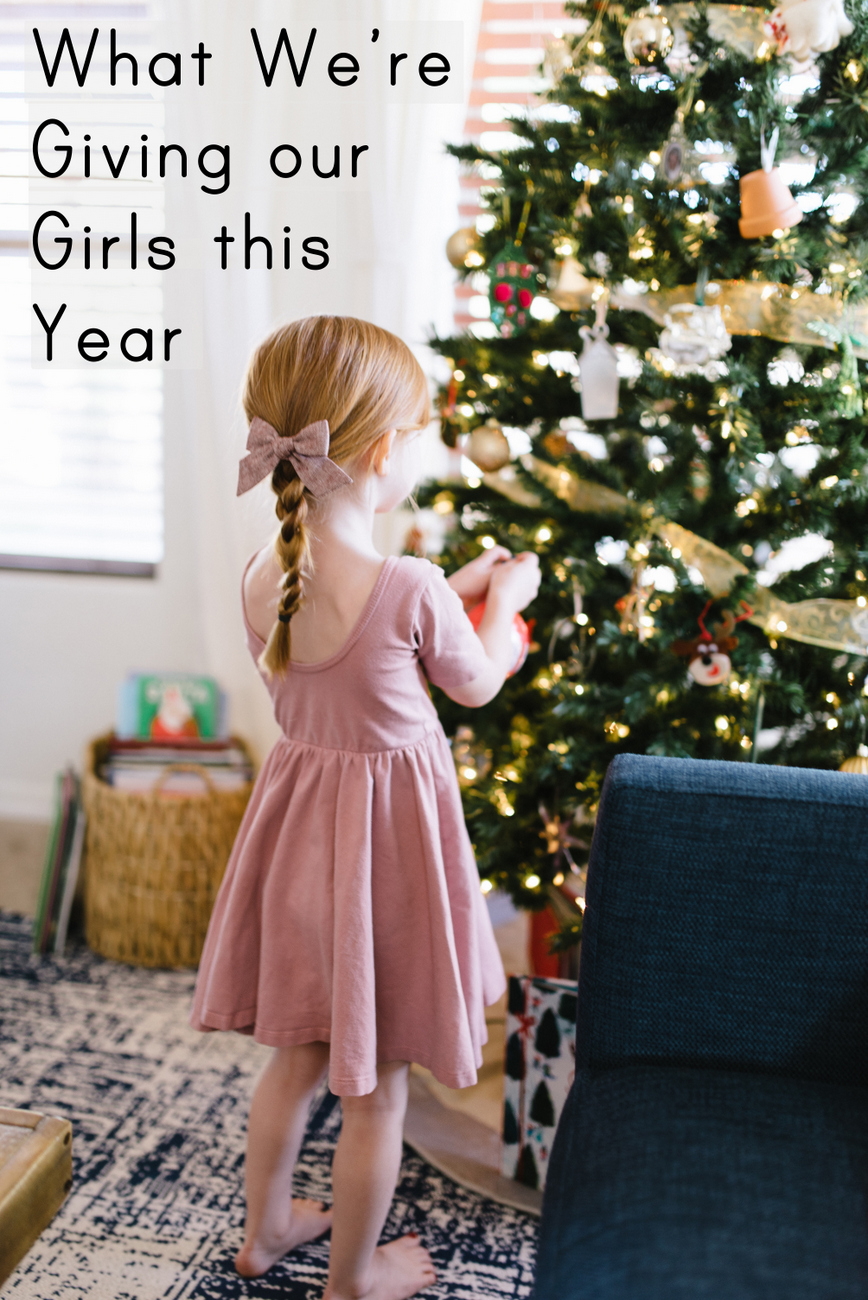 christmas gifts for Girls
For Ella (who is seven and a half)
Chalk Art Class. My friend Lisa does the most amazing hand lettering classes, and she also has a chalk art class that I think Ella will LOVE. We have a personal size chalkboard, a box of anti-dust chalk, sharpener and a cloth to clean the board with, and I think that she'll love taking the online course during the holiday break. I might do it with her! (You can use the code EVERYDAY20 for 20% off any of their courses).
Leotard. Remie Girl has the CUTEST little dresses for girls, but they also have a bunch of leotards with ruffles and I'm so so tired of the ones my girls have from Target – I didn't think they were cute when I bought them, but I needed something THAT DAY and now they've been wearing them for two years. I bought Ella the buffalo plaid one, Ani the cranberry one, and Star the dark teal. I like the thought of "something to wear" for Christmas that's a little more fun than a new pair of jeans. (My children already each have five pairs of London Littles rain boots, but otherwise I think that'd be the perfect "something to wear" gift that's both useful and fun).
Labyrinth. We looked at this one for her birthday and the reviews on this game are insanely good, so I'm excited to add it to our collection. Plus, Ella is just completely obsessed with games.
Nikes. Bart took Ella rock climbing earlier this year and bought her some Nikes which she LOVED and wore almost every day to school until she grew out of them. So we bought her a replacement pair. (I actually really wanted to get her a pair of Smallbirds, but they don't go up to her size).
Jacket. The thing about Arizona is that you just can't think about winter clothing at all until December or you'll just want to cry. But now that it's suddenly turned chilly in the mornings and evenings, I've discovered that my children own nothing in between tee-shirts and pretty heavy coats. These denim jackets were too cute to resist and such a classic, and I bought one for each of the three older girls.
For Ani (who just turned five) 
In addition to her
leotard
and jacket, we're also getting her:
Etch-a-Sketch Freestyle. Ani is a total doodler and I think she'll love this (Bart wondered aloud if we should get three . . . maybe we should have). Plus, it's great for car rides and for her bedroom hopefully having at least a few less paper scraps EVERYWHERE.
Walkie/Talkie. This was Bart's idea (he's always the one who comes up with fun ideas) and I think this will be a huge hit.
A pair of Nikes. We got her a pair too (a different style) that I think she'll love.
For Star (who is almost three)
She is also getting a leotard and a
jacket
and a. . .
Guitar. Well, actually a ukulele. We bought Ella one for Christmas when she was three and a half, and then Ani one for her birthday this week, so obviously Star needs one too. So they can all play ear-splittingly off-key together. Probably should buy them some lessons to go along with them.
Phone. Star is almost never without a little brick from our backyard which she calls her phone, carries everywhere, and has long conversations with imaginary friends on. So when we saw this one, it was an no-brainer gift. Also, then I won't have to live in fear of her accidentally dropping it on the baby.
Ankle boots. Star is VERY particular about what shoes she'll wear (she basically lives in Old Navy flip flops or rain boots) so it's possible she will refuse to wear them, but I like that they'll look good with jeans and casual outfits or more dressy with tights and a skirt or dress. Crossing my fingers that they'll meet with her stringent (and totally random) approval.
For Tally (who is ten months old) 
Shape puzzle. I mean, a baby doesn't really need anything, but I couldn't resist this classic shape puzzle. It's so pretty!
An Outfit. Everyone comments on HOW MUCH girl clothing we must have after four girls, but frankly, by a fourth girl, lots of it is not in great shape. So she is kind of in desperate need of a few new items. I love the basics in this one, plus the buffalo plaid vest.
As far as stockings go, they'll be filled with:
A Small Pack of Candy. Probably Tic-Tacs.

Shrinky Dinks set

. A few months ago, when Ella got invited to a birthday party, she picked out a set of these as a gift for the birthday girl, and she's been mentioning them ever since.

Water Beads. This was another pick from the $5 gift guide and whoa, I think these are going to be a massive hit (this actually might have been the very most popular item on this year's $5 gift guide!).
 (Also, for Star's first Christmas, I put a diaper and a banana in her stocking at the last minute so she'd have something and the girls still talk about it and now keep asking if I'll do the same for Tally this year. So I guess I will, just for laughs).
I'd love to hear what you're getting your kids especially Christmas gifts for girls. It's so helpful to hear from real parents and I frequently come back to these comments as birthdays roll around!
If you liked this review of christmas gifts for girls, you might also like these posts: