Christmas morning as a parent is just so magical. I loved every minute of it this year.
Ella woke up around 7:30, but Ani was still snoooooozing, so we finally started without her at about 8:30. Christmas waits for no babies.
How could this not be my favorite present?
After about half an hour, Ani woke up and joined the fun. She was a fan.
And Ella was more than delighted to help her out.
This is my number one favorite picture from Christmas morning. This little woodland doll from Hazel Village was part of the box I got from A Little Bundle last month, and I saved most of the contents to give my girls for Christmas (there were also some child-safe nail polishes that went into Ella's stocking).
Ani loved this little doll and carried her around all morning.
Merrick sent them these magnetic Melissa & Doug dolls. Definitely one of the most popular gifts this year.
Most years, Bart's parents choose a theme for their Christmas gifts. This year, Bart's grandfather passed away a few weeks before Christmas, so, along with a transcription and audio CDs of his memories of his childhood, most of the gifts were things he'd loved as a boy or things from the years of his birth or early years.
We got some rubber band guns, a collection of early Popeye shorts, the first ever Academy Award-winning movie for Best Picture, and some Wanda Gág picture books (Millions of Cats is one of my all-time favorites), among other things.
We read the books immediately (one of the things Bart and I try to do is not rush the gift-opening along. If they want to stop and play with something before moving on, we let them).
Sanja sent me this cute little bow for Ani (and one for Ella – I put them in their stockings).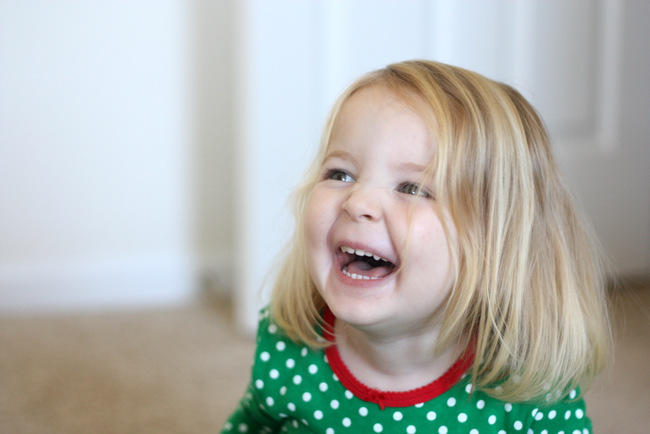 Art supplies are always a hit in our house.
The matching jammies just about made the whole day for me.
The grand finale was this little "guitar" (it's actually a ukulele, thanks to several of you who recommended going that route instead).
In the grand tradition of my family, there was a treasure hunt for it – each clue was a three-letter-word for her to read herself, with the last one leading her to her bed, where the wrapped box was hidden beneath.
She loves it.
And I'm enjoying a new pair of slippers.
When I mentioned to Bart that I wanted some for Christmas, he said, "Didn't I just get you a pair?" I admitted that, yes, he had gotten me a pair before, but it was seven years ago. They were maybe a bit worn out (I actually threw them away when we moved back to Texas because they were SO hammered from constant wear).
Merry Christmas! I hope your holidays were loving, peaceful, and happy!