Looking for a copy of this year's Christmas countdown calendar? Pop in your email below and it'll come right to your inbox!
It's year FOUR of the Christmas Countdown Calendar and every year I think, "Okay, THIS is the best one yet!"
It's so fun for someone like me who has absolutely no artistic ability whatsoever to see someone else create something magical.
This year's Christmas Countdown Calendar is designed by Alexa from Pippi Post Shop and I could not be more thrilled with how it turned out!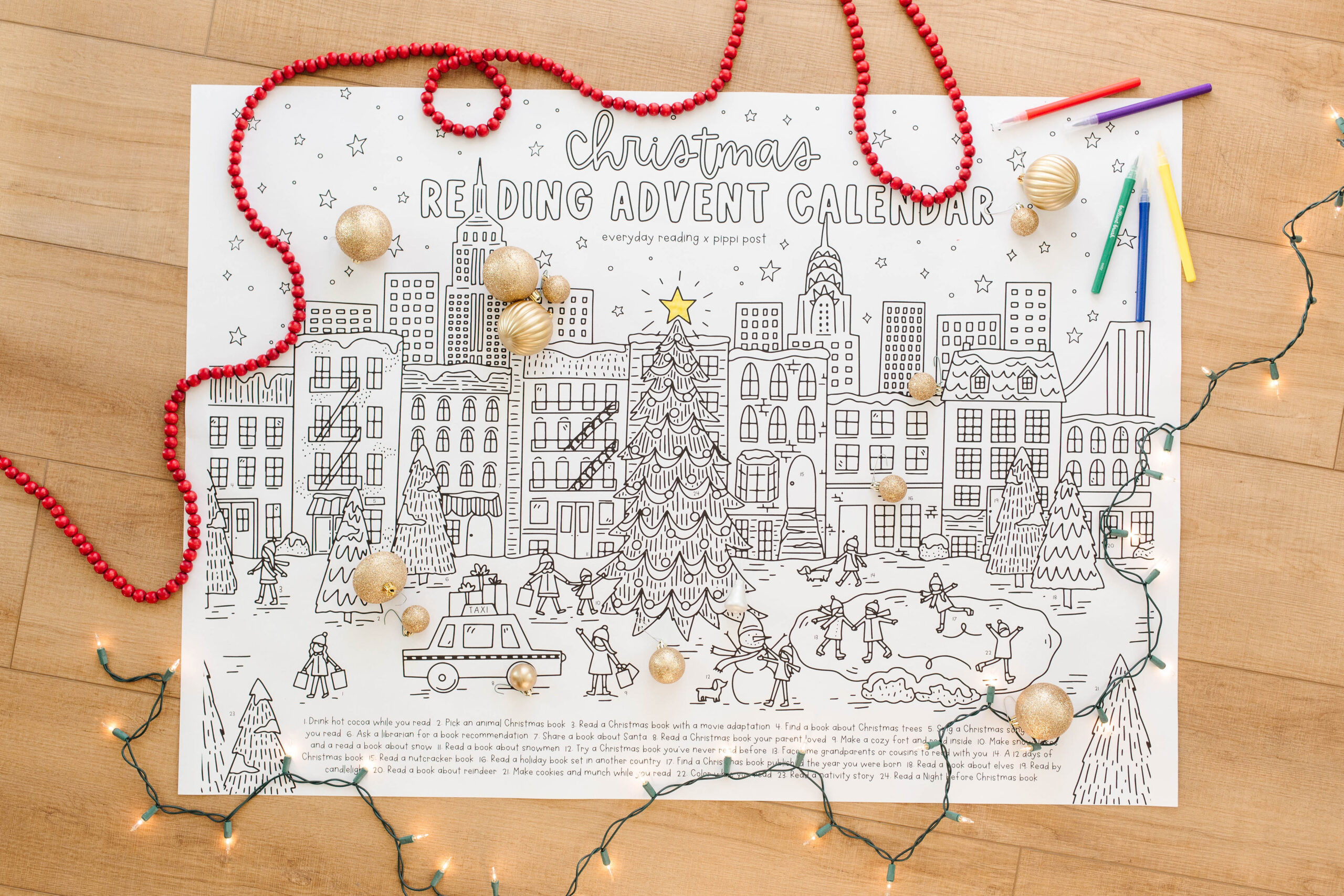 I love love love this Christmas Calendar so much and I hope you will too!
(P.S. The previous three Christmas reading calendars are all still available for free – they're all linked here!)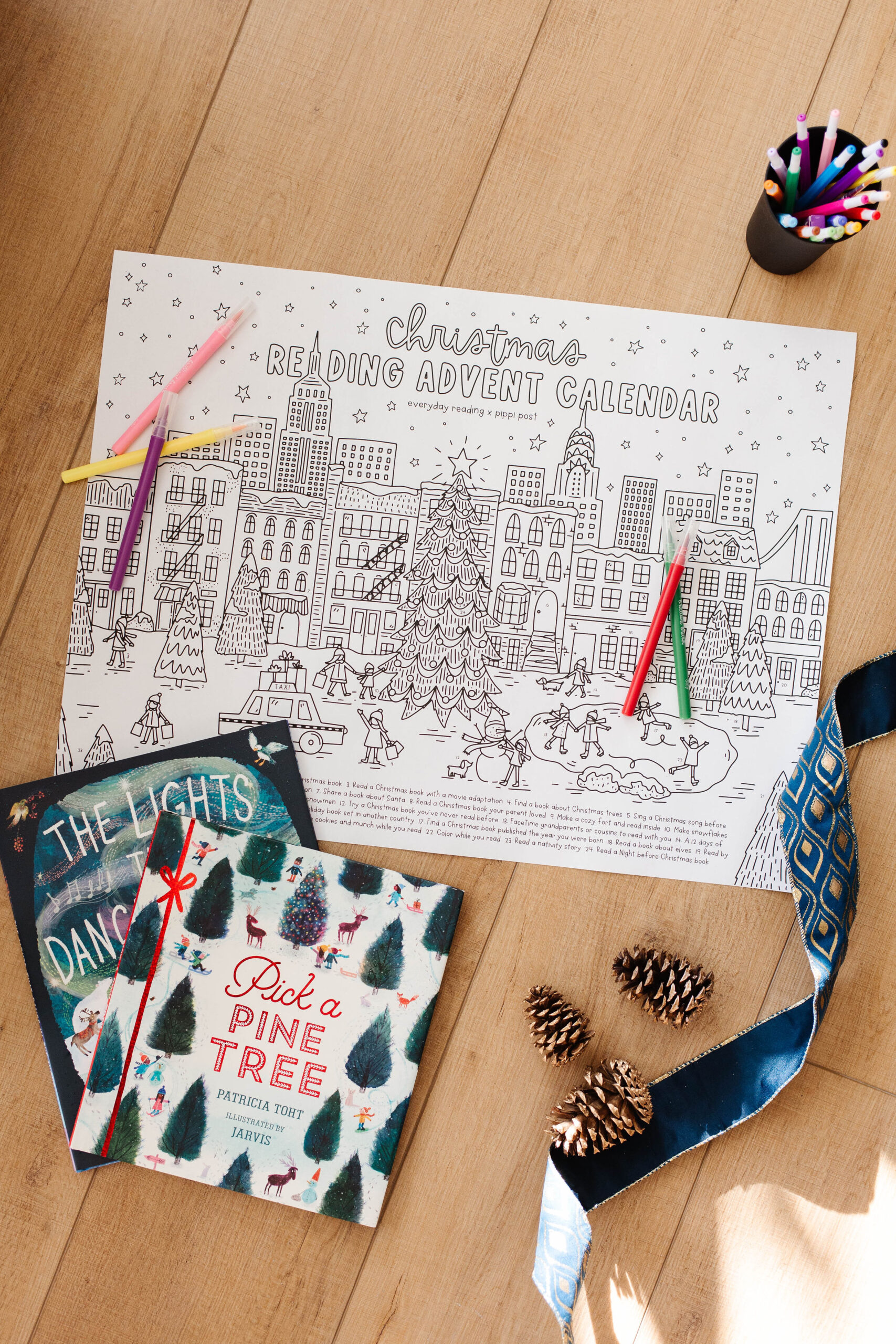 Christmas Countdown Calendar
Let me tell you a bit about this Christmas Countdown Calendar.
It's absolutely free! You can download as many copies as you'd like for your personal use (pop in your email address at the bottom of this post and it'll come right to your inbox). You're welcome to pass them out to friends, give them as gifts, offer them at your library or print one for all your grandkids! As long as you're not selling them, you're welcome to use it however you'd like! Alexa and I designed this to be used and we WANT it to get printed and distributed as much as possible!
You can print it at whatever size you'd like! I have a personal preference for the 36×48 engineering print which costs less than $7 to print (instructions for printing engineer prints here).  But it's also really great at a 24×36 size or in an 18×24. You can even print it on a regular sheet of paper with your home printer!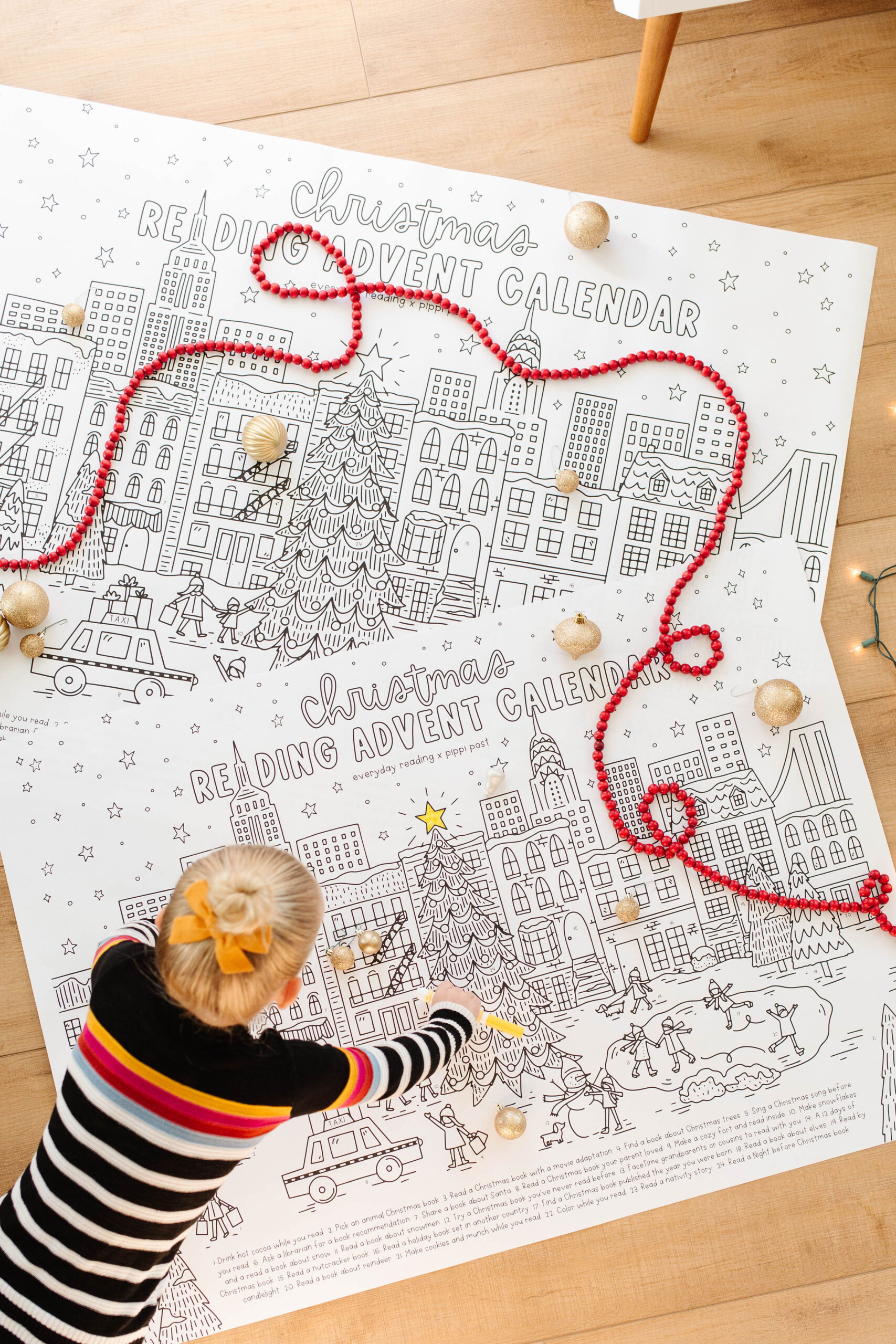 You can color it all at once or a bit every day – there's no wrong way!  Hand over some crayons or pencils or makers and a copy of the Christmas countdown calendar and go to town – there are so many delightful details and it's so much fun to color. You can color it all at once at the beginning of the month or do a bit every day as you read along! You can also give each child their own copy or use one for the whole family to share.
There is a reading activity every day from December 1 – December 24. Obviously the highlight of this Christmas Calendar is reading daily with your children. At the bottom of the calendar there is a suggested activity for each day. You can do them in any order you'd like and if you need suggestions for books to read, I have general lists and themed lists here, so if you need some suggestions for reindeer books or nativity books or snowman books, I have you covered!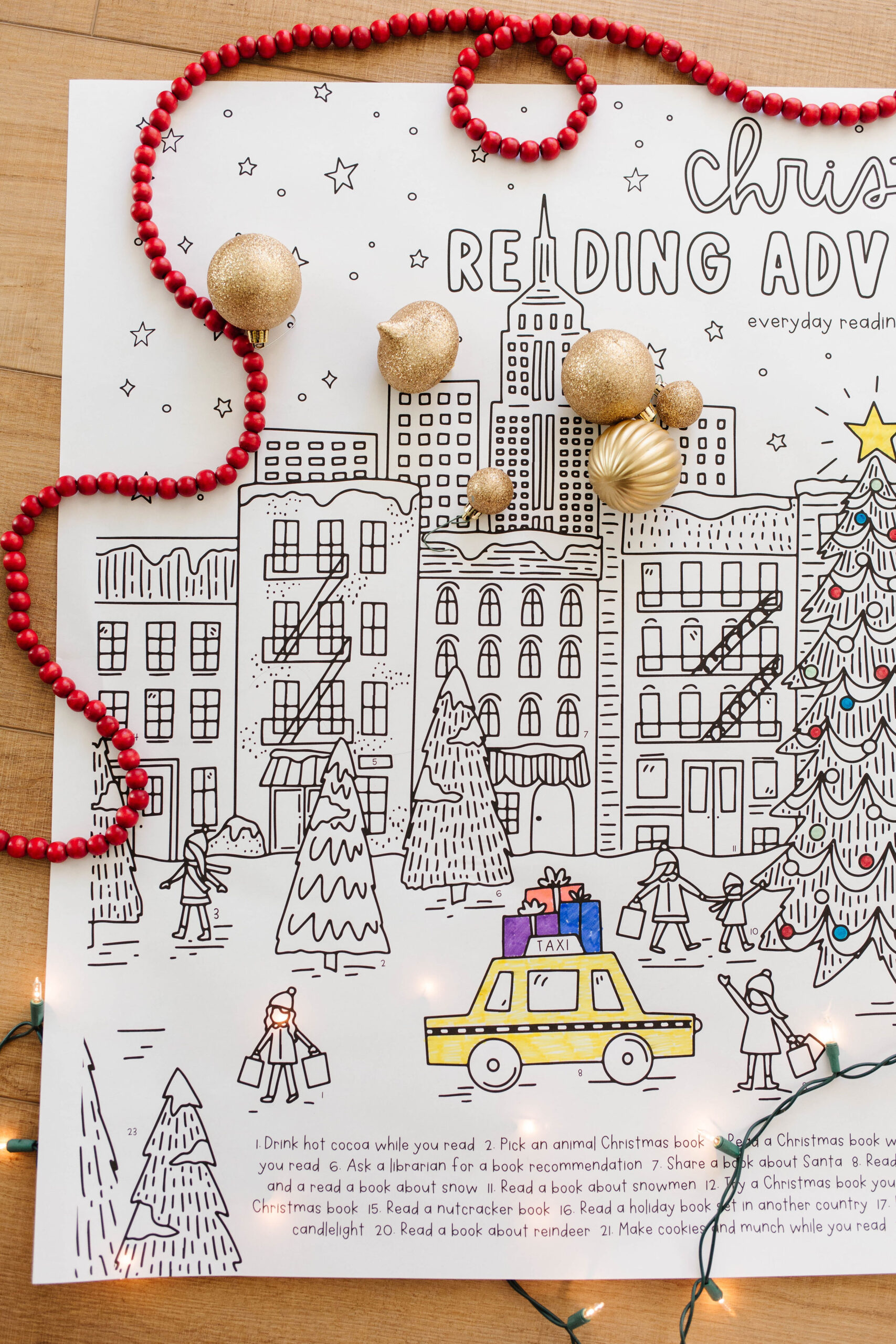 A FEw Fun Ways to use your christmas countdown calendar
There is no right or wrong way to use the Christmas Countdown Calendar, but here are are several ideas to get you started.
Give it as a gift. If you add a new Christmas book to your collection each year roll up a copy of the printable advent calendar and tie it on top! (this also makes a perfect neighbor gift – it's allergy free!).
Make one giant copy of the advent coloring calendar and let your children color it on a snow day leading up to December!
Have a coloring party! It's not just for kids – adults can get in on the fun too. Plus, it's surprisingly relaxing. Turn on some Christmas music and enjoy the together time. You can make one big one to work on together or print off smaller copies for each person. Bonus points if you pick up some fresh new crayons or pencils.
Use it as wrapping paper for a Christmas book. Or, once your family is done with it, use it to wrap those last few gifts on Christmas Eve – it's no waste and your child will love seeing their coloring adorning a gift under the tree on Christmas morning!
Use it as holiday decor. This kids advent calendar is so fun and festive it makes for really beautiful holiday decor. Hang it somewhere your whole family can see it and be reminded to make reading a wonderful part of your holiday festivities!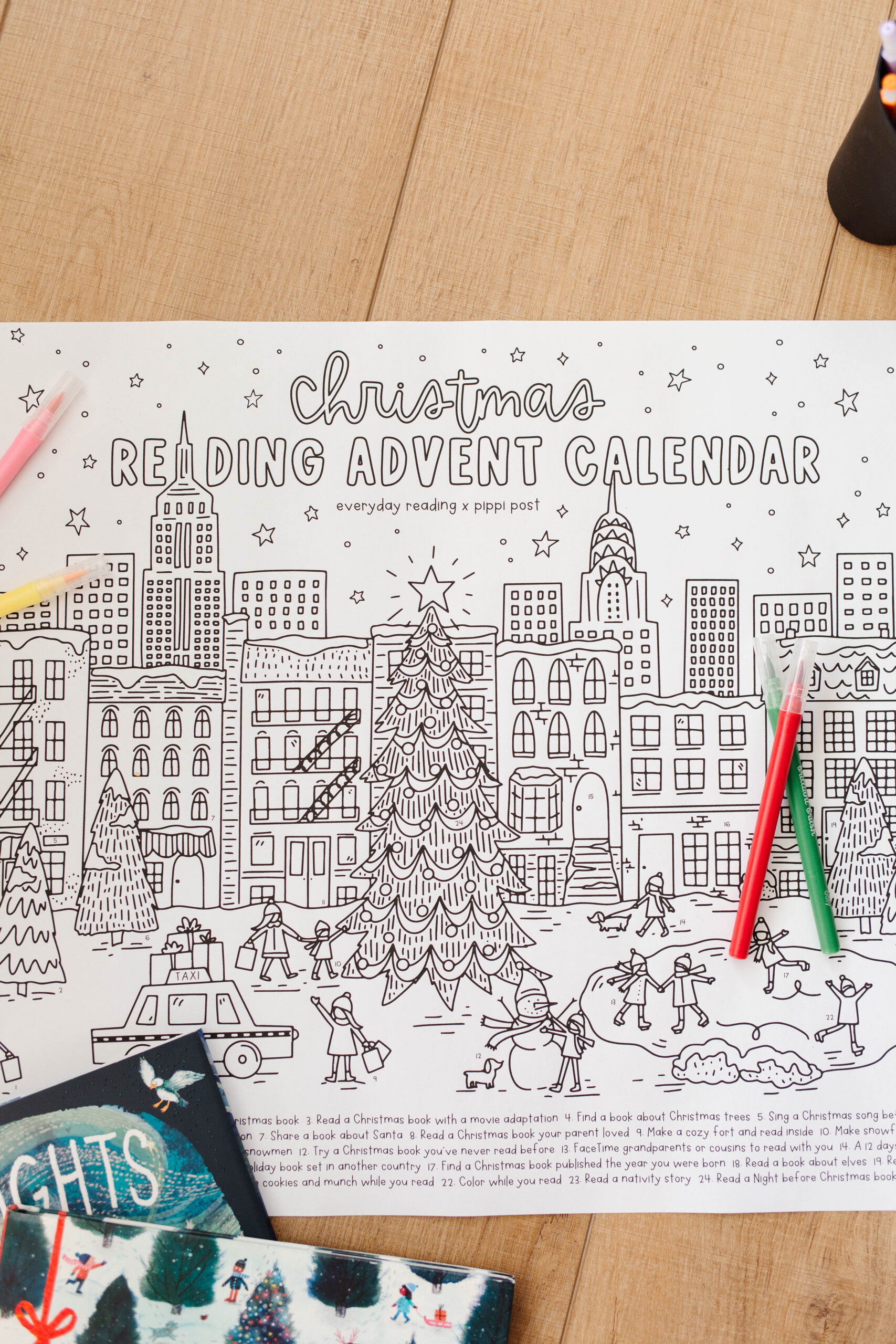 Sign up to get the Christmas countdown calendar
Ready for a free copy of the Christmas countdown calendar? Pop your email address in below and it'll come right to your inbox so you can get printing!
I am SO thrilled with how it turned out and I can't wait to see your families using it this holiday season.
And if you share it on Instagram, please tag me (@everydayreading) and Alexa (@pippipost.shop) so I can see them out in the real world.
Happy holiday reading!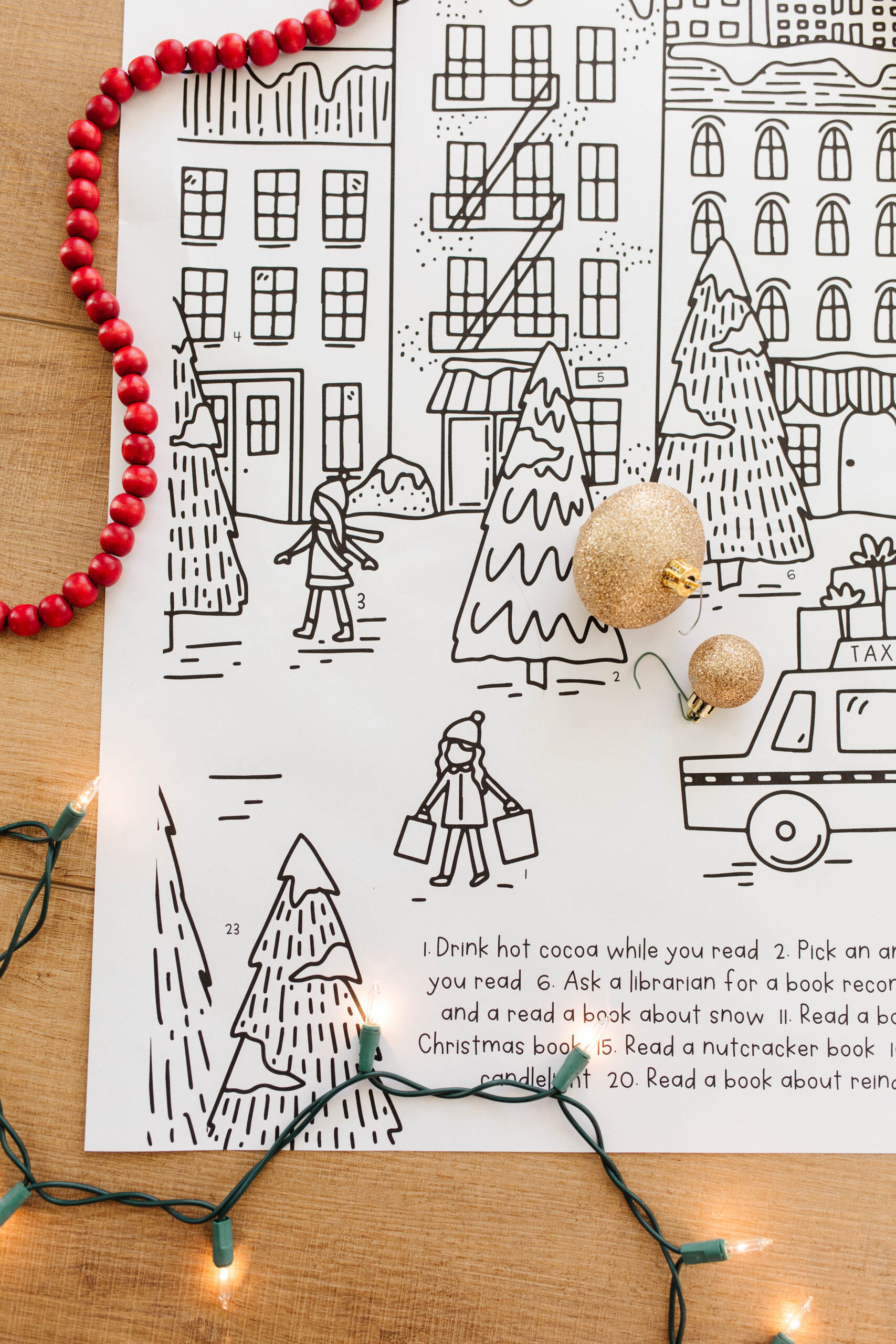 if you liked this post about the Christmas countdown calendar, you might also like these other posts:

Photos by Heather Mildenstein