You know by now that I absolutely LOVE a good jigsaw puzzle.
It's one of my favorite things to do the the girls (Tally especially loves doing them with me while the big girls are at school).
Or when they're all in bed, I love to relax with an audiobook and a little time working on a puzzle alone.
But my very favorite? Christmas puzzles.
The year we moved to Utah, one of our favorite couples from Arizona sent us this Christmas puzzle with a little note that they'd done this puzzle and thought we might enjoy it too.
It was the NICEST gesture and I've loved doing this puzzle during Christmas break every year since!
To me, it's a little indicator that "hey! the Christmas vacation is under way and work is done!"
A Christmas puzzle is just the perfect way to gather people around (I loved the week after Christmas where my parents were in town and my in-laws came over and we were all gathered around working on a puzzle together and chatting and laughing).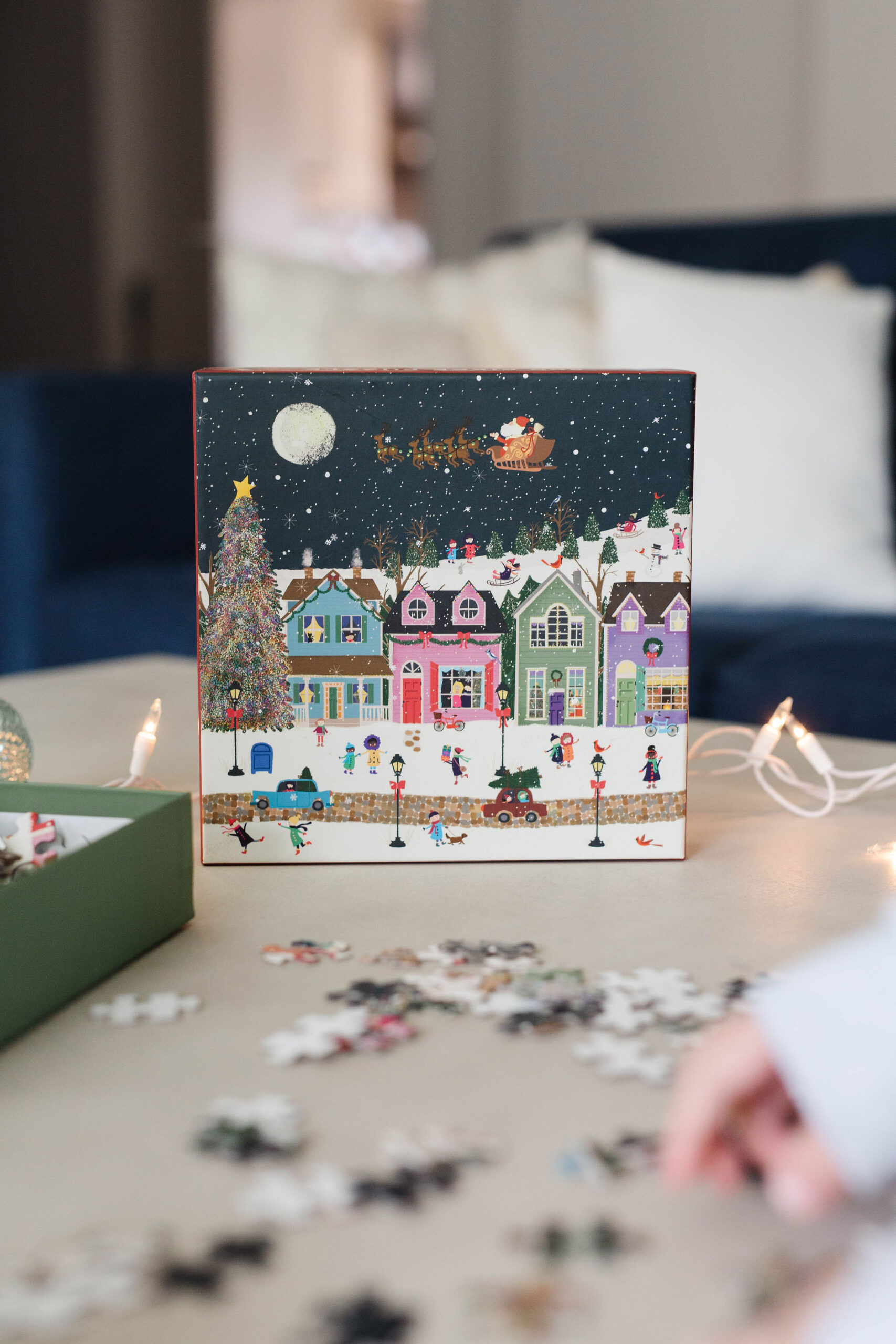 If you'd like to add a Christmas puzzle to your collection or give one as a gift, here are some of my current favorites.
(P.S. I personally think a 500 to 1000 piece puzzle is the sweet spot where it's not done in 10 minutes but it also isn't so overwhelming that you don't finish it within a couple of days).
 14 Terrific Christmas Puzzles
WINTER WONDERLAND – 500 Piece Puzzle
This is the puzzle our friends sent us that got me hooked on both Christmas puzzles and Galison puzzles. They're super affordable (usually under $15) and just a great quality puzzle. I'm a super fan and they have so many delightful designs, especially for Christmas.
CHRISTMAS IN THE CITY – 1000 Piece Puzzle
What's more Christmas-y than the Rockefeller Center Tree and ice skating rink? If you can't be there in real life, at least bring the Christmas magic with this jigsaw puzzle to your kitchen table.
Holiday Books – 1000 Piece Puzzle
How could I not be obsessed with this Christmas puzzle featuring the covers of more than a dozen vintage Christmas books? This is RIGHT up my alley!
ENCHANTED NUTCRACKER – 500 Piece Puzzle
This is the one I want to add to my Christmas puzzle collection this year – I love it so much! (Even though I've never actually seen The Nutcracker performed!)
FESTIVE FURBALLS – 500 Piece Puzzle
I don't even really like animals and I couldn't help but smile at the cuteness of these festive little furballs all dressed up for the holidays!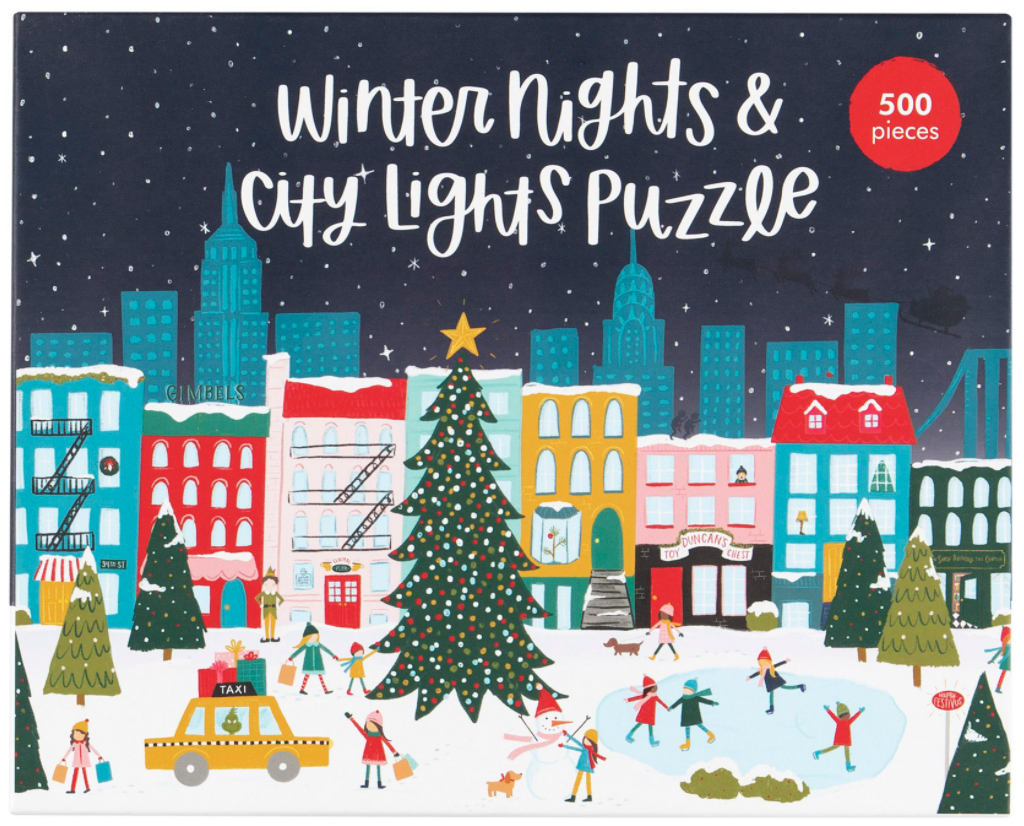 WINTER NIGHTS & CITY LIGHTS – 500 Piece Puzzle
When you can shop small AND get a delightful Christmas puzzle? Well, that is a big win! I love this festive scene and I REALLY love all the little details sprinkled throughout (do you see The Shop Around the Corner?).
MERRY MOONLIGHT SKATERS – 500 Piece Puzzle
This one is gorgeous, but the really special thing about this one is that it's a foil puzzle so you have the little extra glimmer and shine on the pieces that really make it something magical.
ALL IS BRIGHT – 1000 Piece Puzzle
Everything about this one is just so peaceful. And if the lit up house, the woodland animals, and the northern lights weren't enough? It glows in the dark!
TWINKLE TOWN – 500 Piece Puzzle
Okay, I want this one too. I just can't resist a winter village scene. and this one is so sweet and fun.
WINTER SNOW GLOBE – 500 Piece Puzzle
I love the rich colors of this puzzle, plus it's not SO Christmas-y that you couldn't do it all year long.
WINTER LIGHTS – 500 piece puzzle
I love everything about this puzzle – the snow falling, the line of vintage cars, all the windows decorated with candles or wreathes. Pretty sure I need this one too.
CHRISTMAS DOGS – 1000 piece puzzle
My girls would be  beside themselves with happiness if a Christmas truck with a dozen dogs showed up at our house. Since that's NOT what Santa will be bringing, they'll have to make do with this puzzle instead.
CHRISTMAS CAROLERS – 1000 Piece Puzzle
Any Christmas decor with pink in it makes me inexplicably happy! I dare you not to feel a bit of holiday cheer when you look at this group of carolers gathered around the Christmas tree!
Any favorite Christmas puzzles in your house? I'd love for you to share!
If you liked this post about Christmas puzzles, you might like these posts too: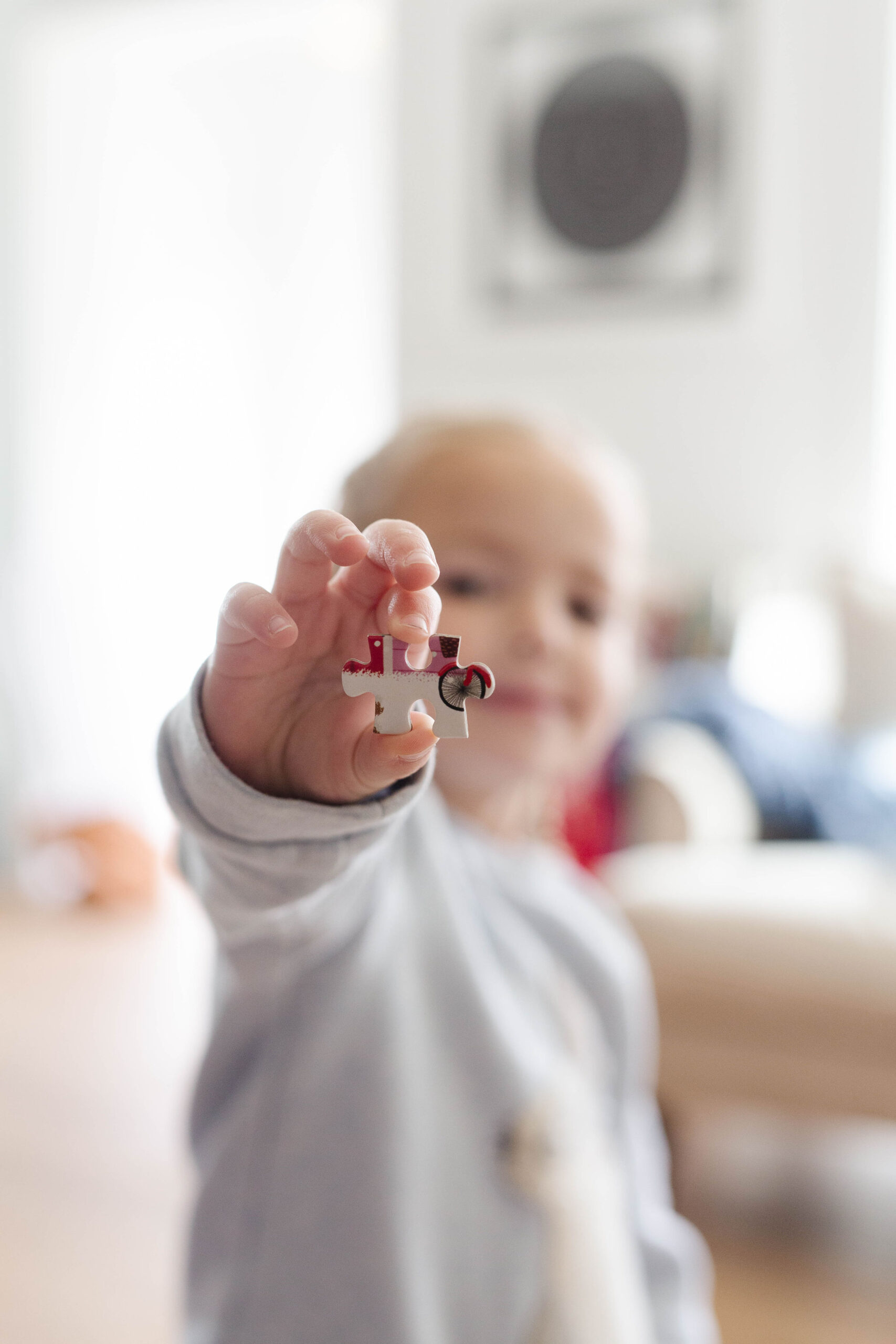 Photos by Heather Mildenstein