Ah, family gifts!
On the one hand, it feels so fun (and efficient!) to get something the whole family can enjoy!
On the other hand, family gifts that appeal to the whole family, from parents to teens to toddlers?
Well, that's a tall order.
I asked for some of your favorite family gifts that you'd given or received over the years and you DELIVERED!
Here are more than forty terrific family gifts that everyone can enjoy together.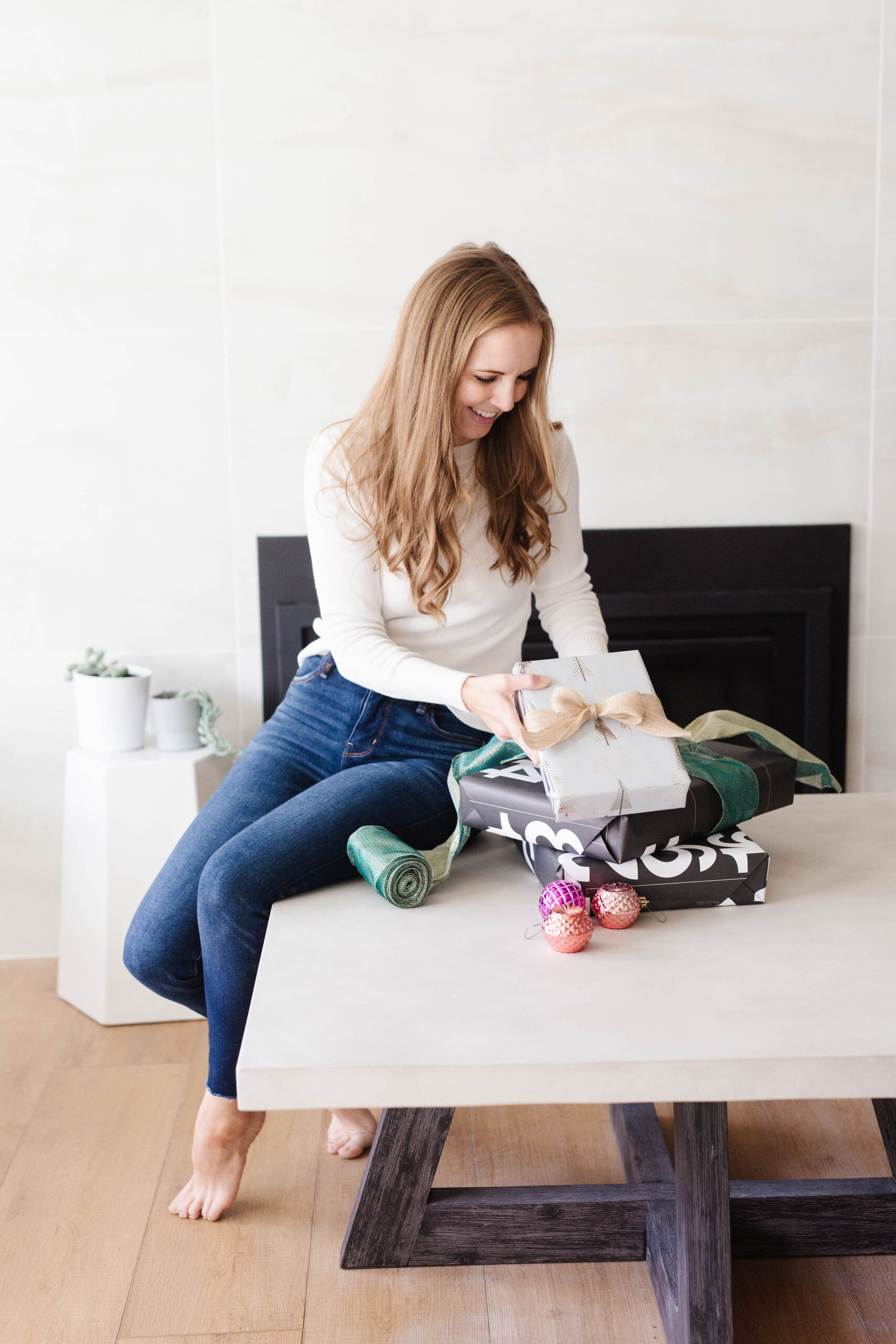 40+ Great Family Gifts
Camping chairs. My sister-in-law has these awesome ones that fold up easily and are super easy to pop up anywhere. For a family involved in sports or
Scribd subscription. I particularly like Scribd as a family gift because you can listen to as many books as you want (rather than just getting one book per month) and they have a great combination of old favorites and new releases. We use our subscription nearly every month. I have a whole post about how Scribd works here.
Audible subscription. You also can't go wrong with an Audible subscription. With the addition of Audible Plus to every membership, they'll never run out of things to listen to!
Cinemood Projector. I ordered this Cinemood projector for Bart for his 40th birthday and I seriously feel like I hit the gift JACKPOT. It can fit in your hand but it has a super powerful projector and great sound quality and you can stream from Netflix or Amazon Prime or Disney Plus or ESPN or YouTube or Cinemood's library of games and stories too. Use the code LOVEJANSSEN for $50 off!
Zoo Pass. If you have a zoo nearby, a pass is a great gift for families with younger children. It makes it simple to get out of the house, get some fresh air, watch the animals, and learn about the natural world!
Laser Tag Set. My big girls are OBSESSED with laser tag and being able to play it at home would be a dream come true.
Croquet Set. My in-laws gave us a set a couple of years ago for Christmas and it's become one of our favorite Sunday traditions after dinner while the weather is nice! Even little ones can play (maybe not well . . . ).
Cover Your Assets. This is one of our favorite family games – everyone including our four year old can plan and you can play with basically as many people as you want! (P.S. Use the code JANSSEN15 for 15% off).
Hammock. Talk about a gift that everyone will love! I'm dreaming of adding one to our backyard next summer.
Museum Tickets. If there is a children's museum or natural history museum nearby, tickets to go is a fun gift that takes up no space and makes for great memories.
Nugget couch. SO many people asked for a discount code for Nugget this year and I wish I had one! Even without a coupon code, it's a TERRIFIC gift.
A Disney+ subscription. This is such a great, useful gift. To make it extra personal, write down a few of your favorite movies or shows in the card to get them started!
A Lily Pad. My family discovered this last year at our family reunion and it was such a hit with everyone from toddlers to grandparents! If the family you're gifting lives near a lake or ocean, this is a total win!
Movie Night Kit. Put in some popcorn, some movie snacks, some sodas and if you really want to go big, add a cozy blanket!
AirFort. We got one of these for Tally for Christmas and it's the perfect gift for a family with young kids!
Kubb. This fun backyard game was my gift to Bart for Father's Day and we've taken it to the park, camping, and, of course, in our backyard all the time.
Jigsaw Puzzle. A 500 or 1000 piece puzzle is perfect for a family to do together. Bonus points for ordering one with a family photo printed on it.
S'mores Kit. I don't know many people who don't like s'mores. Pack in some roasting sticks, marshmallows, a lighter, some fun chocolate bars, and you're good to go. Pro tip: the cinnamon graham crackers from Trader Joe's make a s'more next level.
A Spotify subscription. I was so dubious about a music subscription and then it turns out we use it ALL the time and it's super fun for kitchen dance parties or errands or . . .basically any time. Make a special playlist to get them started!
A family photo session. Talk about a gift they'll treasure forever (except maybe in the moment they're being taken . . . ).
Jacquie Lawson Advent Calendar. If you want something thoughtful but super affordable, this $5 digital advent calendar is PERFECT. It's one of my girls' favorite parts of December.
Snowie shaved ice machine. Who needs to wait for summer for a perfect shaved ice?
Restaurant Gift Card. Whether it's to an old favorite or for a new fun option, this is a gift that will for sure get used.
A Christmas Picture Book. Lots of families love having a collection of their own holiday picture books and a new addition is always welcome! Here are some of my favorites.
Movie theater gift card. I love a movie at home on the couch as much as anyone, but you just can't beat the fun of going to an actual movie theater!
Fondue pot. Our New Year's Eve tradition is fondue – usually with cousins or friends – and it's so simple and fun! Add a bag of chocolate chips (Guittard are my all-time fave) for a little extra touch.
Hot cocoa with mugs. You can't go wrong with a good hot chocolate mix and if you get everyone their own special mug, that's next level (each of us in our family has a personal mug and we LOVE them).
Play tickets. You can't beat live theater and having tickets for a great production is a really fun thing to look forward to.
Dominion. This is another game we love – it's better for about 8 years old and up, and you can play with two people or a much larger group!
Slackline set. Have you seen these? Every time we go to our local park, there are college students using them and my girls are OBSESSED.
Swim passes. If they live near a water park or rec center or indoor pool, this is a fun gift to get out and do something active!
Popcorn machine. This really takes movie night to the next level and makes is SO easy and inexpensive to make homemade popcorn.
At Home Escape Room. A reader suggested this company and it's SO COOL. Perfect for a family that wants to stay in and do something fun and different.
Sports Tickets. Whether it's a professional team or a college team, it's so fun to go cheer on a sports team! (My pick would be basketball, Bart's would be football. My girls don't care as long as we get some concessions).
Pickleball set. We got this for my brother last year and it's so fun to find an outdoor court (or indoor!) and play away. Even my littlest girls love it (they aren't GOOD, but they love it).
Magnatiles. My sister-in-law gave us a set of these years ago and they're still played with ALL the time. They're one of the few toys that I even enjoy playing with.
Gift card to an arcade. My girls would think they'd died and gone to heaven. This is the kind of thing we'd rarely spend money on (by "rarely" I mean "never"), but it'd be so fun as a gift!
Inflatable solar camping lights. I had never heard of these until this summer, and now I'm seeing them EVERYWHERE. Whether you're reading at night, in your backyard, or camping, these are super fun!
Grill. This is the gift that keeps on giving!
Ice cream maker. This is a TERRIFIC family gift because it can be enjoyed by everyone for years to come. Add in a great ice cream cookbook (this one is my favorite) and you're golden! Then invite yourself over when they make ice cream.
Trampoline. I was surprised by how often this was mentioned, but I have to say. . . it's SUCH a fun family gift. We've gotten hours and hours and hours out of use out of ours over the past four years.
Pop Up Shade Tent. We bought one this summer for Ella's soccer games and it's some of the best money we've ever spent!
If you liked this post about family gifts, you might like these posts too:
Photos by Heather Mildenstein