If you follow me on Instagram, you may have noticed that I've gotten VERY into puzzles over the past couple of years.
It's one of my favorite ways to relax in the evenings after the girls go to bed.
I pop in my headphones and listen to my audiobook while working on my latest puzzle and it's such a nice way to unwind before bed (and also I'm CRUISING through audiobooks!).
My girls love to do puzzles too and I really enjoy sitting down together and working on a puzzle for a bit with them in the afternoons or before school.
We do our puzzles almost always at our dining room table (since we eat at the kitchen table) and at least 50% of the time, there is a puzzle going on.
Anyway, here are some of the very best puzzles I've done!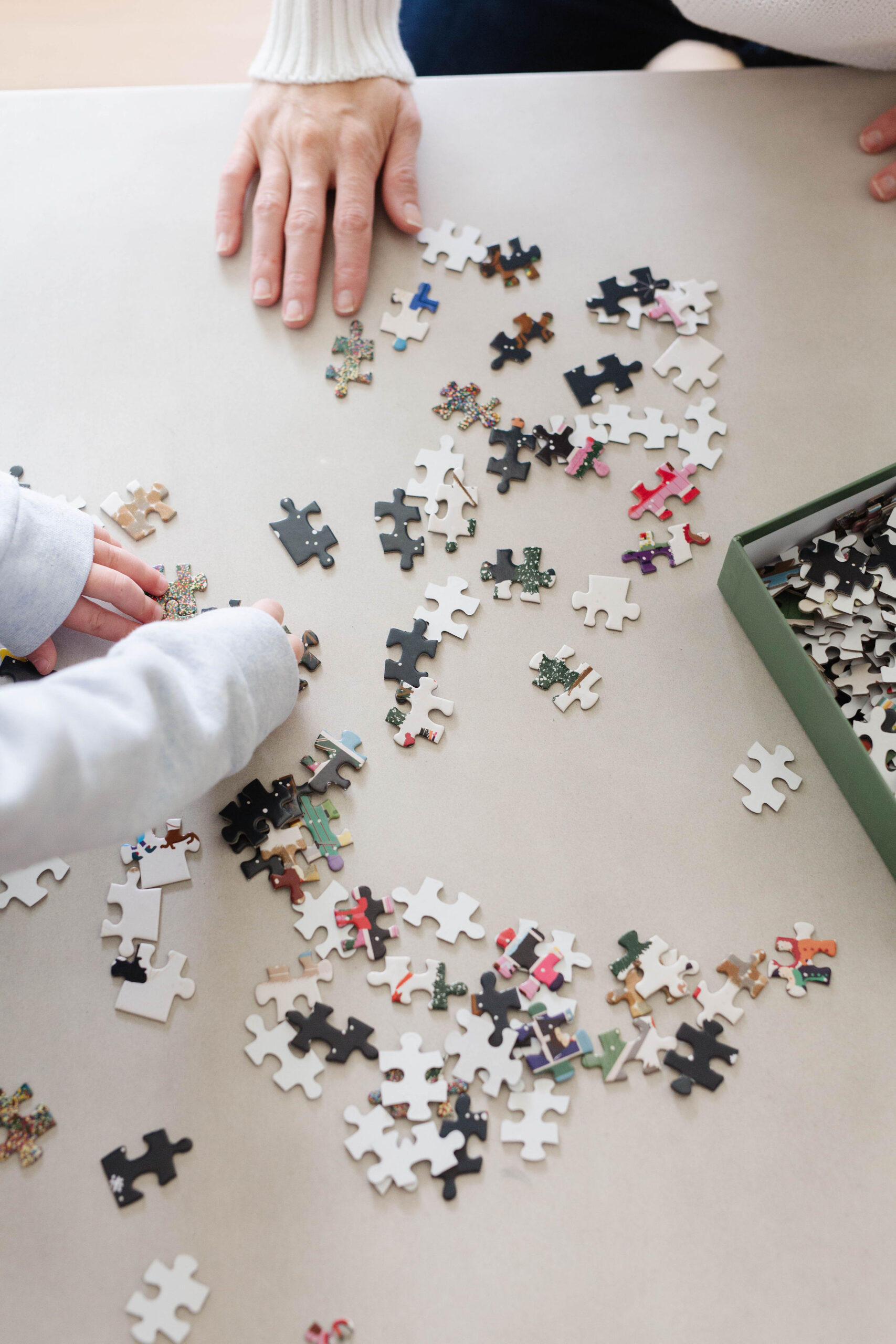 Here are the best puzzles I've done
So. Many. Stickers Puzzle
1000 pieces
If I had to choose an all-time favorite puzzle, it might be this one – I just loved the fun of doing one that was totally different than any other puzzle I'd done with this kaleidoscope pattern of brightly colored stickers rather than a scene, which is my normal pick. Definitely one of the best puzzles in my book!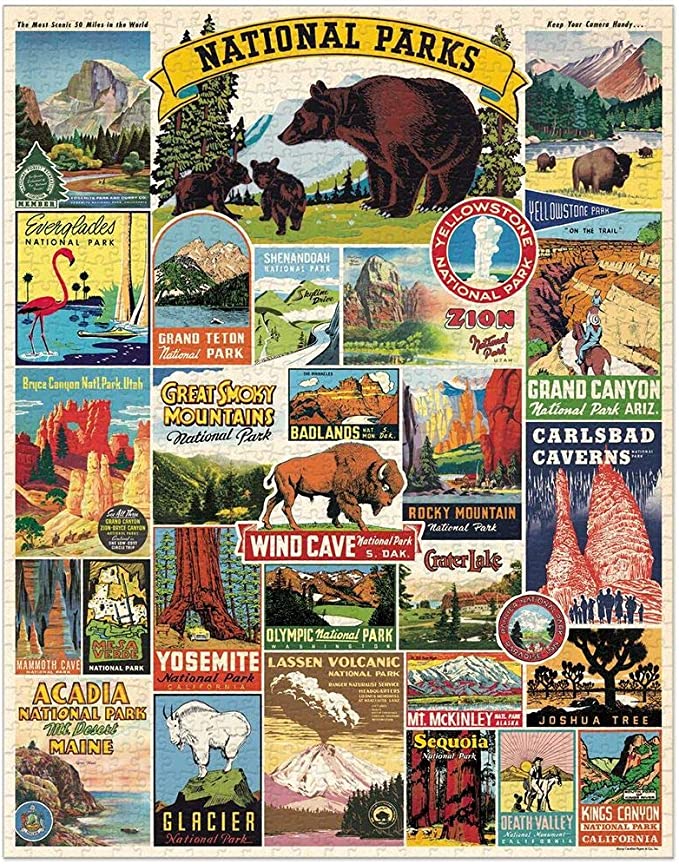 National Parks Vintage Puzzle
1000 pieces
This puzzle with vintage signs from US National Parks was absolutely delightful – it's really fun to be able to do one square at a time and there's something so charming about the vintage lettering and designs of these signs. My sister-in-law just gave it to Bart's dad for his birthday and I was irrationally delighted to see it pop up among his gifts!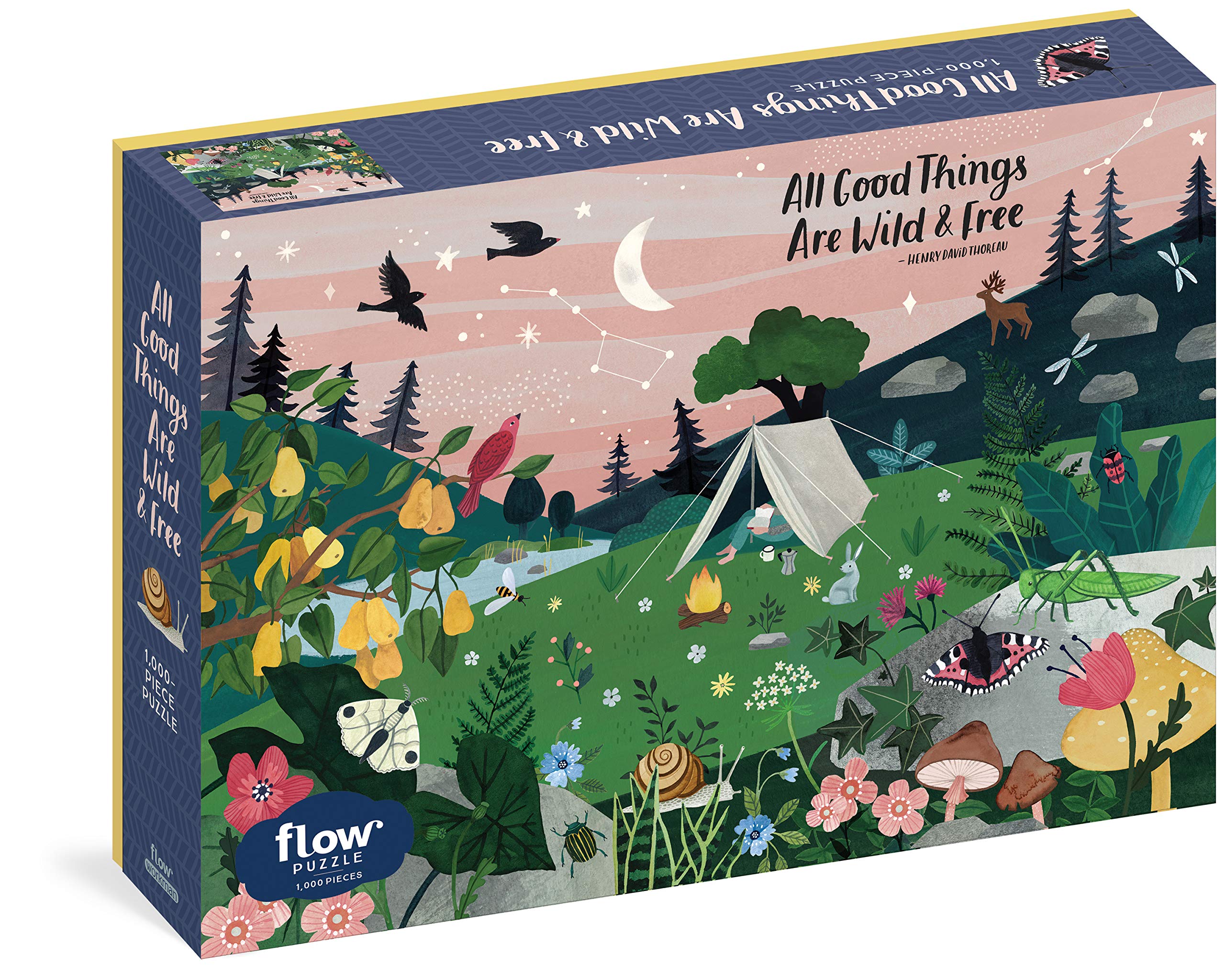 All Good Things Are Wild And Free Puzzle
1000 pieces
Workman Publishing has a whole collection of Flow Puzzles and I'm SO into them. They're mostly 1000 piece puzzles so they take a few days to finish. They're a really high-quality puzzle plus the images are just gorgeous. The minute i finished this one, I ordered two other puzzles from the Flow collection (Free to Just Be and Dare to Dream) and they were equally terrific!
Rainbow Crystals Puzzle
500 pieces
When this one came in the mail, my girls did it three times in a row on their own before I got a chance to do it. And I can't blame them – it's SO beautiful and arranging all the pieces in rainbow shades is wildly gratifying. Galison has a whole slew of puzzles in tons and tons of different kinds of images and styles to choose from and I think they have some of the best puzzles. See them all here!
Ideal Bookshelf
Puzzle
1000 pieces
This is one of the best puzzles out there for obvious reasons. And not just because it is a bookshelf (although that doesn't hurt). I included it on my Book Lover's Gift Guide and had to get my own copy and it's just a DELIGHTFUL puzzle to do. Our whole family worked on this one, including Bart (who is rarely interested in puzzles), which made it extra fun.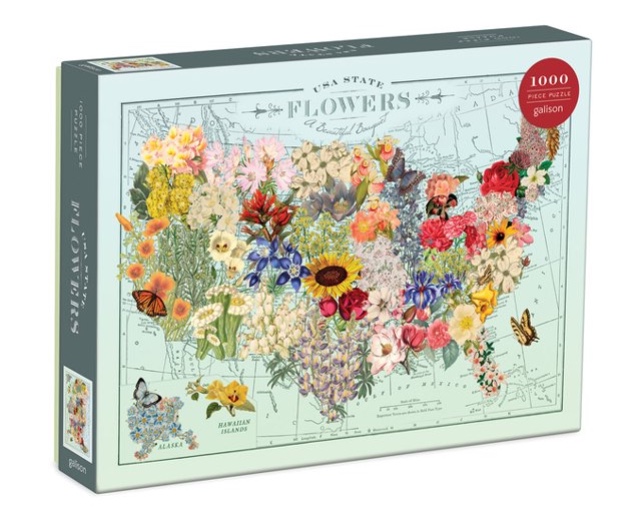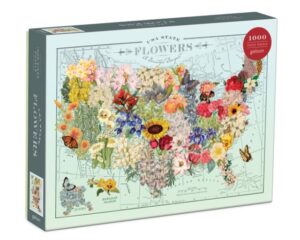 USA State Flowers
1000 pieces
I did this puzzle on my back deck over the summer and it was an absolute delight – I loved the beautiful flowers and the fun of picking out the different types of flowers for each area of the map.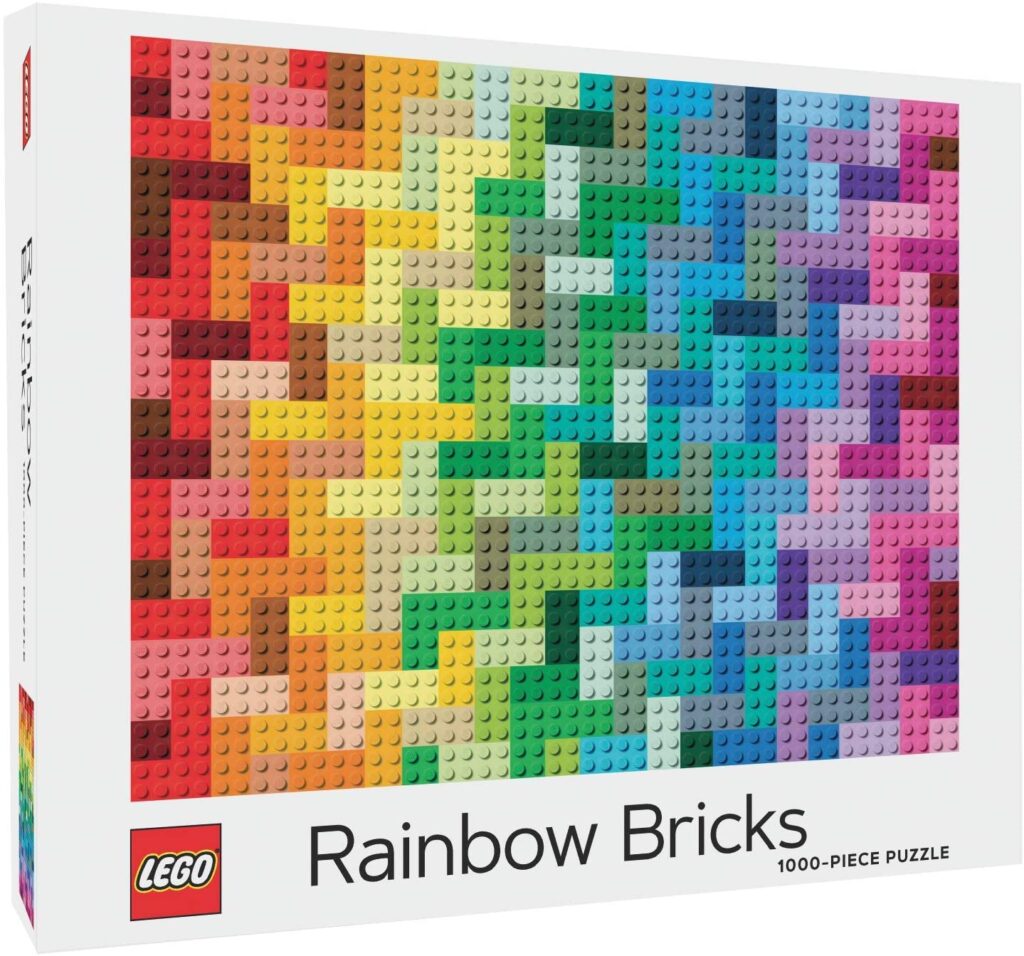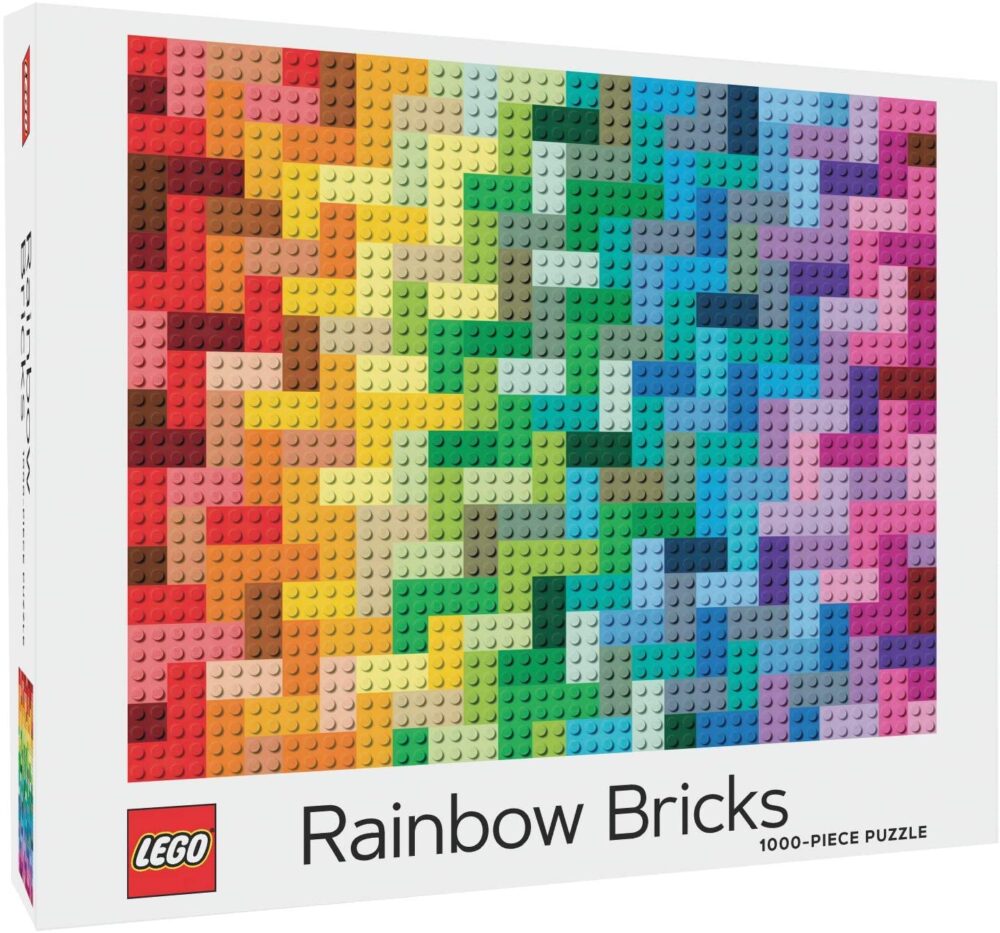 Rainbow Bricks Puzzle 
1000 pieces
This one is just so pretty! My girls did a lot of the work on this one before I joined them and then I just couldn't get enough of finding exactly the right color to fit where it belonged. This is my kind of LEGO building.
Michael Storrings London
1000 pieces
Michael Storrings' puzzles are not for the faint hearted – they are CHALLENGING puzzles (I've given up on a few of his because they veered out of challenging and straight into full-on frustrating). But this London one hit the mark for me and I loved doing it last fall!
Puppy Pals Puzzle
500 pieces
For someone who has no interest in owning a dog, I'm so into this puzzle. We've had it for years (Ravensburger makes EXCEPTIONAL puzzles and we own quite a few of them) and my girls and I have done it at least a dozen times.
Mixtape Puzzle
1000 pieces
This throwback puzzle is so brightly colored and really fun to put together one tape at a time (and yes, you might have to explain to your small children what these things are!).
Autumn Shoreline
 
1000 pieces
This is probably the most challenging puzzle I've ever done – I spent hours and hours working my way through this one, but it was SO FUN and so gorgeous. It's also enormous! This one belongs to my in-laws and I'm tempted to borrow it and do it again!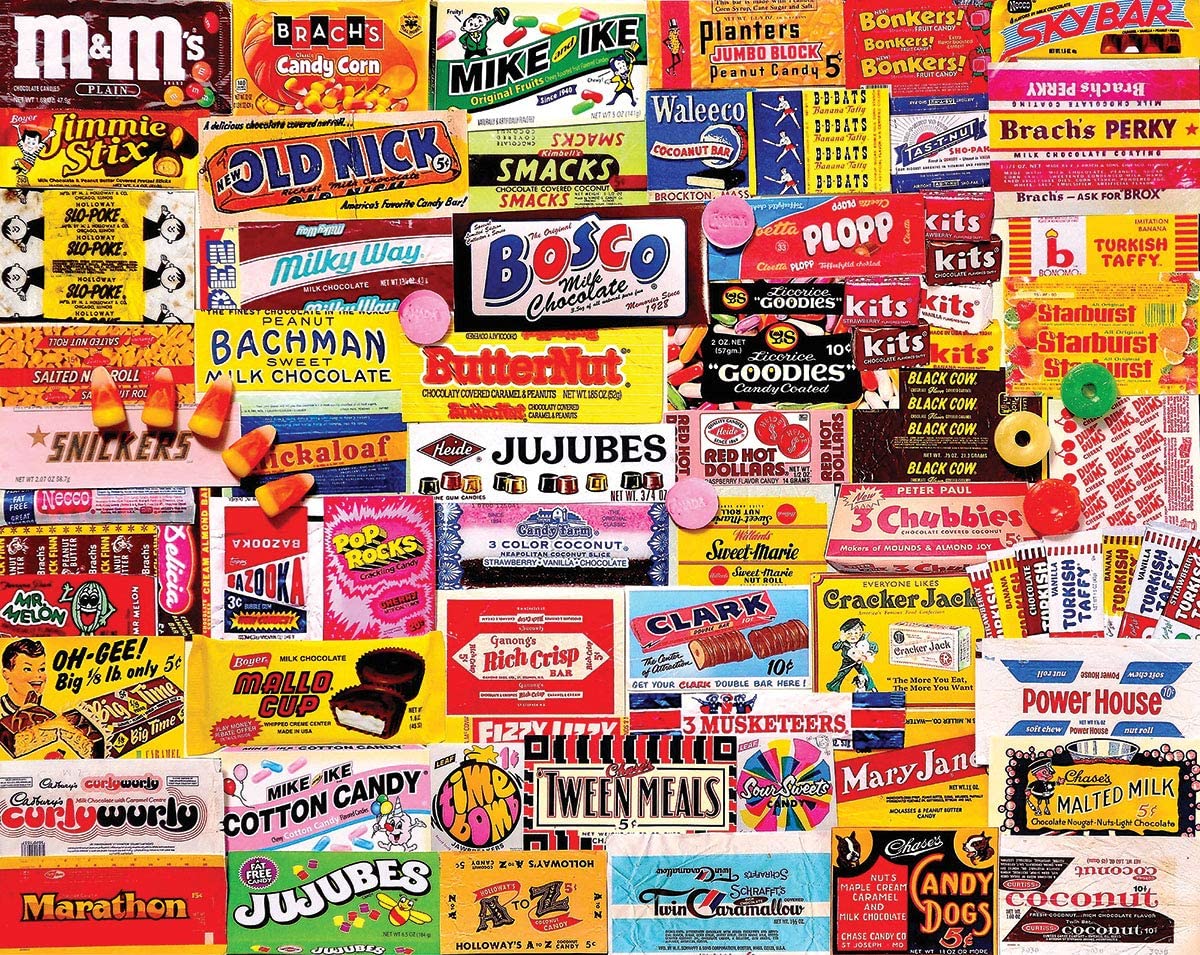 Candy Wrappers Puzzle
1000 pieces
I'd never done a White Mountain puzzle before but when I shared this one on Instagram, I got a FLOOD of messages from people telling me it was their favorite puzzle brand and I can see why – the puzzle itself and the designs are SO GOOD. This one was super fun.
Home Sweet Home Puzzle
1000 pieces
This is another Flow Puzzle and it was a delight to work on this one! These puzzles are somewhat challenging, but have enough going on that it's not terrible hard (this Flow puzzle is by far the hardest Flow puzzle I've done because it has so much teal space).
Chihuly Vintage Radios Puzzle
1000 pieces
One fun thing for me about puzzles is that I never know which puzzle I'll end up loving. A friend lent me this one and I didn't think I'd enjoy it at ALL and then it became one of my all-time favorites! It was so enjoyable trying to find the pieces of each unique vintage radio!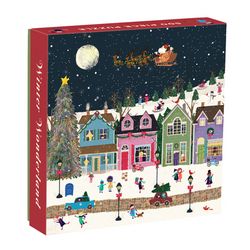 Winter Wonderland Puzzle 
500 pieces
This was the puzzle that got me hooked on Galison's puzzles after a friend from Arizona sent it to me when she was finished with it and now it's one of my favorite simple Christmas traditions to do it during the week between Christmas and New Year's Day.
What are some of your best puzzles? I'd love to hear – I'm always on the hunt for new puzzles!
If you liked this post about the best puzzles, you might like these posts too: