This annual $5 gift guide might be my favorite post of the whole year!
There are plenty of gift guides out there with ideas for under $50, but when you need an inexpensive gift idea – something to give to a few friends or teachers, stocking stuffers, or a little "thinking of you" gift, these are perfect!
In previous years, I've done 20 $5 gifts in previous years, but this year I did 30 – there were so many good ones! 
As usual, there are a FEW that are slightly over $5, but I hope you'll forgive me.
Most of all, I truly hope you'll find these suggestions helpful as you do your holiday shopping without breaking the bank!
30 terrific $5 gifts
1.Diving Gems ($5.84 for 4) Diving rings are fun, but these oversized gems in different colors and shapes are extra fun!
2. Diamond Dazzle Stik ($8.02) I'd never seen this before and then multiple people suggested it! It's a clever little tool with solution that's designed to clean your jewelry, especially diamonds that get dirty in their settings. The reviews on this are INSANE!
3. Knife sharpener ($3.98) We just upgraded our knives this year and it's incredible what a difference a sharp knife makes. No need to switch your current set out, though, when you can get them nice and sharp with this handy tool.
4. Ridiculously Cute Sticker Pad ($4.99) 1000 stickers for under $5 is a big win and my girls would all LOVE to find these in their stockings this year!
5. Kinetic Sand ($5.99 for a 3 pack) This will definitely be making an appearance in my girls' stockings this year. Will I regret it? Possibly.
6. Tinted Burt's Bees Wax ($4.79) This is a fan favorite – it comes in so many great colors and is perfect for those chapped winter lips.
7. Silicone Toothbrush Holders ($11.99 for 6) If you've ever seen something cuter than this? I don't know want to know about it (and also I'm not sure I believe you).
8. Connected Dipping Bowls ($4.19) Perfect for finger foods, dips, or movie snacks, this is such a fun little hostess gift. Fill it with some dried fruit, nuts or chocolate for an extra special touch.
9. Cardboard Town ($3.49) When you need something to keep kids entertained inside during the winter, this is a delightful and inexpensive option!
10. Brown Sugar Bear ($5.48) We all know the annoyance of opening the brown sugar to make cookies and finding it hard as a rock. Brown Sugar Bear to the rescue! (Pro tip: dark brown sugar makes all baked goods better).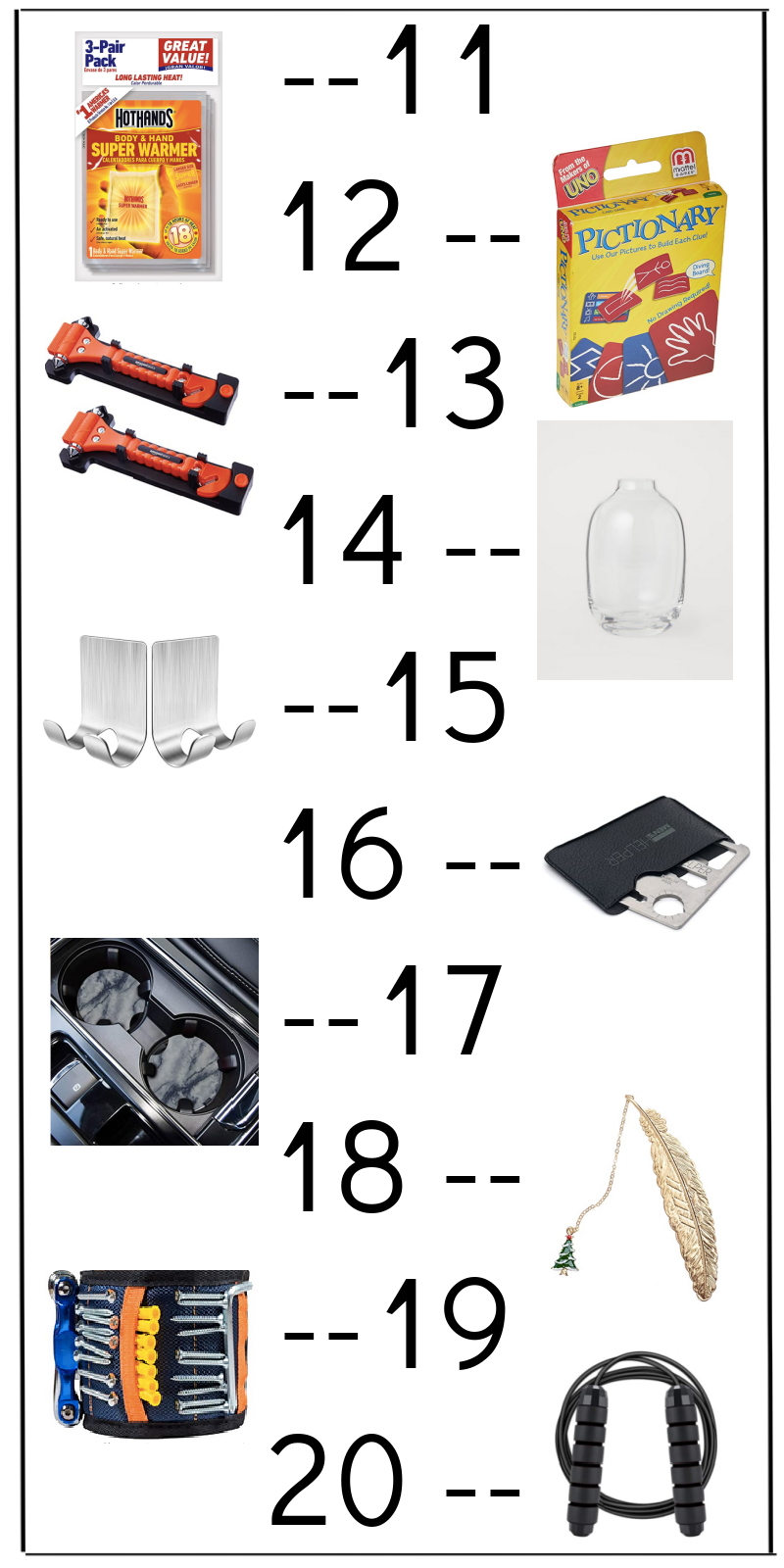 11. Hand warmers ($2.27) If you're headed outdoors in the winter, these make it much more bearable!
12. Pictionary Card Game ($7.99) I love a small game you can pop in your purse or car and take along on a trip or out to dinner. This one is perfect – you'll see it make an appearance on the list of what we're giving the girls for Christmas this year!
13. Seat belt cutter ($9.25 for a two pack) For the person who always wants to be prepared, this is a great, inexpensive gift that you hope they'll never have to use!
14. Mini Vase ($3.19) A friend gave me a mini vase about six years ago and I've loved it ever since. It's so nice to have something to hold a few flowers or display the weeds my little girls love to pick for me. If you give it as a gift, you can add a few buds, but probably skip the weeds!
15. Razor Holder ($4.99 for a two pack) My Billie razor has a razor holder and it's legit one of my favorite things. This makes it easy to keep any razor off the shower ledge or sink counter.
16. 11 Tools in One ($5.99) Small enough to slide into a wallet, this handy little tool is super fun!
17. Car Coasters ($5.99 for a two pack) We all know that junk that gets into the bottom of a car cup holder and then is there for the rest of eternity. Car coasters to the rescue!
18. Metal Feather Bookmark ($5.99) This pretty bookmark is perfect for the bookworm in your life!
19. Magnetic Wristband ($6.99) I'd never seen one of these before but it's so cool! Perfect for the handy person who doesn't want to lose the nails, screws, or drill bits they're using but also needs their hands free!
20. Exercise Jump rope ($4.25) Bart gave me one of these a few years ago and it's such a simple and fun way to get in a quick workout.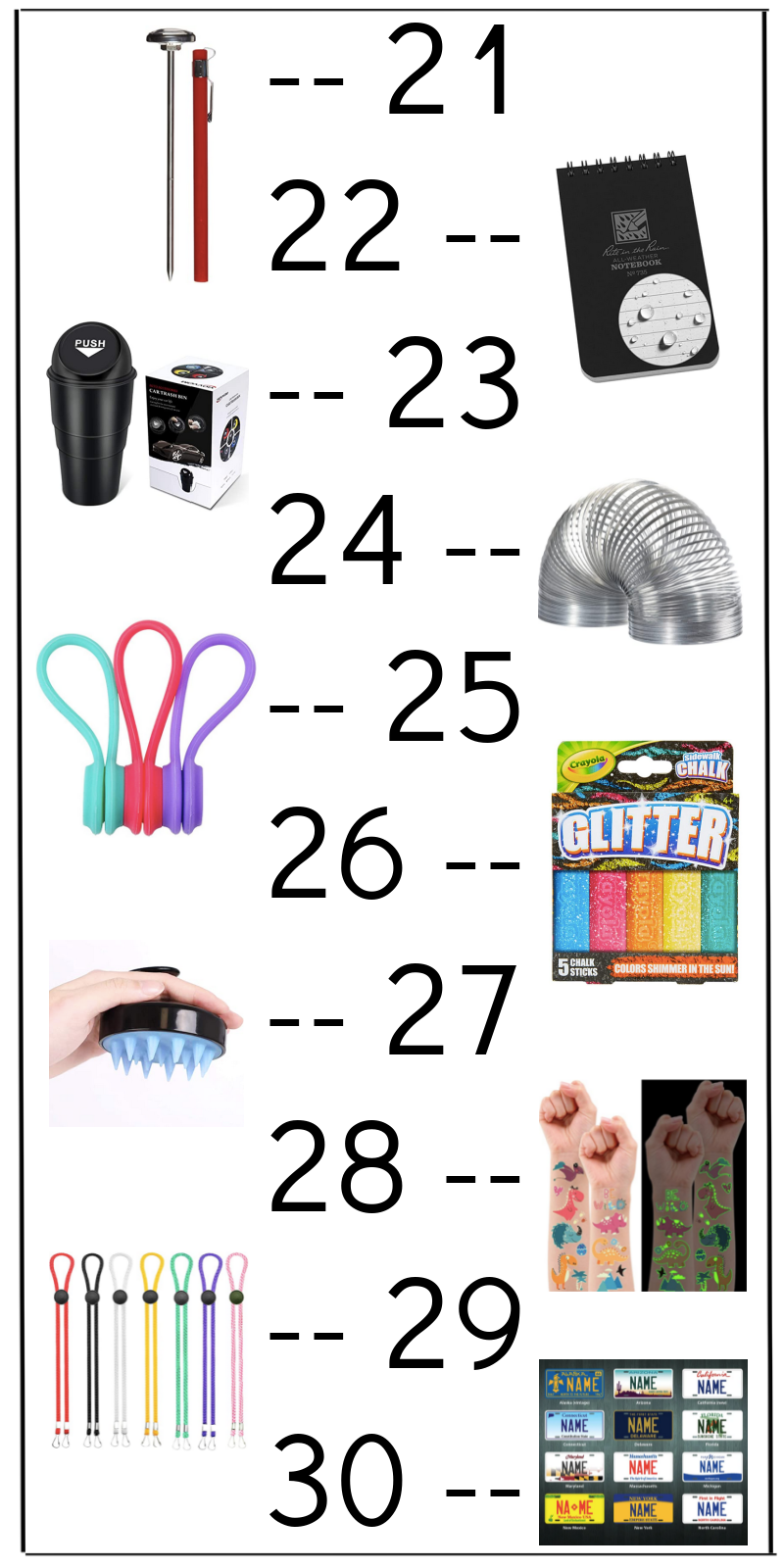 21. Food thermometer ($8.99) I started using my food thermometer in earnest a few years ago and it's life changing to know exactly when to take your meat out of the oven – no more overcooked or undercooked chicken or beef or anything else!
22. Waterproof Notepad ($6.89) For the person who gets their best ideas in the shower (or in a rainstorm!) this is a fun little gift.
23. Car Cup Holder Garbage Can ($7.99) You know the person who keeps their car pristine? This is for them.
24. Original Slinky ($3.59) You just can't beat a Slinky for old-fashioned fun.
25. Magnetic Cable Cord holders ($10.99 for a 6 pack) I do NOT care for cords and this is a simple easy solution for keeping them neatly contained.
26. Glitter Sidewalk Chalk ($5.19) What's better than sidewalk chalk? Sidewalk chalk that glitters in the sun.
27. Scalp Massager ($4.98) Keep this in the shower and use it when you wash your hair to make sure you're really getting everything clean!
28. Glow in the dark dinosaur tattoos ($5.99 for 10 sheets) Most kids love glow in the dark anything and temporary tattoos. When the two come together? YES!
29. Mask Lanyards ($5.99 for a pack of 10). Tired of losing masks? These lanyards make it easy to keep track of them!
30. Custom Mini License Plates ($7.25) These fun personalized license plates are perfect for a bike!
You can also see all the previous $5 gift guides right here if you want even more ideas!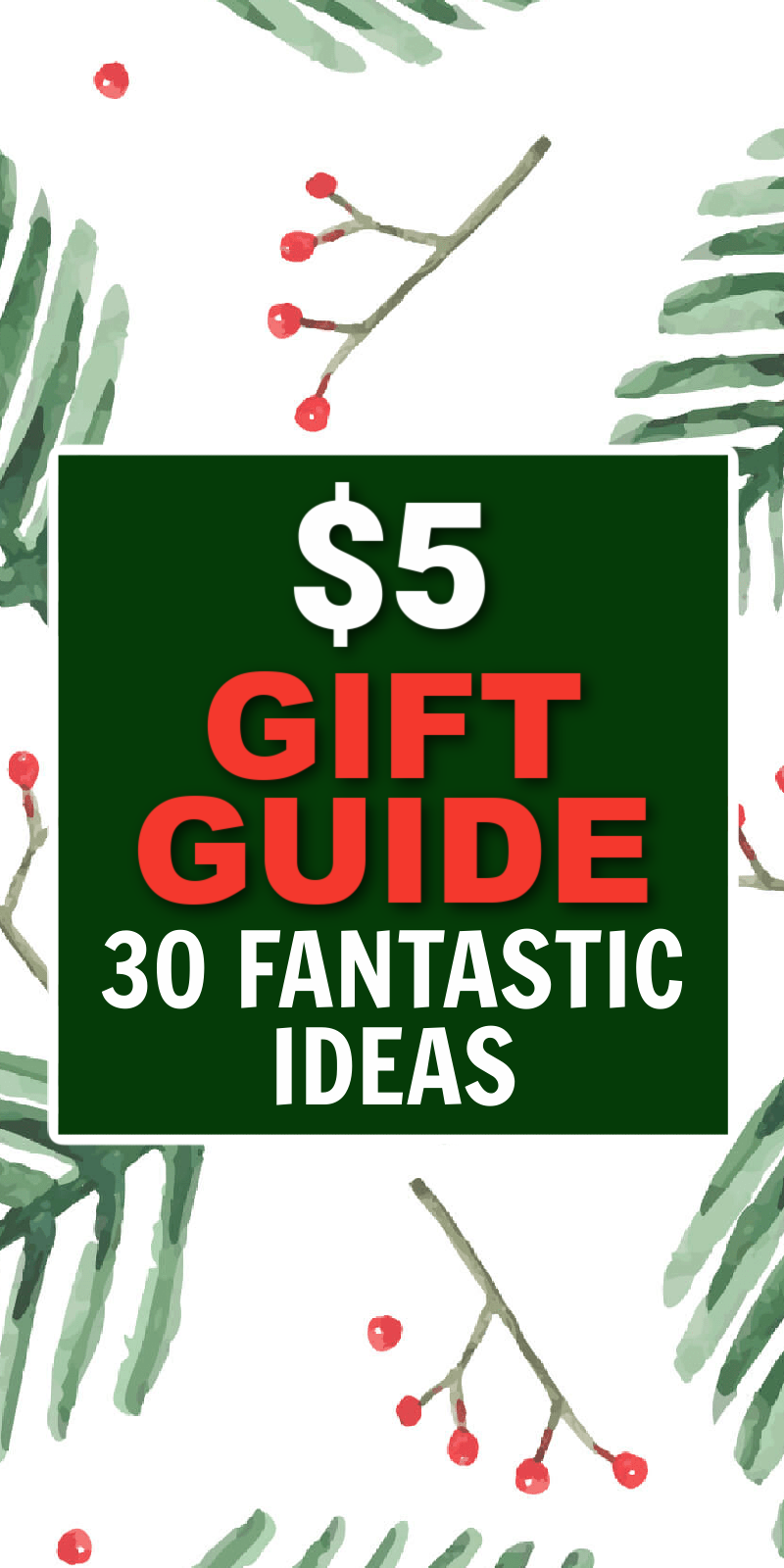 IF YOU LIKED THEse $5 GIFTs, YOU MIGHT LIKE THESE POSTS TOO: