I'm one of those people who REALLY cares about the things I care about.
Great deals are for sure one of those things I REALLY care about and doing this $5 gift guide every year for the last eleven years never fails to delight me.
Whether you need small inexpensive Christmas gifts to give to your co-workers or you're attending a favorite things party or you want some great stocking stuffer ideas, this $5 gift guide is for you!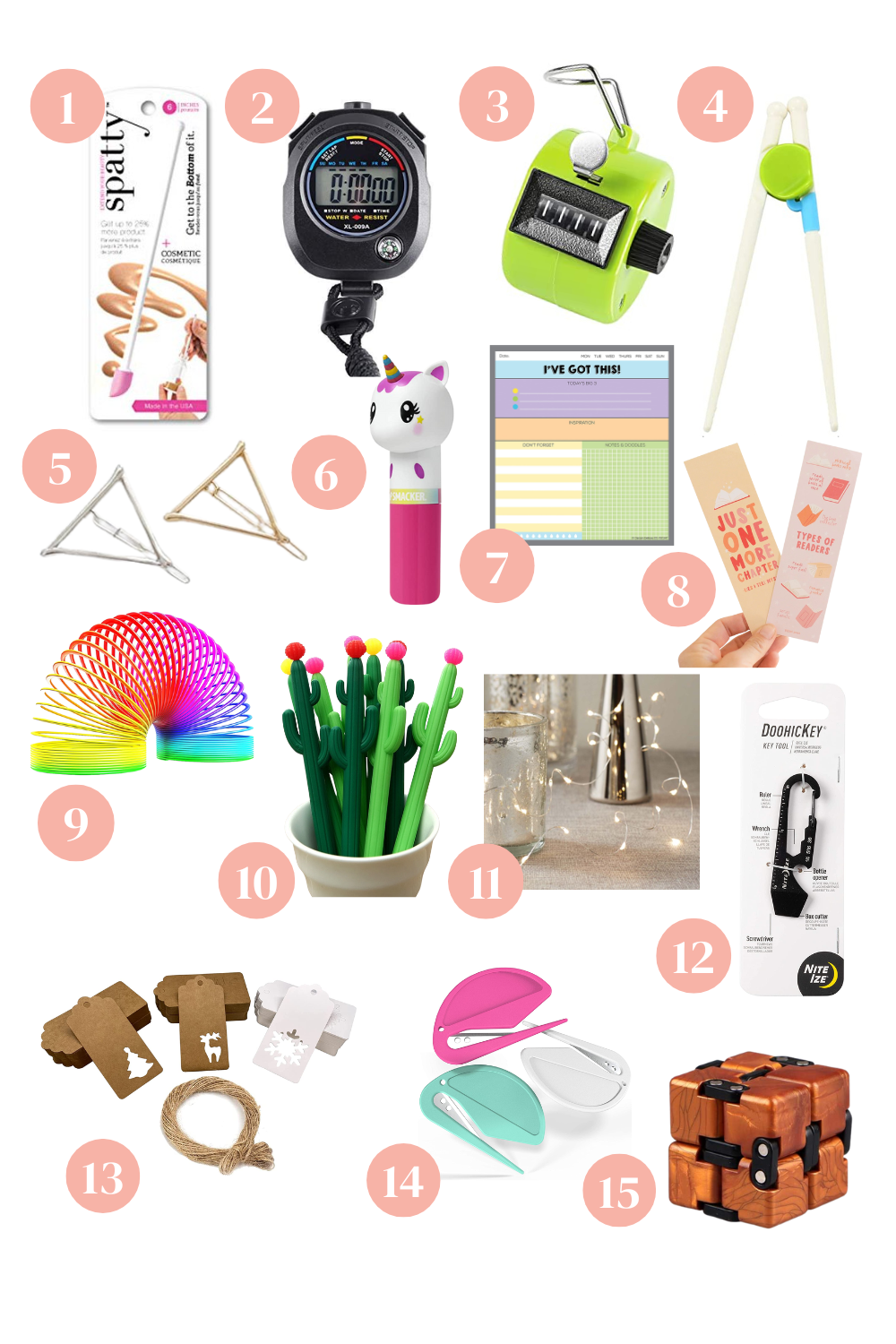 30 inexpensive christmas gifts for under $5
1. The Spatty Last Drop Beauty Spatula ($4.97)
I have seen these beauty spatulas a lot on social media lately. But what a genius idea to get out those last beloved drops of your favorite beauty product! You know I'll be trying to find a way to use this on my favorite facial sunscreen.
2.
Digital Stopwatch Timer ($19.95 for 5)
This would be the perfect gift for the kids who LOVE doing timed obstacle courses, races, and room cleaning. Especially if you don't always want them using your phone as a timer.
3. Hand Counters ($15.99 pack of 6)
These might seem silly, but using these on a boring car ride, in the grocery store, or doctor's office to have kids count literally anything, will keep them pretty entertained. These electronic hand counters also fall under $5 too.

4. Trainer Chopsticks ($4.69 for 2)
Bart lived in Korea for two years and is very handy with a pair of chopsticks. I am decidedly not. These trainer chopsticks are probably just what I need. (They'd be fun for my girls too, who love chopsticks, thanks to attending a Chinese immersion school, but aren't particularly good with them yet). 

5. Triangle Hair Clip ($4.97 for 2)
A hair accessory is just the perfect way to make any outfit feel a little more special and how fun are these triangle ones! No need for three bobby pins perfectly placed. Perfect gift for a teen too!

6. Lip Smacker Lippy Pal ($3.99)
To me, it's not a stocking without some chapstick in it, and these holiday flavors are extra fun! My girls will go CRAZY over these. There are a bunch of different options for designs (the llama is particularly fun!) and I'm getting four different ones for my girls' stockings this year. 

7. "I've Got This" Notepad ($3.49)
You know how you're supposed to pick your biggest priorities of the day and then the things on your to-do list after that, and then the ones that are non-essential but nice? This notepad makes it super easy to make that happen. New Years' productivity, here you come!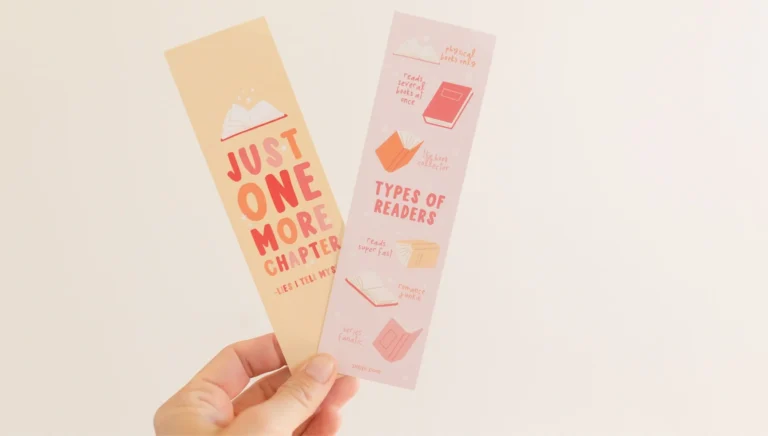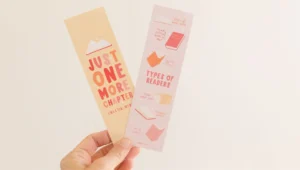 8.` Pippi Post Bookmarks ($3.00 for 2)
I mean, how could I not include this? I shared about Pippi Post on Instagram, so you may have already seen her stuff, but these bookmarks are equally as cute as her collection of shirts for women and kids. Use the code READ15 for 15% off anything on her site (you'll remember her as the designer of the Halloween Countdown Calendar in 2021).

9. Rainbow Slinky ($4.98)
This is just a classic, isn't it? Perfect for a kid stocking or a grown-up who still feels a little like a kid. And if you want other classics, Silly putty is always a good choice and fits nicely into the 5 dollar gifts category too.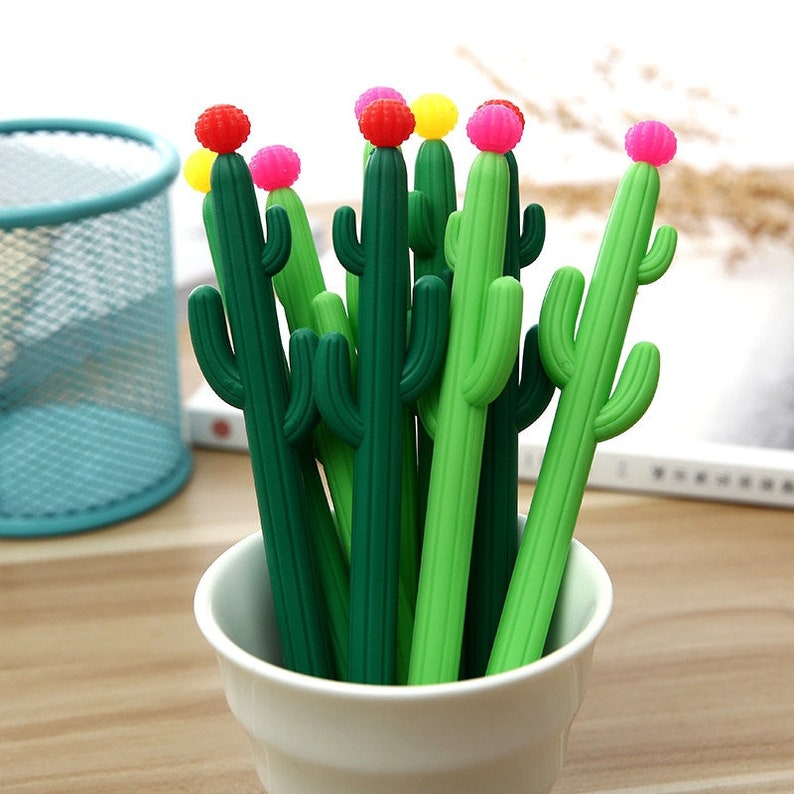 10. Cactus Gel Pen ($3.50)
Oh, my girls would LOVE these so much! I am pretty sure anyone would smile at you just for watching you write something with this pen.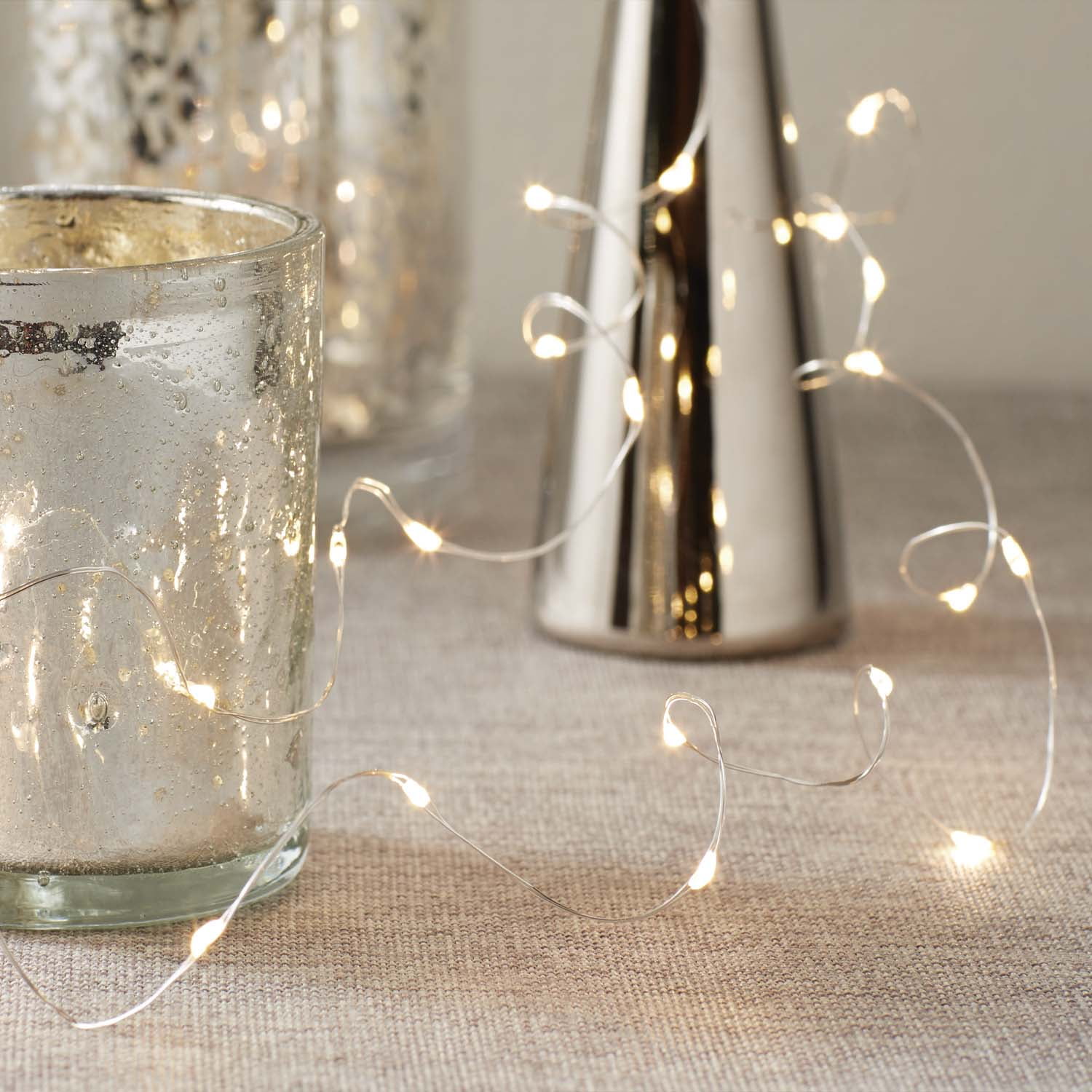 11. Fairy String Lights ($4.97)
Lights are so festive and fun for the holidays, and these fairy lights would add a little wonder to any space.
12.
Multi Tool Keychain ($3.99)
This clever tool includes a bottle opener, box cutter, 3 wrench sizes, metric + standard ruler, and a flathead screwdriver. This is a total win for anyone outdoorsy, handy or who hates to not have the right tools on hand.

13. Christmas Tags ($5.96 for a 150 count)
If you're going to a before-Christmas gift exchange, I think this would be a HOT item. Everyone needs gift tags for the holidays. Plus, throw in a roll or two of wrapping paper and your recipient will be set for future wrapping!
14. Letter Openers ($5.95 for 3)
Just like my go-to box cutter gift, these letter openers seems totally dumb but I promise, once you have one, you'll never go back. They're so handy and the perfect little inexpensive gift when you don't want something flashy or over the top. No more paper cuts on your dry winter hands!
15. Infinity Cube ($4.38)
There are so many fidget type toys out there now, but I have never seen one like this. It looks like a fun way to keep those hands busy and perfect for adults or kids.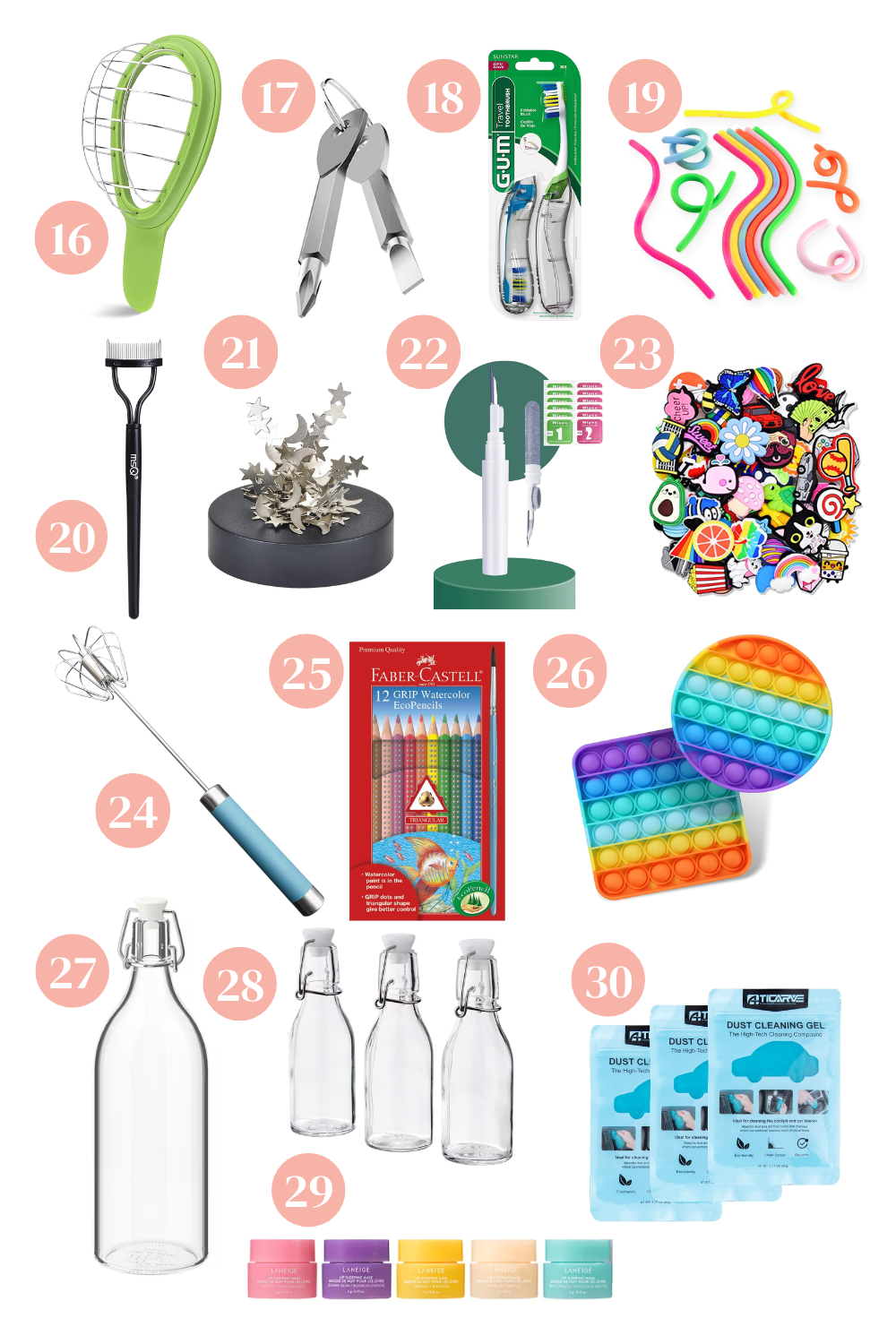 16.
Avocado Slicer ($4.25)
If there is something I can use to make a task easier, I am all about it. Making guacamole would go so much quicker with this little kitchen gadget. Avocado lovers and cooks would love this gift!
17. Mini Screwdriver Keychain ($5.99)
You never know when you might need to tighten something, and it's always a pain to have to go to the other side of the house to find a screwdriver. Perfect for the handyman, or really just anyone to keep this essential tool close.
18. Folding Travel Toothbrush ($2.69 for 2)
I know . . . how exciting can a toothbrush be? These travel toothbrushes fold up nice and compact and the bristles keep nice and clean in your toiletry bag. You can never go wrong with a toothbrush, especially with the prospect of traveling. 

19. Jelly String Noodles ($6.99 for a 12 pack)
At first glance these reminded me of those sticky hands on a string that you would fling onto the walls and ceilings. These are much different, they have more resistance so you can bend and pull them without it breaking. Plus, they are smooth and not sticky. Another great way to keep hands busy. 

20. Eyelash Comb ($4.99)
This is the perfect tool to separate lashes and make sure extra mascara clumps are gone. Pair this with a mascara and you have the perfect little gift.
21. Magnetic Star & Moon Sculpture ($5.10)
This unique gift includes 93 little stars and moons and a magnetic base to build your own stunning sculpture. Knock it down and do it again for endless fun! Perfect for keeping on a desk.
22. Earbud Cleaning Pen ($4.99)
I love my Raycon earbuds and you better believe it is high time for them to have a cleaning. I might just put this in my own stocking this year. This little cleaning pen also works on phones, keyboards, videogames, and Kindles! 

23. Croc Charms ($8.99 for 30)
If you didn't know, Crocs are back and trendy (nothing is making me feel older). And today you will see them covered in these fun little charms. This 30-pack would be perfect for Croc lovers big and small.
24. Hand Push Egg Whisk ($5.04)
Whisks are always suggested this for this $5 gift guide, but this is no ordinary whisk! Push down on the handle and this whisk stirs effortlessly. Tie it onto a stack of dishcloths or add a bottle of vinegar or olive oil for an extra fun gift.

25. Best watercolor pencils ($7.99 for a 12 count)
If you have been following me for a while you know that my girls did this watercolor class and it's SO good. These watercolor pencils are the best around and my girls use them all the time. The pencil is the paint – just color, brush over with water, and instant watercolor results. Any creative friends or family would love these!
26. Pop It Toy ($6.99 for 2)
For some reason it is so oddly satisfying to sit and pop every single circle on these pop toys! Now is the time to sneak one in a stocking to keep your child entertained for hours. There are tons of different colors and shapes that fall in the under $5 category.
27. Bottle with Stopper ($3.99)
There is just something so fun about serving water or your favorite beverage in the middle of a table in a little flip top bottle. This bottle is perfect for storing homemade juices and infused water.
28. Mini Bottles with Stoppers ($5.99 for 3)
How cute are these mini bottles? These 5 oz. bottles would be so fun to gift with different kinds of oil and vinegar, homemade vanilla, hot sauce, the possibilities are really endless.
29. LANEIGE Mini Lip Mask ($19.00 for 5)
This lip mask is a HOT favorite for many beauty bloggers. Put this thick balm on at night and wake up with smooth supple lips. As you know, the packaging is not the boss of me, so I'd divide these among stockings.

30.
Dust Cleaning Putty ($8.99 for 3 pack)
This cleaning putty gets into all the nooks and crannies to pick up microscopic hairs and crumbs that you can never seem to get. I think my girls would jump at the idea of helping me clean the car if they got to use this!
If you want more inexpensive Christmas gift ideas, check out all of the past $5 Gift Guides here! I've been putting one together for over 10 years now, so there are hundreds of $5 gift ideas (although inflation does mean that SOME items are no longer $5 or less)!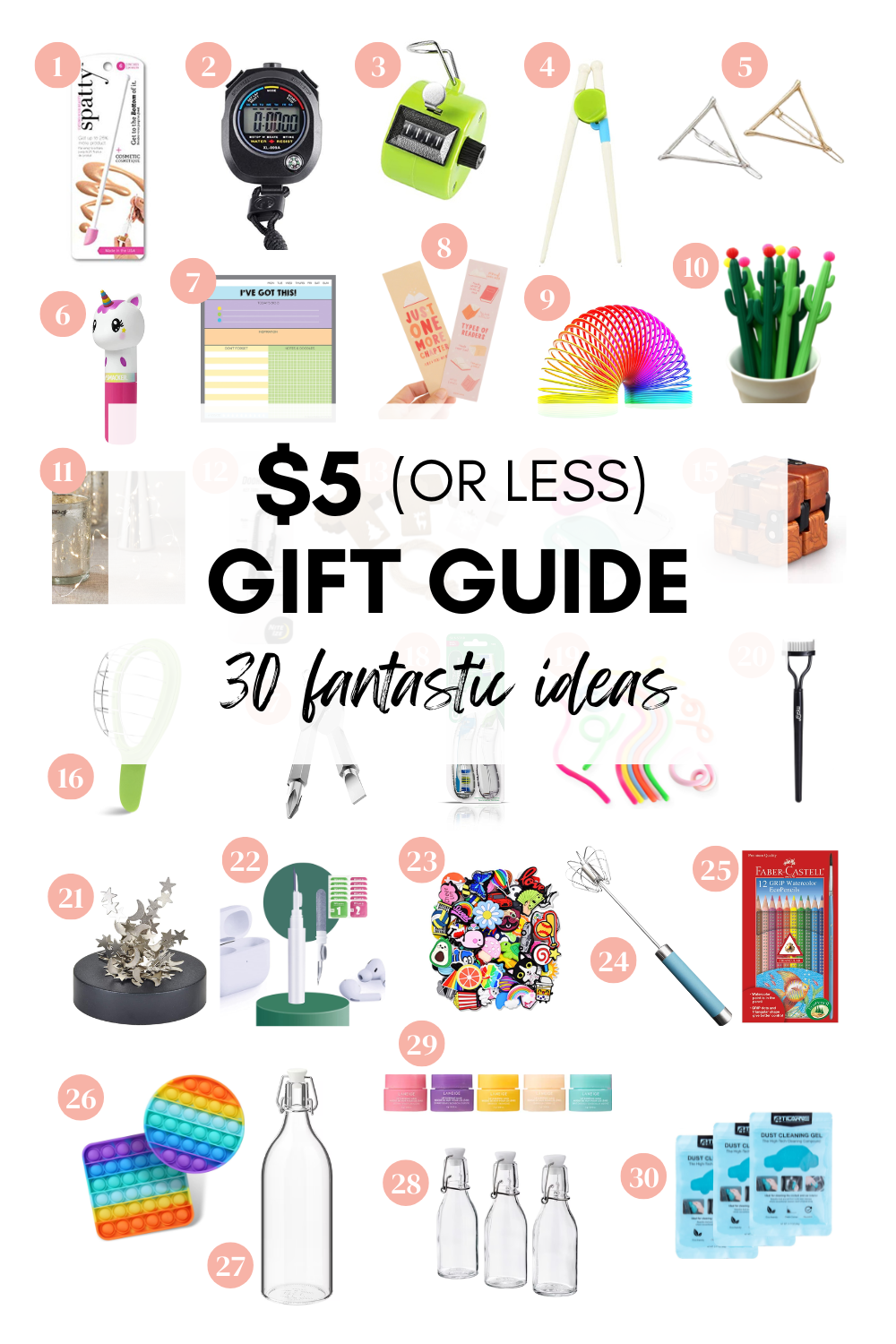 if you liked this post about inexpensive christmas gifts, you might also like these other posts: