One of the best parts of Christmas this year is that Bart is out of school for a month.
After his last final, two weeks ago, we celebrated by taking a family trip to CVS to buy diapers (we like to live on the wild side). When Ella was born, Bart told me that one of the most important things to him was that we never, ever run out of diapers.
And in three and a half year of parenting, we never have. We have been. . .very close, but never actually run out. (The other important thing to him is to have about four million burp cloths).
Actually, this outing was a highlight of the week for Ella because they had a "fun cart" and, since we weren't really in a hurry and I had someone else to push the cart, I let her ride in it.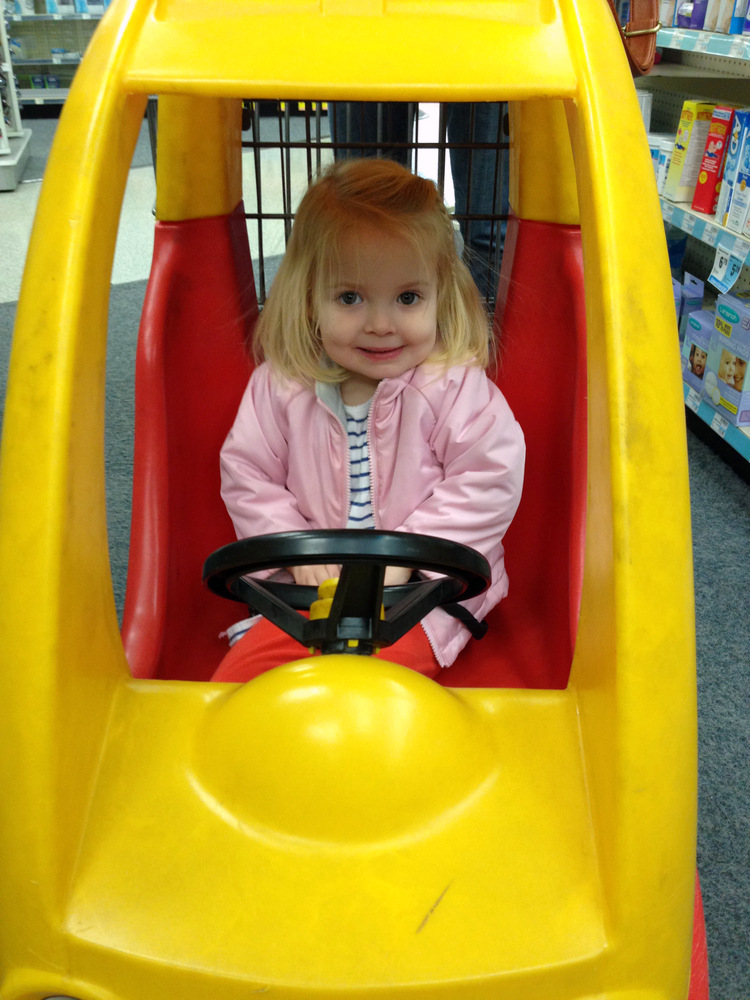 (You thought I meant BART was going to push the cart. . . ).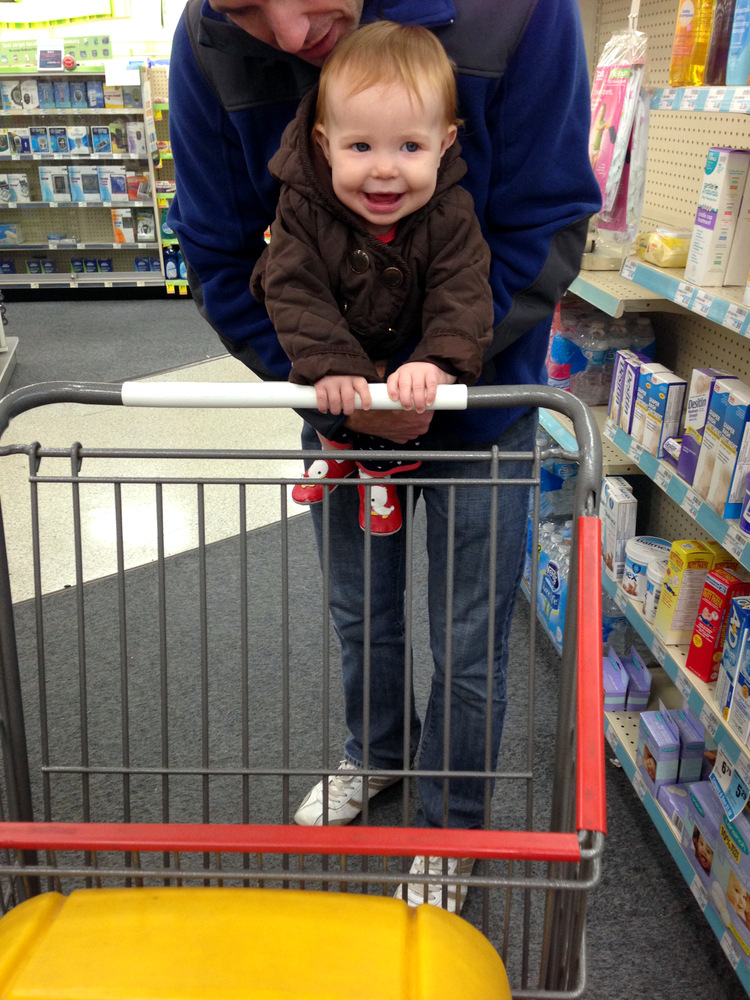 I love CVS for three reasons.
First, for the last eight years, in the five different places we've lived, it's been the closest drugstore to our house (the one here is seriously just around the corner from us). In Texas, it was the only place that was really close enough for me to walk to from our apartment, and Ella and I went a lot when we only had one car and I just HAD TO GET OUT OF THE HOUSE. That CVS was my best friend. (Also, I got very good at stuffing diapers and wipes into the stroller basket).
Second, I bought a ton of really inexpensive diapers in the six months before Ella was born, stocking up whenever there was a good deal. And then, we decided to move back to Texas and not rent a moving van, so suddenly 25 packs of diapers seemed less like an awesome deal and more like a giant use of space in a small sedan. I called CVS and they told me they'd be happy to let me bring them all in, give me a gift card for them, and then I could re-buy them when I got to Texas. And they did. That made my life super super easy.
Third, they have the only rewards program I actually understand at all.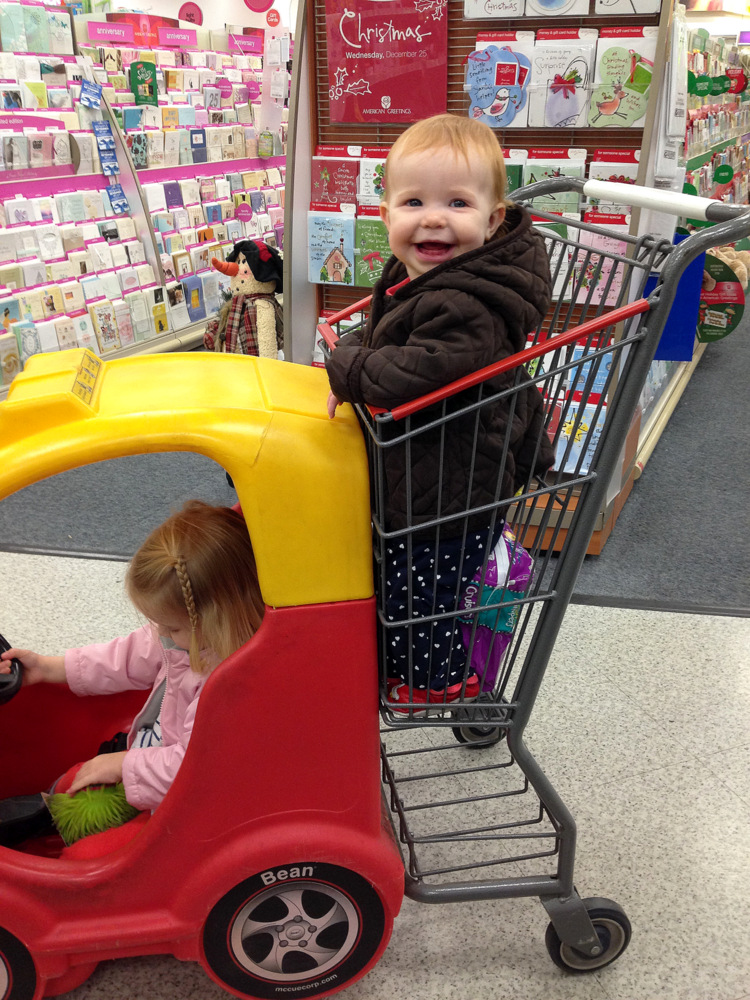 It turned out to be a fun little family outing (I feel like ANY time I get to shop with Bart instead of wrangling my children alone, it's a win).
This Christmas was such a delightful one, in large part, because I tried to keep it very low-key and enjoy the small moments as a family, rather than attempting to orchestrate big and elaborate events. Janssen of Christmas 2014, take note. Don't get that advent calendar back out.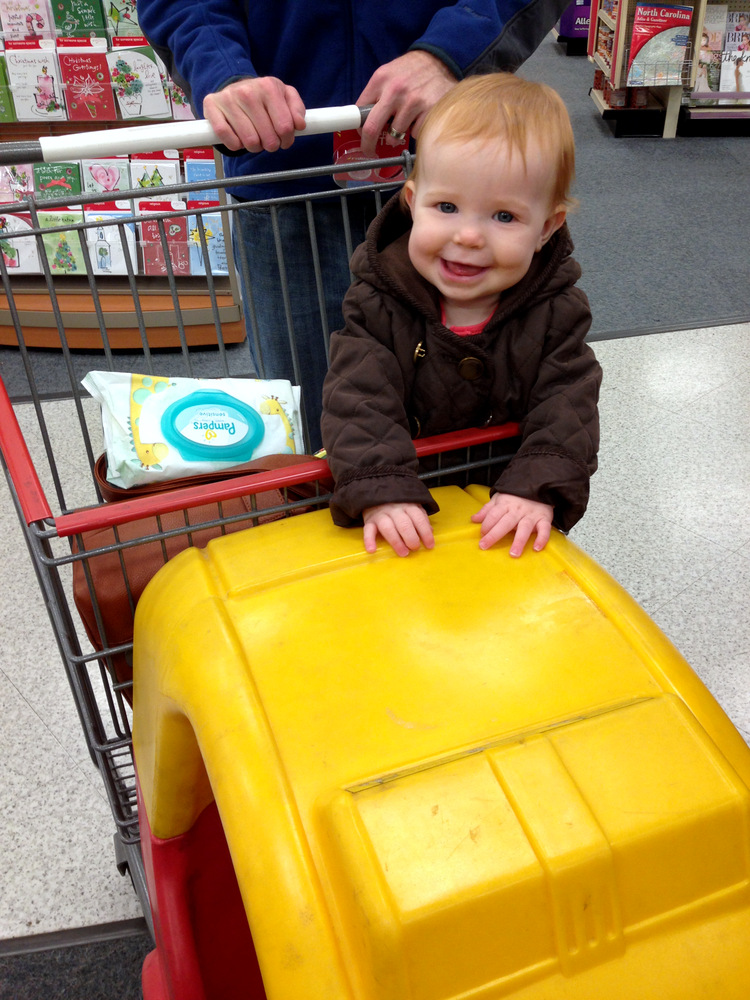 I also have an extra set of vouchers for free Pampers Diapers and Wipes; if you'd like them, leave a comment and I'll pick a winner at random on Wednesday morning and mail them off.
(Make sure that you either leave your email address or that your profile has a way for me to get ahold of you if you win).


I was selected for this opportunity as a member of Clever Girls Collective and the content and opinions expressed here are all my own.