This is a sponsored post in collaboration with Collective Bias®. I wrote this post, made the fondue, ate all the bananas (and most of the doughnuts) and washed off Ani's deliriously-happy chocolate face afterward. Consider yourself disclosed and also invited over for fondue as long as you promise to bring more bananas and doughnuts. 
Now that we're in the "stay-home-and-save-$1500-on-plane-tickets-for-Christmas" mode (last year was our first year to stay home), we're starting to develop our own traditions. Which mainly means stealing them from our parents, but, whatever. Our children don't know the difference.
HOWEVER! A Christmas Eve fondue party is our total own tradition, now on its whopping second year. We've got something good going (if you're looking for a fun and easy New Year's Eve holiday dessert, I highly recommend fondue, plus it's pretty much the best way to use up all the leftover cookies and goodies from neighbors and odds and ends in the produce drawer).
Last year was sort of an accident – we'd planned on doing fondue as a family, but then at the last minute, invited our downstairs neighbors up, and hey, instant party.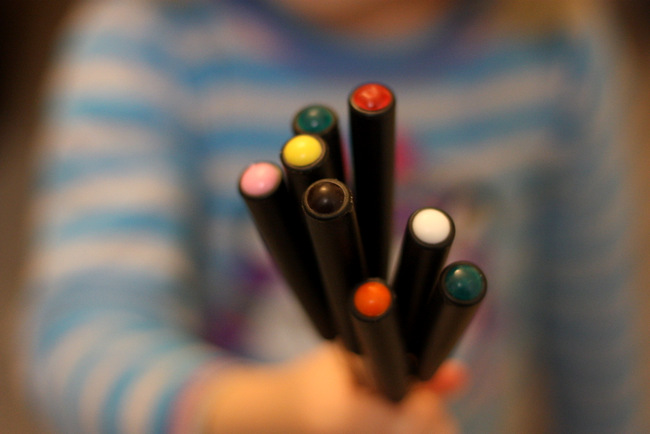 Also, I think fondue always feels like a party, because no one wanders off (what, are you going to eat some plain doughnuts holes on the couch over there? I think not), and there's something pretty delightful about everyone standing around, eating chocolate dipped food.
Actually, I find there to be something pretty delightful about standing around by MYSELF eating chocolate-dipped food. I don't even need a party. (Obviously, neither does Ani, who had never experienced fondue before, but quickly figured out the ropes).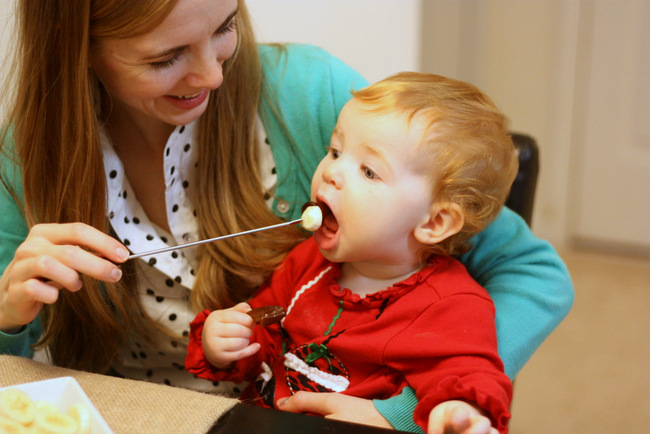 Nevertheless, in the spirit of peace-on-earth-goodwill-toward-men, we invited two families with small children over. Afterward, they basically all looked like this.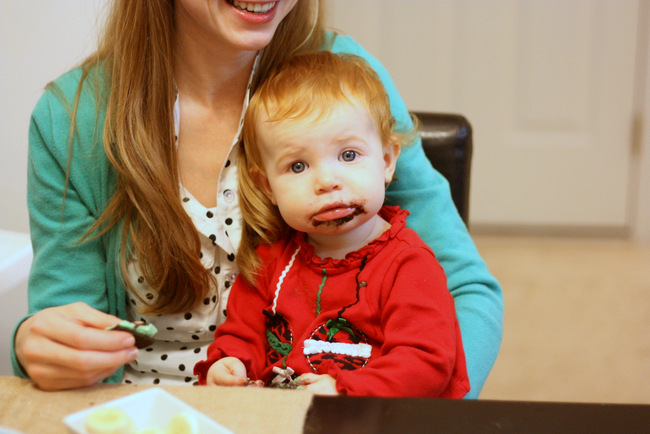 I also really like that fondue requires almost no pre-party prep – I don't have time for holiday desserts that require many steps and planning ahead. In fact, Ella and I ran to Walmart the morning of Christmas Eve, picked up all the stuff and were back home in about 15 minutes (I was a bit terrified about braving a store on Christmas Eve, especially when we were on a tight timeline so as not to miss our movie, but it turned out to be totally painless).
A couple of years ago, Ralphie hosted a little fondue party and our friend Melissa told us that the secret to chocolate Christmas fondue is melting some marshmallows into the chocolate. It makes it stick better to your food (in the past, my chocolate was always sliding off whatever I dipped into it, especially semi-slippery foods like bananas and strawberries).
Two things to note:
First, I'm always tempted to make a giant batch of fondue and then I wonder why we have 2 cups of it leftover after everyone has gone home full to their eyeballs. I thought we'd have no where near enough because the pot didn't look very full, but we still ended up with a bit left after everyone had eaten their fill. Also, the more full the pot is, the more things end up falling off the forks when you try to dip them in.


Second, you don't really need a fondue pot. We couldn't find our extension cord and so we just mixed it up at the counter, then unplugged it and brought it over to the table and it was fine (after about 30 minutes, I plugged it back in and let it reheat for about 60 seconds). If you only have a regular pot, it'll work fine.


chocolate christmas fondue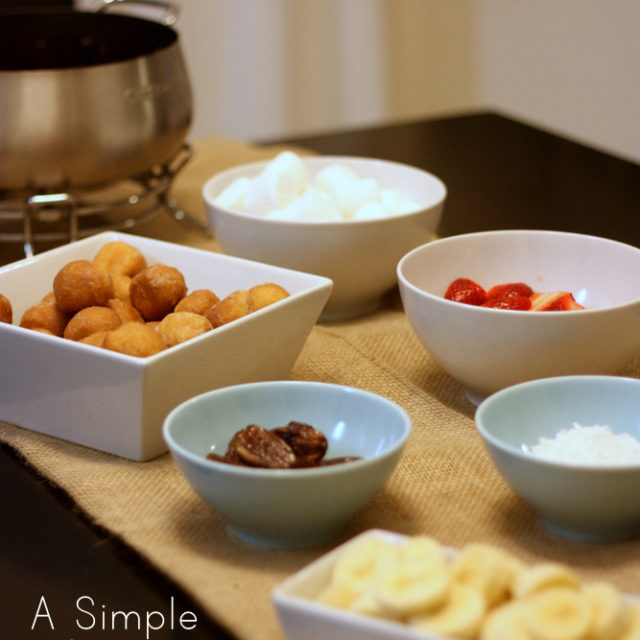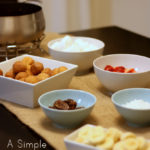 Chocolate Fondue
The easiest chocolate fondue, perfect for a Christmas party!
Ingredients
1

Tablespoon

butter

8

large Jet-Puffed marshmallows

8

ounces

Baker's semi-sweet chocolate

2-4

Tablespoons

half-and-half or whipping cream

optional 2 Tablespoons Planter's creamy peanut butter
Instructions
Melt the butter and marshmallows over medium heat in your fondue pot.

Add the chocolate (if you're using a bar, break it up into small-ish pieces to make it melt more quickly and evenly).

Stir in the half-and-half or whipping cream until it's the consistency you want. If you'd like, add the peanut butter and mix to combine.
Recipe Notes
Things to dip in your fondue: Banana slices (my favorite) Donut holes (my. . .other favorite) Strawberries Dates Cookies Pretzels Dried cranberries Raspberries Marshmallows Coconut (dip another item in chocolate, then roll it in the coconut)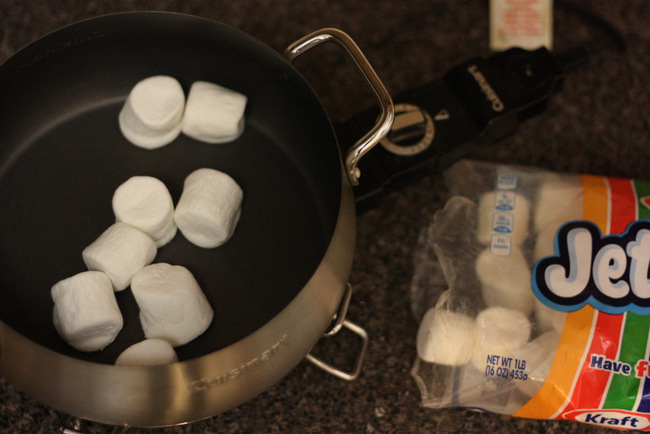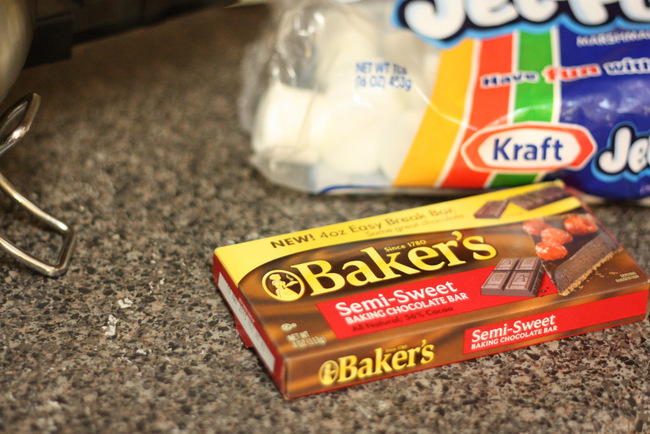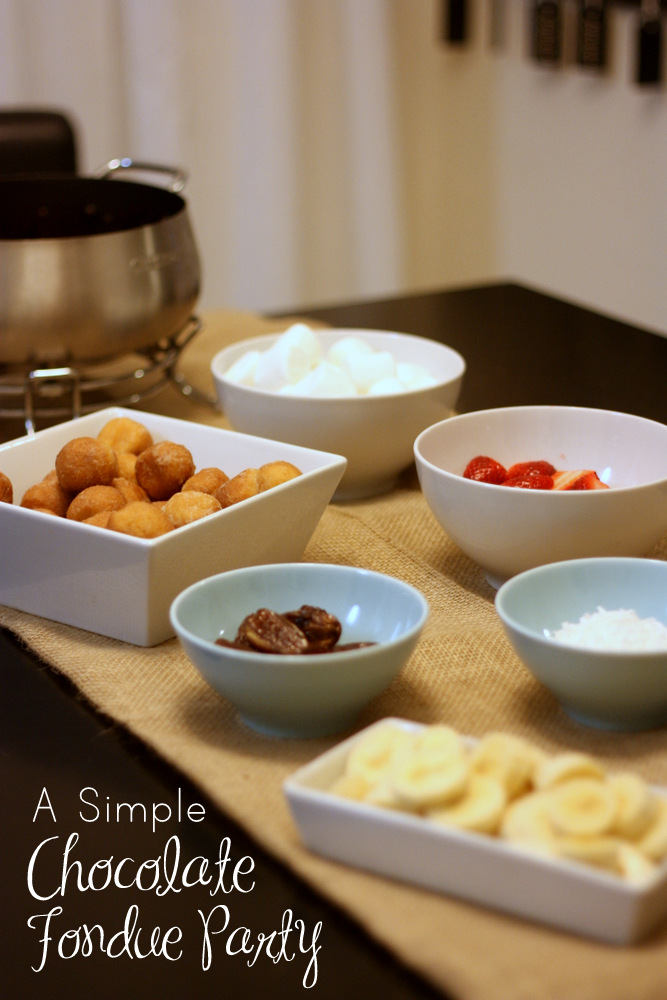 I'm sad to report that eating fondue will probably not give you gorgeous curls or long lashes like this little guy, but. . . hey, it can't hurt to test that theory out.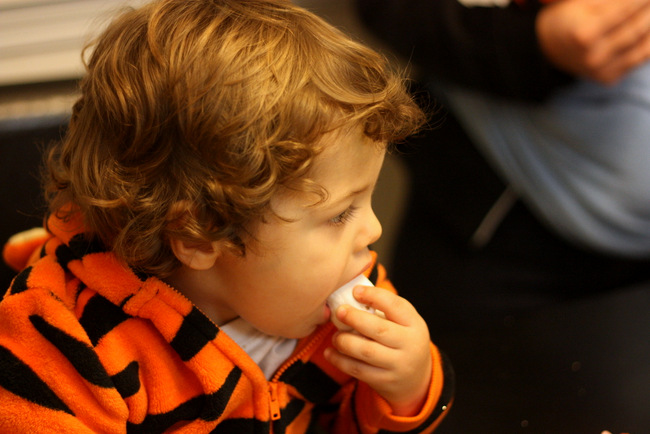 if you liked this chocolate christmas fondue recipe, you might also like these other posts: