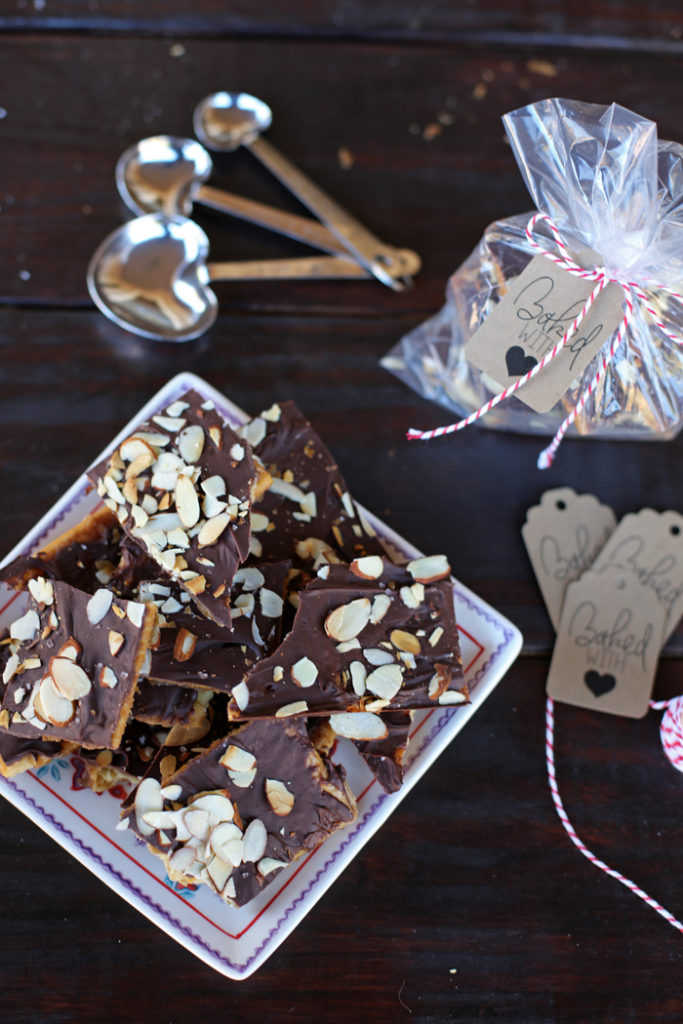 About seven years ago, we were at Bart's parents house for Christmas. After all the festivities had passed, we were the only company staying on, and Ella was our only child, so we had lots of quiet hours while she was napping.
We spent a lot of the time playing our favorite cards and board games together and, as one does during the holidays, munching our way through all the plates of goodies that friends and neighbors had brought to my in-laws.
One particular plate of treats especially caught everyone's fancy and when we were half-way through, I said, "I think these are saltine crackers!" Everyone was dubious, but then we closely inspected them and everyone agreed with me that this seemed to be true. I thought about these treats for months – they were the perfect blend of salty and sweet, and also a great balance of crispy and chewy.
Basically they were my dream treat.
Months later, I found a recipe for them (they're often called Christmas Crack) and made them for book club when I was in charge of refreshments. I left a few behind in the fridge and halfway through our meeting, I got a text from Bart with many exclamation points that said something like, "HOLY COW, THESE ARE THE BEST THINGS EVER. I MAY HAVE EATEN THE ENTIRE CONTAINER YOU LEFT BEHIND."
Or something like that.
I made them this week and Ella, who had never tried them before said, "These are the second best treat I've eaten in my entire life." (The first was cookie dough truffles, apparently).
Anyway, everyone in our family gives this Christmas Crack recipe a hearty seal of approval.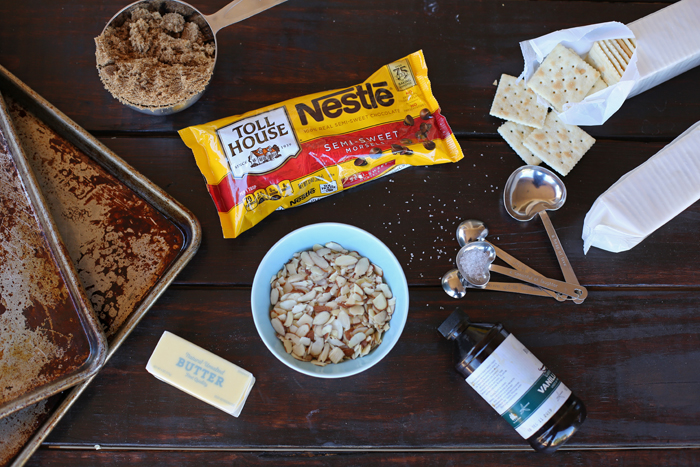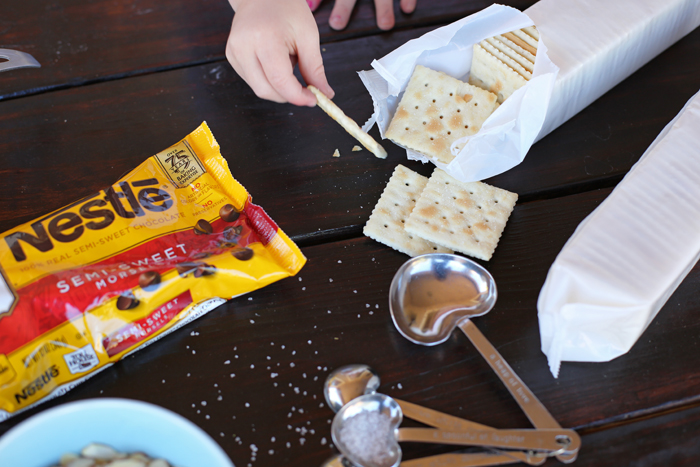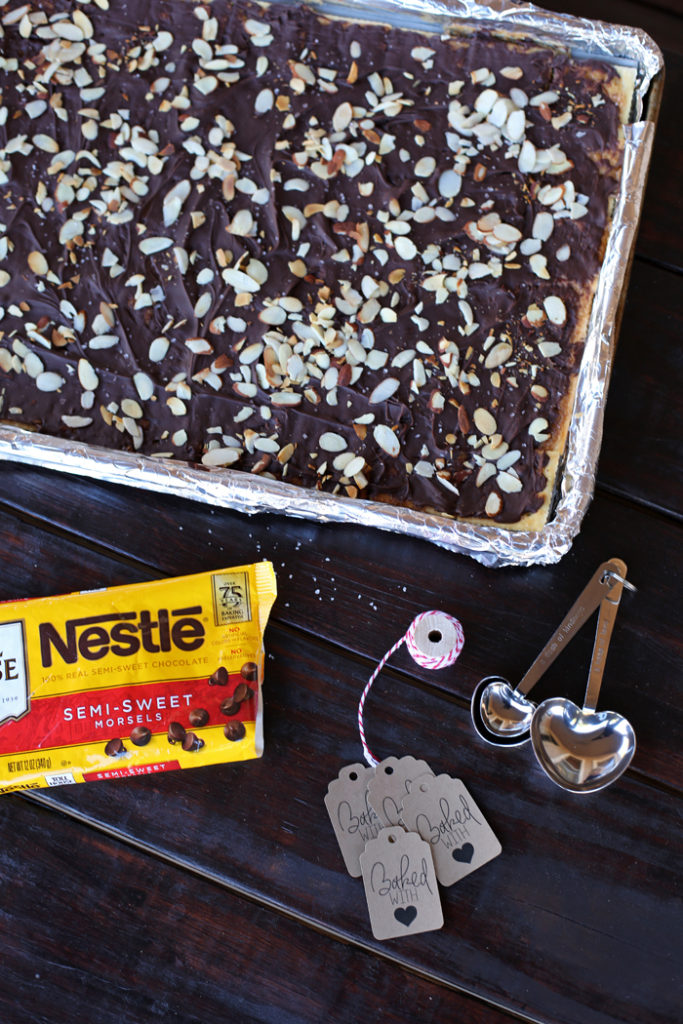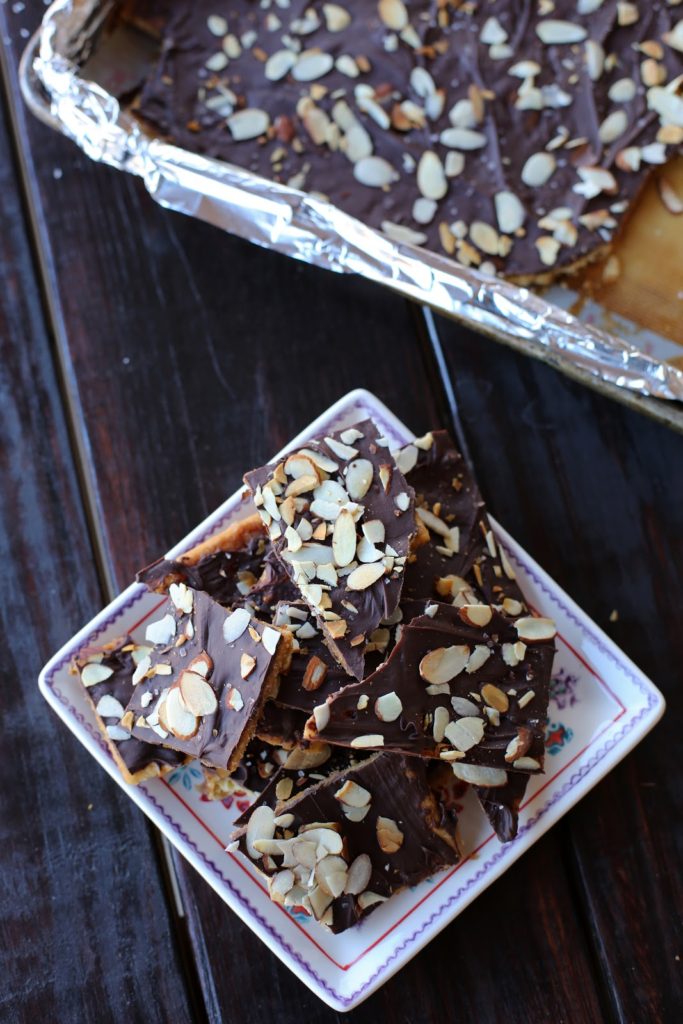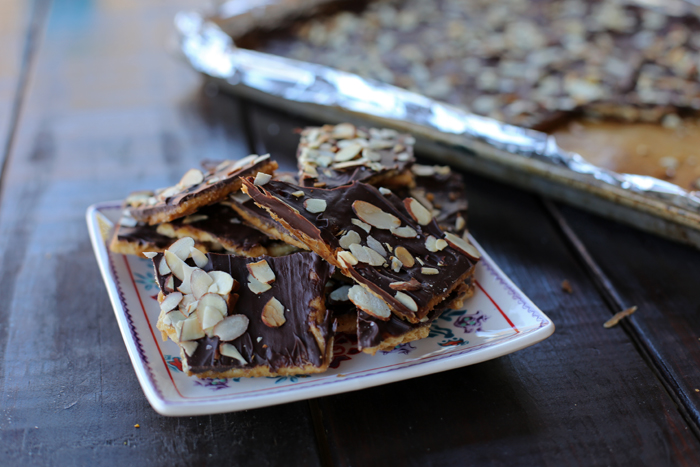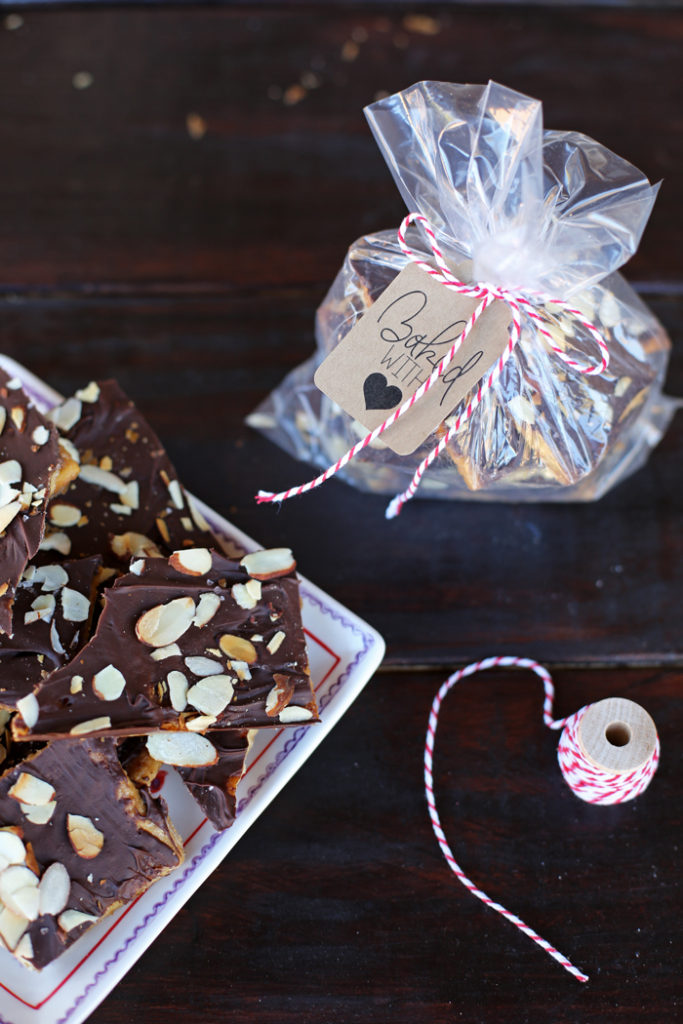 Salted Caramel Christmas Crackers or Christmas Crack Recipe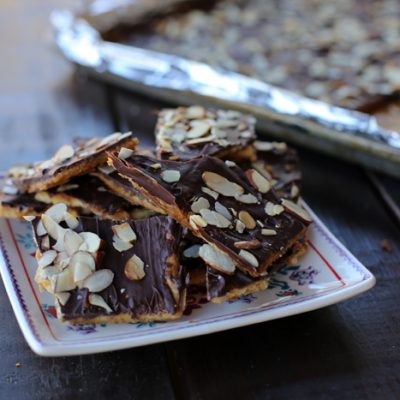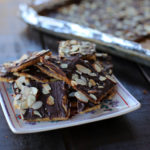 Salted Caramel Christmas Crackers
The best holiday treat ever! Seriously, I could eat the whole pan on my own. Perfect for neighbor and teacher gifts.
Servings
1
lg cookie sheet
Ingredients
About 4 dozen saltine crackers

this is just less than 2 sleeves

1

cup

butter

1

cup

packed brown sugar

my personal preference always is dark brown, but either kind works

1/8

teaspoon

salt

if your butter is salted, you can skip this

1/2

Tablespoon

vanilla

1

bag

12 oz semi-sweet chocolate chips, minus any your small child eats while helping you in the kitchen

1/2

cup

slivered or chopped nuts

optional

Coarse sea salt

optional
Instructions
Cover the whole sheet with crackers (I did 6 across and then 8 down and then cut three more in half and it fit perfectly)

In a medium-sized saucepan, cook the butter and brown sugar together over medium heat, stirring frequently to keep from burning. Once it comes to a boil, set the timer for three minutes and stir pretty much constantly. When the timer goes off, take the pan off the heat, add the salt (if you're using it) and the vanilla, give it a quick stir, and then immediately pour it over the pan of crackers, gently spreading it evenly with a rubber spatula so that all the crackers are covered.

Put it in the oven and bake for about 10-12 minutes, keeping an eye on it so it doesn't burn, especially around the edges.

When it's done, sprinkle all the chocolate chips on top and let them melt for 3-5 minutes. Once they are melted, spread them with a spatula to make a smooth chocolate layer and sprinkle the nuts and sea salt over the top.

Cool in the fridge until the chocolate is completely solid, then break into pieces and eat (or. . . you know, give it as gifts. Your call).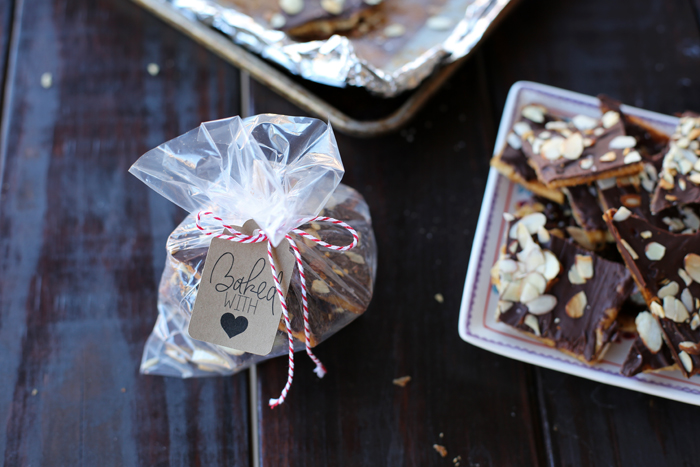 If you liked this Christmas Crack recipe, you might also like these posts:
Lemon curd (a simple and unique edible treat – this is one of my favorite neighbor gifts!) 
Chili in a Jar – perfect for when you want to give a food item that isn't sweet