On the hunt to keep your toes toasty warm this winter? I asked for recommendations for slippers for women, and I got so much feedback with lots of love for the super popular Ugg slippers, LL Bean Slippers and Minnetonka slippers, plus other budget picks!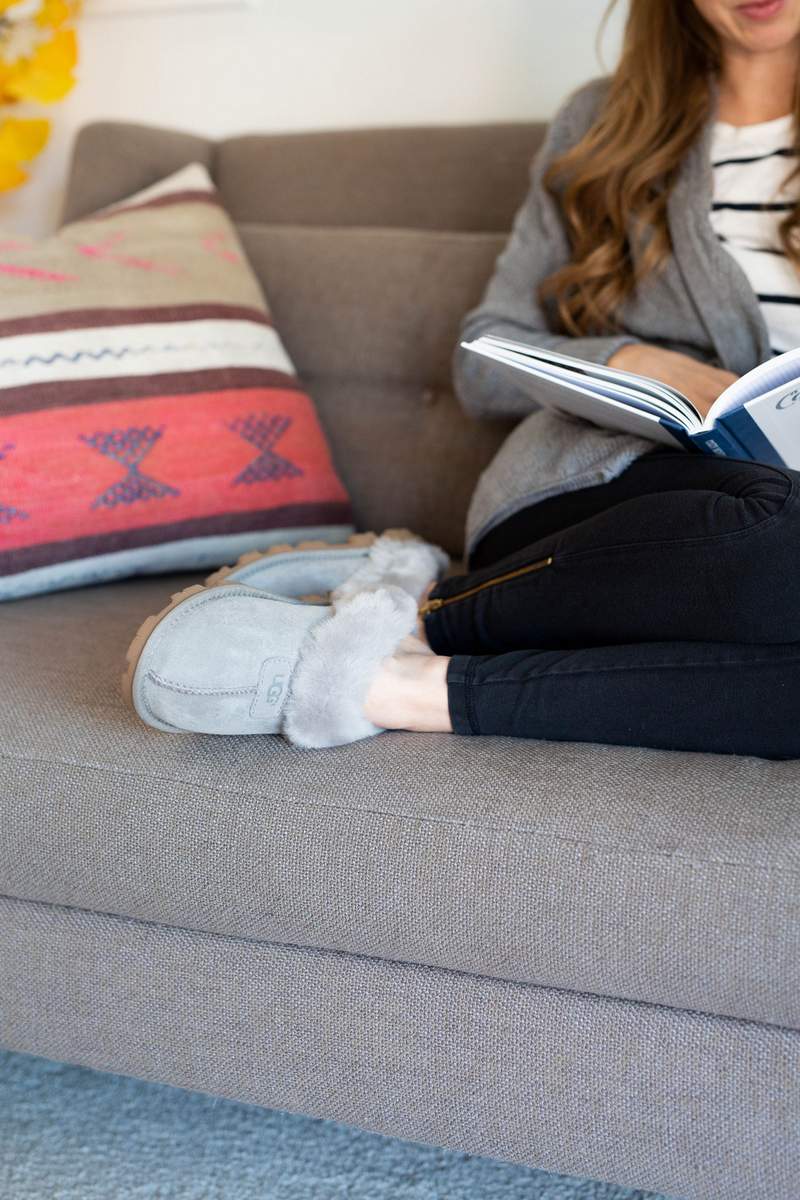 About ten years ago, Bart bought me a pair of slippers for Christmas and I've been a committed slipper wearer ever since.
My current pair of slippers is about four years old now and they are on their very last leg, so with real cold here now, I knew I needed a replacement pair.
I kept seeing ads for Birdies slippers and considered buying a pair (I am obsessed with these fur-lined cheetah print ones), but I wanted some other opinions before I dropped $140 on a pair of slippers.
I asked on Instagram for slipper recommendations and it turns out I have a LOT of slipper-loving readers. Many people asked to hear about the suggestions, so I've rounded them up here so we can all have toasty warm toes this winter!
They also make for really great holiday gifts that will be used long after Christmas is put away!
For my own pair, I ended up choosing this pair from Target and I've been super happy with them. I don't think they'll last for five years, but for $20, they're perfect.
I intended to go with the Dakota slippers by UGG, but when they arrived, I felt like they were claustrophobicly warm and their sizing runs small, so I was having a hard time getting the right size.
If you're in the market for the best slippers for women (or men! Many of these slipper brands are unisex or have styles for both men and women), I hope you'll find this helpful.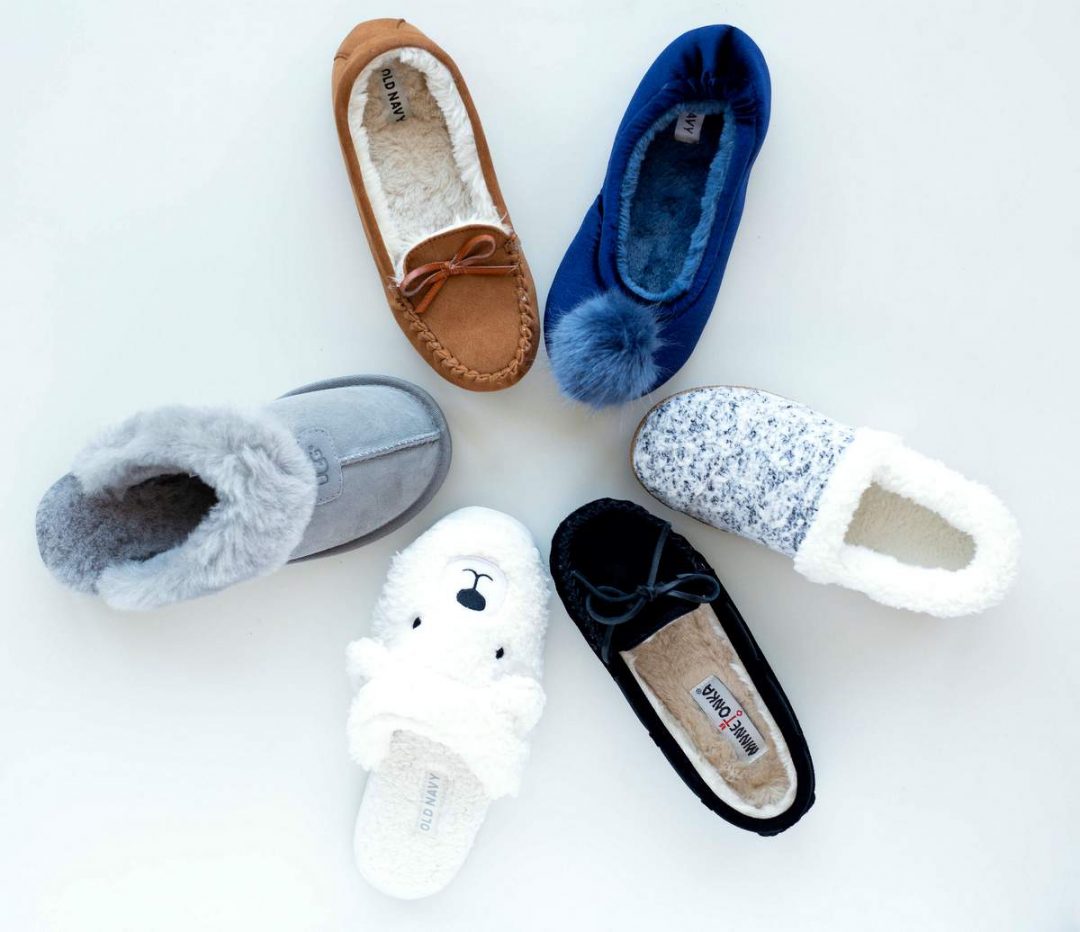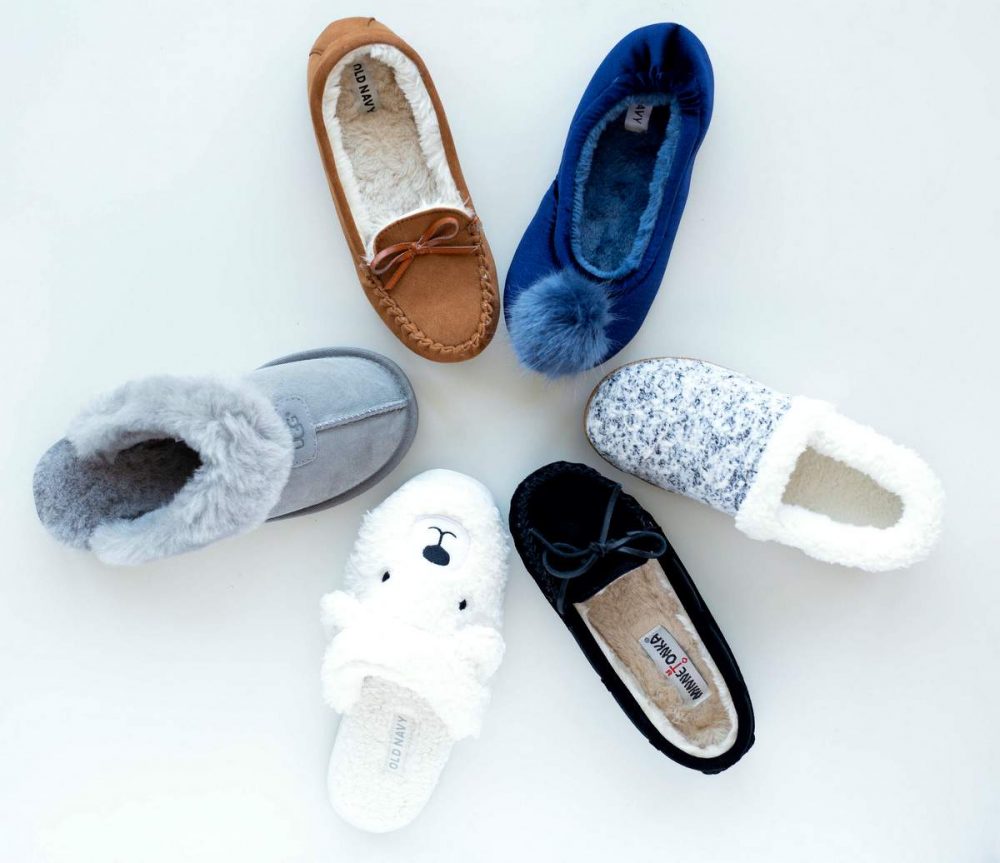 The Best Slippers for Women
Prices between $79-$109 (watch for 25% off sales!) 
LL Bean Slippers were HANDS-DOWN the most recommended brand of slippers for women. People raved about them, particularly the Wicked Good slippers. LL Bean slippers are definitely more on the pricey side, but they have pretty regular sales, so you can catch them for a better price!
What you guys had to say about LL Bean slippers: 
I love my LL Bean ones. You need to get ones that cover your heel. You don't want slides – @ecamm22
LL Bean has some great slippers in their 'Wicked Good' line that are super cozy – @hunterandsarah
LL Bean slippers are legit the warmest slippers on the planet. . . sometimes too warm – @vmesser
LL Bean Wicked Good slippers! They keep your ankles cozy also – @angiefacer
LL Bean slippers! I have cold feet no matter what the weather but they are cozy in the moccasin style slippers with the fuzzy sheep fluff inside. ('Sheep fluff' is the technical term, right?). I've worn them every day for 4 years now and just ordered a new pair – @reneejuenger
I love my LL Bean Slippers – so soft and warm and last forever! – @kemccarthy7
The Wicked Good bootie ones that come up over your ankles. I was freezing for years before finding them. Seriously life-changing coziness! – @flackpotts
LL Bean has amazing slippers! I live in Maine so no stranger to cold! Slippers are moccasin style super cozy and warm! – @katiepal
Prices run between $99 – $119
UGG slippers were a very close second with lots of love for them. They come in both moccasin styles and slide styles and the reviews on both are insane with thousands of five star reviews.
I have to admit I was pretty dubious that a pair of slippers that cost $100 would really be all that much more amazing, but the second I slipped these UGG slippers for women on, I was a convert. They are AMAZING (I even made my photographer try them on because they are THAT good).
I loved these ones pictured but ultimately decided I wanted a pair with a back, so I went with the moccasin style.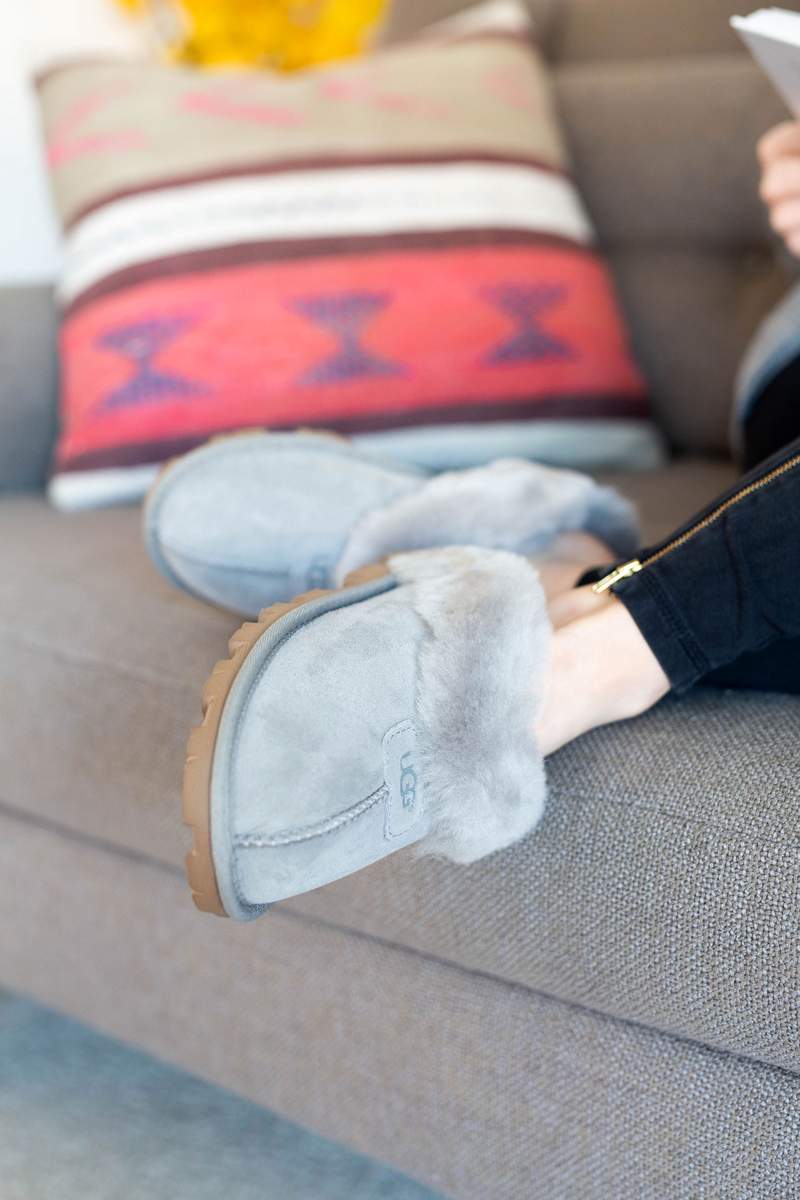 What you guys had to say about UGG slippers: 
Hate the boots because they look terrible but their slippers are wonderful – @staceywerly
My mom got me Ugg Slippers to wear at the hospital with my first born and they are still going strong three years later! I love them. We live in South Dakota so lots of snow (flurries today!) – @wolhoyjessica
UGGs are a splurge but I love having a real sole. UGG also make a new line called Koolaburra that's a little less expensive and still great quality – @thatssewsara
UGG are my favorites. Well worth the money – @meghan14
Prices run between $35 – $58
I'd heard of this brand for years and their very popular Cally moccasin slipper comes in a TON of colors, plus it's very affordable at $34.95 (and free shipping). They're soft and cozy, although I admit I didn't think they were all that much different than the Target ones!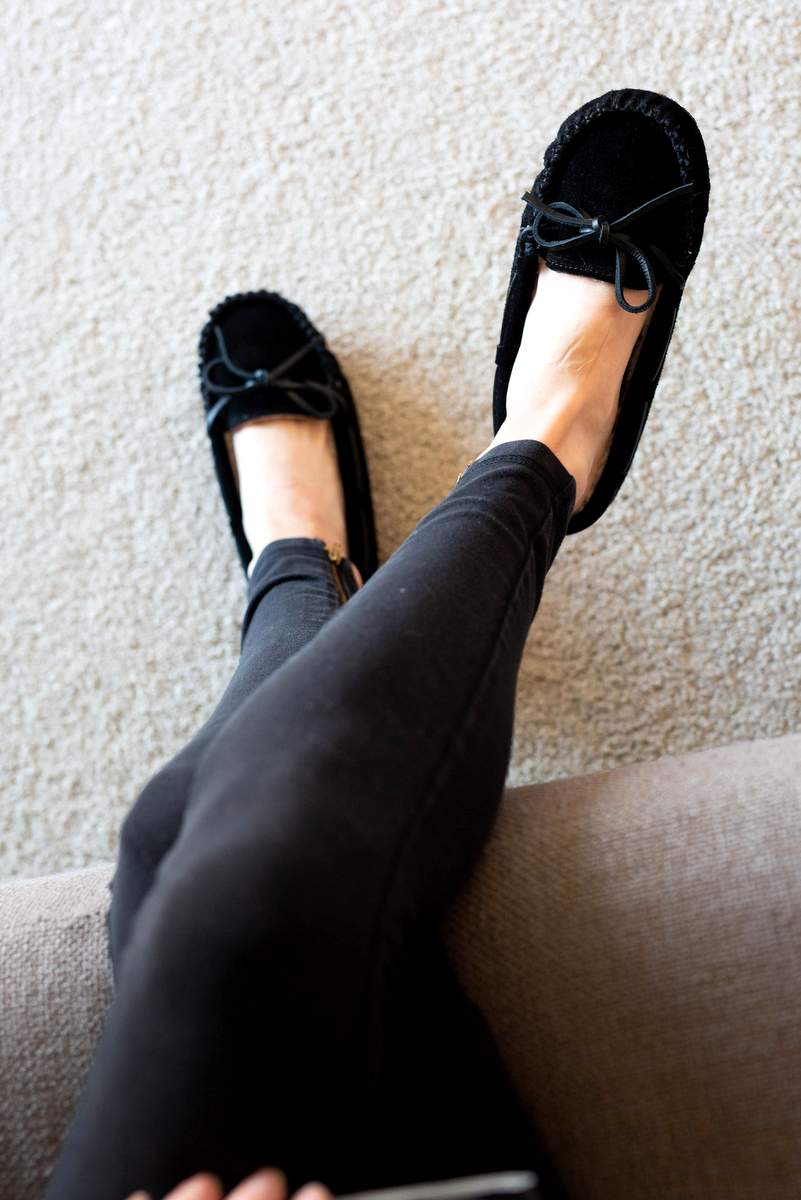 What you guys had to say about Minnetonka slippers: 
Seriously the best slippers ever. My hubby and I gave them to each other for Christmas last year unintentionally – @amanda.witt13
Hard sole, furry inside – @laurel_langworthy
Prices from $88 – $102
I have to admit, the look of these is not my favorite, but people LOVE them and if you're looking for warmth, these wool slippers are hard to beat!
What you guys had to say about Padriags slippers: 
Padraigs are the warmest! – @kathleen.chiu
I live in Ontario and my favorite slippers are Padraigs . . . bit of an investment but mine have lasted me 7 years! – @edamery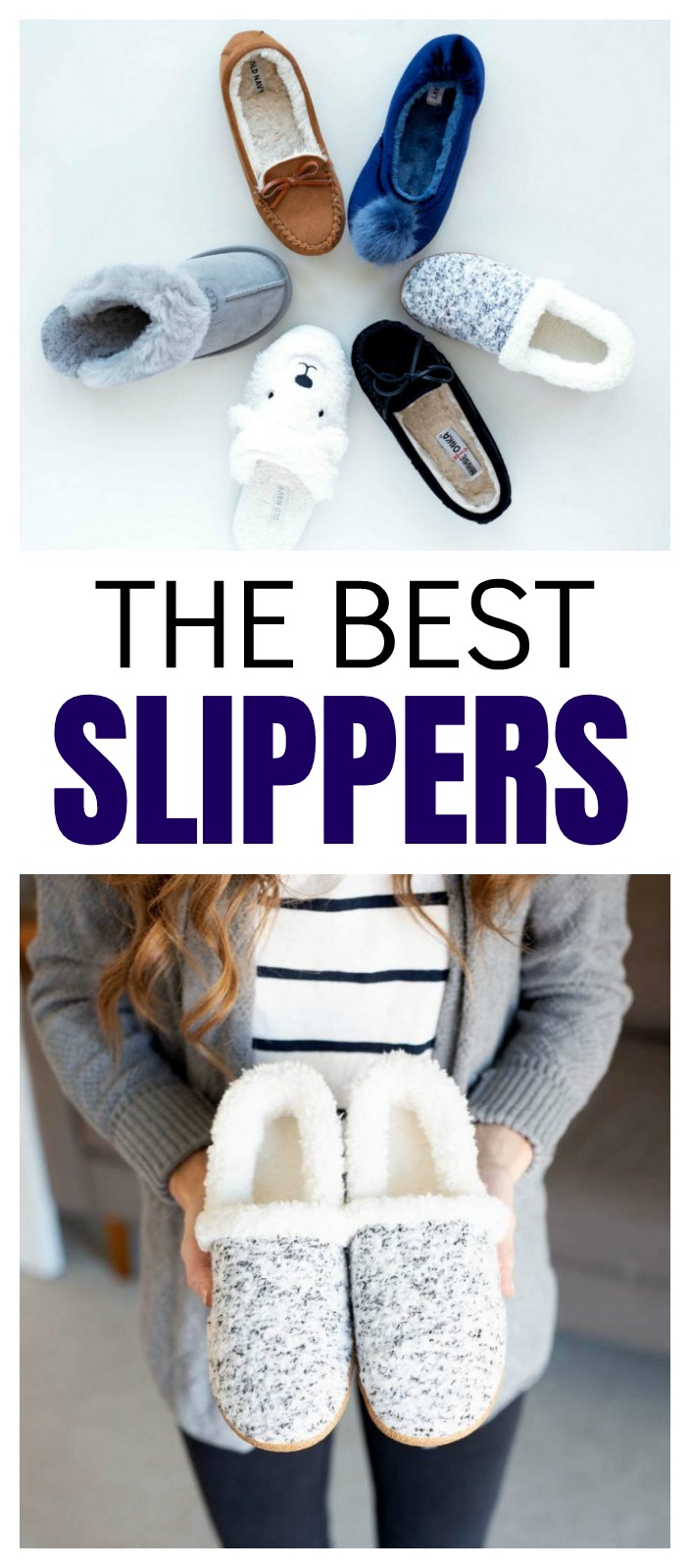 Prices from $57.23 – $199.95
These are clog-type slippers, so they weren't what I was looking for (I really wanted something that covered my whole foot because . . . I'm cold) but these have killer reviews.
What you guys had to say about Halfinger slippers: 
Order your normal size. They will feel very fitted bu twill loosen up quickly with wear. Wool is not itchy, keep my feet warm but not sweaty – @gilbert.tl
Haflinger, 100% wool! – @jillnitz
Prices between $29.95 and $84.95 (but there is almost always a 40% off code available) 
I am a long-time fan of Lands End (one of my mom's best friends worked there when we lived in Wisconsin, so we've been loyal customers for pretty much my entire life) and their quality is always excellent, plus their items are guaranteed forever. Literally. I especially love these velvet moccasin slippers. Bart has a pair of their men's slippers that I bought him for Christmas YEARS ago.
What you guys had to say about Lands End slippers: 
Lands End held up the longest for me and never slipped off so they were nice and stable – @missleahshouse
Lands End moccasins! Last forever and so SO soft! – @danikwalton
Priced at $34.50 (or $39.50 for the glitter ones)
If you love the look of a moccasin slipper, J. Crew Factory slippers are a third the price of the Uggs with FANTASTIC reviews.
What you guys had to say about J Crew Factory slippers: 
A great and cheaper alternative to Ugg moccasins (I like slippers that have a durable sole) – @lindseymjacobs
Priced between $8 and $23 
You know I love a deal and Old Navy has always been one of my favorite stores, so I was delighted to see their slippers recommended (plus glitter options!). And if "fancy" is your middle name, you can't beat these velvet pom-pom slippers for less than $8. I'm OBSESSED.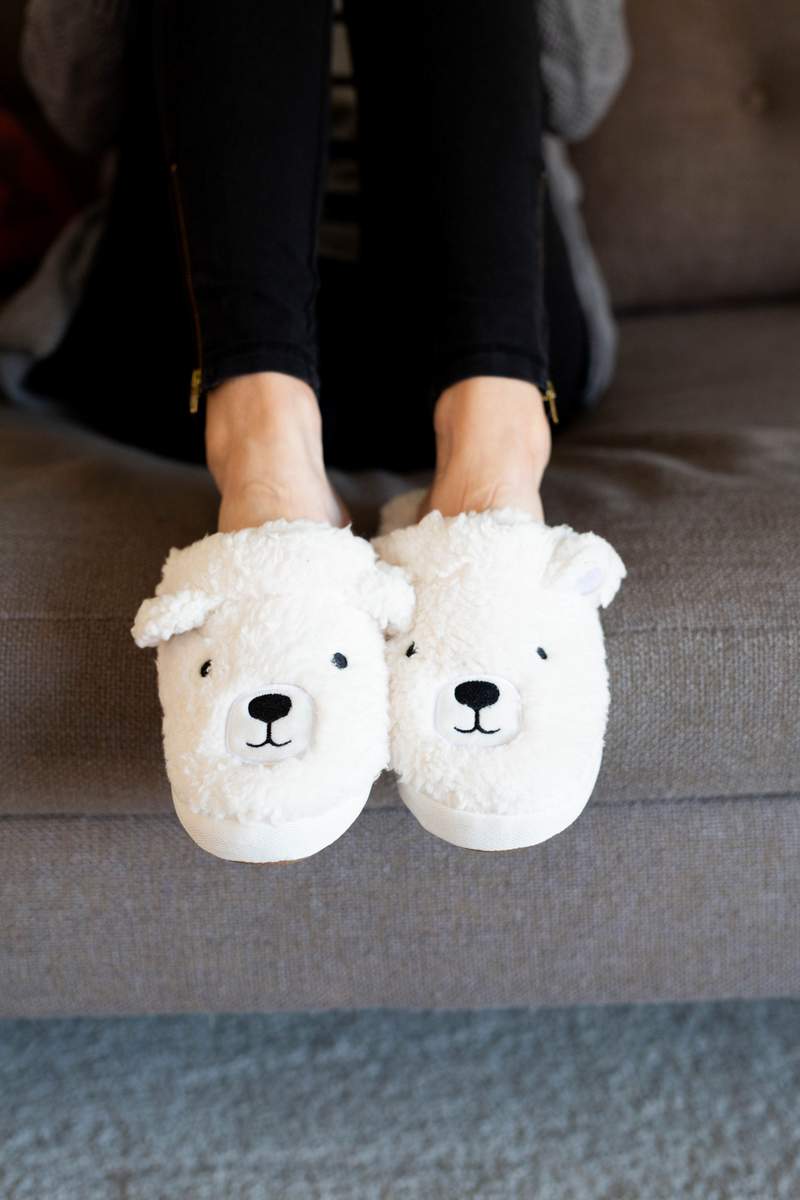 What you guys had to say about Old Navy slippers: 
I grabbed a few pairs of Old Navy's sherpa lined slippers last winter and loved them. Are they fine footwear? No. But I don't wear them out of the house so they've held up surprisingly well. And the price is right – @gthorton
Prices between $18 – 25
This is one of Target's brands and they're SUPER affordable and cozy. You can get the pair that covers your ankles (this is my #1 budget pick – they were crazy comfortable) or a more standard moccasin pair (even in velvet!). They also have clog-style and these darling mules.
What you guys had to say about Gillian O'Malley slippers: 
$20 slippers from Target . . . most comfy pair you can find. – @justbeccagray
Target's Gillian O'Malley brand – they have some super cute fur lined loafer style. Very comfy. – @cateluvszach
Prices between $26.93 – $55.00
These go up much higher than most of the other women's slippers I've seen, so they really keep you warm.
What you guys had to say about REI Cabiniste slippers:
They have down in them and are so freaking warm it's insane. Also I live outside of Boston if that helps my recommendation seem a little more legit. – @pinkmeghan
Priced from $12- $23 for a two pack or $9.99 for one pair
I didn't even know slipper socks were a thing, but now I think this is the best stocking stuffer idea ever. They're cheaper at Costco but also available on Amazon.
What you guys had to say about slippers socks:
Costco has great ones usually. They stay on the best and don't clunk around. – @sweet.maple.photography
Prices between $39.99 – $55
I didn't even know TOMS made slippers before I asked for recommendations! They have multiple styles but their most popular looks like the classic TOMS shoe except with fleecy lining. They were very soft and I STRONGLY considered keeping these ones.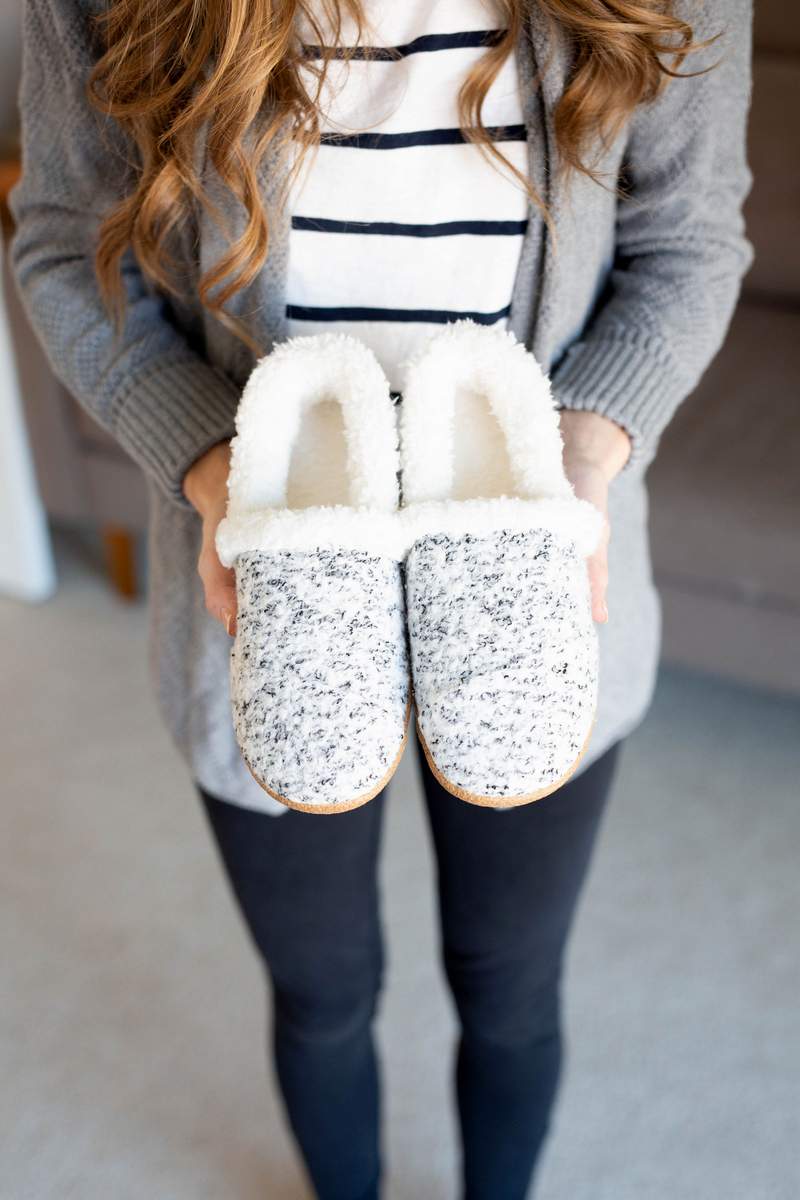 Prices between $32.99 – $49.99
These are on the higher end for Target slippers for women, depending on what color you pick, plus they have a nice pair of men's slippers.
What you guys had to say about Muk Luks slippers:
Muk Luks are great. Target has them for $30-35 but they hold up so well! – @kedfiler
Prices between $30 – 50
This is another brand of slippers for women I wasn't familiar with, but if you want something with a leather sole at a good price, these come with the highest recommendation below!
What you guys had to say about Softmoc slippers: 
Oh honey. Go get you some leather sole moccasins from Softmoc. No rubber soles on the bottom for me. Just leather. THey're so soft and warm, I've had mine for 5 years and bring them with me when I travel home at Christmas. Can't live without 'em." – @jessnapkin
Prices between $7 and $30
These are super affordable and a classic. Plus, you can order them from Amazon with Prime shipping, so that's hard to beat!
What you guys had to say about Dearfoams slippers: 
Dearfoams are my fave! I didn't ever wear my slippers before having them. I love that they're so comfortable and they have the outdoor sole as well. And they're well priced!" – @micayla.bergeson
Prices between $130 and $140
These are a hybrid house shoe/slipper that are perfect for wearing around the house, but stylish enough to dress up or down while hanging out or hosting friends and family. I have this two tone blush/cinnamon pair and I am a big fan!
What you guys had to say about Dooeys House Slippers:
These are so great for a more stylish slipper option. They offer good support and are especially nice if you have a lot of cold tile or hardwood in your home.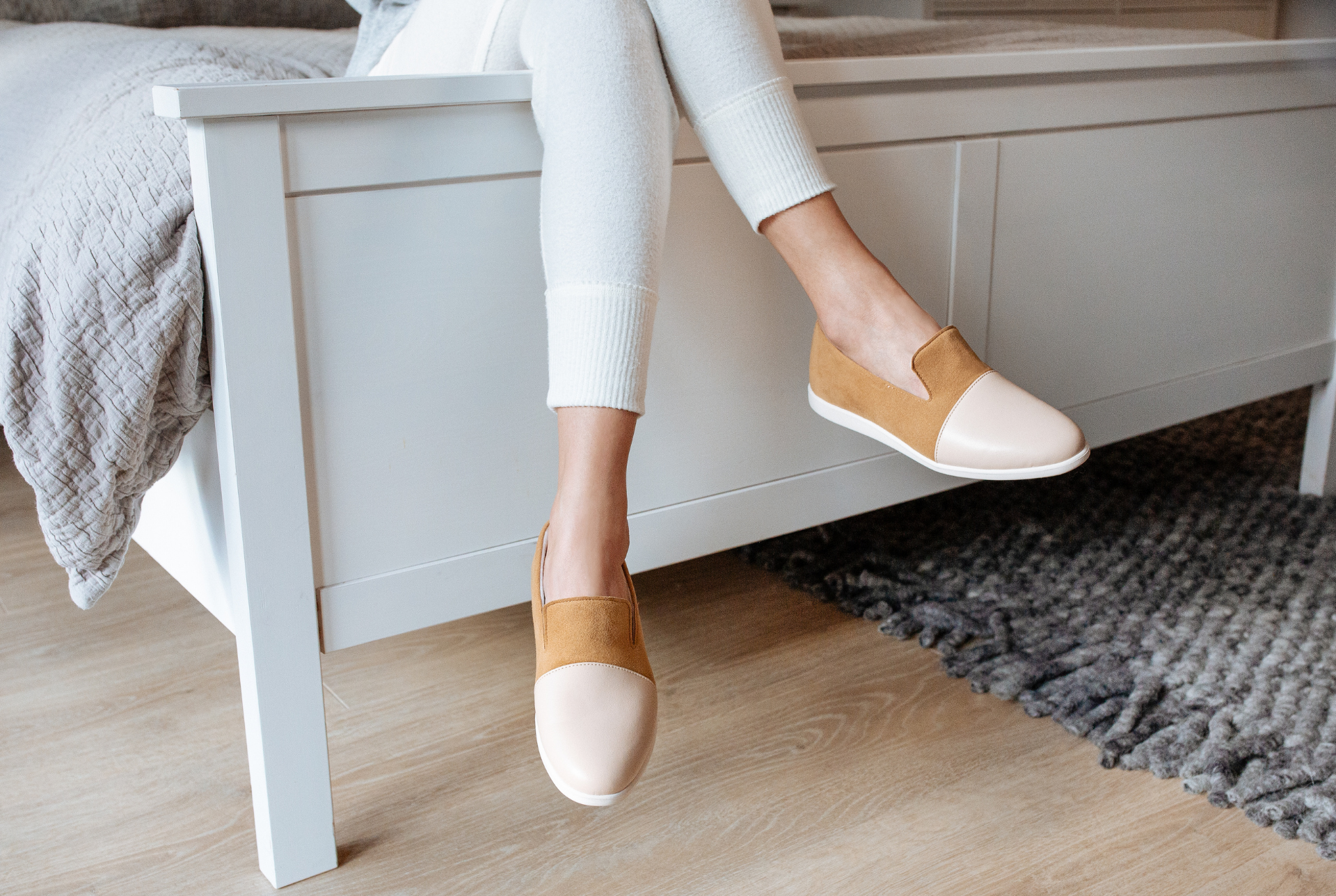 Are you a slippers wearer? I'd love to hear which brands and styles you love best!
If you liked this post about the best slippers for women, you might enjoy these posts too:
Photos by Heather Mildenstein