My favorite post of the year!
If you've been here any length of time, you know one of my favorite thing in the world is finding something good at a great price and the annual 5 dollar gifts guide is just that.
Whether you're looking for stocking stuffers, inexpensive teacher gifts, fun things to give your girlfriends, a birthday, gifts for coworkers or any one else who needs a gift that won't break the bank and won't be a fourth mini-bottle of hand lotion, these twenty items are all fun, unique, thoughtful gifts and $5 or less.
Also, I've found that the key to 5 dollar gifts is presentation – tie a ribbon around them or add a card or wrap them up so that it looks thoughtful rather than something you grabbed at the Target Dollar Spot 38 seconds before you handed it over.

20 excellent 5 dollar gifts
1. Mascara Primer ($6.74) My sister Merrick gave me a tube of this a couple of years ago and it's amazing how much BETTER your basic mascara looks with a quick coat of this underneath it. 
2. Invisible Ink Pens ($10.99 for a pack of 6) These invisible ink pens are SO fun – you write in the invisible ink and then the cap of the pen is a special light that reveals what's written. Give each of your kids one or two (or have them give half of them to a friend) so they can swap secret notes.
3. Makeup Brush Cleaner ($3.49 for pack of 2) I wash my makeup brushes approximately once a year, so. . . clearly I should be giving these to myself. 
4. Original Slinky Jr ($3.89) This is just a classic, isn't it? Perfect for a kid stocking or a grown-up who still feels a little like a kid. And if you want other classics, Silly putty is always a good choice and fits nicely into the 5 dollar gifts category too.
5. Cable Clips ($4.99) I inherited a hatred of visible cords from my dad and these clips keep everything nicely organized in neutral colors. I love a good, useful stocking stuffer and these fit the bill!
6. Priorities Notepad ($3.49) You know how you're supposed to pick your biggest priorities of the day and then the things on your to-do list after that, and then the ones that are non-essential but nice? This notepad makes it super easy to make that happen. New Years' productivity, here you come!
7. Squish-Amal ($5.00) These are the most hilariously random product – the cute little animals toys each come with a little treat and a puzzle. My girls would LOSE THEIR DANG MINDS.
8. Retractable Measuring Tape ($2.99) We own a million measuring tapes and can never find them, so one that clips onto your keychain? Game-changer. Perfect 5 dollar gift idea for anyone!
9. Rainbow Pencil Sharpener ($1.99) It's not my crazy awesome electric pencil sharpener, but it's darn cute and a whole lot easier to fit into a stocking. 
10. Dark Chocolate Sea Salt Caramels ($2.50) You guys. These chocolate are life-changing. I got a little box of them as a gift a couple of years ago and every single one of them was the best thing I'd ever eaten. They come in different sizes, but the taster pack is a perfect tiny gift or you could get a second taster pack of a different candy (their gummies are crazy good) and still be at $5.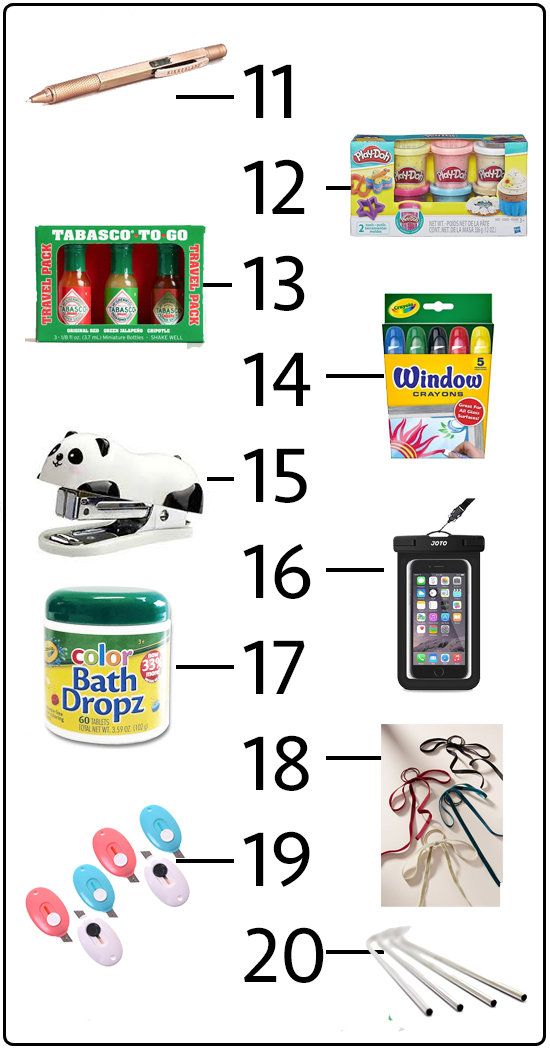 11. 3-in-1 Pen ($4.50) This copper pen is not only a writing utensil but also has a built-in level and a screwdriver.
12. Sparkle Play-Doh ($6.99 for 6) Play-Doh is one of my favorite easy activities for my girls to do on a cold day. They can all play with it and when it has confetti in it? Double win. Everyone is getting one of these in their stockings come Christmas morning!
13. Mini Tabasco Sauce Trio ($3.99) For the person who never likes to be without their favorite condiment, this tiny set of three is the perfect gift.
14. Window Crayons ($5.40) This set of 5 crayons are designed to be used on windows so your kids can draw on a sliding glass door or big window at home or use them in the car on a long road trip. Brilliant!
15. Panda Mini Desktop Stapler ($4.99) My stapler is ALWAYS getting borrowed, so this cute mini panda version is the perfect solution for my girls who clearly have a strong need to staple all the things. Perfect for a grown-up who loves a little touch of whimsy too.
16. Waterproof Phone Pouch ($6.87) So this one is a little over the $5 budget, but it's too good not to include when it's SO close to $5. It fits most phones, the reviews are crazy good, and it means you can take underwater photos and videos at the pool or beach.  
17. Crayola Bath Dropz ($4.19) Anyone else turn to baths when their kids are getting stir-crazy in the winter? These color bath drops make it extra fun and don't stain your tub or leave any residue. 
18. Velvet Hair Clips ($24 for 10) I love the hair accessories trend and these beautiful, simple velvet clips are perfect for women. At less than $3 each, these are a delightful gift for a girlfriend.
19. Box cutters ($8.65 for a pack of 12) For the person who has everything, including a million boxes showing up from Amazon, these little box cutters are cute and useful. Stick them in a stocking so you can easily open boxes on Christmas morning!
20. Stainless Steel Straws ($3.69 for 4) I love a straw, but I hate the waste, and it's hard to beat this pack of 4 that includes a cleaning brush.
I hope you found some useful, inexpensive gifts on this 5 dollar gift list and if you need more 5 dollar gift ideas you can see all of the previous $5 gift guides here!
If you liked this post about 5 dollar gifts, you might also find these posts useful: