On Sunday night, Bart and I sat down after the girls were in bed and planned out all their gifts for Christmas.
Every year, I'm reminded that if it weren't for Bart, our girls would probably get one gift and it'd be something terribly practical and boring like a pair of gloves.
He's definitely the one who makes sure Christmas morning is really magical for them.
I do my part by doing all the wrapping (since I love it and Bart would probably rather eat his arm than wrap a big stack of presents) and I can't wait to have everything under the tree!
Here's what we're giving the girls this year:
Gifts for Girls
For Ella (who is eight and a half) 
Cat Slippers. A few months ago, Ani got a pair of unicorn slippers in her Stitch Fix box and the other girls have been DYING for their own pair. I thought this pair was darling and the price was excellent.
Heelys shoes. This was one of the things on her Christmas wish list and it felt like a really FUN thing that she'd be super excited about. They're pretty expensive ($70ish) directly, but you can find them on discount sites too, so I snagged a pair that not only has wheels but light up for less than half that price, so I felt like I was winning as Santa.
Clay Charms book. We stopped at Michael's last week to pick up some items and Ella spent a long time looking through all the Klutz books (can't blame her – I loved them when I was a kid too!), so Bart and I ordered this one for her.
Remote Control Car. Have I mentioned Bart is the fun one? He spent ages looking through all the reviews, finding ones that were reasonably priced and that the girls would love. We were originally looking at this for just Ani, but decided that all the big girls would want one.
Pedicure. I really wanted to do an experience gift for the girls and they've been asking for literally years to go get a pedicure at a nail salon, so I'm taking all three of the big girls on a special date to do this after Christmas. I'm probably as excited as they'll be!
For Ani (who just turned six) 
In addition to her remote control car and pedicure date, we're also giving her:
Sweatshirt. This on sale and it's the perfect layer for recess. Plus, Ella has about four sweatshirts and Ani has only one.
Digital Camera. Ella has had an Instax camera since her 5th birthday and loves it and has carefully hoarded her 10 prints for more than three years (she is SO my child), but we thought Ani would prefer this digital one where she could take as many photos as she wanted. Plus, the price was excellent.
For Star (who is almost four) 
In addition to her remote control car and pedicure, she's also getting:
Ballet shirt. This was another sale item and I've noticed that Star definitely needed another long-sleeve shirt – I think she only has about two. The problem with living in Arizona is you don't own anything except tee shirts!
Slippers. I picked out these unicorn slippers and I seriously cannot WAIT for her to open them.
Teddy Bear. When we saw Santa last weekend, Bart asked Star if she wanted to sit on Santa's lap or just get a candy cane and skip talking him. She looked very concerned and said, "I have to tell him what I want!" And what she wanted was a Mama Teddy Bear. Bart asked if we should get all the girls a giant teddy bear, but I put my foot down. Who has room for that?
For Tally (who is almost two) 
Sweatshirt. I love the cute star pattern and can't wait to have her wear this all winter. Nothing better than a snuggly baby.
Doll Stroller. We got rid of both of our doll strollers when we moved (they were both pretty battered after years of use), but Tally has been LOVING the one at her cousins' house, so it seemed time to get her one of her own.
Hug Me Little Bunny book. This book actually hasn't released yet (it comes out in February), but one of the editors at Chronicle sent me a copy and I know Tally will LOSE her mind over this cute puppet book.
Water Wow Paint Kits. We got the three big girls these last year and they were SO popular. I think Tally will be just the right age to get a big kick out of these.
Colored Bath Dropz. Tally has always loved baths, so I can't wait to see her face when the bath water changes color.
And of course, what's Christmas without some stocking stuffers? Here's what we're getting for them:
Stocking Stuffer Gifts for Girls
Invisible Ink Pens. These invisible ink pens were one of the very most popular items on my $5 gift guide this year and for good reason. You write in the invisible ink and then the cap of the pen is a special light that reveals what's written. It comes in a pack of ten pens so I'm putting a couple in each of the girls' stocking.
Glitter Play-Doh. We have a whole kit of Play-Doh tools but all our play-doh has dried out, so I bought this set for $5 and am dividing them up between the girls' stockings.
Pop Tarts. When we were at the grocery store a few days ago, the girls were all losing their minds in the Pop-Tart aisle, so I bought them each a box of the most outrageous flavors I could find (I just ordered them from Target along with the Bath Dropz and the Glitter Play-Doh).
Socks. These are another item we don't own many of, having just moved from the land of eternal sandal weather, so we ordered this darling set and this one and are splitting them between the big girls.
Candy. I'll leave the picking of this up to Bart who always chooses way more fun things than I would.
I'd love to hear what you're getting your children this year – I love seeing people's actual lists!
And if you're interested, here's what we got the girls last year, in 2016 and 2015!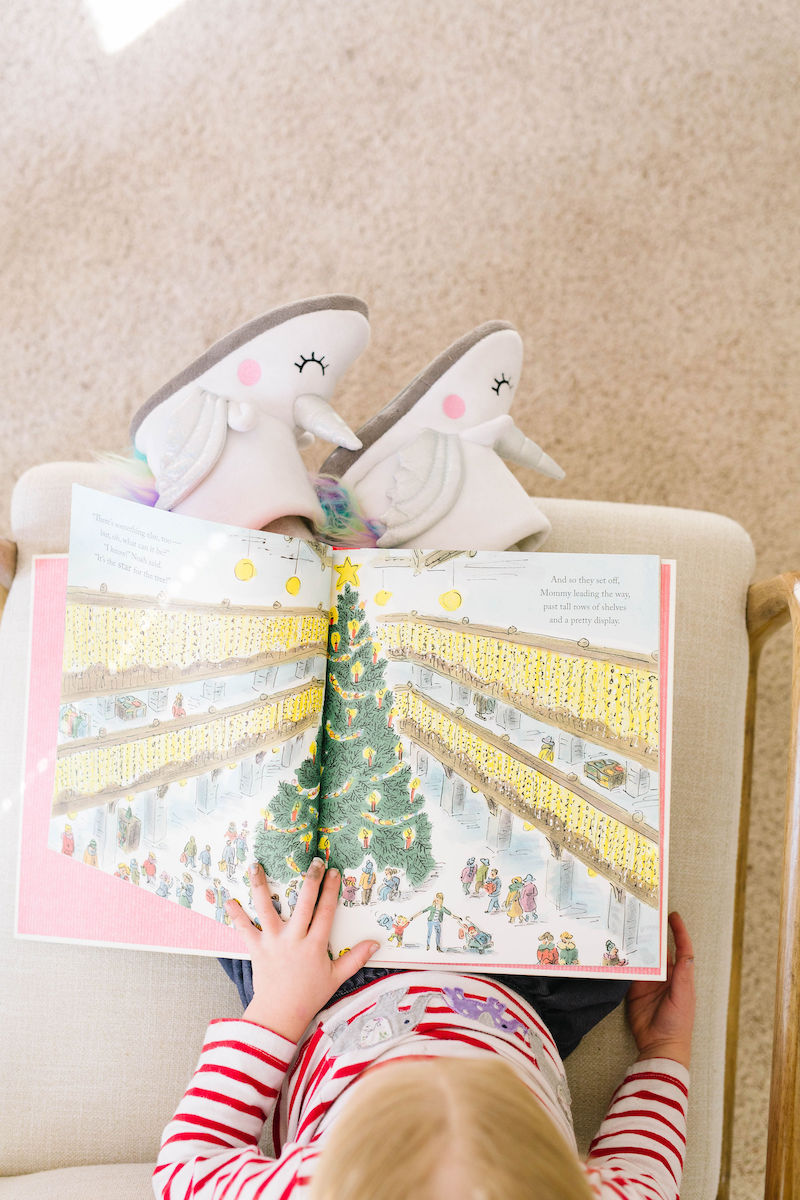 Photos by Heather Mildenstein