Last year, one of my most popular posts was about what we were giving the girls for Christmas.
I mean, a gift guide for girls is all well and good. But what are normal people actually buying? (My mom would definitely make a joke here about how normal anyone in our family really is).
Last year, I said we'd do five gifts for each of them, with a mix of toys and activities, but then we forgot to ever actually buy the hula hoops, so it ended up being 4 gifts each, and that seemed just about right, so we're doing the same again this year.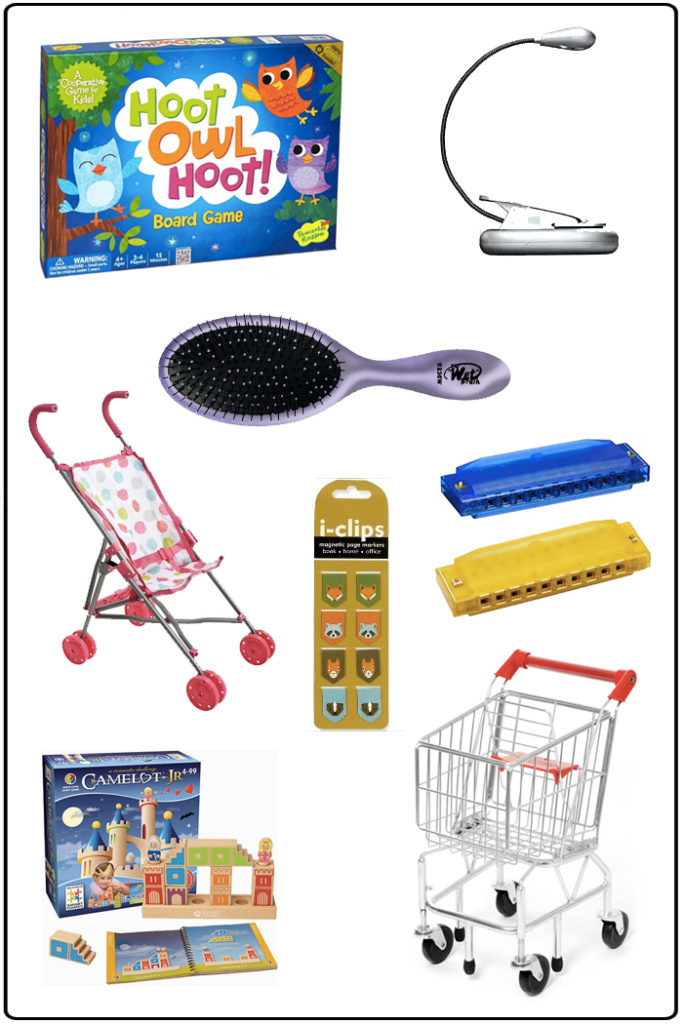 gift guide for girls
For Ella (who is six and a half):


1. Camelot Jr. I've heard rave reviews about these games for YEARS and Ella loves any sort of puzzle or logic game, so I think this will be a big hit, and I'm hopeful that Ani will be able to do it too.
2. Hula Hoop. They beg to play with these every time we walk past the display at the store, and I think they'll get a lot of use over the next couple of years (I may be inclined to use them too, after this baby is born and I'm thinking about getting back in shape).
3. Color Changing Pen. This has been, hilariously, the one thing she's asked for over the last four months. $3.50 and everything you've ever wanted can be yours.
4. Reading light. She likes to read in the car, but it gets tricky as the days get shorter or when we're on road trips (and I live in fear of forgetting to turn off the lights in the car), so this is perfect.
5. Shopping Cart. My sister has raved about these, and my girls love this kind of thing, so when it was on sale a few days ago, I jumped on it. This one is actually a group gift for all the girls (will there be tears over sharing? Probably).
For Ani (who just turned four):
1. Hoot Owl Hoot. I'm always on the lookout for things we can all play together that are non-competitive, plus the reviews were so stellar, that I didn't take a lot of convincing to add this to our collection.
2. Hula Hoop. Because one hula hoop isn't as good as two.
3. Purple Clock. Ella has had a clock since she was about 2.5 so she wouldn't come out of her room too early in the morning, but Ani usually sleeps in so much that we've never gotten her one. This year, though, her Christmas list included one.
4. Wet Brush. Ani has such gorgeous hair, but it gets tangled really easily and she's super sensitive to having it brushed, so this was an obvious choice. I've heard so many recommendations for this brush, plus it comes in purple, which is Ani's favorite color, so hopefully it'll be a double win.
For Star (who will be 2 in February):
1. Hula Hoop. I'm sure she won't be able to use it, but if the other girls get one and she doesn't, she'll be very sad. She's convinced she's one of the big kids.
2. Lambie Doll. Bart bought one of these for Ani for her birthday, and Star immediately grabbed it, snuggled it under her arm, and bounced around the living room with a huge grin, singing, "I so happy! I so happy!" There were tears when she discovered it didn't, actually, belong to her. So . . . she'll be getting one for Christmas.
3. Baby Stroller. We have two of these and they are some of the MOST popular toys in our house, and she would be thrilled to have one of her own to push around in (or to make her sisters push her around in, which is adorable and probably against all the manufacturer instructions).
As far as stockings go, we're doing:
1. Harmonicas. I may live to regret this choice, but they love Bart's harmonica so much that I can't help but want to give them each their own. (My parents, who we're spending Christmas with, may be very happy to see us leave. . . ).
2. Jump Ropes. They've been asking about these ever since they learned how to jump rope this summer with their cousins, and I'm hopeful they'll be a good energy-burning activity in the basement this coming summer.
3. Candy. Because, what's a Christmas stocking without some candy?
4. Washi Tape. My girls are obsessed with this stuff. A couple of rolls each and they'll be in heaven (and my house will be covered with washi tape).
5. Magnetic Book Marks. These llama bookmarks that don't damage your books are too cute. I also love the robot versions.
This is our official Christmas list for our girls this year and hopefully this can be a bit of a gift guide for girls you have to shop for. What are you getting your kids? I'd love to hear!
If you liked this gift guide for girls, you might also like these posts: